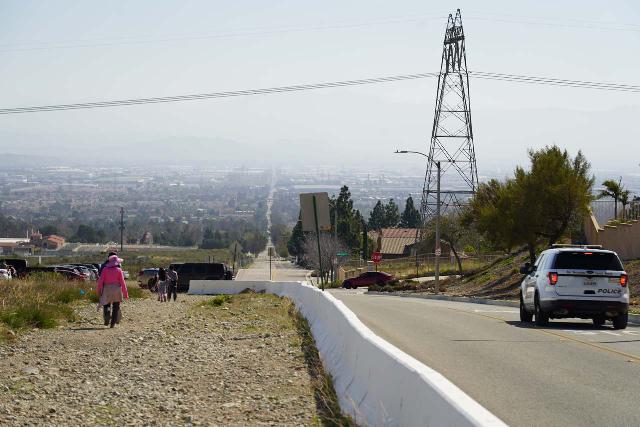 27-February 2021:
The cop was still there issuing citations and so I took the opportunity to ask him where the nearest legal parking spaces were.
At first, he gave me a smug answer pointing back towards the North Etiwanda Preserve.
But when I asked him about the nearest alternates, he said that I could go back towards Day Creek Park, which he said was around a mile or two away (thinking to myself, it wasn't that bad).
However, I sensed that he regretted saying that for fear of people parking there that weren't intending to use the park…
Given that Winter 2020-2021 was a bit of a double whammy in terms of a rather dry season as far as rainfall was concerned and the consequences of the COVID-19 to society as well, we had to face the reality that this might be the best chance of seeing a local waterfall before they dry up or become disappointing.
Over a month ago, we saw how we were getting Spring conditions at Bonita Falls so I knew that timing for the snowmelt gave us some margin for error.
Yet that visit gave me the idea that we should pursue Etiwanda Falls because it had been at least 6 years since we last went there.
Besides, my parents and Tahia's cousins hadn't done a waterfall hike since Bass Lake back in 2019 so we were long overdue for having the kids reconnect with Nature and fight the addition to Roblox or any other form of screen time.
Anyways, with a strong storm that came the week after our Bonita Falls visit towards the end of January, I thought that might have bought us another week or so of timing so we pursued less-reliable waterfalls earlier in February.
In any case, I actually anticipated visiting even though I was getting blase about visiting local waterfalls since the pickings were slim on dry years like this one.
We were actually supposed to have done this hike over a week ago for President's Day, but my Mom was having foot pain while also getting her COVID vaccine doses (she actually got side effects from it).
And so today was the day that we got up in the morning and designated it a much-needed family day out.
Although I really wanted us to be at the North Etiwanda Preserve Trailhead by 9am and carpooling with the parents and cousins by 8am, it wasn't until 8:40am when we got out of the house (Julie wanted to pick up farmer's market eggs, which didn't open until 8).
So we were at my parents' place at 9am, and ten minutes later, we finally left towards Rancho Cucamonga.
Eventually by about 9:50am, we finally got to the North Etiwanda Preserve, but as I had feared, the parking situation was bad.
Fortunately (or unfortunately), I noticed that there was a cop actively issuing tickets in what appeared to be overflow parking near the intersection of Day Creek Blvd and Etiwanda Ave.
I was prepared mentally for this knowing full well that parking in the preserve was very limited, especially on weekends, so I went ahead and drove up towards the gate of the North Etiwanda Preserve, where there was already a queue of a half-dozen cars or so.
They were all waiting patiently for early risers to return to their cars, but how long would they have to wait?
So I had the rest of the party get out of the car and get their gear so they can wait for me at the trailhead.
Julie thought I could go lost our queue position and back to the apparent overflow parking where the cop was writing tickets so I could at least ask him about where the legal parking spots were.
I knew what she thought was legit parking was not true, and I didn't feel it was worth paying probably $40 or so (not sure how much Rancho Cucamonga charges for parking violations).
That said, perhaps this was a good opportunity to explore alternative options while at least talking to the cop to get a more authoritative stance on what the options were.
Thus, once the entire party was dropped off to wait for me, I did a three-point turn, and then drove back towards that makeshift spot between Day Creek Blvd and Etiwanda Ave.
The cop was still there issuing citations and so I took the opportunity to ask him where the nearest legal parking spaces were.
At first, he gave me a smug answer pointing back towards the North Etiwanda Preserve.
But when I asked him about the nearest alternates, he said that I could go back towards Day Creek Park, which he said was around a mile or two away (thinking to myself, it wasn't that bad).
However, I sensed that he regretted saying that for fear of people parking there that weren't intending to use the park.
So he then said that there used to be parking in the residential streets further to the south before "it got ruined" so now it's all parking by permit.
That said, he did say that if you go far enough south, there are residential blocks without permit signs, and you could try your luck there.
And so that was essentially my green light to go find such places (though in the back of my mind, I wasn't totally sure how far back I'd have to go, and if they might issue tickets anyways regardless of whether there were permit signs or not).
So with that, I politely thanked the cop for the info, and proceeded to drive south on Etiwanda Ave.
Seeing that the first two side streets to residential neighborhoods all had clearly stated "Parking By Permit" signs, I went as far south as the turn at Wilson Ave and Etiwanda Ave before heading back up north on Etiwanda Ave.
This time, I took the first right turn into a residential area where I saw a second cop parked there, but I didn't see any permit signs while there were a handful of other cars parked in North Overlook Drive.
This planted some doubt in my mind that those cars parked back there might get ticketed even though there didn't seem to be permit signs, but I went ahead deeper into the opposite residential area behind the cop, and then made the first left turn.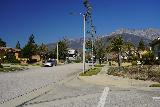 Over there, it seemed like it was a somewhat "hidden" residential street where there were a handful of cars parked there, and I went ahead and took one of the empty spots there.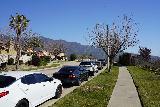 After finally getting out of the car at 10:05am, I looked around the quiet residential block for any signs prohibiting public parking, but I could see any.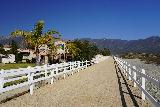 I took some photos just in case I might get ticketed just to demonstrate that there were no signs here saying I couldn't park here.
And with that, now I could finally start walking back towards the North Etiwanda Preserve.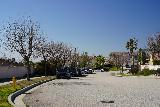 This spot was actually not a bad place because it was next to wide walkway between the big suburban homes here and the wide open (but apparently off-limits by the Cucamonga Valley Water District, I think) spaces.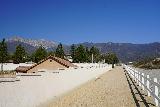 So this walk wasn't as bad as I thought, and it gave me some time to mull over this morning's experiences and what would be the solution to this problem.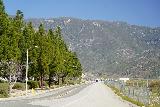 Indeed, from talking to the cop earlier, there seemed to be an intentional limitation of available public parking (despite all the unused wide open spaces in the surrounding area), and I started to wonder if the city had more devious intentions.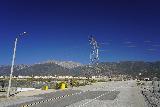 After all, it seemed like the residents probably wanted to limit the weekend traffic in the area since pretty much all waterfalls in Southern California are now pretty much well-known and popular.
At the same time, it seemed like the city was content to write lots of parking tickets and collect additional revenue in fines per illegally parked vehicle.
So by leaving a bad taste in peoples' mouths, they could accomplish two things…
Try to limit outsiders visiting the North Etiwanda Preserve (especially with social distancing safety being challenged)
Collect money from these people and profit off the supply-and-demand
While I'm sure they'll say the increased visitation is resulting in more graffiti and litter (which unfortunately is true given the urban blight affecting all natural places), I think the less a**hole approach would be to charge a reasonable visitation fee.
That way, the trail maintenance and clean-up would pay for itself (and possibly more parking being made available with the proceeds).
It would also make the intentions of both the preserve and the community around it more transparent while steering us away from the unsustainable mentality that things should be free or as cheap as we've been falsely accustomed to.
Not only did this apply to the North Etiwanda Preserve, but it seemed to permeate and degrade all that we hold dear as a society as far as distortions in a free market are concerned.
After all, the National Forest Trailheads should be enforcing adventure pass parking fees, the National Park Service should be charging more (or at least per person like they do in Europe), and even general things like plastics, utilities, fossil fuels, products made overseas, shipping, etc. should not be as artificially cheap as they are right now.
By externalizing the costs to the environment, the costs to society, etc., we've created an unrealistic expectation that we're entitled to cheap products and services, which only allow certain actors to profit off the externalities while eroding society and the environment as a whole.
Really, to fix these market distortions (if we truly want a free market) is to price in the entire life cycle from production or rendering of goods and services to paying for the impacts of said goods and services to close the loop.
In that sense, capitalism is not the enemy, but it's the bastardization of it that has really blown up in our faces as far as causing all of society's ills.
Indeed, the more I see the impacts of these market distortions around me in our hikes and our travels, the more I'm convinced that this is really the root cause of all our issues whose consequences seem to be accelerating as opposed to being mitigated.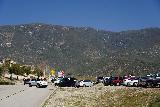 It's not the usual cliches of money, capitalism, socialism, or whatever the polarized political sides of the spectrum try to make this a black-and-white issue.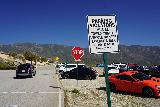 Anyways, sure enough when I got back to the "overflow parking" by Day Creek Blvd and Etiwanda Ave, the cop was no longer there, but I could clearly see a parking tickets placed under the windshield wipers of each vehicle parked here.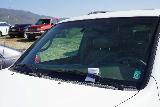 And yet, I saw there were still more vehicles coming in to park despite this as if they couldn't be bothered finding alternate places to go and would rather pay the parking fine (which I'm guessing is at least $35 based on the fines I saw in Long Beach or in other suburbs in Los Angeles county).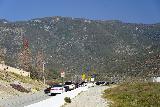 Nevertheless,it wasn't until about 10:25am when I finally walked up into the North Etiwanda Preserve where Julie was constantly on the lookout for me.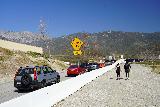 Now we could finally begin the Etiwanda Falls hike in earnest, but the big observation that I got when I made it up here was that I probably could have waited it out for the 20-30 minutes or so that I drove and walked before scoring a legit parking spot here.
I guess that's another lesson learned to be patient, but I still stuck by the motivation that this was as much of an exploratory move as it was trying to take more control of my destiny as far as this parking situation was concerned.
So with that, we then promptly started the hike, which was quite busy despite the wide open fire road that we had to walk to get up into the canyon containing the Etiwanda Falls.
The first thing we noticed was that very few people were wearing masks on this trail, which wasn't all that surprising considering we were in the rural parts of the Southland, where the political divide leans more to the right.
It was especially unsettling when you have unmasked kids running and hiking fast and then stopping where we'd pass them, and then they're run and pass us again (which meant we were constantly going back-and-forth and exposing each other to our globules).
Perhaps the only saving grace was the amount of UV exposure on this trail, which was quite high considering there was no shade, and perhaps that might make it harder for the coronavirus to stay airborne and effective long enough to spread the disease.
Anyways, having done this trail before, I wasn't having much difficulty with the slightly uphill nature of the hike, but I could also see that the kids were a bit out-of-shape as the girls were especially struggling.
With a few water breaks here and there (as well as Sophia's blister issue causing another stoppage), we made it up to the gate where the pitch of the climb steepened a little more at 10:50am.
As the climb eventually petered out and started to flatten out (and even descend slightly), I could see a lot of bare trees inside the canyon as well as hear the sound of flowing water.
The trees in the canyon were quite noticeable and they looked dead, but I suspected that they had lost their leaves in the Fall or whenever the Santa Anas would blow the leaves off.
And then as we persisted a little more, we ultimately made it up to the weir or water contraption at around 11:50am.
At this point, I was determined to go find the Lower Etiwanda Falls, which I didn't figure out how to do the last time I was here, but I was going to figure it out this time around.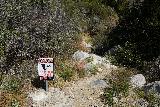 So while the rest of the group veered away from the weir and stayed on the main trail, they would eventually make it up to the Etiwanda Falls shortly thereafter.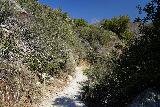 In the mean time, I noticed there were "No Public Access" signs now erected on the use trails behind the weir.
I still went through just to see where it eventually went, and after a few minutes, I was pretty much alone and standing before a reinforced ledge leading to some kind of manhole oriented vertically like a door.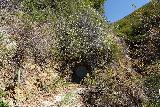 Obviously, it was closed, and I suspected that it was there for some kind of utilization as far as the Water District here (I'm guessing) was concerned.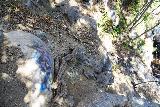 But as I looked around the ledge I was on, I could see that the dropoffs here were quite steep, and I could see why I decided to turn back the last time I was here 6 years ago.
However, I eventually noticed a spot towards the start of the reinforced part of the ledge, where the steep descent towards the base of the hard-to-see Lower Etiwanda Falls was actually doable.
So I carefully made my way down, and then I encountered a tree obstacle with a bunch of biting ants on it (and I knew they bit because I had accidentally placed my hand on their trail!).
After carefully ducking underneath the overhanging branch, I then slowly made my way down the remainder of the graffiti'ed rocks before finally getting down to the banks of the East Etiwanda Creek right in front of the Lower Etiwanda Falls.
By about 11:50am, I had finally stood before the falls though I was careful not to get too close to the dropoffs by the edges of the creek itself.
This waterfall seemed to be as tall as the main Etiwanda Falls though its flow seemed to be a bit thinner than I remembered the main falls to be.
Clearly, other people have been down here before given the amount of tagging that went on here. So it wasn't impossible to reach, and I'd imagine if the authorities really wanted to, they could have made this part as accessible as that manhole up above.
Anyways, after having my fill of this Lower Etiwanda Falls, I then climbed back up to the reinforced ledge.
There was one hairy moment where I nearly lost my stainless steel bottle down the cliff after it fell out of my side pocket as I crawled underneath the overhanging ant-lined tree branch.
Fortunately, some brush or foliage "caught" the bottle and I was able to reach down to get it before putting it back into my pack and continuing on my way to rejoin the rest of the group.
As I got back to the main trail, I then swung around the wide path while dodging people going back in the other direction (again, many of them were unmasked), until I finally arrived at the actual Etiwanda Falls at 12:15pm.
After taking some moments to capture this attractive waterfall (now confirming that its height was probably similar to that of the Lower Falls though it seemed to be thicker), some of the family members joined me just as I was approaching their chill out spot.
They were in a somewhat shaded area a little further upstream of the brink of Etiwanda Falls, where lots of other people were chilling out.
Anyways, we took some time going back and forth to the lookout across the ravine from Etiwanda Falls and back to our chill out spot.
We used the lookout spot to take pictures while our chill out spot was where we let the kids do some water play while the adults were snacking, relaxing, and basking in the experience.
We also had a nice conversation with a friendly family from Riverside who happened to see Tahia using a fallen log as a balance beam.
Eventually at about 12:50pm, we started to head back towards the trailhead.
While we looked forward to the long downhill trajectory of the return hike, I was also aware of the extended hike we had to make due to the parking situation.
The original plan was to have the family wait at the illegal "overflow" parking while I'd go get the car and go back to pick them up, but I was still concerned about getting a parking ticket even though there were no signs to the contrary where I was at.
Nevertheless, the hike back went pretty smoothly as I was in the back of our elongated line conversing both with Mom and with Julie.
The kids were more towards the front with Dad.
I also took frequent photo breaks because the return hike was quite scenic if not for the smog or haze that reduced visibility over the basin.
Eventually at around 1:25pm, I broke off from the group again as I took the detour going to the gazeebo.
There was a family at this gazeebo, whom I greeted, but I pretty much checked out the interpretive signs (especially the map for alternate parking possibilities but there were none).
Once that was done, I saw that there was the continuation of another trail that also went downhill and so I pursued that instead of backtracking to the main trail.
Another couple that went up that way towards the gazeebo confirmed to me that it went back to the main trail so I just went ahead and did that before finally getting back to the familiar North Etiwanda Preserve parking lot.
There were still a handful of cars waiting for people to come back to the lot to vacate their spots, but I saw up ahead that the family continued down the barricaded open space towards that overflow parking spot.
I caught up with Julie first, who was busy taking pictures of other peoples' rooftops since we knew we needed to get our roof redone.
It was interesting to see how most of the homes here were all tile roofs (ala the Mediterranean style), but we knew we couldn't afford that.
So that suggested to me that the homes out here must have been cheap enough to allow that kind of construction, which was very necessary given how intensely hot the Inland Empire can be.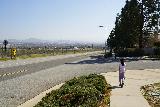 Eventually, I caught up with the rest of the family, and right then and there, Mom decided we should all just keep walking to the car since it made no sense for them to wait at this overflow lot and bake in the sun.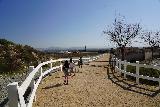 We saw more Rancho Cucamonga police making the rounds and probably looking to write more tickets as there were still cars pulling in and out of the area.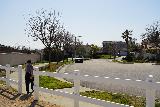 Finally at about 1:50pm, we finally recovered the car, which was now the only car left in the cul-de-sac, and to my relief, there was no parking ticket.
Still, I wonder how much longer even this spot would be an option in the future if we were to come back once again as I'm sure the city is looking for ways to cut off access to the falls in the name of perhaps more housing lucrative developments.
Ultimately by 2pm, we finally drove off, and with everyone hungry, we looked for the nearest In N Out even though I wanted to have King Taco.
Eventually by around 2:25pm, we found an In N Out not far off the I-15 as we headed back south.
Even though there was a long and slow-moving queue for the Drive Thru, we ultimately decided to think out-of-the-box and park in one of the many parking spaces at the mall, where Julie and Mom wuld then mask up and glove up to order in person.
That actually went by very quickly, and so we were all eating in the car before we then headed out and made it back to the parents' place at 3:40pm.
By this time, the kids were busy keeping each other company (more like more screen time on Alexa) while the rest of us were basking in the unwinding of the day.
Indeed, it felt great that we could spend this quality time together again as it was a long time coming (over a year it seemed), and I was even looking forward to whether we can do another Spring Break Road Trip like we did 3 years ago.
Finally, after a takeout dinner of Cluck 2 Go (formerly Manchan), we finally left the parents' place at 6:40pm, but not before Julie noticed a remarkable orange moon hovering over the eastern sky.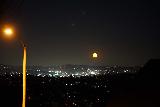 Too bad I didn't have my new 100-400mm telephoto lens to properly capture that moon, and I didn't know better enough how to darken the shot on the Sony using the 105mm max zoom.
But it was still an alluring sight before we finally bid our farewells and look forward to the next time we'd spend quality family time like this again on another waterfalling adventure…
Visitor Comments:
Got something you'd like to share or say to keep the conversation going? Feel free to leave a comment below...
No users have replied to the content on this page