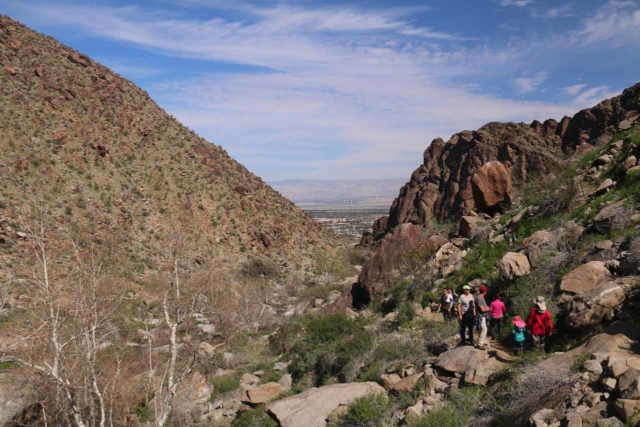 25-February 2017:
That said, Tahquitz Creek and Tahquitz Falls had quite the healthy flow. In fact, its flow was so strong that the creek flowed right over the connecting trail leading to the other side of the loop. It was just as the sign had said about the trail being "flooded". Dad was preoccupying himself trying to figure out how best to make this crossing without getting the feet wet.
He seemed the most determined to make it across when we noticed a handful of people able to rock hop across the rushing water to continue the loop. Unfortunately, if we were to do it with Tahia, for sure we'd be getting our feet wet again as it would be harder to do the rock hopping without hiking sticks and trying to do this with Tahia on our back or trying to pass her from person to person while standing shin deep in the running water…
It was about 8:40am when we started leaving home to pick up the parents. The original plan was to pick up Mom at 8:30am, but as usual when it came to trying to coerce Tahia to eat her breakfast and wake up, it always became a bit of a chore given how picky she was. And so I was resigned to the fact that we were going to be showing up to Palm Springs a bit later than expected. I'm sure that would put pressure on us to try to wrap up the Palm Springs experience by doing Tahquitz Falls, then having a healthy lunch at the Chicken Ranch, then indulging in the thick shakes at Great Shakes, and then wrapping up the day doing the aerial tram before driving home for a late dinner.
Indeed, ever since Julie and I did our little Valentines-related adventure to the Palm Springs area two weeks ago, we had been planning for this kind of a day trip, and today was the day it was going to happen. We figured that Tahia should at least get to experience the area, and we knew from past experience that Tahquitz Falls was pretty family-friendly unlike Murray Canyon Falls, which was quite the adventure with all the water crossings.
Not only that, but Mom was open to the idea of going back to Palm Springs to do this hike. It had been well over 20 years since Mom, Dad, my brother, and I went to Palm Springs as a family, and my only memory of that place was doing the aerial tram though I didn't remember much else about the experience. So we were hoping to do it this time around and fill in the gaps in my memories while also creating new ones for everyone in the process.
So we showed up to my brother's place at 9:05am. Mom wasn't there as apparently she took Joshua to get some Mickie D's since he wasn't into the home-cooked breakfast. So we had to wait for her to return before we were able to take off, which meant we were going to show up to Palm Springs even later than I had hoped. In the mean time, we were catching up with my brother and my Dad while Sofia and Tahia were getting along. Apparently, Dad was coming along with us on this trip as well, so for sure, we were going to have a full car load.
My brother's wife was sick so she was busy getting rest. So the rest of us were downstairs patiently waiting for Mom while marveling at the remodel job that was finally complete ever since their home was flooded from bad pipes that had burst several months ago.
It wasn't until my Mom got back at around 9:30am that we were finally loading up the car and getting ready to go. With our later-than-expected start, I knew that we were most likely going to have a late lunch, which would most likely mean that fitting in the aerial tram before getting dark might be a pipe dream. My parents were saying that people would overnight at the top of the aerial tram so perhaps that might be something to consider another time. We'll see.
The drive out east to Palm Springs was mostly uneventful though we took a different route than two weeks ago. Instead of staying on the 10 freeway, we took the 60 freeway east instead. There was one stretch of driving on mountain roads at high speed, which was a little precarious when sharing with large trucks and big rigs, we we'd eventually join back up with the 10 freeway at Beaumont and Banning.
The parents were telling us that when Tommy and I were little, they took us cherry picking in the Beaumont area. I had recalled we had cherry-picked before, but I never realized that it was in this area. Anyways, once we were on the very busy 10 freeway, we then continued east past the familiar Cabazon and Morongo Reservation before heading south on the familiar 111 south towards Palm Springs.
Mom and Dad had been regulars at other Native American casinos in California, and they never went to Morongo. They complained that Morongo never had good rates, and Julie and I suspected that perhaps they were in a more prime location so they had large advertising budgets and didn't need to attract people with big discounts.
As we started to enter downtown Palm Springs, there was quite a bit of traffic near the Chicken Ranch Restaurant that we were targeting for lunch. Unfortunately, a large chunk of Palm Canyon Drive through downtown Palm Springs was closed for some kind of special event. So that created quite a bit of a traffic jam, which further delayed our hopes of getting started early on the Tahquitz Falls hike.
As we got closer to the source of the closure, we saw some signage saying that there was an art festival from February 3-25, meaning that today was the last day of this festival. It was strange that Julie and I didn't remember seeing such festivities and closures the last time we were here two weeks ago. There was also some kind of town fair going on as well, and perhaps that was the real reason for the closures.
But at least the detour reminded Julie and I that sometimes it might be easier to drive along the side streets, which were two-way instead of the heavily-trafficked busy streets of Palm Canyon Drive going south and Indian Canyon Drive going north along with all the long traffic lights along the way. So we kept that in mind as we knew we'd be driving back and forth between the hike, the restaurant, and the dessert place, all before going to the aerial tram.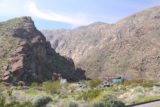 So it wasn't until about 11:05am when we finally made it to the Tahquitz Canyon Visitor Center parking lot. We got one of the last remaining legally marked spots though some people were already starting to park on the shoulders of the road (which would reduce the walking back to the visitor center). We weren't getting too nit picky about how many more steps we had to walk to start and end the hike, so we just didn't bother bending the rules.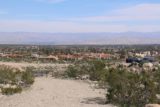 Once we were all geared up and ready to go at 11:25am, we then walked back towards the familiar Tahquitz Canyon Visitor Center. This time, there was a bit of a line going out the door and onto the bridge over a small dry wash. At least the line was moving somewhat fast so we only waited around 10 minutes (instead of some 40 minutes to get to the payment kiosk at Indian Canyons two weeks ago).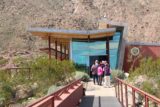 Once inside the visitor center, we noticed that the price hadn't changed from 2011. So it was $12.50 per adult and $6 for kids 6-12 years. When the lady asked how many people, I told them 4 adults and 1 child. The lady said children five-and-under were free, but Mom being very honest interjected and said that Tahia was 6 years old. So we had to pay the extra $6 for her.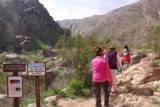 When I asked if there was a discount between Indian Canyons and this place, the lady said that there was one handed out by the Indian Canyons facility, and that was when I realized that we had forgotten to bring the discount brochure! So now, we got double-whammied as I'm sure the $56 total payment could have been significantly reduced. Oh well, we're here anyways, and we mind as well enjoy the place where we knew that the steep entry fees meant the trail would also be well-maintained and easy for Tahia and the grandparents to do.
And so at 11:35am, we got our wristbands and got right onto the trail. This time, we were struck by how scenic the canyon was as Mom was going crazy taking pictures of the giant rocks and cliffs we were walking amongst while I was wondering why I didn't recall getting so struck with the scenery like before (maybe I was, but I forgot). Tahia was busy collecting rocks and dirt as well as a couple of desert wildflowers starting to bloom. And Julie and Dad forged on ahead leading the pack.
There were quite a few people on the trail already, which wasn't surprising as we knew that easy trails would also be the busiest. It was clear to us that all the giant boulders and sharp rocks we were walking amongst had flaked off from the steep and nearly vertical cliffs flanking Tahquitz Canyon. We also knew right away that these same cliffs (especially the east-facing one) concealed Tahquitz Canyon from the rest of Palm Springs, which made this place pretty much hidden from the rest of the resort town. I guess that was another reason why my parents never knew about this place before even though they had been to this town a few times over the years.
The hike was gently uphill and the weather was a little on the warm side now that we were moving. So we made pretty frequent water breaks as I was the one carrying most of the water for Julie, Tahia, and I. Dad and Mom brought their own waters. So our pace was a little slower than when Julie and I last did this hike some 6 years ago.
Anyways, we went past some marked landmarks like an overlook with a symbol that looked like the Chinese "kou" or mouth. Then, there was a flat rock that was fronted with a symbol of the Chinese "ri" meaning sun. I guess some of the symbols just so happened to resemble Chinese characters but in reality, they were merely coincidence. There were yet other rock shelters that provided a nice photo op along the way.
At a junction near one of the bridges, there was a sign telling us to go clockwise on the loop because the other way was flooded. I suspected that the Tahquitz Creek right before the falls might have overwhelmed the hiking trail connecting the upper part of the loop. So that added a bit more pressure on the crowdedness of the trail as now most of the people were sticking to the left side of the trail going out and back as well instead of doing the entire loop.
Eventually at about 12:20pm, we descended onto the very busy viewing area of the Tahquitz Falls. The falls was still in a bit of shade unlike the last time we were here, which I'd imagine was about a little later in the early afternoon as well as a little later in the season being in April instead of February. So it was a little difficult to take satisfying photos because of the shade and the bright rocks adjacent to the shadowy falls.
That said, Tahquitz Creek and Tahquitz Falls had quite the healthy flow. In fact, its flow was so strong that the creek flowed right over the connecting trail leading to the other side of the loop. It was just as the sign had said about the trail being "flooded". Dad was preoccupying himself trying to figure out how best to make this crossing without getting the feet wet.
He seemed the most determined to make it across when we noticed a handful of people able to rock hop across the rushing water to continue the loop. Unfortunately, if we were to do it with Tahia, for sure we'd be getting our feet wet again as it would be harder to do the rock hopping without hiking sticks and trying to do this with Tahia on our back or trying to pass her from person to person while standing shin deep in the running water.
So when we had our fill of the falls, we opted not to make this crossing and head back amongst the crowded trail. But before leaving, we took some people shots. One Taiwanese lady asked if we wanted our group photo taken by her in Mandarin. So we went ahead and did that, then she engaged me in some small talk in Mandarin, which put me on my toes in trying to keep up.
The way back was every bit as scenic as on the way there. In fact, it made me wonder if we would be better off doing this trail counterclockwise than clockwise just for the gorgeous views. I had recalled that the other side of the trail was a little on the less steep side (which was good for descending and more featureless and long on the way there). Either way, we now got a different look at the hike, and we were definitely savoring the moment.
During the return, I caught up with the Taiwanese lady and her Caucasian significant other. At first, the conversation was in Mandarin, which meant the significant other couldn't relate. But basically the small talk revolved around how we got here, where we came from (she thought we came from the Bay Area instead of Los Angeles), and how she was amazed at how we liked hiking, which probably didn't fit the profile of most Chinese people in these parts.
When the conversation shifted to more Yosemite (as we were comparing the price of admission of this place versus Yosemite) and turned more to English as she was explaining to the guy about what we were talking about, then the talk shifted to the guy's interest in fishing around Bridgeport and how Yosemite could be accessed over Tioga Pass from the 395.
When it was time for another water break with the family, we parted ways as they forged on ahead. Meanwhile, we continued taking our time, where we took more cute people shots with Tahia and Grandpa posing before some of the natural rock shelters and other formations among others.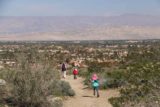 We finally made it back to the visitor center at around 1:20pm. There were now even more cars parked at the lot (definitely using the shoulders now) as well as even more people on the trail heading up as we were headed out. Indeed, this place was popular and it was justifiably so.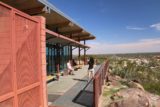 Anyways, we opted to take the side streets back towards the Chicken Ranch instead of the one-way streets with lots of long traffic lights. We wound up driving along Belardo Rd, which was two-way and only halted by stop signs instead of traffic lights. So by 1:40pm, we managed to find parking at a large lot behind the Corridor and the Chicken Ranch, and so we wound up there getting our familiar farmers veggies and whole chickens while also soaking in the ambience of eating outside with all the festivities going on behind us across Palm Canyon Drive.
It was quite the family moment as we were all eating together and basking in our accomplishments. Of course, it was still a little bit of a task trying to get Tahia to finish her lunch in a timely manner, and we tried to dangle the carrot before her with the promise of having Great Shakes for dessert after the satisfying and clean lunch at one of the few places that Julie could eat at without flaring up.
After finishing our lunch at about 2:45pm, we took the back roads towards the other side of the Hyatt, where we found street parking next to the large construction site, where we suspected they were building a new centrally located hotel.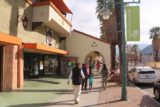 We had to walk a couple of blocks or so further south in order to finally get to the Great Shakes. But with the large volume of foot traffic on this busy Saturday afternoon under partly cloudy skies, we were enjoying the nice family-friendly atmosphere and enjoying each others' company. We wound up getting the familiar Oreo Cookie shake where I substituted the caramel swirl for fudge while Mom got some kind of berry almond shake, which was much healthier than the indulgent dessert that Tahia and I shared. We also saved some money for the free upgrade in size for checking in.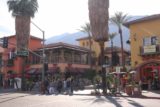 After getting our shake, we walked around on some going back towards the car where we finally caught up with Mom who was checking out the shops here. And by 3:40pm, we had regained the car and finally started heading towards the aerial tram.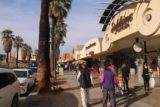 Just as we were about to make it to the parking area and payment kiosk for the $5 parking at the aerial tram at around 4pm, there was a sign saying that it was a 1.5-hour wait for the tram itself. We decided that we mind as well do this tram on a different day because that would mean we wouldn't make it up to the top until dark. So that wasn't really worth it in our minds.
I guess we'd have to come back here early in the morning on a different day and plan a day around doing this while hiking up at the top. I knew from looking at the maps that it was possible to drive to the top from Idyllwild, but anyways, I guess our complete Palm Springs experience would have to wait for yet another time. It was a bummer for Tahia, but perhaps it simply wasn't meant to be on this day because everyone was starting to get food coma. So we mind as well leave Palm Springs and head back for another family dinner before the rush. This time, we texted my brother to see if his family could join us.
So as we made the long drive back from Palm Springs, we could see that the skies became darker and grayer. Rain was definitely threatening though it wasn't going to be the strong storm that people had originally thought earlier on in the week. Anyways, we made it to the Green Zone in Diamond Bar at 5:35pm, and my brother's family was already there waiting for us.
The kids were all sitting together and having a fun time interacting (albeit at the expense of Tahia not wanting to eat her food). Meanwhile the grandparents and parents were busy mingling with each other while watching the kids interact. Even Jina who was sick had some clean soup to help her along while mingling with the rest of the family. So we were spending quality time with the immediate family as today was turning out to be one of those days where it all came together in a family-first kind of way. It felt like we hadn't had one of these for a long time, and sometimes it had to happen spontaneously like it did today.
With this year being quite the season for waterfalling, we'll now set our sights more westwards towards the Santa Monica Mountains and the Santa Barbara vicinity as well, which had been disappointing over the last 5-6 years, but now it seemed like it was going to be a different story this time around. We mind as well seize the moment because who knows when the next prolonged drought will begin and persist?
Visitor Comments:
Got something you'd like to share or say to keep the conversation going? Feel free to leave a comment below...
No users have replied to the content on this page