Day 2: SPANISH INSPIRATIONS
It was about 8:30am when we had checked out of the Holiday Inn Express in Carpinteria. It was nice that our rewards points covered everything, including the typical occupancy taxes or other gotchas. So indeed there were no strings attached and we really did spend a free night with our IHG rewards. With the $200 savings, that definitely took the sting out of even a local trip like this one.
Not surprisingly, there was morning fog or low clouds, which made it quite cool. I didn't bother bringing a jacket on this trip, but I figured that I could still get by without one on this trip – morning fog and all.
Our plan for today was to visit the Old Mission first since we didn't really get a chance to check it out yesterday. Then, we'd check out the Old Courthouse since that was said to be the #1 attraction in Santa Barbara according to TripAdvisor.
By 8:55am, we were back at the familiar Old Mission of Santa Barbara. This time, we took a slightly different route to get here as we headed north on Mission then turned left on Laguna. Sometimes I wondered why Julie's iPhone map app does this (switch up the routes on us whereas yesterday's route was on Mission Creek Rd…
We happened to show up just before the opening time on this day, which was only in about 5 minutes. It was too bad that the morning low clouds persisted at this time because the mission would've really contrasted with the blue skies had it been a little later in the morning. When it's gray like this, the building tended to blend in with the sky.
Nonetheless, we paid the $7 per person to tour the grounds. There didn't seem to be anything special about this visit, but from looking at a video, we could sense the historical significance of the mixing of cultures from the native Chumash tribes to the Spanish Franciscan priests trying to spread the gospel. We could definitely see the Spanish influence in the architecture here, and that further amped up our desire to see Spain later this year.
We then checked out a cemetery area where there appeared to be some kind of mausoleum where cremated remains were put into niches that we didn't have access to. We wondered how much money it would take to have cremated remains stored here.
After touring the cemetery, we then went into the chapel. It seemed like a standard chapel with an aisle leading all the way to the altar or ceremony spot. There were also some statues and even a relatively hidden side room that seemed to be for some other important figure.
The atmospheric tour then ended as we walked through a museum that depicted life back in the 1700s when the area was still shared between the Chumash and Spanish. I guess now that we're older and wiser and more culturally aware, we probably got a bit more out of this visit than say if we had done this visit years ago. I'm sure Tahia wouldn't have gotten much out of this visit. I even overheard one daughter complain that she was bored.
Nonetheless, this gave us an appreciation for how people lived with the land. And given our drought situation, water was such a precious resource that they had already figured out how to harness it centuries ago.
At 9:50am, we returned to the car. But not before spending a few more minutes trying to capture photos of the Old Mission against some hints of blue skies coming out. In fact, the cars that were hideously parked in front of the Old Mission yesterday weren't there today. And really, that made the photo ops that much more appealing though I'm sure if we had waited another hour, we would be able to enjoy the nice photo ops from the blue skies contrasting with the Spanish style mission.
At 10:05am, we were back at the familiar Lot 7 in downtown Santa Barbara. This time, as we walked through the arcade (or La Arcada), we paid special attention to its charm as we could totally envision how places in Spain would be like this. Again, it further added fuel to our desire to go to Spain and see the real deal.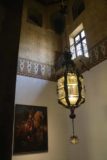 Next, we went to the Old Courthouse, but with the skies still somewhat gray (though the fog was gradually burning off), we just did a brief scouting mission to explore the nooks and crannies of the place. We also checked out the Clock Tower, which had a nice regal view of Santa Barbara and especially of the mountains backing the city. And it was from this vantage point that we could really appreciate the Spanish tiles adorning the rooftops of many white buildings. Again, it was yet another reminder of the Spanish heritage of this place, and we could see how the folks running Santa Barbara did a good job of retaining this Mediterranean feel.
Since it was still pretty early in the morning, we took the opportunity to walk back through State Street in search of a place to grab a bite for lunch, and then see what the hype at McConnell's Ice Cream was all about. The main throughfare of downtown Santa Barbara was definitely quieter than it was yesterday, and we figured that not everyone would get to take the Presidents Day holiday off. I know I had to take this day off as it wasn't a company-sanctioned holiday.
We'd eventually get to this place called the Natural Cafe right when they opened at 11am. Julie and I would share a portabello mushroom sandwich and an arugula salad. It was a pretty guilt-free meal, and we were dining outside so we could also watch the world go by as we were enjoying yet another sunny day.
We were done with lunch another half-hour or so later, then we gradually made our way back in the direction of McConnell's. We made a stop inside a vintage shop as we could see some old school magazines, trinkets, and clothing that I'm sure Hollywood wouldn't mind perusing for period pieces. I oftened wondered how places like these survive let alone get their inventory. But in any case, this place was filled to the brim with stuff.
Eventually, we'd show up to McConnell's right when they opened at noon. We got ourselves a sorbet as well as a cookies n' cream and vanilla bean. The ice cream was good, but I wasn't sure what the hype was all about. Perhaps it was because they touted organic grass-fed milk in their ice cream so it had that sustainabiilty and health factor in it (again, something that we noticed was quite prevant in Santa Barbara).
To me, ice cream's ice cream, but I guess I could feel better not getting some weird concoction of hormones or other things that the FDA approved yet are banned in other parts of the world.
Anyways, we returned to the Old Courthouse and Clock Tower after the ice cream. And sure enough, the skies were blue and it was more photogenic than it was earlier this morning. It was also busier than it had been as well.
I had overheard that the Old Courthouse was inspired by some monastery in Toledo, which had a blend of Moorish (North African) influence, and we could kind of see it with the minaret archways. Again, the Spanish influence of this place further inspired us to make our Spain trip a reality this year as we were constantly reminded of it.
Anyways, we could now see why the Old Courthouse was #1 in TripAdvisor in Santa Barbara. That was because this place was free. Plus, it had the interesting architecture as well as the nice views both towards the mountains and towards the ocean.
By 12:50pm, we were finally back at the car. After a relaxing and educational stroll, we now had to drive back to Los Angeles and face the traffic that I'm sure would greet us. Sure enough, my fears were founded as much of the drive through the Valley was sluggish. It wouldn't be until about 3:55pm when we finally got home to see Tahia once again. It was a three-hour drive (as opposed to the two-hour drive on the way there), so the extra hour of traffic made us even more exhausted than before. But that didn't stop Tahia from asking to be taken to the park (oblivious to what we had been through).
Ah, no rest for the weary…