Day 2: ALMOST PUSHING IT TOO MUCH
Julie and I didn't awake until 7:30am. Considering that we didn't sleep until almost midnight last night, I guess last night was the time to try to get back some sleep against our sleep deprivation. Nonetheles, we wanted to squeeze in another hiking excursion while feeding the dogs one more time. So that thought got us going, and by 8:30am, we were finally out the door.
By 9:05am, we were done feeding the dogs. Now, it was time to continue eastwards towards Mt Baldy for we wanted to re-visit San Antonio Falls (something we hadn't seen since the Spring of 2005).
Using Julie's old Corolla, we pushed eastwards towards the Claremont area. Eventually, we'd get off Base Line Road, then drive north on Padua Road, which seemed to pass through a new suburban development area. We wondered why Ann Marie Brown
's directions didn't include this more direct route towards Baldy Village on Mt Baldy Road (she had us taking Euclid, then Mountain Ave, before getting onto Mt Baldy Road, but that would've meant we overshot eastwards before heading west towards the mountainous road).
But that's when it dawned on us that perhaps Padua Road didn't exist when our version of the book
was published. The new housing developments here was pretty indicative of the encroachment of land development and urban sprawl towards once wild areas at the foothills of the San Gabriels.
When we finally got onto Mt Baldy Road, the road climbed pretty steeply considering this was supposed to be a pretty fast moving road. It certainly seemed a bit less developed that I remembered it five years ago. But when we got past Baldy Village (with plenty of places to pick up Adventure or Recreation Passes), the road really climbed steeply with lots of 10mph hairpin turns.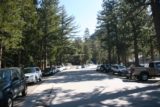 I could tell Julie's car was struggling here, but there wasn't any indication from what I could tell that her car was overheating or anything. The AC wasn't on or anything either.
Eventually at about 10am, we saw the Manker Flat Campground around the divided Mt Baldy Road. The divided part was something I remembered from the last time, and it was reassuring to see that my memory didn't fail me here. But the steep winding mountain Mt Baldy Road for some reason wasn't as memorable until now.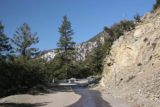 When I turned off the ignition, I heard some bubbling from within the front of Julie's car. Some white smoke was also coming out of the sides of Julie's front tires as well as some protruding from the cracks in the hood.
Again, nothing indicated overheating on the panel. However, all of the signs sure seemed to point to overheating! I guess perhaps we pushed Julie's car a bit too hard on this go-around. Perhaps I should've used a lower gear to climb.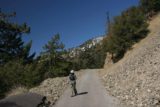 In any case, Julie and I donned our boots and expected similar conditions to our first visit. That is, we expected to walk on an unpaved but flat road leading to an overlook of the falls with a pretty worn section of track leading to the base of the falls (which we avoided).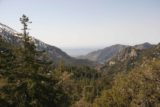 But right off the bat, I noticed that Falls Road was paved as it went through the gate preventing public vehicles from going through. The gate was nothing new, but the paved road didn't seem to jive with my memory. Plus, the road looked pretty well-kept, which was surprising considering the types of rain storms (and snow in these parts I'm sure) we had been experiencing this Winter.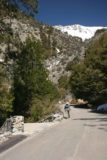 As the road turned towards a shady part of the canyon away from the hot sun, we got some pretty nice vistas of the basin downslope of the trail.
We eventually passed by a couple of driveways with vehicles on them. They looked private, and that totally explained why the road looked pretty well-maintained. But then again, we never remembered seeing cabins here the last time around. I guess lots can change in five years.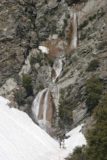 On the bright side, it was certainly less busier and crowded than it was five years prior. Plus, there was more snow around the falls, which wreaked havoc on the light meter on my camera given the amount of intense sun reflected back towards us by the snow.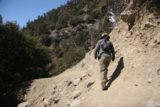 After getting our fill of the overlook, we decided to continue onwards to the base of the falls. We gingerly but successfully traversed the worn section of track we were afraid of last time, and ultimately walked a short section on snow before getting right to the base of the falls.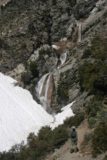 While there, we even noticed a rainbow at the falls' base, and the waterwheel on the falls itself preoccupied us as we tried to take long exposure photos in the blinding conditions.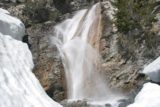 There were a handful of other couples that started showing up after us, but it definitely felt much quieter than last time. We lingered a bit longer looking both up at the falls and back downstream towards the canyon opening out to the LA basin in the distance.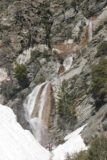 Eventually when we had our fill of the falls, we headed back to the car while being passed by a couple of other hikers who wore crampons on the boots to perhaps do some snow hiking (or that they were already done with their excursions). Perhaps there was more to the trail past the falls overlook, but we were already content with the falls.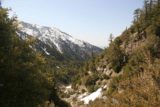 By 11:25am, we were back at the car and proceeded to drive back down the hill eventually getting to Little Saigon for some quick Vietnamese food. The drive down Mt Baldy Road was a bit more frustrating than on the way up because there were drivers that refused to use pullouts while holding back the traffic behind them. At least I didn't worry a whole lot about the car overheating since gravity took care of most of the work thereby relieving the engine of doing anything terribly arduous enough to cause a breakdown up here (not a good thing).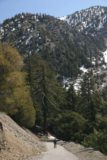 As for the drivers who held everyone up, they obviously were either city drivers who didn't know better about mountain driving etiquette (as well as the law) or they were just stubborn jerks. Whatever the case, we'd eventually make it to the Brodard Restaurant at 12:30pm. Sure it was prime lunch hour and the place was packed (looked like they remodeled, but didn't efficiently use their new space yet so the waiting area was still quite congested), but the rolls hit the spot.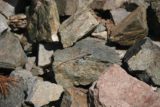 After the quick lunch on this hot day, we returned home where I tried to get my fix of March Madness…
Visitor Comments:
Got something you'd like to share or say to keep the conversation going? Feel free to leave a comment below...
No users have replied to the content on this page