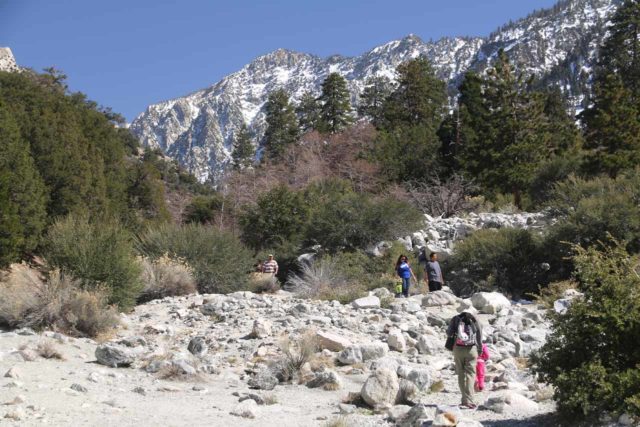 7-March 2015:
…we had hiked back to the busy car park (with even more cars in the car park now!). But that wasn't before we got nice views of the valley where there were still snow-covered mountains in the distance framing the rocky trail we were in. Indeed, as we were ready to climb back in the car again, all of us were having that relaxed mood that seemed to always happen whenever we go waterfalling. I even overheard someone conversing amongst his own family saying something to the effect like "that's why we come here; to get away from the craziness down there…" And I couldn't have said it better myself…
It was a lazy morning when we first awoke. After all, Julie and I didn't get up until around 7:30am and Tahia was still asleep. We didn't even talk to my Mom about doing a hike on this day yet. But there was something inside both of us that felt compelled to do a hike this weekend. After all, we were starting to get record temperatures (it's not even Spring yet!) in the high 80s to low 90s on this weekend, and with the storm that dumped some bit of snow in the local mountains earlier in the week, I knew that most of that snow would probably be completely melted away by Monday.
I had earlier wanted to do some Santa Monica Mountains hikes, but with the drought continuing to persist in California, I just didn't trust that there would be much water no matter where we would go on the west side. So instead, we had set our sights east towards the mountains where we knew the snow would be melting. But part of me wanted to do waterfall that we hadn't done before, and we had already seen most of the ones that were reasonably accessible out that way.
But with the window of opportunity to go waterfalling this season seemingly fleeting (since there would be no forecast for any precipitation for at least the first half of March), we simply decided to look for waterfalls that were on the way to Big Bear (but not quite that far). There was at least one waterfall we hadn't visited, and as a backup, if that waterfall wasn't so great, we could also go back to the familiar Big Falls, which we hadn't visited since 2010. In fact, like Sturtevant Falls, this turned out to be another waterfall that we just so happened to visit once every five years, but at least Tahia would get to check it out this time!
It wouldn't be until about 8:30am when we would finally leave home as we quickly powered through pancakes and sausages, while Tahia got to finish her milk. And then by 9:35am, we would finally leave the parents place. It turned out that Mom didn't check Julie's text messages so she was surprised to see us on this day. Thus, it would only be Mom who would go with us while Dad had some errands to tend to on this day.
It was already hot up at my parents place near the City of Industry, and so we started to wonder whether we might be seeing those dancing trees (from strong gusty winds) like we did a month ago at Rancho Cucamonga. At least this time, we were heading into the mountains instead of being blown away in the foothills. And besides, the weather service said the winds wouldn't be up to advisory levels like they were before.
The drive out to the Forest Falls and Angelus Oaks vicinity was much further than I recalled, but then again, it seemed like time tended to condense when it came to memories (maybe a consequence of the lossy compression of our memories?). In any case, it wouldn't be until around 11:20am when we pulled over at a very wide pullout just north of the community of Angelus Oaks, which itself was further up the mountain from the turnoff leading to Forest Falls. Had we continued following the traffic further up the mountain, we would've made it to Big Bear Lake.
Earlier, we had driven past this pullout, but I knew from looking at the maps before this trip that we had driven past where we were supposed to go. It was at this point that we somehow must've missed the Mill Creek Road, which itself led to what Ann Marie Brown called "Mill Creek Road Falls". We were expecting to see some closed off road that we might have to walk a little over a half-mile to reach the falls, but instead, we saw at the far south end of the big pullout area that there was a sign saying "Middle Control Road."
All of us were getting ready to walk the unpaved road leading down from the pullout, but then we noticed there was a Camry driving down that Middle Control Road. And that gave us the idea that maybe we should just drive down the road to see whether this waterfall would be even easier to reach than the hike we were preparing to do.
By about 11:30am, we dodged a couple of big rocks and driven down the narrow single-track unpaved road with some glimpses of expansive views towards some mountains in the distance before reaching a hairpin turn. There was a small pullout area to the right, and right over our shoulders, we saw a thin waterfall spilling right into the pullout area. There was also a patch of snow besides the falls (clearly benefitting from the shadows of this north-facing spot), and we knew that that would be an opportunity for Tahia to have a little bit of fun in the snow.
So Mom, Julie, and I were busy just enjoying this tiny falls to ourselves. Whether it was photographing just the falls, or trying to capture Tahia's joy at playing around the falls, it was refreshing to have a local waterfall to ourselves even if it wasn't a "showstopper" (as warned in Brown's book). But this was an example of how sometimes it's the tinier and more secluded waterfalls that could yield surprising results in terms of peace and tranquility as opposed to the more picturesque ones that are all popular throughout the Southland.
So we spent a pretty solid 25 minutes until we had our fill of the falls. And then since we were already close to Forest Falls, we just decided to go back down the mountain on Hwy 38 then turnoff towards the familiar Valley of the Falls where we could see how this falls would perform given the new snow combined with the drought. We knew this one would be popular, but given its close proximity to where we were at, why not do it?
So at 11:55am, we were back in the car, and then proceeded to deliberately make our way down the mountain. We were following Brown's book in search of a couple of other falls – one of them being Mountain Home Creek Falls, but I looked from the pullouts there and didn't manage to spot it. Maybe I didn't look hard enough. Or maybe it just didn't have the necessary flow. In any case, I figured it would be one of those miscellaneous roadside waterfalls that probably wouldn't be worth the trouble.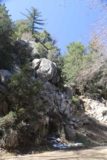 Ultimately at 12:20pm, we were back at the familiar car park for Big Falls. There was a gate near the ticketing booth at the entrance, but no one was collecting fees here, nor did that gate block off the car park. It only blocked off access to some picnic area, which was still covered in snow. In fact, Forest Falls itself still had quite a bit of snow since it was still in the shadows so it didn't melt nearly as fast as the south-facing slopes here.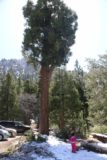 The car park was expectedly full, but we managed to find parking in an unpaved area. And at least we got to take advantage of our Forest Adventure Pass (though we probably wouldn't be breaking even with the requisite 7 visits before making it pay off). I guess that's just how things go in drought years and we were in the midst of a fourth consecutive one (I'm hoping Global Warming isn't making this desertification issue permanent though there's not a whole lot we can do as long as the system continues to value unsustainable practices and things that essentially trash the planet).
On the way in, we saw that Big Falls had pretty good flow already. This was by far the earliest time of the season that we had ever visited this falls, but unfortunately, it would seem like February and/or March visits could very well be the norm as our Winters and Springs continue to disappear.
Once we got out of the car, we walked the familiar rocky yet flat path before crossing a very thin stream. The last time we did this hike, the stream was flowing a lot more, and we actually would have to rock hop or use sticks to try to get across without getting our feet wet. This time though, even Tahia could get across without wetting her tiny feet.
Then, on the other side of the creek, there was that familiar open area with some small multi-tiered falls (probably the very bottom of Big Falls) spilling into it. We decided to save this part for later as we hiked up the steeper and narrower trail in the shade of the forest leading shortly to the railed overlook. We saw some signs of unfortunate graffiti on at least one of the rocks en route to the overlook, but overall, we could see how this waterfall brought quite a bit of joy for all those who have managed to make it here.
There were even young and young-at-heart folks further down by the stream playing around some other cascading tiers to our left.
At about 12:45pm, we were at the overlook for Big Falls. And like before it was a distant view, but at least Tahia got to see it. There was even that fallen tree between the overlook and the falls just like from five years ago. I guess that kind of attested to how Nature moves at its own pace, which in effect, makes it seem timeless in our human time scales.
After having our fill at the overlook, we briefly went down closer to the creek, but unlike the last time when Mom and I scrambled higher to get looks at the hidden tiers of the Big Falls, we wouldn't do it this time as we weren't going to subject Tahia to that kind of risk. But we did see other folks with smiles on their faces that did manage to do it, and I could easily relate to it.
Twenty minutes later, we made it back down to that wide open area at the very base of the bottom of Big Falls' smaller cascades. That was where we chilled out for a few more minutes as Tahia took her shoes and socks off and played in the cold water while other families with kids were doing the same. Clearly she was getting into playing in and around the water at this age, and I was wondering we if we were indeed having a daughter who was growing up to be a Nature lover already.
At 1:25pm, we had hiked back to the busy car park (with even more cars in the car park now!). But that wasn't before we got nice views of the valley where there were still snow-covered mountains in the distance framing the rocky trail we were in. Indeed, as we were ready to climb back in the car again, all of us were having that relaxed mood that seemed to always happen whenever we go waterfalling. I even overheard someone conversing amongst his own family saying something to the effect like "that's why we come here; to get away from the craziness down there…" And I couldn't have said it better myself…
At about 2:50pm, we went to the familiar Earthen Restaurant for a late lunch. They were actually closing in ten minutes so we quickly made our order, then enjoyedo ur lunner. When we left the restaurant fully satisfied (with the garlic chicken, cold noodle (gan-ban-liang-mian), fried dumplings, cong-you-bing, etc.), we then took the opportunity to drive into the neighboring Schabarum Regional Park as Mom had told us that they were having a Cherry Blossom Festival this weekend. So we were like, why not (even though we knew this would turn out to be quite the long day)?
At 3:45pm, we were able to find parking not far from the big tented area within Schabarum Park. Clearly, there was a bit of a festive atmosphere, but it was also as if people were leaving as apparently we probably showed up just as the festival was about to finish. Still, we came in here to see the cherry blossoms, and we could definitely see that they were planted along the busy walkway full of people taking pictures around them.
When Mom told Tahia about horses, we decided to walk up to the northern side of the park where there was an Equestrian part. We probably walked close to or just under a mile to get there, but it was a pretty relaxing stroll, especially since we were trying to walk off the lunner that we just had at Earthen.
Tahia was excited to see the horses, especially one that was in an large circular dirt patch as the horse was trying to graze for grass on the perimeter of the circle. But I think it was also time for the owners to park that horse in the shelter of the stable. So after having our fill of that little diversion, we then walked back to the main throughfare past some playgrounds and picnic areas until we saw the cherry blossoms.
By this time, most of the blossoms started to conceal most of their colors as the sun was sinking beneath the foothills nearby. So I guess from a timing standpoint, we were a tad too late to really enjoy photographing them (kind of like how it was in Portland many years ago when Julie and I were up there back in late March 2008).
Anyways, Tahia got to play in the playgrounds here, which she really enjoyed. Though some of the apparati were quite crowded and some other bigger kids seemed to have a disregard for safety. But aside from that, Tahia had her fill at 5:30pm, we then went looking for Creamistry ice cream (but the Yelp review from the Rowland Heights area had both the wrong phone number and address so we didn't find it), and then we headed home after dropping Mom off at her place.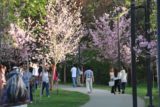 We spent the rest of the evening driving straight to dinner (where I happened to see a couple of co-workers nearby). And after that, we would finally call it a night at 8pm. Indeed, it was a long day, but it was also a fulfilling one. If only we could have more of these, but I fear a lot of that will depend on our dysfunctional local climate.
Now, we'll have to look forward to one hour's less sleep as it would be time to spring forward tonight…
Visitor Comments:
Got something you'd like to share or say to keep the conversation going? Feel free to leave a comment below...
No users have replied to the content on this page