Day 1 (February 20, 2016 – Los Angeles, California): "Unsustainable Practices"
It was about 12:45pm when we finally left the house. Even though Tahia and Julie came back from Chinese school about 15 minutes early, I guess the spontaneous get-out-of-the-house move for today was to go to Abalone Cove, especially since Julie had read on her phone that low tide was around 2pm today.
I was kind of hoping for a lazy weekend, but I knew deep down that this outing would be good for the family. Besides, I knew that Tahia was going to have fun looking for sea life in the tide pools. We had read good things about Abalone Cove in Rancho Palos Verdes, and we thought that perhaps we might see a bit more life than the tide pools at Crystal Cove in Newport Beach, which we did earlier this year.
And so we were out of the house. I was still kind of half out of it as I was still recovering from a real nasty flu bug. And while I was now able to sleep through the night finally, last night was my first restful night in that I spent longer than 8 hours in bed. That said, some of that was tempered by Tahia having a nightmare and I guess she crawled into our bed and started kicking us all night long. I don't think she was even aware of what she was doing throughout the night.
In any case, I was the driver and we took the 91 west to the 110 south. Then, we took the 110 south all the way to the end of the freeway. Even after all the years we've lived in Los Angeles, it felt like we were in unchartered territory as we were following some local roads until we'd ultimately wind up in some coastal road weaving through pretty exclusive residential neighborhoods before getting to the Trump National Golf Course.
I could tell from the conditions of the road that this area was probably not meant to be developed. After all, parts of the road seemed to be sinking and they just put new pavement over the sinking road. Who knows when the road would collapse?
Speaking of unsustainable practices, we could see these exclusive homes on this side of PV, and the first thing I wondered to myself was how there was enough water to feed the thirst of the residents here? On top of that, the brown on the hills here told me that the area must also be fire prone. I wondered how much taxpayer city resources would be needed to keep these million-dollar (probably closer to billion-dollar) homes from going up in flames? Or would the residents here chip in enough of their own property taxes and fire insurance to pay for its own firefighting? I somehow doubt the latter would be the case.
Anyways, after having been to the many natural spots around the world over the years, we definitely have a sense for where Nature would eventually take over. This seemed like one of them. Malibu further up the coast was probably another.
Well, we ultimately got to the car park for Abalone Cove at around 1:40pm, but we had to wait another 10 minutes before we were finally let in the gate since the parking was full. We weren't in that much of a hurry so we patiently waited, and then once the gate was open, we patiently waited again for other people to vacate their parking spots. And so it wouldn't be until around 1:55pm when we would finally park the car and get ready for the short walk down to the tide pools of Abalone Cove.
As far as preparing for an outdoor excursion, I was personally probably as ill-prepared as I had ever been. I had jeans on, a T-shirt, no sun protection… Pretty much I only brought my camera. Good thing Julie thought for the household as she brought our Keens as well as backup shoes for Tahia. She also brought some clementines and some water.
And so we promptly made our walk along the scenic bluffs yielding nice views down to the tide pools we knew we were headed to as well as the beaches and rocks down below. The water had a nice blue hue to it but they were nothing near the deep blues we were accustomed to seeing in less-developed and exotic locations. But what could we expect in a place as well-visited and as developed as Rancho PV?
We wound up going down a fairly steep trail to a paved sidewalk before we reached another junction. We saw that the most direct trail was this so-called Sea Dahlia Trail, which we had read might get a bit rough. However, after seeing where it was going, it didn't look bad at all. So we went ahead and did that Sea Dahlia Trail. After all, we had the right shoes on, and our footing was pretty sure. I couldn't say the same for this other family that tried to race down before us and wound up not moving that far as the girls in that family couldn't seem to handle the slippery terrain.
Eventually at around 2:15pm, we would finally arrive at the tide pool, which I think was called Portugese Bay or something like that. Whatever its name was, there appeared to be a life guard on duty as well as a lot of striated rocks with pools of water between them. Lots of people were already down here examining the wildlife in these tide pools. And we were about to join them.
As we were examining the tide pools, we could definitely see there were some fish in there as well as slow-moving sea cucumber and sea slugs. We even saw a handful of small crabs as well as sea urchins and sea anemones.
Tahia was busy being fascinated by all this life around her. Meanwhile, Julie realized that some of these sea anemones would respond (by closing up) to the touch. As they were busy being pre-occupied by the tide pools, I looked around and soaked in the atmosphere of the scene as other families were busy doing the same thing. Some of the more daring folks scrambled towards to where the crashing waters were.
I even noticed some tiny waterfalls that seemed to be replenished by the waves. Of course those don't count, but it was kind of an immediate lesson on how you get waterfalls in the first place, even in the unlikely example of tide pools.
Meanwhile, as I was looking around and enjoying the scene, I couldn't help but see numerous examples of some kids and parents picking up shells and collecting them. I knew this was a no no, but it seemed like there were way too many people doing it, and it seemed like the life guards here were more concerned with surfing the waves than actually enforcing the rules or keeping people out of trouble.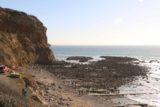 I guess that's what happens when you have people too disconnected to Nature to really know how to care for it. Instead, you get lots of unsustainable and thoughtless practices, and I knew deep down that it would only be a matter of time before this tide pool area might be just as lifeless as that of Crystal Cove.
We were hoping to see starfish and some of the other more complex organisms touted in the signs here, but I knew that perhaps the popularity and the unsustainable practices over the years probably meant that it wouldn't be possible except for those rare times when people would hardly be here. But on a Saturday afternoon, that was probably next to impossible.
Julie was saying that some friends who came here earlier did manage to see starfish, but that was probably years ago. I doubted that it could be recent.
Well, all good things had to come to an end, and we decided that we had our fill of this place by about 3:45pm. We thought that we could take the slow local roads all the way to Belmont Shore where we could have ourselves some cupcakes as well as an early dinner at either Open Sesame or Creperie. Of course, we also had to pay for the parking of this place, which we promptly did after making the hike back up along the Sea Dahlia Trail.
So eventually by around 4pm, we were finally driving away, and following some bridges near the Port of Los Angeles on some more unfamiliar roads that we hardly ever take. Julie's iPhone then gave bad directions when she tried to get me onto Ocean Ave, but we somehow wound up on Anaheim St then passing through Cambodia Town before finally getting back to Ocean Ave near the Long Beach Performing Arts Center.
Julie and I were reminiscing about a dinner at the Sky Room in one of the high rises around here, then we followed more coastal roads before we'd finally get to the Shore. Eventually, we'd find parking in one of the usual spots along 2nd street, and we'd finally settle in on having dinner at Creperie since we hadn't eaten there in a long time (we usually favor Open Sesame).
It was a good thing Julie called in for Chocolate Chocolate cupcakes at Frosted since they always run out. Then I'd bring that over for consumption at home while we were busy having escargots and West Indies dinner at Creperie. Tahia was being picky as always but at least she ate the veggies.
Eventually at around 6:30pm, we'd finally make it home. But that wasn't before we heard a thump from some guy aggressively parallel parking and hitting an adjacent parked car. That got us wondering if some punk did the same to our car since we saw a bunch of broken class and partial head or tail lights from cars around our parked car. But upon inspecting our car, we didn't see signs of damage. So there must've been some kind of accident somewhere near where our car was.
Anyways, that was the end of this day, but just as we were about to go to bed in anticipation of hiking in the OC for a hidden waterfall tomorrow, it seemed like Tahia was coming down with pink eye again. That's not good, and it could very well jeopardize our aspirations of doing the long awaited hike to Hidden Falls or Falls Canyon Falls in Trabuco Canyon…
I guess we'll figure out if it's going to happen first thing tomorrow based on Tahia's condition…