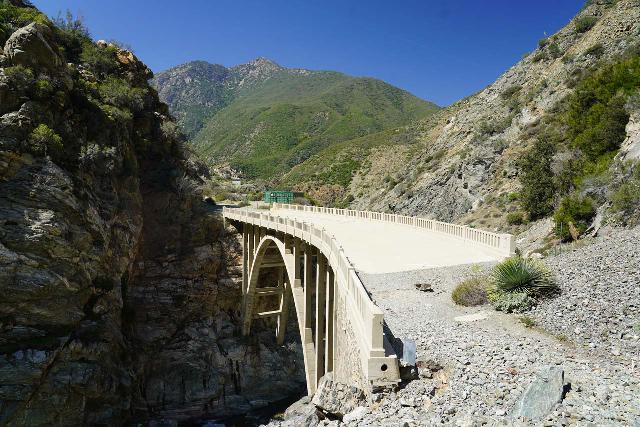 1-April 2022:
This trail was actually surprisingly benign though I did at one moment jab my shoulder against a protruding branch, and it actually put a hole in my one-week-old Fjallraven shirt (and that was an expensive shirt)!
I wasn't too happy about that development, and I wondered if I now have to live with this hole on a brand new shirt! Ugh, seems like I haven't been having much luck preserving my equipment.
After all, last week, my bottle cap for my 40oz bottle broke, I lost a Sony FE 24-105mm G lens hood, and I saw that the La Sportiva Nucleo High 2 GTX boots weren't as waterproof as they were supposed to be.
I guess now the Fjallraven could be added to that list…
It was 4:30am when I awoke as I was a little worried about how my wounds from last week's Buckhorn Falls scramble were healing.
Especially on a day like today where we planned to go to the Bridge to Nowhere since next week was forecasted to be a heat wave, which would make doing that hike more dangerous.
As a result of this last-minute change, not only did I worry about getting my wounds re-infected due to all the water crossings anticipated for the Bridge to Nowhere hike, but Cliff couldn't come with us this time around.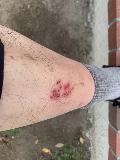 Anyways, all these developments happened at the last minute yesterday, and so it's just Mom and I doing the hike today.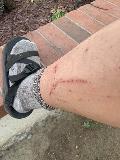 And so with 4:30am being my typical wake-up time, it was pretty much as if I was doing another workday (though I was only running on about 3 hours of sleep).
So it wasn't until about 6:10am when I left the house after having my breakfast and making sure I got all the gear I needed to get going today.
And by about 6:40am, I arrived at Mom's as she wasn't quite ready to go, but I guess we had been showing up later because of one contingency or another (usually because Julie wants to come but can't until we drop off Tahia from school).
With no such contingency on this day, I was able to be efficient (since Mom was also an early riser), and by about 7am, we left her place and immediately headed up to the East Fork Trailhead for the Bridge to Nowhere hike.
Although the freeways were a little sluggish, it wasn't all that bad, and the drive was fairly smooth as we made our way under the overcast skies towards the familiar East Fork Trailhead.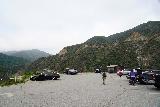 By about 7:55am, we arrived at the East Fork Trailhead, where there seemed to be even more cars on this day compared to the number of cars we encountered when we were last here around 2 months ago.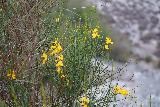 I'd hate to imagine the parking situation if we were to show up tomorrow morning or Sunday morning!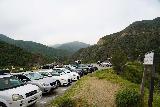 Anyways, after gearing up (and wearing neoprene socks inside our trail running shoes knowing we're going to have wet feet all day), we finally started hiking at 8:10am.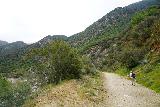 The skies remained overcast and so the start to the hike was cool (which was a far cry from the forecasted 90s next week), and so we got right to business and got past the Heaton Flats without issue.
I did notice a puddle in the middle of the trail, which I suspected was a result from the one-day storm that blew by here in Monday.
But that was a one-and-done and I wasn't sure we weren't going to have any more rains for the rest of this Spring as we were already not having much throughout Winter except for the atmospheric river in December.
Such is life in the West as Climate Change has already taken hold, and this is kind of the slow-moving train wreck of a reality that we're facing as there's probably not going to be enough water to sustain the population and economies that took hold here.
Anyways, after getting past Heaton Flats at 8:25am, we then proceeded and got right to the first watery interlude, where we stuck to the right and then got to the next stretch of trail.
Then, we got to the first real legitimate crossing, where we briefly got to the other side and then tried to find a way to get back across to the right.
Like the first time, it wasn't really clear to us where we were supposed to go next, but we'd eventually get back across the San Gabriel River and then follow use-trails on the right before reaching the graffiti wall at 8:55am.
There was actually another party that was behind us and came across the graffiti wall ahead of us, and it made us wonder if perhaps we might have missed an easier trail on that left side.
I kept that in the back of my mind when we had back as perhaps this part of the hike shouldn't be as ambiguous as we thought.
Anyways, from the graffiti wall, we then saw the familiar ruin, which in my mind marked the start of some extensive dry hiking until we got near Allison Gulch.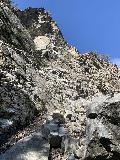 We were kind of back-and-forth with the party that was behind us, then ahead of us, and then behind us again.
And we once again got past a rockfall section (just like last time), a camping area, as well as seeing the familiar sign and bridge over Laurel Gulch as we entered the Sheep Mountain Wilderness at 9:40am.
Not long after that, we descended a steep gully before continuing to follow the east side of the San Gabriel River through another wide open yucca patch before encountering the Swan Rock as we got closer to Allison Gulch.
Of course, now that it's Spring and the sun was higher on the horizon, we could see that Swan Rock wasn't as obvious to see compared to when it was in the shade when we were here in the Winter time.
Still, we could clearly see it now that we were looking for it while we only noticed it after the fact when we were first here in January and I saw it in the photos but we didn't pay attention to it live.
Then, when we got to the next water crossing, that was where we crossed, and then crossed back over towards the base of the dam ruins at the mouth of Allison Gulch at 9:55am.
There were a handful of people that had caught up to us here, but it didn't feel too busy as I had anticipated though I'm sure it would be a different story here tomorrow or Sunday.
Once we climbed up the dam and past the stream at its mouth (stirring my mind about maybe coming here yet a third time just to see the Allison Gulch Falls some time after the Spring Break Trip), we then got to the familiar Big Foot Crossing sign at 10am.
Not long after the Big Foot Crossing sign, we then encountered the landslide that probably buried the trail after the atmospheric river of December, but this time, it seemed like this ledge wasn't as sketchy as it was in January.
In fact, it seemed to be considerably more settled and wider, and so we had absolutely no trouble continuing on.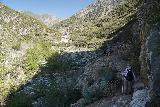 Eventually, the ledge-hugging trail (and former road) descended into another wide open yucca patch where there were other hikers that passed us and continued forward.
I wasn't sure if this was that spot where there was the deviation from the Bridge to Nowhere Trail leading to the Devils Gulch Falls (that we took last time), and I even entertained the notion of backtracking to get up to the obvious road above.
However, everyone else kept going through the yucca patch, and I ultimately decided not to get up to the road yet.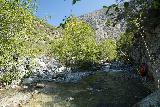 Eventually after getting through another bush-clad thicket and water crossing area, we had another choice of keeping left towards another arrow-aided river crossing, or following what this other guy did and keep right to get right to another opening sooner.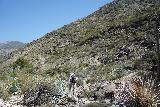 Either way, they both converged onto the wide open terrain, where we now could see the way up to the road leading to the Bridge to Nowhere for the final mile or so.
And it was here that I recalled the trail deviation leading to an unmarked "trail" leading us across a few more crossings of the San Gabriel River towards the mouth of Devils Gulch.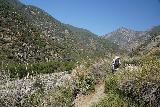 Now as we traversed this stretch of the yucca patch where now it was clear to see how to continue to the Bridge to Nowhere, I did notice one guy who apparently took the East Fork Road too soon, and now he got to a spot where the road eroded away.
He then had to make a real dicey descent, which looked like a death wish from straight on, but when I saw it from an angle, it looked like that guy was going to make it.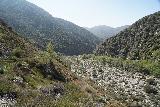 Good thing I didn't follow through with trying to take the road too early!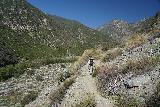 Anyways, we decided this time to go to the Bridge to Nowhere first just like the people ahead of us, and we were now on the road that we had missed the first time at 10:30am.
Unlike my initial expectations that this road would be an obvious road that we could follow with pavement and a decent width to the trail, it was actually more of an overgrown trail with a few squeeze-betweens of prickly yucca.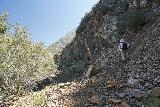 It was definitely a bit rougher than I had anticipated, but at least we got more elevated views of the open terrain below that we had taken to Devils Gulch Falls a couple of months ago.
Eventually, the trail continued in the warming sun (as the marine layer was long burned off by now), and we got through another landslide traverse followed by what seemed lke a blasted rock section of the road through rocky terrain.
Then, the trail got past some kind of saddle where mom noticed an unmarked side trail descending to the left, and this seemed to be the prime candidate to take a shortcut trail down to Devils Gulch after having our fill of the Bridge to Nowhere.
I definitely didn't want to backtrack to the opening and then hike upstream like we did last time. It would totally make the hike more efficient if we took this shortcut down to the Devils Gulch and then go out the way we came in back in January.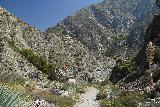 So I kept that in mind as we proceeded onwards on the BTN hike, and I kept a mental note that the first BTN sign we encountered here was the landmark to pay attention to.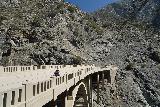 Beyond that, we kept going and we saw more prominent BTN signs as well as no drone zone signs, and we saw even more private property signs that culminated in some abandoned building as well as a few closed containers.
I'd imagine these containers housed bungee jumping equipment because they were surveilled by cameras perched atop these structures and there were lots of rope and no trespassing signs fronting them.
There were also signs saying that you can't cross under the bridge (which was just a few paces further now), and I'd imagine that was due to our twisted liability laws where people getting hurt on private land can actually go after the landowner!
I remembered seeing such twisted laws taken to the next level in Hawaii, but in this instance, people seemed to more or less obey these rules and probably have people on the lookout on the weekends since the landowner would actually be here.
Finally at about 11:10am, we made it to the famous Bridge to Nowhere, which was pretty much a modern-looking arched bridge perched high above a narrowing of the canyon with the San Gabriel River below.
We took some obligatory videos and shots from the top of the bridge, but we noticed that the trail actually kept going beyond the bridge and even noticed that there were more cascades within the San Gabriel River further upstream.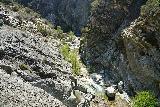 Before going down there, I took some videos and then somehow got into a conversation with a pair of Latino guys (one older and the other possibly his son or younger cousin or something) where the older one shared with me that this was his first time here.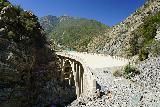 I told him that it was also my first time, which surprised him, probably because I was geared up.
We got to chatting about waterfalls in the local area, and that was when I told them about my website.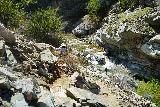 They were also wondering about my neoprene socks, which was largely to help with keeping the feet warm when the water would be icy cold.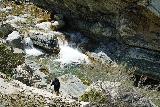 Perhaps on today's visit, it wasn't as necessary, but in January, it certainly was given the colder weather and the snowmelt.
When I mentioned my website to them, and showed them a cached version of it on my phone (as well as how I found the Devils Gulch Falls, which they were curious about), they reacted almost as if I was a celebrity.
They said they'll look for me on the Instas, which Julie tends to manage more than me (since I'm typically off the socials), and it was kinda cool that we bonded over this experience as well as over waterfalls in general.
It's this aspect about chasing waterfalls and enjoying Nature that I relish, especially when there are like-minded individuals from different walks of life all brought together here.
The older guy even said that he was happy he was brought here to experience Nature like this (something he wants to keep doing), and he also felt happy to have met me (I said likewise) as if fate brought us here.
Anyways, these guys seemed content with checking out the bridge and then heading back, but Mom and I kept going past the bridge and taking our time getting down the cascades on the San Gabriel River a little further upstream of the bridge itself.
There was one eroded and narrow ledge section that Mom slowly traversed, but after that, we were pretty much home free and made it down to the banks of the San Gabriel River having a picnic at 12pm (after taking more obligatory shots and videos).
It was surprisingly quiet down here as the party that was neck and neck with us were chilling out on a rock a little further upstream from the upper cascade with plunge pool that we picnicked in front of.
There was also a three-pronged small cascade a little further downstream where there was also a riverside view up towards the arched support of the Bridge to Nowhere.
Although Mom and I weren't in the mood for a swim in the San Gabriel River, we knew that this place would be quite the happening swimming hole on the weekends (though I was surprised no one else was doing it; maybe the water was too fast and too cold).
Regardless, we enjoyed a ciabatta sandwich that Mom prepared as well as her Chinese version of a kimbap.
We took our time reveling in this place that really exceeded my expectations as an overhyped place, and I think it was the cascades here that really changed my perception of this being a manmade landmark.
Indeed, the cascades were nice, the water was clear, the sounds were peaceful, and we were enjoying the comfortable weather while still looking forward to the Devils Gulch Falls to see how much it had changed since our late January visit.
Eventually at around 12:20pm, we slowly started to head back from our picnic spot, but it was hard to leave as we kept taking videos and more shots of the cascades here.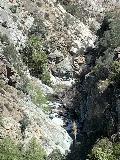 In fact, it wasn't even until about 12:35pm when we finally left the Bridge to Nowhere and then started backtracking along the East Fork Trail.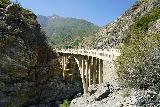 By about 12:45pm, we found the unsigned detour near the first of the signs for the Bridge to Nowhere ground rules, and then we just went down the trail to see where it went.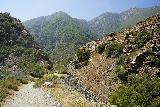 This trail was actually surprisingly benign though I did at one moment jab my shoulder against a protruding branch, and it actually put a hole in my one-week-old Fjallraven shirt (and that was an expensive shirt)!
I wasn't too happy about that development, and I wondered if I now have to live with this hole on a brand new shirt! Ugh, seems like I haven't been having much luck preserving my equipment.
After all, last week, my bottle cap for my 40oz bottle broke, I lost a Sony FE 24-105mm G lens hood, and I saw that the La Sportiva Nucleo High 2 GTX boots weren't as waterproof as they were supposed to be.
I guess now the Fjallraven could be added to that list.
I also wasn't too keen on how the buttons didn't stay fastened and they were easily come loose (so even if I rolled up the sleeves, they'd come right back down not much later).
But aside from that little complication, we descended right to the bottom where there was a crossing of the San Gabriel River, and then we found ourselves on the other side, where there was actually a somewhat obvious trail to follow.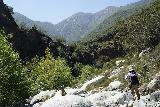 In fact, there was even a rock cairn that was set up on one of the larger boulders, and so Mom and I pretty much followed this path for quite a ways as it was surprisingly pretty easy to follow.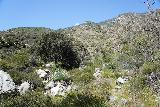 We eventually got into the somewhat thicker vegetation portions as I knew we were just north of the mouth of the Devils Gulch, but then the GoPro Hero 9 battery ran out again.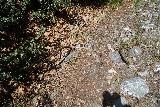 And that was right around the time that I noticed a snake with a green stripe slithering quickly in panic away from me and towards the river.
I wondered if I caught it on the GoPro before the battery went out, I thought at the time.
Anyways, this was the second time so far that I had to switch out the batteries and memory, and this was already getting pretty old.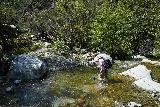 Especially with how much memory these videos were taking, maybe I should subscribe to the GoPro cloud or something so we can actually offload all this amount of content and I wouldn't have to keep buying hard drives.
After all, the videos that I had captured so far were already filling up one of my long-time external drives that exclusively had mostly photos and videos from both the iPhone and the DSLR.
But the GoPro footage was really taking the storage allocations to the next level, and I knew I had to do something about that.
Regardless, after switching into the last of the enduro batteries as well as another memory, we then got to the familiar mouth of the Devils Gulch.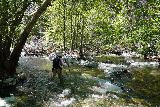 From there, we then got to the left of the small waterfall at the mouth of the gulch, and then crossed above it and went up the right side.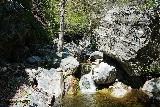 It helped to have known how we went up the last time, and we pretty much went the same way towards the graffiti balcony and the out-of-place chimney, before getting right up to the mouth of the Devils Gulch Falls.
Unlike the last time we were here 2 months ago, the waterfall's right segment was a bit smaller and there were also more leaves kind of obscuring the view of the falls.
But Mom and I took our obligatory photos and videos, once again, and we also ate the last of her "sushi" as well as the last of the ciabatta bread to fuel us up for the exit hike.
We got here at about 1:30pm, and we headed out at 2pm, where we pretty much had this place all to ourselves throughout that time.
There was also no gold prospector here, whom I half expected to see after meeting one backpacker who apparently lives in this canyon (as possibly a hack to live rent free and tax free while leaving for supplies during the day).
Anyways, we now scrambled back down the mouth of Devils Gulch, and then we continued downstream past someone's stash or litter before getting past some tension contraption (where the rope looked like it broke or was cut).
Then, we crossed the river and followed a yucca patch with the odd fire ring as we followed the San Gabriel River downstream before reaching a crossing right across from some kind of partially-submerged machinery at 2:25pm.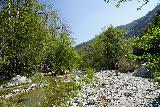 From there, we switched shoes (I actually brought the older Altra Lone Peak 5 just in case the Altra Lone Peak 6 wasn't working out) and we then followed another dry yucca patch leading us towards the East Fork Trail.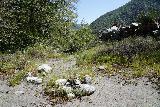 Although we could hear voices of people, we didn't see anyone until we started to notice them on the main East Fork Trail up above.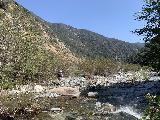 Eventually by about 2:45pm, we were back on the East Fork Trail, where we then followed red arrows back across the river, and then back through the familiar trails leading us towards Allison Gulch.
There were quite a handful of people passing Mom and I as I'm sure they must have gone to the Bridge to Nowhere later than us and left while we were chilling out at the Devils Gulch Falls.
Nevertheless, we'd eventually get to the mouth of the Allison Gulch, where I did entertain the notion of scrambling up this canyon towards the Allison Gulch Falls.
But by this point, it was about 3:05pm, and perhaps that was pushing my luck too much to try to even fit that in when we're kind of ready to get back to the trailhead and have a Friday night dinner with Dad.
So I thought in my mind that perhaps I should come back to the East Fork Trail for a third time this year and try to go for that waterfall for the entire day come late April or May (heat wave notwithstanding).
Not long after getting past the mouth of Allison Gulch, we then continued on the dry hiking part of the hike, when one of the parties that passed us was stopped and looking across the canyon.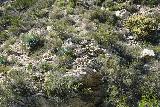 Someone said something about wildlife, and I immediately knew it was probably bighorn sheep.
Now, we had to find it amongst its camouflage, and sure enough, we spotted it perched atop a rock looking every bit camouflaged and hard to spot without knowing to look for it.
So we took some time checking out the bighorn sheep who didn't seem to mind us being there (perhaps knowing we're not really a threat).
However, I also knew that there's no way we'd be seeing something like this come the weekend because there'd be too many people, and especially too many people playing loud music (thereby ensuring no wildlife sighting would be likely).
The whole time, I kept wondering to myself about the Los Angeles Rams logo, and how perhaps they were really referring to the bighorn sheep.
I always wondered why they were called the LA Rams (even before Georgia Frontiere moved them to St Louis back when this team played in Anaheim).
I remembered even having a running joke in high school where we would call them the LA Lambs (when they weren't doing so well), because they're ba-a-a-ad (mimicking sheep).
But after having won the Super Bowl this year, they can't be the lambs.
Anyways, this was one of those a-ha moments where we looked at awe at the bighorn sheep doing its thing, and that really made this hike feel like it was icing on the cake of yet another successful adventure.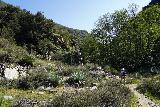 After having our fill of the bighorn sheep sighting as it moved on slowly, we continued on our merry way along the extensive dry hiking towards the ruins and the graffiti wall.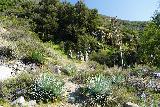 I think Mom and I made the same mistake again in one spot where we took the left fork of a spot where we had to sit and scoot our way down instead of staying by the river and whizzing by this obstacle.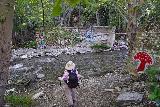 But aside from that, we ultimately made it to the approximate location of the graffiti wall after switching out the GoPro battery yet again (but not the memory).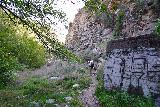 Once we got to the graffiti wall, we saw that a couple in front of us (the same ones that shared the bighorn sheep sighting with us), continued dry hiking past the graffiti wall on the other side.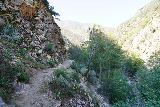 So we followed them, and noticed that there was indeed a somewhat obvious trail following a ledge for quite a ways (well past where we had been wading and crossing the river a couple of times on the way in).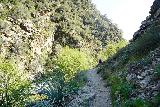 And when we finally got to the end of this ledge trail or "road", we saw that it actually descended towards the second water encounter (and first legitimate crossing) of the San Gabriel River.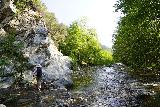 Now that we know that this is the best way to go, we'll remember this because that would have been so much easier to go (though it wasn't all that obvious that this ledge trail was there going up).
So perhaps on the Allison Gulch adventure, that might shave off even more time off this hike as it was already feeling not too bad compared to the first time we were here, when we really didn't know what we were doing and the water crossings were high.
Eventually by about 4:20pm, we were done with the last of the water crossings or water encounters, and then we pretty much had to just get back to Heaton Flat and ultimately to the East Fork Trailhead.
Along the way, there was one guy I met (whom I later learned was named Brad) who was from Florida by way of Seattle, and we struck up a conversation because he asked me about the Devils Gulch Falls.
It seemed to be a popular topic today, and I showed him on my Gaia GPS app where the waterfall was relative to the Bridge to Nowhere.
Apparently, the falls remained elusive even though I've had a write-up for this falls since January, but I guess these folks hadn't known about my site as they probably follow AllTrails or other apps or just go on Insta or YouTube.
I guess that's a bit of intel for me to process as I try to use more of those media given how people don't seem to be reading anymore.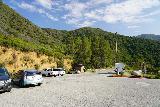 Regardless, having a conversation with Brad on the way back helped to pass the time on the remainder of the hike, and we ultimately got back to the car at 4:45pm, which was also earlier than on our January hike when it was 5:30pm in the dark!
With that, we parted and went our separate ways as we finally got out of our feet-pruning neoprene socks and back into something more comfortable (like my Chacos).
Then, we drove back towards the parents' place to pick up dad at 5:50pm so we can head over to Pingwei (i.e. Tasty Noodle House or something like that) so we can have some comfort Shanghainese food.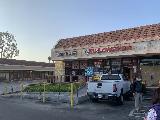 We got there at 6:10pm, and they were pretty quiet at the time (I resisted the urge to go to Earthen Restaurant or kouping).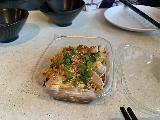 While the xiaolongbao was disappointing, we did load up on string beans, eggplant, stinky tofu, hot sour soup, some kind of spicy cold chicken dish, and their signature bao (forgot the name).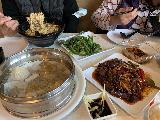 It hit the spot (and Julie and Tahia were busy having Northern Thai food back at home), and so we enjoyed the dinner and basked in the experience.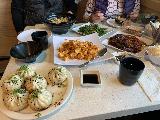 I don't know how much longer I can keep doing this with the parents, but as long as I can keep spending quality time with them like this, I'll keep taking nothing for granted as I'm quite fortunate to have such healthy parents.
After the dinner and taking away the food, we then got back to my parents' place, where I loaded up my car with my disgusting wet stuff, and then left at 7:30pm.
By 8pm, I was back at home dead tired with still lots of stuff to do (including getting my wet footwear to dry).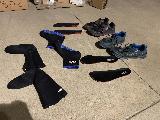 But regarding the other stuff, I'll have to look forward to working out how to keep up the blogging for the rest of the weekend while also how to make time to pursue my passions for the rest of this week.
Oh yeah, there's also the Spring Break trip that I haven't packed for yet, and I have to print out the research and do finances.
So indeed, the next week is going to be hectic, but I guess when worthwhile things are happening, you have to be uncomfortable.
For if we always stayed in our comfort zone, then nothing extraordinary happens.
I keep trying to tell myself it's all worth it, and in this case, I really do think it is because as we can see in this world (what with what's going on in Ukraine and all the Global Warming consequences), there really are no guarantees in life…
Visitor Comments:
Got something you'd like to share or say to keep the conversation going? Feel free to leave a comment below...
No users have replied to the content on this page