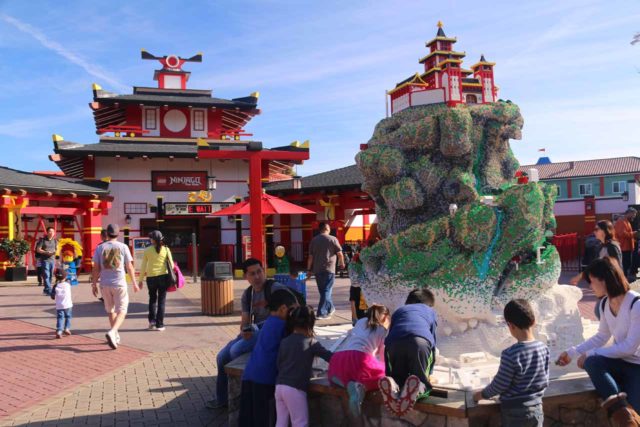 6-January 2017 to 8-January 2017:
…we eventually made it to Legoland, but we had spent several minutes driving towards the Sheraton to see if it was possible to park the car and walk to the backside of the park at a cheaper rate than the Legoland parking. It turned out that they had barricades and so our strategy didn't work. When we pulled up to the Legoland parking area, we saw that it was a whopping $17 for regular parking.
For just two hours in the park, I didn't want to spend this kind of money. But Julie was insistent on us going in to park. Our verbal disagreement made the parking attendant uncomfortable and then he finally said that he could give us the Preferred Parking for $8, which was still more than I wanted to pay, but it was way better than $17…
Day 1 (January 6, 2017 – Carlsbad, California): "Surprisingly light traffic"
It was about 4:20pm when we left home. We had to do some hectic last-minute packing while also trying to do some website migration work. Earlier in the day, I went to work so that took the better part of this day. Generally when things are this last minute and hectic, something's always forgotten. We wondered what it will be this time…
My fear in driving this late on a Friday afternoon was the traffic. Plus, there would always be pretty crazy drivers gunning it down the I-5 at upwards of 90mph or more while tailgating as well as slower drivers not following the flow of the traffic and occupying the fast lane. Regardless, we committed to taking the carpool lane down the I-5, and to our surprise, the drive went fairly smoothly.
In fact, we wound up showing up to the Hyatt House in Carlsbad at 5:20pm. It wasn't often that this drive only took an hour. Usually it took longer than that.
Because money was tight, we decided to use our Hyatt points for this hotel stay. I've been told that it's not really worth it to use Hyatt Points unless the cost was on the order of 1.8 cents per point. So really, it would've been worth it to spend 12k points if it was around $216 per night. Clearly, this wasn't the case as this was more like $160 per night. So whether we wasted these points or not, I wasn't going to keep tabs on this.
Regardless, we noticed that there was a complimentary shuttle to Legoland, which might be worthwhile to do especially since I suspected that parking at the park would be a rip off.
Once we got all settled in at the Spanish-style hotel room (Julie was complaining that half of the lights weren't working), we then drove off to Karl Strauss at 5:50pm. When we got there at 6pm, the place was a bit busy as there was some kind of private party. So we had to wait a bit (we were told 45 minutes) though we ended up waiting around 20-25 minutes or so. During this time, I was playing "1-2-3 Jump Higher" with Tahia, where I'd help propel her to jump higher based on our timing, but I think I might have tweaked my back on one of her jumps so that had to be put to an end.
It turned out that the food was decent though we chose this spot due to the price. Julie saw better spots in Carlsbad but they wanted a lot more for a steak meal (on the order of greater than $40 per steak). She wound up getting some kind of clean top sirloin steak, which was a little on the dry side, while I got a ribeye. She liked mine better, but we knew that with her gut issues, we had to be very careful about what she could and couldn't eat.
Eventually at 7:25pm, we were back in the car. We then made a grocery run at a Sprouts in Oceanside as we realized that we had forgotten to bring some fruits and veggies (though we did bring our self-made kefir). Tahia and I were busy listening to a Laker game while we were patiently waiting in the car, but when we realized that Julie's grocery run was upwards of an hour, we decided to go inside and get her.
Eventually at 8:25pm, we finally got back into the car. This was the thing with Julie. Whenever she would go shopping, she could spend an entire day doing this.
At 8:40pm, we finally made it back to the Hyatt House, where we then showered and brushed and looked forward to a busy day tomorrow. Speaking of tomorrow, we learned that Joshua (whose birthday was this weekend) wasn't going to make it to Carlsbad until tomorrow evening. So instead of doing Legoland tomorrow, we decided that would be punted for Sunday. In the mean time, we'd do the Cedar Creek Falls hike from the Ramona side, which was something we never really got a chance to do until now. Plus, we'd be testing Tahia as we knew that it would be an upside down hike with an all-uphill climb on the return. She did a 6-mile hike at Fish Canyon Falls before, but we were anxious to see how she'd fare on this hike, which might be a little more difficult.
Day 2 (January 7, 2017 – Carlsbad, California): "Testing Tahia"
It was about 6:30am when we woke up. Julie was already up making a healthier breakfast than what was on offer downstairs. I guess now that we were really watching what we were eating, this was becoming pretty customary.
After the healthy stuff was being prepared, we then went downstairs where it wasn't as busy as we would have thought. They had an omelette bar, which we promptly took advantage of, but they also had a three-small-pancake maker as well as a waffle maker. There was no nutella though and instead, they had syrupped strawberries and whipped cream.
The rest of the brekkie was the standard fare of ham, scrambled eggs, cereal, oatmeal, potatos, and some fruits. We had a hard time getting Tahia to stop paying attention to the TV (seemed like any excuse not to eat was her MO and it pissed off Julie to no end). So we kept telling her that the longer it took for her to do what she was supposed to do, the less time she would have to visit Legoland after the hike to Cedar Creek Falls today.
The omelettes took about a half-hour to make (despite it not being so busy), so that was something we kept in mind for tomorrow. Anyways, by about 8:25am, we were finally in the car and heading east on the Hwy 78 towards Escondido and ultimately towards Ramona.
The drive went by pretty smoothly until we got to Escondido where we then had to follow some 99 cent truck. The guy in front of me was going slow and denied us the chance to get past this truck in the first place. It wasn't until the truck finally pulled over somewhere well into the drive towards Ramona that the traffic was finally moving again. I guess legally when there were more than 5 vehicles in line behind the slow driver, the slow driver fronting the pack was obligated to pull over and let people pass.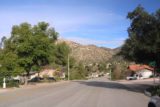 Eventually at 9:35am, we finally made it to the Cedar Creek Falls trailhead on the Ramona side. Unlike the last time Julie and I were here, this time we intended to do this trail the same way as everyone else was doing it. The previous two times we were doing this trail, we took the less developed trailhead from the Julian side.
There were already a lot of cars parked at the trailhead so we had to backtrack towards the suburban community to parallel park alongside the residential street. When we finally started hiking at 9:50am, we noticed that there was nobody manning the permit station. This time there wasn't that lady in the RV watching the trailhead. We wondered if they'd check for permits on the way out.
The hike down towards the San Diego River Gorge was scenic as expected. I had a taste of this when I hiked part of this trail before it started to get dark, forcing me to turn back. Now, we were pretty much doing this trail like everybody else. And indeed, this was a pretty busy trail as there were lots of people heading back out as well as others who passed us and continued their descent towards Cedar Creek Falls.
Tahia was getting cocky as she thought this was a pretty easy hike. In fact, she always cut in front of Julie as she wanted to be the group leader. Little did she realize (as much as we tried to tell her) that going down was the easy part. Coming back up would be the harder part.
Throughout the hike, we were looking at the signs marking our progress every quarter-mile or so. Even though we were going downhill, it felt long, which was probably why we knew it wasn't going to be easy going back up. Still, despite the hazy sunny weather, the temperatures were mild (in the 70s) and it was pretty comfortable hiking weather.
During the hike, we got the usual pleasant reactions (especially from the women) who saw Tahia doing the hike and greeting everyone that was passing by. One lady was asking Tahia if she liked "this" (i.e. the hiking) though she was a little on the shy side to answer. Actually, Julie noticed that people seemed to be friendlier on this hike as we would exchange greetings with perfect strangers throughout. I guess that was noticeably missing on our more local hikes in the LA area perhaps because of how crowded each waterfall tended to be.
We could see up ahead that there was the side trail ascending high up over the San Diego River Gorge, and we knew that was the trail leading to the Eagle Peak trailhead near Julian. It felt weird seeing just how much climbing was involved on that trail though it was said to be just as long as the trail from the Ramona side.
Once we made it to the bottom of the descent, we made one short crossing of the San Diego River (which Tahia had no trouble getting across) and then we got to the familiar trail junction where the Cedar Creek Falls Trail, San Diego River Trail, Eagle Peak Trail, and the Ramona-side trail all intersected. We got to this point at 10:50am.
Next, we walked past the fencing and then followed the last quarter- to half-mile leading right up to the Cedar Creek Falls. There were a couple of creek crossings over Cedar Creek, and Tahia was insistent that she wanted to do these crossings by herself. She was definitely getting cocky at this point, but we knew that all it took was one bad spill and that would totally humble her.
Well, she didn't take a spill, and we assisted her in the trickiest parts. The fact that these stream crossings were somewhat extensive suggested to us that the falls must be pumping pretty good. And indeed by about 11:05am, we finally arrived at the bouldery base across the plunge pool of Cedar Creek Falls. Indeed, as expected, the falls was pumping. It also wasn't nearly as busy here as it was the last time Julie and I were here last year.
Tahia was busy conversing with perfect strangers as I'm sure it wasn't often a little girl would be doing this kind of hike. It made me wonder if she was becoming quite the social butterfly.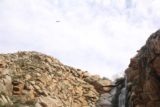 While Julie and Tahia were taking pictures and checking out the falls, I did some scrambling around and sought a more elevated position to take in the Cedar Creek Falls. It was a bit precarious and slippery so I had to exercise a lot of care. And on the way back down, I had to do one of those slides of faith to land on a rock just below the smooth sloping rock that I was sitting and scooting on.
Like the last time, there was a chopper circling the Cedar Creek Falls and also the neighboring Three Sisters Falls (I'd imagine) as these were the two most popular hikes in the area. I wasn't sure if the chopper was checking for people illegally climbing the rocks to do a cliff dive into the plunge pool, which seemed like a pretty popular activity at this waterfall.
As more and more people were showing up, we left at around 11:30am just as a foursome of folks were doing the long cliff dive into the deep plunge pool of Cedar Creek Falls. Julie and I thought these folks were crazy considering how cold the water was.
So on the hike back out, Tahia once again insisted on doing the Cedar Creek crossings on her own again. Other hikers were patient in letting her make the crossing on her own before they went across. Then, once we went back across the San Diego River, we then started the long ascent back up to the San Diego River Gorge Trailhead.
As we made the long and slow ascent, I knew that Tahia might be getting bored if it went for too long so we both started to sing some songs – i.e. the Triple J songs that were probably not appropriate for young kids like Tahia, but I modified the lyrics at the controversial spots.
We spent some time singing Everything Everything's Distant Past, Raleigh Ritchie's Cuckoo
, D.D. Dumbo's Satan
, and Haim's Don't Save Me
. That seemed to have passed the time quite well and Tahia was all into it. The other hikers who just so happened to be passing by as we were doing this must've thought we were crazy or something, but I guess when it came down to Tahia's potential boredom and making fools of ourselves by singing songs, we chose to make fools of ourselves.
The strategy worked as we were pretty much back at the Ramona Estates (er. San Diego Country Estates as apparently they renamed the area to perhaps make the community feel more upscale and exclusive). When we got back to the trailhead at 1:05pm, there were a trio of USFS employees checking for permits. Tahia handed Julie our permit and we got a thank you from these folks. Julie was also talking to them about our waterfalls website, where they wanted to make sure we talked about the permit process.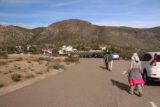 By about 1:15pm, we were back in the car and now we had to make a beeline for Legoland as we promised Tahia that her reward for doing this hike was to use our two-day pass for Legoland starting today. During the drive, we tried to figure out how to get around the parking fee for Legoland, and I always had this notion of using the shuttle which was free. But Julie thought time was of the essence and she still wanted to have a late lunch in the park.
By about 2:40pm, we eventually made it to Legoland, but we had spent several minutes driving towards the Sheraton to see if it was possible to park the car and walk to the backside of the park at a cheaper rate than the Legoland parking. It turned out that they had barricades and so our strategy didn't work. When we pulled up to the Legoland parking area, we saw that it was a whopping $17 for regular parking.
For just two hours in the park, I didn't want to spend this kind of money. But Julie was insistent on us going in to park. Our verbal disagreement made the parking attendant uncomfortable and then he finally said that he could give us the Preferred Parking for $8, which was still more than I wanted to pay, but it was way better than $17.
That seemed to pacify things a bit, and next we proceeded to drive towards the preferred parking area, which was actually quite a bit of a walk from the main entrance because most of the spots closer to the main entrance was occupied. Either way, Julie wasn't happy with me and so we entered the park with a little bit of husband-wife tension, which I'm sure Tahia could sense.
We ultimately went to some kind of rotisserie chicken restaurant near the Green Dragon ride, where we quickly had our lunner as it was on the order of 3pm when we got started. By about 3:30pm, we finally finished the late lunch and now we could ride the Green Dragon while keeping an eye out for the Lego Technic Coaster, which was closed when we had passed by it earlier.
When we rode the Green Dragon, we did manage to see that the Lego Technic Coaster was running so that was where we immediately went right afterwards. Upon doing this ride, Tahia was saying that this coaster was very much like one of the coasters at Knott's, and it was probably the only ride that was worth doing for adults at Legoland.
After doing that ride, we then headed towards the Ninjago Ride since that was the new attraction that we hadn't done before. After waiting in the somewhat long 20-minute line, we promptly got into ride, which was really nothing more than a fancier version of the Egyptian ride where you shoot towards the screen like a video game.
I thought this was a waste of perfectly good potential to make this a more immersive ride like Disneyland's Star Tours, and we vowed not to do this ride again. That said, Tahia had fun while I had the lowest score. Julie was complaining that her arms were sore from raising it over and over again.
By the time we were done with Ninjago, it was around 4:40pm. We wanted to take Tahia to the big Go Kart course, but Julie thought we should do the Coastersaur instead. That turned out to be a somewhat long wait as they tended to let the riders loop around the track twice. When it finally came to our turn (Julie wanted us to leave the line and head out to make it to the 5:45pm dinner on time), it was around 5:15pm, which was past the closing time for Legoland.
By 5:30pm, we were back in the car and headed back to the Hyatt House, which we promptly got to at 5:35pm. With dinner at Benihana at 5:45pm, we were running late. We still had to get changed out of our hiking clothes before continuing on with the dinner. Eventually at close to 6pm, we finally met up with my brother's family. We wound up getting seated at one of the rectangular grills where the chef would be at one end while we'd be seated across from him watching the show.
Eventually, my parents also showed up after getting a little lost from Escondido, and so Joshua's birthday celebration was on. Tahia was having lots of fun interacting with Joshua and Sophia. Meanwhile, Julie was busy trying to ensure that whatever food she'd be getting would lack peppers, sugars, or other things that might cause her to flare up.
The dinner ended off with a birthday cake where the frosting was drawn like a football field with Raiders players as well as the logo. Clearly, my brother had a say in this as we all knew that he was a Raider fan though they had lost earlier in the day.
By about 9:05pm, dinner was over, and we made another grocery run at the Sprouts in Oceanside. This time, the shopping excursion didn't take as long, and eventually we returned to the Hyatt House in Carlsbad, where we got settled and looked forward to sleeping in a bit, especially since we knew that Legoland wasn't supposed to open until 10am.
Day 3 (January 8, 2017 – Los Angeles, California): "The Legoland Reward"
It was 7am when we awoke. Once again, Julie was already up making steamed vegetables in an effort to bring some healthier stuff into the brekkie room. We spent quite a bit of time getting ready for the day knowing that Legoland wouldn't be open until about 10am, but I had this idea that perhaps we could hang out with Joshua at the Legoland Hotel, where he was spending the night.
As we were having the breakfast (this time they had sausage patties instead of ham), we went back to perusing the omelette bar while also drinking kefir that we had made and brought along on this trip. Upon seeing what we were doing, one of the employees was telling me that what we were doing was wonderful. He was telling me that kids would be having Fruit Loops (which was one of the cereals on offer here), and he admitted that the stuff was very bad.
That kind of made us stand out against everyone else because they were all perfectly happy indulging in the brekkie on offer without preparing their own healthier stuff.
Eventually after filling ourselves on the brekkie, we went back up to the room to wrap up the packing, and then we put our stuff in the car before we promptly took the shuttle to Legoland. At least now we could finally take advantage of the complimentary shuttle and not have to pay the ridiculous $17 parking fee.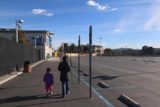 By about 9:40am, we were inside the Legoland Hotel lobby, where we then went to the cafeteria to find Joshua's family. It turned out that we happened to catch them just as they were pretty much finished eating. Then, we hung out in their room, while also having fun with the whoopie cushion by the elevator as well as the disco elevator itself.
Inside the room, the parents were spending a bit of time packing up. We eventually agreed to let Tahia play with Joshua and Sophia with the parents continuing to pack up and watch over them. In the mean time, Julie and I went into the park ourselves to look up the eating options since she was concerned about eating cleanly.
It felt strange going into Legoland without our daughter, and I wondered just how many couples would come here without kids.
So we made a beeline towards the Market, which was near the Go Karts. Since it still wasn't even 11am, the cafeterias were closed. We then headed over to the Lego Technic Coaster, which looked like it was running. There was also hardly a line so we wound up doing this ride twice just as Auntie Jina texted us that they were waiting for us at the Coastersaur.
It was a good thing that we got in our rides of this coaster because they closed the ride right after we were done with our second go. It really seemed like they were struggling with the maintenance of this ride.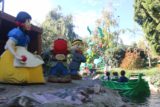 We eventually met up with the rest of the gang at the exit of the Coastersaur, where we then headed over to some kind of boat ride that I didn't recall doing before. I know Tahia was looking forward to the Go Karts, but it seemed like Auntie Jina wanted what was best for Sophia (their younger daughter), which didn't involve roller coasters. The whole time I was thinking to Julie that I was glad we got in our rides with Tahia when we did yesterday because these other rides were a waste of time. But then again with so many rides closing (including a self-driving boat ride), maybe it didn't really matter.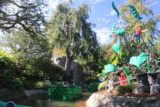 After the boat ride, we then checked out a merry-go-round, which was once again an Auntie Jina request. Shortly thereafter, they then wanted to do the smaller oval track at the Go Karts because Sophia wasn't 6 years old yet.
But I think Tahia didn't want this ride so they all ended up going to the larger Go Kart course, where the apparently didn't check if Sophia was old enough. But when it came time to do the Go Karts, Sophia opted to not do it. I was hoping that Tahia would pick the red car #11 because it seemed to be the only car that was going way faster than the rest of the Go Karts. But alas, she didn't and some other kid was having the time of his life lapping everyone else.
Shortly after the Go Karts, we then had lunch. But just as we were having the lunch, I started to have a sore throat as well as the onset of some chills. This was not good, and apparently, our theory that drinking homemade kefir and eating lots of sauerkraut to boost our immune system wasn't accurate. Maybe it was the cake and the fried rice from last night feeding the virus?
Tahia was throwing temper tantrums when Julie insisted that she was to eat healthier stuff than breaded chicken tenders. But I think she eventually gave in. When lunch was over, we went through an little funhouse where we were supposed to look for some keys. Then, we headed over to the Egyptian shooter ride, where Tahia was busy having fun on the bouncy towers next to it.
Once the families were reunited, we then headed over to Ninjago, especially after the Lego Technic Coaster was still closed. Now, the Ninjago ride was said to be a ten-minute wait, and my brother was telling me how this ride reminded him of the Toy Story Ride in Disneyland, but that one had like a 90-minute wait compared to a ten-minute wait here.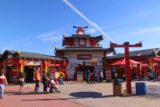 When we finally did the ride, this time I scored a bit better, but I was still struggling to aim as it kept shooting up instead of straight. Apparently, Auntie Jina and cousin Joshua had the highest scores in the family (something like 160k while I had something like 80k). I guess those folks that had like 415k really knew how to play this game.
We then went on the Legoland Cruise, which was like the relaxing part of the Legoland experience. And when this was done, we saw that the Lego Technic ride was starting to run again. So we went there immediately, but just as we started lining up, the ride was experiencing technical difficulties once again. And so went that opportunity. Tahia was bumming that she never got to do this ride again.
So we went to the Green Dragon, where I told Tahia that you'd want to ride the back to feel the maximum effect of the rest of the train pulling the back. I think Tahia ultimately understood what I was talking about so we promptly went back on the Green Dragon ride once again, and asked to be seated in the back.
And once again, Tahia had lots of fun with this experience though in the back of my mind, I was thinking about the impending flu that I was coming down with. I was worried that I wouldn't be able to go to work tomorrow or even later on in the week depending on how I was feeling.
At 3:15pm, we were waiting for the Hyatt House shuttle at the entrance to the car park. And at 3:30pm, we finally regained the car at the Hyatt House. From that point on, we proceeded to drive for home.
Once again, traffic wasn't too bad and we wound up arriving at home at around 4:40pm. But with each passing minute, my body was increasingly feeling the chills and I could already feel that my lungs were getting the flu virus as I was already prone to forcing me to chain-cough.
Hopefully, I'd be better in time for Friday when we wanted to take Tahia for her b-day to Disneyland. But as far as going to work this week, I had better let my body rest than play hero regardless of whether it was a good look or not amongst coworkers. Sometimes I get pissed off when people show up to work coughing up a lung (I suspect that was how I got the virus in the first place), and I certainly wasn't going to do that this week…
Visitor Comments:
Got something you'd like to share or say to keep the conversation going? Feel free to leave a comment below...
No users have replied to the content on this page