Day 3 (January 8, 2017 – Los Angeles, California): "The Legoland Reward"
It was 7am when we awoke. Once again, Julie was already up making steamed vegetables in an effort to bring some healthier stuff into the brekkie room. We spent quite a bit of time getting ready for the day knowing that Legoland wouldn't be open until about 10am, but I had this idea that perhaps we could hang out with Joshua at the Legoland Hotel, where he was spending the night.
As we were having the breakfast (this time they had sausage patties instead of ham), we went back to perusing the omelette bar while also drinking kefir that we had made and brought along on this trip. Upon seeing what we were doing, one of the employees was telling me that what we were doing was wonderful. He was telling me that kids would be having Fruit Loops (which was one of the cereals on offer here), and he admitted that the stuff was very bad.
That kind of made us stand out against everyone else because they were all perfectly happy indulging in the brekkie on offer without preparing their own healthier stuff.
Eventually after filling ourselves on the brekkie, we went back up to the room to wrap up the packing, and then we put our stuff in the car before we promptly took the shuttle to Legoland. At least now we could finally take advantage of the complimentary shuttle and not have to pay the ridiculous $17 parking fee.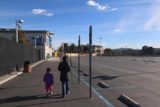 By about 9:40am, we were inside the Legoland Hotel lobby, where we then went to the cafeteria to find Joshua's family. It turned out that we happened to catch them just as they were pretty much finished eating. Then, we hung out in their room, while also having fun with the whoopie cushion by the elevator as well as the disco elevator itself.
Inside the room, the parents were spending a bit of time packing up. We eventually agreed to let Tahia play with Joshua and Sophia with the parents continuing to pack up and watch over them. In the mean time, Julie and I went into the park ourselves to look up the eating options since she was concerned about eating cleanly.
It felt strange going into Legoland without our daughter, and I wondered just how many couples would come here without kids.
So we made a beeline towards the Market, which was near the Go Karts. Since it still wasn't even 11am, the cafeterias were closed. We then headed over to the Lego Technic Coaster, which looked like it was running. There was also hardly a line so we wound up doing this ride twice just as Auntie Jina texted us that they were waiting for us at the Coastersaur.
It was a good thing that we got in our rides of this coaster because they closed the ride right after we were done with our second go. It really seemed like they were struggling with the maintenance of this ride.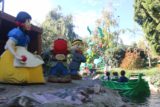 We eventually met up with the rest of the gang at the exit of the Coastersaur, where we then headed over to some kind of boat ride that I didn't recall doing before. I know Tahia was looking forward to the Go Karts, but it seemed like Auntie Jina wanted what was best for Sophia (their younger daughter), which didn't involve roller coasters. The whole time I was thinking to Julie that I was glad we got in our rides with Tahia when we did yesterday because these other rides were a waste of time. But then again with so many rides closing (including a self-driving boat ride), maybe it didn't really matter.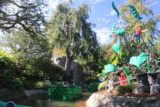 After the boat ride, we then checked out a merry-go-round, which was once again an Auntie Jina request. Shortly thereafter, they then wanted to do the smaller oval track at the Go Karts because Sophia wasn't 6 years old yet.
But I think Tahia didn't want this ride so they all ended up going to the larger Go Kart course, where the apparently didn't check if Sophia was old enough. But when it came time to do the Go Karts, Sophia opted to not do it. I was hoping that Tahia would pick the red car #11 because it seemed to be the only car that was going way faster than the rest of the Go Karts. But alas, she didn't and some other kid was having the time of his life lapping everyone else.
Shortly after the Go Karts, we then had lunch. But just as we were having the lunch, I started to have a sore throat as well as the onset of some chills. This was not good, and apparently, our theory that drinking homemade kefir and eating lots of sauerkraut to boost our immune system wasn't accurate. Maybe it was the cake and the fried rice from last night feeding the virus?
Tahia was throwing temper tantrums when Julie insisted that she was to eat healthier stuff than breaded chicken tenders. But I think she eventually gave in. When lunch was over, we went through an little funhouse where we were supposed to look for some keys. Then, we headed over to the Egyptian shooter ride, where Tahia was busy having fun on the bouncy towers next to it.
Once the families were reunited, we then headed over to Ninjago, especially after the Lego Technic Coaster was still closed. Now, the Ninjago ride was said to be a ten-minute wait, and my brother was telling me how this ride reminded him of the Toy Story Ride in Disneyland, but that one had like a 90-minute wait compared to a ten-minute wait here.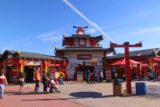 When we finally did the ride, this time I scored a bit better, but I was still struggling to aim as it kept shooting up instead of straight. Apparently, Auntie Jina and cousin Joshua had the highest scores in the family (something like 160k while I had something like 80k). I guess those folks that had like 415k really knew how to play this game.
We then went on the Legoland Cruise, which was like the relaxing part of the Legoland experience. And when this was done, we saw that the Lego Technic ride was starting to run again. So we went there immediately, but just as we started lining up, the ride was experiencing technical difficulties once again. And so went that opportunity. Tahia was bumming that she never got to do this ride again.
So we went to the Green Dragon, where I told Tahia that you'd want to ride the back to feel the maximum effect of the rest of the train pulling the back. I think Tahia ultimately understood what I was talking about so we promptly went back on the Green Dragon ride once again, and asked to be seated in the back.
And once again, Tahia had lots of fun with this experience though in the back of my mind, I was thinking about the impending flu that I was coming down with. I was worried that I wouldn't be able to go to work tomorrow or even later on in the week depending on how I was feeling.
At 3:15pm, we were waiting for the Hyatt House shuttle at the entrance to the car park. And at 3:30pm, we finally regained the car at the Hyatt House. From that point on, we proceeded to drive for home.
Once again, traffic wasn't too bad and we wound up arriving at home at around 4:40pm. But with each passing minute, my body was increasingly feeling the chills and I could already feel that my lungs were getting the flu virus as I was already prone to forcing me to chain-cough.
Hopefully, I'd be better in time for Friday when we wanted to take Tahia for her b-day to Disneyland. But as far as going to work this week, I had better let my body rest than play hero regardless of whether it was a good look or not amongst coworkers. Sometimes I get pissed off when people show up to work coughing up a lung (I suspect that was how I got the virus in the first place), and I certainly wasn't going to do that this week…