LONG TIME TO GET STARTED
Julie and I were getting restless last night, and we had every intention to bring our daughter along to another local waterfall. However, our little excursion to Belmont Shore (involving all three of us) to enjoy a little walk on the beach was cut short by blustering winds kicking up lots of sand and interrupting Tahia's afternoon nap. Even though the winds brought out the kitesurfers en mass, it might have been a bit too ambitious to bring out a newborn under these conditions.
So we paid for it the rest of the evening as she was fussy the rest of the afternoon. We couldn't even enjoy dining at La Creperie because the majority of the time was spent feeding her at the lounge area while our food was getting soggy and cold. On top of that, she later screamed bloody murder when we bathed her, and that was unusual since she usually enjoyed bath time.
Anyways, we didn't want to press our luck by messing up Tahia's schedule on back-to-back days (once a week was enough we figured) so if we were to go waterfalling today, it wouldn't be with our daughter. And we were thankful that Julie's mom was staying with us, which she was all too happy to look after Tahia. That enabled Julie and I to get a little more aggressive on our waterfalling (perhaps to someplace we hadn't been to before) – just like old times.
So the place we picked out was Tahquitz Falls. We knew it was all the way in Palm Springs, and it was going to be a long drive (especially considering the relatively high gas prices again). But both of us were a little weary of night feedings, lack of sleep, periodic pumpings, and overall being slaved to Tahia's needs. So this little getaway almost felt like temporary freedom.
Besides, waterfalling out in the local deserts was something we typically avoided in the past due to the perception of lack of water. But we heard that this year the snowpack in most of California's mountains were way above normal so we stood an excellent chance at seeing this waterfall flow well.
The morning routine started off with Tahia waking up hungry some time around 6am. Then, we fed her and took her on a short walk around the block before she was tired enough for her morning nap. That enabled both of us to get prepared and be out the door by 8:30am.
As expected, the drive was long. We were amazed at how developed it was as we drove east on the 91 all the way until it merged with the 60 then the 10. I swore in my younger days, there were lots more empty space, but now it seemed like the sprawling suburbs have completely filled in these areas with concrete jungles at least until the mountains where the 60 narrowed and wound its way through them.
After passing by the familiar Cabazon, we finally realized where Morongo Casino was (after being bombarded by their advertisements during Lakers or Clippers games as well as during Sportscenter). Not that we were going there anyways since we're not the gambling type.
Then, we took the highway leading to Palm Springs. Julie and I hadn't been there since our early days of dating (I believe before 2000) so our recollections of this place was quite sparse. Though this town did seem to be a lot more developed than we remembered.
We do, however, remember some spa treatment (since that's Julie's thing) and some restaurant as well as a hike that kind of led nowhere. And now that we're older and wiser, we knew exactly where we were going to hike this time around.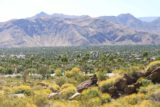 By 10am, we arrived at the nearly full car park for Tahquitz Canyon.
Even though today did feel like we were independent like old times, things weren't totally like before. That was because it was time for Julie to pump.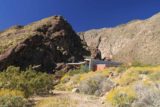 So while she was doing that, I went to the Tahquitz Canyon Visitor Center to buy wrist bands (to be able to go on the trail) for a pretty hefty price of $12.50 per adult ($25 total). When put in the context of going to the Rainbow Falls/Devil's Postpile National Monument (which last I checked in 2010 was something like $7 per adult), it really was pricey.
When Julie and I tried to think of reasons that would justify such a high price for a local waterfall, we did reason that it was Indian Reservation land (more specifically the Agua Caliente band of Cahuilla Indians) so they could do what they want with it, especially after they were probably screwed out of their land by the government which was actively acquiring North American lands from Native Americans during the 19th and early 20th centuries (the so-called "Manifest Destiny").
But perhaps more practically speaking from a pricing standpoint, $12.50 per person was one of the cheaper alternatives considering that most visitors to Palm Springs could blow off a lot more money on spas, golf, shopping (at the nearby Cabazon outlet), or trying their luck at one of the casinos, among other things. Day trippers like us (from nearly two hours away) didn't fit their typical profile of a visitor.
From the literature, we learned that they did clean up this trail from graffiti and transients using the canyon illegally as well as maintain the trail. Before 2001, this trail was closed to the public.