Day 3 (February 12, 2017 – Los Angeles, California): "Righting A Wrong"
Once again, it was about 7:25am when I awoke after having slept in. Julie said that she had already been up as she was thinking about errands back at home. But she opened up the curtains where I could immediately see the somewhat warm glow of the rising sun shining on the San Jacinto Mountains. I'm sure had I been up an hour earlier, the glow would have been even softer and warmer than it was now, but it was still scenic nonetheless.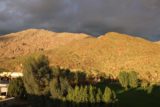 When I went outside onto the balcony, I felt the boots and it appeared that Julie's Keens were almost completely dry (albeit a little damp in a few spots). However, my hiking boots were still quite wet around the high top area and even a bit on the inside. I guess it wasn't going to be pleasant hiking in these, but at least my lone pair of wool socks were dry so perhaps that might wick away some of the moisutre.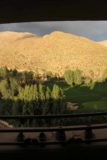 Julie spent the better part of the morning getting all freshened up and packing up. I was helping her get some of the stuff together while also watching the 30-for-30 on Bo Jackson and flipping between that and SportsCenter where it seemedl like all the talk was about Kevin Durant and Russell Westbrook in last night's game.
We ultimately decided to nuke some of the leftovers and that would serve as our breakfast instead of dining in the restaurant downstairs and spending more money.
By about 9:30am, we were all packed up, checked out, and made it back to our car. We then drove out and headed north on the Hwy 111 towards the I-10 before exiting at the Hwy 243 heading south towards Idyllwild. We were headed back towards Fuller Mill Creek as Julie and I had attempted to do it some 6 years before but managed to somehow miss the main waterfall. The whiff was so bad that I didn't even bother doing a waterfall write-up for the Fuller Mill Creek Falls. So now it was time to right that wrong.
After going up the familiar winding road of the 243, we'd eventually get to spots where we could glimpse to our right towards the Riverside County basin. I recalled six years prior that the basin was so smoggy that it was hard to see through the black haze. But on a day like today, there was no such haze and the views were beautiful.
Eventually at 10:30am, we'd make it to the shady pullout before the entrance to the Fuller Mill Creek Picnic Area. There was still some snow at the pullout and the gate to the picnic area was closed. Across the Hwy 243, there was the familiar signs saying the Fuller Mill Creek area was closed to protect some yellow-legged frogs that made the federally endangered species list.
Julie was tired and needed a nap so she stayed in the car. Meanwhile, I wore the wet boots, brought a couple bottles of water that could fit in my hiking pants pockets, and brought the camera. I immediately crossed the highway and went past the closure signs and onto the wide trail as it descended towards Fuller Mill Creek.
There were tree trunks sprawled across the trail indicating that the authorities really didn't want people here. However, when I got to the bottom of the descent and paid more attention the closure signs, I noticed that the closure was really in effect from March 1 to October 31 – i.e. pretty much the time of year when Fuller Mill Creek would have water. But since it was only mid-February, I guess it was fine that I could do a little exploring here, right? Or at least, I shouldn't get a citation for being down here at this time, right?
Anyways, as the road trail started to disappear, I was back at that familiar quandary about how to proceed from this point forward. I recalled the last time we did this that we also had trouble here about where to scramble next. But this time, I decided to scramble alongside the creek where possible (though the water was rushing quite a bit), and it didn't take long before I saw up ahead that there was a very attractive chute waterfall with some smaller tiers fronting it.
This must be the Fuller Mill Creek Falls that had alluded us some six years ago!
As I scrambled further, I saw more of those closure signs placed on trees alongside the creek. The scrambling continued to get tricky as I found myself balancing on wet logs and wet rocks. But I'd eventually get towards the middle of the stream where there was a little island reached by a fallen log. At this point, I took the photos and videos taking in the main waterfall as well as the lower tier just downstream of it.
I knew that I was in the right place this time because I saw the ledge where Ann Marie Brown's book
showed someone crouching before the falls. I was finally able to scramble to that spot to get a closer look at the falls after some more dicey scrambling amongst wet logs and wet rocks with moss on them.
The whole time I was here, I kept asking myself, "How on earth did we miss this falls the first time around?" Indeed, it seemed like the scrambling was too steep surrounding this falls, and yet somehow we managed to scramble around this falls without ever knowing it was here all along. I recalled that we scrambled quite a bit further upstream where there was some 5-ft waterfall, but it turned out that it was unnecessary in the first place.
Well, now that this excursion could finally be considered a success, I returned to the parked car by the Fuller Mill Creek Picnic Area gate at 11:10am, and now we were finally headed back down towards the I-10 and eventually to home. We'd be back by 1:05pm, which was just in time for a healthy lunch locally prepared at home…