Day 1: WHERE THE OCEAN MEETS THE SKY
With about a six hour short day at work, I had to rely heavily on Julie to wrap up all the packing and car hire formalities back at home. She had dropped me off at the Metro station early in the morning, and she would pick me up at work some time during lunch.
So with a pretty busy workday as far as I was concerned, Julie freed me from this hectic day as we left together for Big Sur at around 12:30pm.
As with last minute trips like this coupled with a hectic week (much of which was stress and frustration caused by this new computer with Windows 7 on it, which we promptly returned last night), there were a few things that were forgotten like Julie's eye drops as well as some water (knowing it would be real expensive if we waited until we got to Big Sur to buy the supplies).
So after leaving the Target near Thousand Oaks and filling up gas at around 2:15pm, we proceeded to continue northwards along the 101 Freeway.
At 3pm, we ran into some slowdown traffic near the Santa Barbara area. We suspected it was rush hour traffic this Thursday afternoon. Along the drive to the town as well as beyond it, we noticed some rolling green hills as well as colorful wildflowers blooming alongside the busy freeway. Indeed, Spring was here even though technically the equinox wasn't until a couple more days.
The drive was mostly uneventful except there was a time when we continued north on the 101 past San Luis Obispo, when we realized that our Nuvi
wasn't talking and that we must've missed the junction for Hwy 1. So at 5pm, when we made this realization, we ended up continuing towards the Hwy 46 and cutting across back towards Hwy 1 and the Pacific Ocean near Cambria.
Not long after Cambria, we were approaching Ragged Point, site of our accommodation for our first ever trip to this area way back around 2001 or 2002, I think. However, we were hoping for some nice sunset views and photos at McWay Falls, but fog seemed to have rolled in with full force and conspired to ruin those plans.
Miraculously, the fog seemed to have subsided as we went past Salmon Creek Falls (though we didn't stop here), and the sun was back out although the skies were a bit hazy from the sea spray and the air was fairly cold relative to the 80s we had been getting back at home and the 70s along the coast.
Throughout the drive, there was plenty of evidence of mudslides as well as eroding cliff taking parts of the Hwy 1 with it. There were also a few one-lane stretches as well a long part with a traffic light to control bi-directional traffic.
I had recalled similar conditions on our previous visits here, but as we're now older and wiser travellers, we now asked the question of whether this was one of those instances where man constantly struggles to keep this corridor open even though it might be one where Nature could whimsically make it real difficult year after year. And with this Winter's barrage of rain storms, I guess it couldn't really come as any surprise.
Both of us wondered how much money is spent going into this road and how much tax dollars or other sources of revenue goes into it as well. Clearly, it's one of the most scenic highway, but it's also a definite reminder of how scenery and danger can go hand in hand.
When we got to Limekiln State Park, we noticed that it was closed due to fire damage so we wouldn't be able to re-visit Limekiln Falls, which was kind of a bummer. I was hoping to revisit this waterfall and improve the photos taken of it several years back.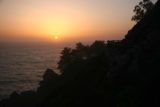 Anyways, we were supposed to be checking into to our accommodation at Deetjen's at around 7:30pm and have our dinner reservation at 7:45pm. But it wasn't until 6:50pm when we arrived at Julie Pfeiffer Burns State Park, which was where we would check out McWay Falls.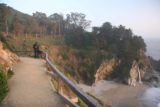 With the sun quickly setting beyond the horizon, both of us quickly got our cameras and ran towards the waterfall and ocean. I had never changed out of my work clothes so I'm sure it must've been a strange sight for other people to see a 9-5'er out here wielding a Canon EOS 20D while wearing slacks and a button-down collared shirt.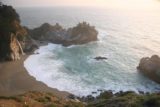 It seemed like we showed up just in time despite the nearly half-hour delay from going the wrong way. For the sun was casting a fairly warm glow onto the hidden beach and cove onto which McWay Falls spilled. Sure the haze kind of muted the colors a bit, but it was still a pleasant, naturesque, and serene scene. And we took photos while getting the most of this locale where the ocean meets the sky, and the sun was quickly about to hide itself behind the ocean.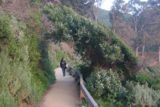 For the most part, Julie and I had the falls to ourselves though there were a handful of other tourists toting big cameras (even one with a tripod) as well as other romantics at the falls. And shortly after 7pm, the sun retired for the day.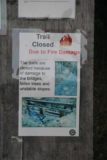 At 7:15pm, we were back at the car. Unfortunately, there were signs that got our attention at the car park when we saw that the trail to Canyon Falls was closed due to fire damage. So I guess tomorrow, we wouldn't be able to re-visit this waterfall as well, and it was starting to look like we'd have more time than we know what to do with it given all these closures we didn't really anticipate.
Anyways, we didn't have a whole lot of time left for our upcoming dinner reservation so now, we had to continue up the highway towards Deetjen's. And by 7:40pm, we finally made it to the accommodation for the night. But with all the cars that were parked here, this place sure looked real busy!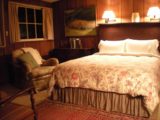 When we got to our Faraway Room, we realized that there were no locks on the doors so we opted to keep our stuff locked in the car until we got to occupying the room after dinner. And by around 7:50pm, we finally had our dinner, which turned out to be one of the better places to have a fine dining type experience than we could remember. We had heard they had a good breakfast here, too. And we can't wait to check it out tomorrow morning…Pages: First | ← Previous | 1 | 2 | 3 | ... | Next → | Last