Day 2: BIODIVERSITY IS WONDERFUL!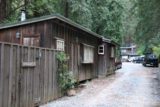 The day began with an unalarmed 8am wakeup. Shortly after we woke up, we could already start to hear some cars whizzing by along Hwy 1. Our Faraway room at Deetjen's was definitely within earshot of the busy highway (even for a place as remote as Big Sur) despite the pleasant sounds of the waterfall and creek behind our room. That stream continued down the canyon under the highway bridge at the hairpin turn and eventually to the ocean.
We even heard the beeps of the trash dump truck backing up at the exit of the property near our room.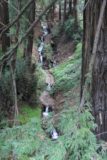 As Julie was getting ready for the day, I took the time to walk around the property and take photos. What particularly caught my attention was the waterfalls both upstream and downstream from the property bridge. From the Hwy 1 bridge, you could see almost the entire cascading drops of the lower waterfall, which was surprisingly tall.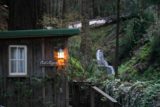 When Julie got out of the room and we were done loading up the rental car, we headed to the dining area since Julie's iPhone research indicated the brekkie here's quite good.
Along the way over, we were talking with an employee at this property. She had very bright blue eyes, and Julie commented on them saying they were as blue as the ocean!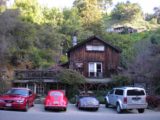 Anyways, the employee said she worked here for 27 years even though she hailed from Vermont. She claimed that maybe the man upstairs helped to guide her here, where she seemed quite at home.
Upon learning that we were from Los Angeles, she mentioned that Big Sur did have the potential to chew people up and spit them out if they're not in the right mindset. Must be that Hollywood reputation or something. But I could see where she was coming from considering there's no TV, it takes quite a while to get here, and there's definitely not all the amenities we took for granted back in city life.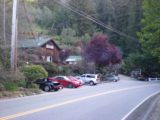 This place has attracted artists, writers, and even famous actors, but most certainly it's those seeking to really feel this place that gets the most out of it. She even said that some people can go to the Esalen Institute nearby to get that "feel" for the place without going insane.
She also mentioned that each of the cabins and rooms on the property was endowed with some kind of spiritual being, where you could literally hear yourself think and listen to the buildings saying something to you. I could say that we weren't into the whole religious interpretation of things, but we could definitely appreciate how places like these can feel like an escape from reality.
At 10:20am, we were stuffed with some tasty blueberry pancakes as well as some eggs benedict and the Deetjen's Dip (a type of guacamole and turkey sandwich). And at 10:30am, we finally left Deetjen's, but now we're headed northwards in the direction of Carmel. However, a few minutes later, we decided to check out one of the old waterfall haunts from the past – Pfeiffer Falls.
We got to the state park at 10:30am where there were a pair of employees ensuring visitors pay the $10 day use fee. I guess the state really needed money because the fee shot up way more than however much we were charged 7 or 8 years ago.
I remembered the old trail that started near one of the lodges here and was but a barely 0.4 mile hike each way to the falls, or it could be done in a reasonably short loop that encompassed the Valley View Overlook. Unfortunately, we learned that the falls couldn't be accessed directly on the shortest trail, but we could take the Valley View Trail until it junctioned and joined the falls. That was because there was a fire last year that ran through the area and pretty much killed most of the hiking trails, and then the heavy rains from this Winter destabilizing the non-vegetated ground.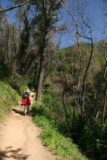 That might also explain why places like Limekiln State Park and a big chunk of Julia Pfeiffer Burns State Park also suffered at the hands of the fires from last year.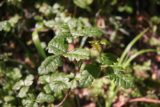 In any case, the barely 1 mile round trip hike all of the sudden became a roughly 2 miles round trip of hilly walking. We must've been out of shape the first time we did this trail because my memory kept telling me the hike was more difficult than it felt like today. Although it did feel quite dry and hot today, which contrasted with the fog we experienced further south of here late yesterday afternoon.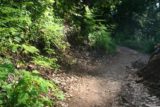 But one thing that really didn't change was the prevalence of poison oak that was all around the trail.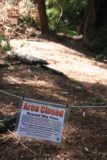 At around 11:30am, we made it to the familiar falls. The flow wasn't a whole lot different from the way we remembered it, but the viewpoint here was certainly a bit different than before thanks to the fire damage. For the viewing decks were gone, but we could still get decent closeups of the falls. I even noticed an upper waterfall that somehow escaped our attention the first time around.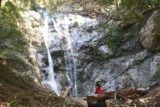 Another thing I noticed was that there looked to be some kind of stone wall with an opening for the stream. I didn't recall that was there before, and I wondered if its sole purpose was so you could get right in front of the falls or something. In any case, that area was all closed off due to unstable earth either above it or right behind that wall. It was a bummer since we wanted to get real close, and at some point, I just took the risk and went over there.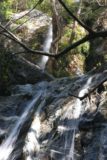 After getting our fill of the falls, I made a brief detour on the return hike towards the Valley View overlook. The view of the valley and towards the lighthouse in the distance was quite familiar. But I didn't linger here and rejoined Julie at the car at around 12:10pm, but not before seeing a bunch of rescue workers head in the opposite direction.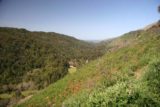 One of them asked if I had seen anyone injured on the trail, but I didn't go all the way to the end of the Valley View spur which the guy mentioned where the injured person was believed to be. It was actually quite a fair-sized group that went up for this cause as a pair of them were carrying a stretcher while others had first aid.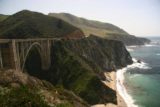 Now, we were continuing north towards Carmel. Julie was hoping we could meet up with a friend from Julie's old company who lives in town. But it depended on whether her iPhone email made it to her and how soon she'd send us a response or a phone call.
So we continued a few minutes further north towards Monterey.
It wasn't until at around 2:05pm when we made it to the Fisherman's Wharf. Hungry for a lunch, we had some food at the Fisherman's Grotto. During the dinner, we learned that Julie's friend was up in Oregon this weekend so we couldn't meet up today. In any case, the food was a bit heavy and we left more than stuffed at 3:20pm.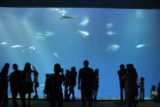 Despite the hefty $30 per person admission price, once we got inside and checked out the various displays, we could see that the cost was certainly justified. That was because the exhibits were definitely elaborate with live sealife as well as plenty of interactive displays.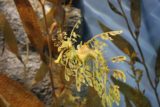 We were sure if we were fortunate to have a kid, that this might be a pretty cool place to take him or her. But even for us adults, we thought there were some really neat displays like the jellyfish area (which really looked like alien beings against the illuminated water) as well as the secret life of seahorses, which included sea dragons that looked almost like the kelp they were around. There were even other cool areas showing tidepool habitats complete with artificial waves and even an indoor waterfall to show coastal stream habitats.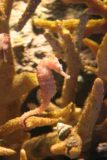 There was also a Vanishing Sealife area where we could see shark, sea turtles, and tuna among other sealife that are quickly being overfished to extinction even if they're not the intended purpose of the harvesting (as they often get caught in nets or other fishing gear). They had displays where things like sushi or tuna sandwiches are transformed with the pull of a level to the scene of the fishing practices that lead to that particular dish. I had to say it's all pretty depressing stuff and really made us think hard about our love for sushi, but this exhibit seemed to be a pretty effective way to connect customers with the pressures that society puts on the ocean's resources and biodiversity on an emotional level.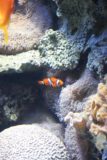 While appealing to the conscience can turn people gradually (or become fatalist about it), personally I think you need economic rules that put pressure (instead of rewarding) these practices meaning seafood needs to reflect their true price (as all other things we do) so the practice can be more sustainable and the responsible company can thrive while the irresponsible ones better adapt or go out of business.
Anyhow, the longer we stayed here and checked out each of the exhibits, the more we could see the recurring evidence of life adapting to its surroundings that maximize their likelihood of survival and passing on their genetic code to the next generation. Those who think evolution is a fluke really should come here and see for themselves how these organisms survive.
And with that said, another thought that went through my mind as we spent quite a bit of time here was the tremendous biodiversity of our oceans. Sure much of it is threatened, but a walk through here certainly makes you keenly aware that biodiversity is a wonderful thing. Now if only we could maintain the planet's biodiversity…
It wasn't until about 5:10pm when we got back to the car. Next up was a drive back south through the winding roads of Big Sur.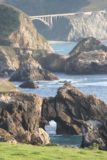 We managed to pull over a few times for some interesting coastal shots, especially a memorable one before the Rocky Creek Bridge where we could see a sea arch that was still there.
Then we found the Big Sur Bakery, where we arrived at 6:30pm. Julie had read some good reviews about this place so we decided to dine here. The real selling point for us was that the chef used to work at the Campanille on La Brea Blvd in Los Angeles, which was one of the more well-known fine dining establishments. So we were sure the food here must be pretty good.
Even though we were still stuffed from our heavy lunch (and even breakfast for that matter), we just simply made room in our stomachs for the mains and especially the dessert. After all, the food was delicious (albeit expensive like the rest of our food experiences so far) and we made sure none of it went to waste.
At 8:10pm, we left the restaurant and drove southwards towards our accommodation at the Lucia Lodge in the dark. It was too bad that our rental car couldn't maintain a high beam so that made driving a little bit trickier than I would've liked, but by and large it was a mostly uneventful drive as I had no problems pulling over for faster drivers on this road (since I was going slower than usual thanks to the car's inability to hold the high beam).
And at 8:50pm, we made it to the Lucia Lodge. Fortunately the owner was walking around and headed to our room to help us into our room. Otherwise, we'd be fumbling around in the dark looking for the guy to get us the key.
The sky was certainly clear and we could see many stars in the night sky while hearing the waves crashing ashore at the base of the cliffs far below us. It was reminiscent of the experience we had some seven years ago, and certainly not a whole lot has changed here.
And so ended a rather busy day even if we didn't get in as much waterfalling as we had expected at the start of the trip. That waterfalling day would have to be tomorrow where we set our sights more southwards…