Day 3: RESISTANCE IS FUTILE!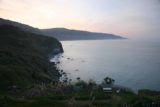 Julie and I awoke at 7:30am. As soon as that happened, I got my camera and braved the cool crisp air as soon as I realized that there was no fog and the sun hadn't quite risen over the mountains. So in the morning shadows were the familiar precipitous cliffs diving right into the crashing waves below. Indeed, Lucia was known for the location, and it was just as we remembered it.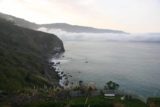 Then, I just realized that today was the first day of Spring, being the 20th of March. I guess it was fitting that there were lots of wildflowers blooming in the foreground of the cliffside scenery that Lucia Lodge was known for.
At 8am, we checked out the complimentary breakfast, which was more like a Costco breakfast. At least the sugar rush should be enough to get us going, but I don't think this was something worth staying around for if we had to get an early start to go somewhere (which we anticipated today).
At 8:30am, we left the Lucia Lodge and headed south. On tap for today was a long drive out towards Arroyo Grande and eventually towards Lopez Lake where we were hoping to see both Big Falls and Little Falls in the Santa Lucia Wilderness.
It wasn't going to be a trivial trip because it's at least 2 hours each way from where we were at. But if it wasn't for this out-of-the-way waterfall excursion, we'd have more time than we knew what to do with given that Limekiln Falls was closed and we had already seen what we could on the northern end of Big Sur yesterday.
Anyways, right off the bat, we were delayed by some road work, which lasted about 10 minutes. But after that, the drive was mostly uneventful as we zoomed along Hwy 1 towards San Luis Obispo (the very stretch of road we missed on Thursday afternoon).
At 10:10am we made it to San Luis Obispo and filled up on gas. Not long afterwards, we followed Ann Marie Brown
's directions towards Little Falls, which required us going on the Hwy 227 off the 101 Freeway.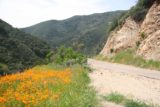 We ended up going quite a long ways on the local roads until we finally got to Huasna Rd, where a sign pointed left to Lopez Lake. And from there, we followed this road towards the High Mountain Road turnoff and proceeded along this route as the road gradually narrowed.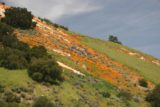 Ultimately, we made it past some Boy Scout Camp where the road started to go past some 6 concrete fords (none of them deep) and towards the Upper Lopez Drive. During the drive, I was fretting a bit about the fact that our rental car might not be able to make it to any of the trailheads given the low clearance and the fact that Lopez Creek might be too deep in any one of the many stream crossings according to the description. This was something I only realized after taking another look at the directions while filling up on gas back in San Luis Obispo, but since we were already this far, we mind as well go for it anways…
We weren't certain if we were going the right way when we went well past the Boy Scot Camp and the road started to switchback its way up towards a ridge (passing by several patches of lovely orange California poppies – the state's flower) before descending towards a juction between the Waters End Road and the Upper Lopez Road.
We turned right onto the Upper Lopez Road and saw a reassuring sign that both the Little and Big Falls trailheads were ahead about 1.5 and 3.7 miles respectively. But shortly after this sign and conference center we passed through, we immediately encountered a pretty deep looking stream crossing.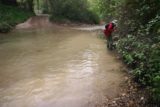 At first we went in and tried to cross it. But Julie noticed some steaming going out the front sides of the car and started freaking out that we might be shorting something or doing some water damage to the motor. So that stopped me right in my tracks, got my heart racing, and immediately I backed up out of the creek and continued until I could do a three-point turn.
From that point, I returned to the junction and just parked the car there at 11:10am. Obviously, Big Falls was going to be out of the question since there was no way we'd walk 3.7 miles one way just to get to the trailhead, but we could at least walk to Little Falls. Unfortunately, we're probably going to get a bit wet in the process.
Even though I did have Chacos
, Julie didn't have anything that would allow her to wade in water. So both of us donned our hiking boots (knowing they'll probably get ruined on this excursion). I decided I would suffer with her so she wouldn't be suffering alone.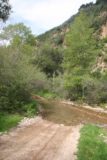 And sure enough we gingerly waded through the first two stream crossings every so often watching high clearance SUVs and trucks going past with drivers waving at us.
By the time we got to the third stream crossing, it looked rather long. There was a guy wading in the stream wielding a machete. Then there was a couple on the other side with a dog watching both us and the dude with the machete.
We said hi to the guy with the machete, and he was quick to point out that he was trying to kill some invasive fish called carp, I think, that was killing off the trout in the area. He probably sensed we were a little suspicious and apprehensive of the fact that he was carrying a weapon. But he was in good spirits and very friendly so that kind of disarmed our fears anyways.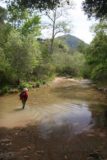 As we got towards the middle of this stream crossing, there came a point where we had no choice but to wade through shin deep to knee-deep of water. Further progress meant resistance was futile. So we just sucked it up, got our feet completely wet as water was now coming in the boots through the top, and was squishing our way forward from this point on.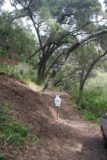 After about 5 more stream crossings (this part of the walking couldn't have ended soon enough!), we finally got to the signed Little Falls trailhead at about 1.5 miles from the sign (just as it said). There was a truck parked here, and it was probably one of those trucks that went past us.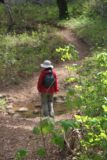 At this point, the walk was now on a real trail, but it was flanked with lots of poison oak. Some of the stands were taller than Julie, and in any case, we had to make sure that we weren't rubbing them too much. And as we made our way through, I came to realize that even had I walked in just Chacos
, I might've had difficulty keeping my exposed feet from getting exposed to the toxic oils on the poison oak that were so ubiquitous here.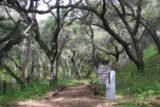 Eventually after another 20 minutes or so of walking, we got to a point where there was a yellow ribbon and a pink ribbon leading in different directions. The left one followed the stream and was basically a scramble amongst some poison oak as well as within the stream itself. The other way crossed the stream and went who knows where.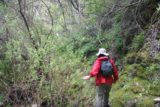 After a few minutes of awkward scrambling, we saw a trio of people and a couple of dogs enjoying the lower tiny falls. We still couldn't see the main falls we came for, but we knew it couldn't be that much further.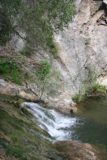 Sensing that we wanted to see the main falls, one of the guys already here told us to scramble on the right side of the stream as it was supposedly drier and easier.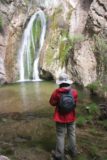 So we did just that and within another minute, we finally saw the prized Little Falls. Indeed, it was a 50ft one and it had its own little picturesque cove and plunge pool. So Julie and I were quite relieved that all the trouble we went through to get here at least wouldn't be for naught.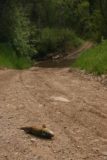 After taking as many photos as we could and savor the fact that we went to someplace quite remote that few people outside of the locals knew about, we headed back out towards our car. Along the way, I noticed a fish on its side in the middle of the road that still looked like it was breathing. It did, however, have a cut wound and blood coming out of it so maybe it was already about to die.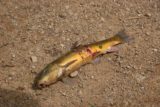 At first we were about to take the fish and put it back in the stream we were about to cross, but then we thought about the guy with the machete we saw earlier. It could very well be the invasive carp he talked about that was killing off the local trout. So we ended up leaving the fish on the road.
By 1:15pm, we finally were back at the car where we could relieve our pruny feet by removing the drenched boots and hiking socks and put on something more comfortable (Chacos
for me, clogs for Julie).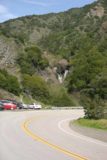 By 2:35pm, we made it Morro Bay where we had a quick but heavy Mexican lunch at Chapala's. We left Morro Bay at 3pm and eventually made it to Salmon Creek Falls. We had passed through some thick fog between Cambria and through Ragged Point, but the fog seemed to lighten up a bit around the falls.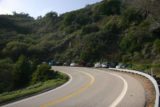 The pullout here was almost completely packed. I guess this was the price to pay to see the waterfall in the correct lighting situations. For the quieter mornings involved seeing the falls against the sun. So at least this would be the first time we'd finally see the falls with afternoon backlighting.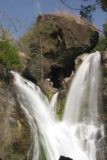 So we spent even more time taking photos of the falls and getting a kick out of some people who scrambled up to the top of the falls. There were heaps more people trying to find a decent way to photograph the falls from the base. One frustrated tourist had his tripod and camera all set up, but nobody would leave one of the rocks below the falls so he never really got his Ansel Adams type shot.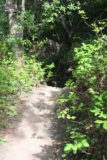 And once again, we had to be careful not to get toxic oils from poison oak which were everywhere. I was especially susceptible given that I had Chacos
on.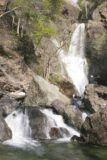 Once at the base of the falls, I waded in the really cold pool to get more photos. But my feet and ankles were starting to feel pain due to the cold, and I was also worried that some poison oak oils might be carried in the stream.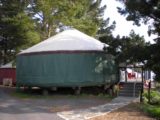 Once Julie and I had our fill of the falls, we returned to the car at 4:40pm. Then, we continued north and found Treebones, where we made a brief stop to see what their dinner menu looked like.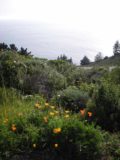 And once we saw some stuff we liked, we made it a point to return here for dinner once we put away our drenched boots and socks, but not before getting a few photos of the ocean from this higher vantage point.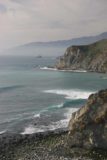 After continuing on to Lucia, we made another stop at a pretty large vista point car park considering the nice warm afternoon lighting painting the rugged cliffs ahead of us.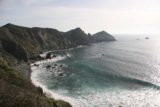 We figured this would make a pretty nice photo stop considering there were heaps of other cars here, but when we got to a point where we could take photos at the cliff's edge, we noticed even more cars down below us and apparently lots of surfers in the water as well.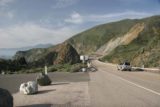 Indeed, this was one of the more happening roadside spots, and it seemed to be a pretty good time to chill for a bit and soak in the scenery that Big Sur is known for.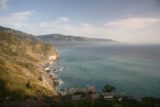 We finally made it back to Lucia Lodge at 5:40pm and we headed back down to Treebones at 6:30pm.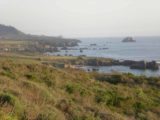 With the continuing fading of the sun, the rugged coastline was once again presenting pleasant vistas under the sun's warm glow. We managed to stop for a few photos before continuing on. And at 6:50pm, we made it to the restaurant, which was surrounded by tent cabins called Yurts. And there, we got to see a gorgeous sunset.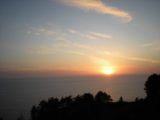 Even though the view at Nepenthe was desired, we didn't feel like doing the longer drive in the dark after dinner. But the one here at Treebones wasn't bad either. In fact, we were treated to a gorgeous sunset from the dining area. Not bad for our last night on this trip!
Besides, the butterfish was good, the short ribs were fall-of-the-bone, the eel roles were real good, and they even had sticky date pudding! We also had a great time talking to the worker here who also had a zeal for travel, and we discussed various things like Hawaii (where she and her boyfriend chef was from) as well as Australia amongst other things.
We eventually made it back to the Lucia Lodge at 9pm under another star-filled sky. And so it was time to kick back for one last night in Big Sur before heading home tomorrow morning…