THE MINERAL KING MARMOTS
So we headed over to the town of Three Rivers where the Mineral King Road left the Generals Highway (Hwy 198). We wasted no time taking this road, which in turn wasted no time becoming a somewhat narrow unpaved road.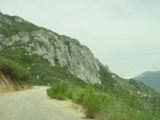 Like the Generals Highway, the Mineral King Road was curvaceous. The dirt road kept us from going anywhere near 30mph. Thus the drive went on like it had no end.
I could tell dad wasn't very used to driving these types of roads because he tended to go onto the opposite "lane" when he would turn corners or switchbacks. There was always that potential of a collision if someone was going the opposite way too fast for him to react.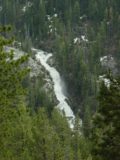 There were still some residual snow and wet areas. We were surprised at how busy the place felt considering the amount of effort it took to get here. Nonetheless, I could totally envision having a great time with friends and/or family in the cabins out here.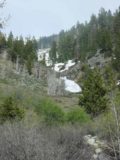 It was finally 3:15pm when we entered the Mineral King Valley. Greeting us as we approached the day use car park turnoff was Black Wolf Falls. The falls was flowing well, but parts of it was always obstructed no matter where we tried to see the falls so we couldn't convey its magnitude in our photographs.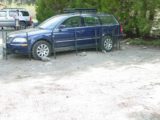 It quickly became apparent why some people put small wire fences around their vehicles while others left their hood open. These marmots looked to go underneath someone's vehicle and chew on the radiator hoses! So these must be the infamous Mineral King Marmots I had read about!
Mom and I were about to go hiking in search of some of the waterfalls here, but my dad worried about the marmots enough not to join us. Instead, he guarded the car armed with a trekking pole. He was determined not to let the radiator-hose-eating marmots underneath the vehicle and possibly disable the car.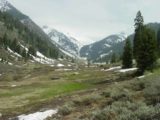 So mom and I started walking on the trail with nice views of the Mineral King Valley. There were tiny cascades on both sides of the valley, but as we continued on the trail we were on, apparently one of those cascades crossed the trail we were on.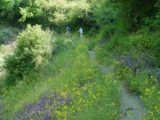 Unfortunately, it looked like there used to be a bridge and the crossing was too fast-moving and deep to proceed without significant risk. So that meant we couldn't continue further and we turned back deciding instead to try to find a better way to see Black Wolf Falls. We didn't know at the time that we took the wrong trail deeper into Mineral King Valley anyways, and that the correct trail was on the other side of the watercourse on the opposite side of the valley…
Dad was still at the car, sitting on a rock with his eyes fixed on his vehicle and the scurrying marmots.
Mom and I walked on the road towards the conspicuous waterfall. However, it wasn't immediately obvious to us where we could get closer to the falls. We didn't feel like climbing so we ignored one of the trails that immediately went up switchbacks.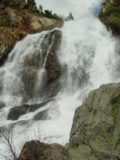 Finally, we just decided to scramble up some dry wash, but there were lots of rocks, dry branches, and bush that made progress slow. Eventually, we'd end up right in front of the falls. It looked like there was a cave near the falls, but there was no way we'd try to go up to it from where we were at. It wasn't exactly the greatest views of the falls and it was getting late in the day so mom and I headed back to the car where dad was still on guard. I noticed some soreness on my left thigh, but I had dismissed it as natural soreness from heavy usage during our hiking.
It was 4:45pm when we were on our way back towards Hwy 198. We still had quite a bit of a drive to get back onto the Hwy 99 where we had booked a motel in Tulare.
During the drive back, dad told us about how a pair of marmots went under the car. When he poked underneath the car, only one of them ran away. The other one was still underneath starting to chew and he immediately kept poking at it until it too ran away.
As we got further into the drive, dad and I noticed a trail of coolant left behind by someone else's vehicle. With our thoughts on marmots, we immediately thought some poor unfortunate soul was victimized by the furry creatures. We speculated how this trail was going to end. Would it end at a disabled car? Or, would it end at a repair shop in Three Rivers?
When we returned to the paved road, the coolant track disappeared without a trace – neither confirming nor denying our hunches.