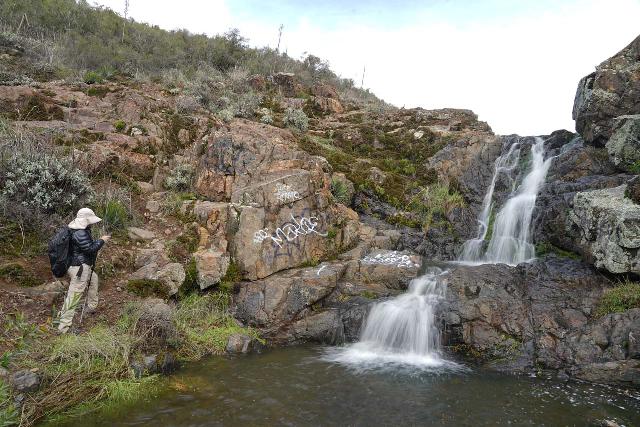 2-January 2023:
As Julie tepidly stepped onto a rock while leading back against the moderately steep slope, I saw that she slipped and fell with her hip seemingly bouncing off that rock! Julie needed a moment to assess whether she had broken anything, and I guess it was a good move that we didn't pursue going after the second waterfall this time around…
It was 6:15am when I awoke to the alarm as it was just Julie and I today while Tahia was with her cousins staying over at my parents' place.
Last night we had a New Year's Day dinner with the family, and so we let Tahia spend some more time with the cousins though I bet they probably spent more time on the screen than being present with each other.
I know the temptation for Tahia to do it is constant, and I'm sure it has affected her attention span as she always seems distracted even though she really wants to do all sorts of things at the same time.
However, for her cousins, they seem to do nothing but stay on the screen every time we see them, and so if we think it's bad for Tahia, I'm betting it's even worse for Josh and Soph.
Anyways, we didn't have to worry about that for now as things tend to move a bit faster in terms of getting up and out the door when it's just Julie and I though even then sometimes I get frustrated when Julie takes her time.
Of course, maybe I'm a bit too high strung when it comes to my angst in getting out the door sooner or later since I know that parking tends to be limited in the waterfalls that we go to in the Southland, and I didn't want to have to deal with that.
Besides, today was supposed to be a national holiday, and thus, this day tended to feel more like a weekend than a typical workday playing hookie.
So as I had suspected, it did take us some time to get out the door as we filled up some water, got some snacks, I had a kefir breakfast, and we also had to fill up on gas.
Thus, it wouldn't be until around 8:30am when we finally were on the freeways heading east towards the I-15 and ultimately in the direction of Lake Elsinore.
As much as Julie wanted to do the repeat waterfalls (Millard Falls in particular), I wanted to make amends for last year by going to the Upper Hot Spring Canyon Falls).
I say "making amends" because last year, the first waterfall was barely flowing even though we had atmospheric river type storms through much of December 2021.
But then we waited two weeks after the clearing of those storms before trying after the calendar flipped to 2022.
So this time, I didn't want to take any chances as there seemed to be a calm in the storm system (as there was another one that was supposed to hit us later in the week), and I thought this morning would be perfect to fit in this excursion.
I don't think Julie remembered much about last year's experience with this one because her memory tends to be a bit foggy when it comes to sorting out these waterfalls.
Maybe it's because she wastes more time on the socials (particularly Instagram) than I do and this one isn't on there as much?
Regardless, we were making our way for about close to 90 minutes of driving while I was playing Wolf Alice on the iPod (yes, I still use it when on longer drives because it's simple and it still works).
There were blue skies when we started, but then as we got closer to Corona, I noticed that there was a bit more fog shrouding the area.
Then, we got off at one of the obscure exits before Main Street, and then we headed towards the Ortega Highway again.
I was already surprised at how many cars were on the highway, and about 9:30am, we made a quick stop at the Lookout Roadhouse, which had a nice view towards Lake Elsinore.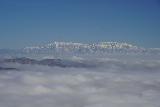 However, the difference this time was that there was a blanket of fog shrouding the lake and making it seem like we were above the clouds since we were high enough above the fog layer for this view.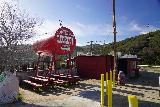 Behind the fog in the distance were some mountains with some snow on them, which attested to the amount of precipitation we had gotten so far and the snow accumulations that went with it in the local mountains.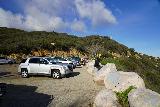 I was surprised to see some "For Sale" sign by the Lookout Roadhouse stop, and I wondered if this place was either shut down or already shut down, especially since it didn't look open at the time.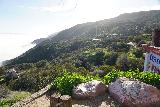 Anyways, we kept going along the Ortega Highway as we passed by the campgrounds and the village of Cariso (even going past some kind of biker bar with usually some smart ass saying on their marquee board, and this place also appeared to have closed its doors).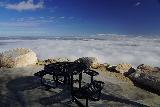 I guess the pandemic really did a number of a lot of these local businesses, even though we're talking about Orange County or Riverside County (where COVID-19 wasn't exactly taken all that seriously) and not Los Angeles County.
I had some trouble remembering when we had to make a right turn to get onto the narrow, twisty roads leading to both the Blue Jay Campground and Falcon Group Campground, which was where the target waterfall hike started from.
I also tried something different with this visit as I turned on the AllTrails app to give it a go.
However, when the reception went out, I noticed that the map went blank (though the breadcrumbs were still there), and I guess in order to address this problem, I'd have to pay for their plan to be able to download the maps offline.
It's kind of like how Gaia GPS does their plan where it's free until you want to download maps offline, but I really want to see why everyone would rather use AllTrails than Gaia GPS for myself.
Regardless, I still had the Gaia GPS app on at the same time so while AllTrails was doing breadcrumbs and seemingly trying to get me to do everything in their power to share my breadcrumbs (seems like it's all social with them), my Gaia details were still there.
So I used that to make sure I turned right on the right road, and then we took that all the way to the familiar trailhead near the Falcon Group Campground.
While there were already quite a few vehicles parked in the informal day use spots near the campground entrances, there were still a couple of available spots by the trailhead we used for the Upper Hot Spring Canyon hike.
We got here at about 9:55am, and as we were getting ready, there was another car that pulled up next to us whom we greeted politely.
He had a couple of kids in the car, and it seemed like he was going to take them on this hike though it was going to be his first time.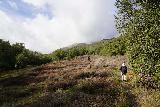 Julie and I then started to head out, and we said our farewell's for the moment though I wondered if we'll be seeing them on the trail.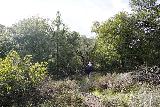 Anyways, we were pretty much on the familiar hike where there were some clouds swirling about us, which I took to be a good sign because I knew that this was kind of a west-facing waterfall (meaning we'd be looking against the sun if it was out).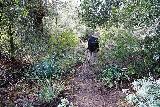 So I hoped that the clouds would at least obscure the sun so we could at least take pictures of it and stuff.
The path also seemed like there were lots of brown, which is to be expected for a Winter hike, and that's a good thing so we wouldn't have to deal with ticks or mature prickly yucaipa as much.
After all, this hike was not really an official trail so there were no signs and there were quite a few "false" trails coming in from the left (though these came in from the campgrounds) or branching off to the right.
But since we've done this trail before, I kind of knew where we had to go, which was pretty much along Hot Spring Creek or some unnamed tributary of it.
And so we continued along the path, and we were enjoying that fact that so far it had been pretty much Julie and I by ourselves with no one else around.
So we were able to hear the creek which appreciably more water than last time so it was making peaceful rushing sounds.
There were a few deadfalls on the way, which was to be expected when a storm has passed, but it was still a pleasant way to kick off waterfalling season in the Southland in the New Year.
There were also the familiar narrow eroded parts of the unmaintained trail, especially in one spot where Julie opted to go across the small stream while I gave the narrower eroded part a go.
It actually wasn't all that bad though I could totally see why people tend to go on the other side.
Once we got past this little split-trail interlude, we then continued along the path where some of it actually coincided with the creek, making it a little trickier if you don't have hiking boots that can get wet.
I also noticed that Julie tended to take each obstacle or slope very gingerly (I guess her confidence was a little shaken because she might be a little more out of practice with these moderate hikes than in the past).
So it took a bit longer for us to go the roughly 1.5 miles to get to the first of the Upper Hot Spring Canyon Falls, but ultimately by about 11:10am, we got the brink of the waterfall.
And sure enough, the first waterfall was going pretty good (at least way better than it did this time last year).
Now in the back of my mind, I kind of wanted to see how going down to the second waterfall would be like this time, but I also remembered how much trickier it was to get there.
And given that the creek was running much higher than the first time, I'd imagine that it would also be more slippery and more full of hazards as well.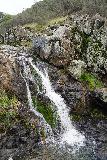 Even Mom took one spill on that first visit, so with Julie, I didn't want to take those kinds of chances this time around.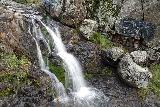 Thus, we spent quite a bit of time taking videos and pictures and overall just enjoying the fact that we had this place all to ourselves even though there were still the unsightly graffiti around this waterfall.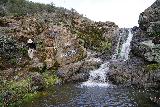 I guess that's the unfortunate part about waterfalling in the Southland as the graffiti problem tends to get worse, especially since the pandemic when more people were using AllTrails and bringing the more disrespectful types.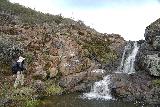 Speaking of AllTrails, I was still doing the breadcrumbs thing with it, and I was also using the interfaces in terms of having pictured waypoints like I did with Gaia though it took more taps than with Gaia so that was one difference I saw.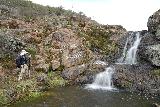 However, the other thing I noticed was that AllTrails was all about sharing the trails and making comments and ratings and stuff, and it wouldn't even let me skip them.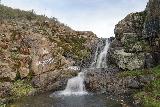 So for sure, AllTrails was amping up the crowdsourcing and social aspect of the hiking experience instead of Gaia, which was all about the mapping and navigation aspect.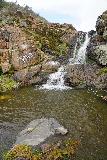 Thus, I knew that if I was going to use AllTrails, I should only use it on the already popular hikes, but I wouldn't use it (at least in the way they want you to) for the more obscure spots that haven't been overrun yet (though even those places are disappearing).
Anyways, Julie and I spent a pretty solid 45 minutes at the waterfall, but there was only so much you could do with a two-tiered 15ft waterfall surrounded by graffiti.
While it was a nice experience, it was time to head back so we could have a late lunch and then head to my parents' place to pick up Tahia and maybe spend some more time with the folks before it was time to go home.
And so by about 11:55am, we headed back upstream and back towards the trailhead.
Already early on in the return hike, we encountered a couple who were determined to get to the second waterfall (and maybe even to the bottom of it, which was something I didn't dare do last year?).
And not long after that, there was a smiling woman who was alone and also headed the other way (though I wasn't sure if she was going for the second waterfall too).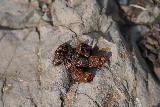 Further along the hike, there were probably at least one or two more couples headed the other way, including two guys who looked more rugged and might also go down the second falls as well).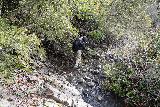 Eventually, we got to a part of the trail where we had to go down some rocky shelves to regain the trail.
I took a lower approach, which seemed easier for me, but Julie took a higher approach to get down.
As Julie tepidly stepped onto a rock while leading back against the moderately steep slope, I saw that she slipped and fell with her hip seemingly bouncing off that rock!
Julie needed a moment to assess whether she had broken anything, and (in hindsight) I guess it was a good move that we didn't pursue going after the second waterfall this time around.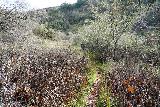 Regardless, after Julie was done squatting and assessing that she didn't break or fracture her hip, we then continued with the hike though she still insisted on using her one trekking pole her way (which I think contributed to her fall).
I kept offering her the second pole so she could lean down on the poles instead of leaning backwards and actually increasing her chances of a slip and fall.
Anyways, after passing one young couple back near the start of the hike, we were finally back at the car at around 1pm, where we noticed that the car with the dude with the kids had already left.
I guess they didn't try the hike since we didn't see them at all, but as far as parking spots were concerned, there was nothing left by this time, which might explain why we saw as many couples as we did on the way back out.
Regardless, we now had to drive back through the almost-single-lane roads past the campgrounds, and then back onto the fast-moving Ortega Highway.
Once we were finally back there, we then passed through Cariso (looking more livelier now than it did earlier), and we also passed by the familiar Lookout Road House, which now looked like it was still open for business.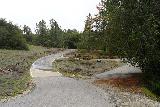 Then, we went back down to a much busier Lake Elsinore before getting back onto the much busier I-15 north.
Eventually by about 2:20pm, we arrived at the Cluck 2 Go restaurant in Rowland Heights so we could have that late lunch, and this place hit the spot as always.
By about 2:55pm, we were done eating, and by 3:25pm, we made it back to the parents' place where we hung out a little while longer.
I guess with what happened in late June last year, you have to really appreciate and be present when you have important people in your lives still with you, and that's what this hang out kind of felt like to me.
So we actually stuck around for a little bit of a dinner as well (even though Julie and I had already had our late lunch of Hainan Chicken Rice Singaporean style).
And so it wouldn't be until about 5:10pm when we finally made it home, which was just in time for Tahia to do her gymnastics make-up session or something like that.
That was it as far as our first waterfalling experience of 2023, and we're hoping that we'll have a more substantial rainy season to help with the drought than last year when it started off promising and ended up being a head-fake dud…
Visitor Comments:
Got something you'd like to share or say to keep the conversation going? Feel free to leave a comment below...
No users have replied to the content on this page