Day 1: LIGHTNING CRASHES
Julie's day began with a 6am wake-up because she wanted to prepare breakfast for Tahia before we were going to go out the door. On this day, we were going to make the long drive up to Mammoth via Bishop. The main reason for this last minute trip was so we could hang out with our good friends Cindy and Ed while our daughter could hang out with their kids. I didn't have any expectations for doing any new waterfalling experiences though I was hoping that perhaps we might have a chance to check out Sotcher Lake and the waterfall that was said to fall over there.
Other than that, this trip was promising to do some excursions that we never really considered doing before (or that Julie had never done before since it had been nearly 13-14 years since she was last here).
Anyways, it wouldn't be until about 8:55am when we were finally all packed and ready to go. Once again, it took a while for Tahia to finish her brekkie since she was so picky (and tended to drag her feet when it came to eating stuff she didn't like).
Bottom line was that we were expecting some degree of light traffic since we were essentially on our way out on a Saturday morning. We normally don't do drives like this on a Saturday, but I guess we had to fit our schedule to at least coincide with Cindy and Ed's schedule as much as possible without having me take too many days off (since it would look bad given that I had been gone for quite some time going to Morocco and Spain earlier in the Summer).
Anyways, it wouldn't be until Sunday afternoon at the earliest that we'd be hanging out with them. In the mean time, all of today and pretty much most of tomorrow, we were on our own.
As expected, it was light as we followed the I-5 all the way up through Burbank and into Santa Clarita. As we were heading north towards Lone Pine, Julie had high hopes of us having lunch at the Still Life Restaurant in Independence. We figured that would be a good gourmet start to the trip.
It was a little after 12pm when we passed into the town of Independence. Unfortunately, we saw that the Still Life Restaurant was closed. When Julie called, they said that they were only open for dinner. So I guess the Yelp or TripAdvisor hours were incorrect. That was too bad. So without any real sensible alternatives for lunch, we decided to just keep going towards Bishop. The original plan was to eat lunch first, then do Ancient Bristlecone Pines next, then check in, and maybe let Tahia play in the pool after that before dinner. But now, those plans have changed.
Eventually, at 1:30pm, we pulled up into the Motel 6 there and checked in. It was 101F here, but we figured that we could drop off our belongings, then have a late lunch at the Schatt's Bakery. Julie had looked up what kind of sandwiches they had there, and I guess their reviews were good enough that we ended up going there.
At 1:45pm, we pretty much found a shady parking spot (not that it made too much difference given the high heat of the day), then we promptly walked into the bakery that I know I hadn't gone into in at least a decade or so. Nevertheless, we queued up, eventually picked up a BBQ turkey sandwich, scored an indoor seat (good timing), then finally had our lunch.
I'm sure with the increasing awareness of gluten intolerance, this wasn't going to bode well for our guts. But at least it was holding us over, and it was fairly fast. But with the high altitudes that we were going to, the gassiness that our gluten intolerance was sure to cause was going to be exacerbated by the tendency for gas to expand at such altitudes. Either way, we just took it. Tahia, I don't think had this intolerance yet.
At 2:45pm, we were done with our sandwich along with some cinnamon roll as well as cheese bread samples, and we finally left Schatt's Bakery, which was a later start than I had envisioned for the Ancient Bristlecone Pine Trees. Back in 2010 when I went to the Ancient Bristlecone Pine Trees with Ed, we stopped the car at the Schulmann Grove, then hiked the long loop (about 5 miles I think) amongst the Methuselah Grove in the hopes of finding the oldest Bristlecone Pine Tree (though they don't label it so no one would vandalize it). When we came back from that trip, we wondered if we had made a mistake by not going all the way to the Patriarch Grove to see more trees, including the largest one in the Patriarch Tree. So on this trip, I was determined to explore that option.
It was still scorching hot outside in Bishop, but we could see that the thunderclouds that looked menacingly dark were now spread out across the Owens Valley to the north. Meanwhile, as we were driving south back to Big Pine, then headed east on the 168, we could clearly see that we were driving into some of those menacingly dark clouds looming over the Telescope Range that we were about to delve deeper into.
The drive was a mix of overcast skies, brief rains, and sunshine. But for the most part, the drive on the 168, then onto White Mountain Road was pretty uneventful. I did notice some puddles on the 168 road as well as tiny streams crossing the road, which made me keenly aware of the flash flood risk if the area were to have a sudden downpour. But we were committed to our visit, and we figured that our visit should be brief.
Eventually, we'd make it to the Schulmann Grove turnoff at the end of the paved part of the White Mountain Road at roughly 3:45pm. However, we still had another 12 miles to go on the now-unpaved road in order to get all the way to the Patriarch Grove. Since we were driving our own vehicle, I was aware of the kind of damage it might cause to our car in terms of messing up the alignment as well as possibly inducing a flat tire among other things that could go wrong. But I wasn't expecting this drive to be so bad that it might take a few years off the life of the car.
But the further on the road we drove, the more it became painfully apparent that the road was indeed a bit on the rough side. Even though passenger cars could do it, the road was narrow enough, rutted enough, washboarded enough, and rocky enough that we couldn't attack the road with the same kind of speeds that say some smoother unpaved roads could be. When I saw that it took what seemed like forever to only go 3 miles (since the signs told me we still had 9 miles to go), I knew that this excursion was a bit more involved than I had anticipated.
Complicating this drive was that we had gone through a few cloudbursts or squalls. I don't know if that would help wash Julie's car since I'm sure it was getting caked in wet dust from the unpaved road. We also started to notice some spots of lightning, which made us a little more apprehensive about us becoming lightning fodder while touring the Patriarch Grove.
In any case, we pushed on, and finally at 4:40pm, we made it to the Patriarch Grove and the pretty rough spur road leading to the car park. The good thing was that this grove was pretty much a drive-to grove with a little bit of a 1/4-mile loop to take in the alluring and colorful Ancient Bristlecone Pine Trees.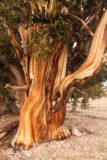 However, we didn't anticipate that it was going to be quite cold here (probably in the 50s or 60s; a far cry from the 100F in Bishop). In fact, I didn't even know that this grove was at 11,000ft! Indeed, with the overcast skies with dark clouds threatening to close in on us from two directions, we knew that we probably wouldn't have as much time as we had hoped touring this grove. On top of that, we also had to accept the fact that we were probably going to have a late dinner as well. Who knows how long of a wait we would have to stomach with today being a Saturday?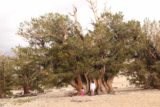 We weren't dressed for cold weather, but Tahia wasn't complaining about being cold. Plus, we knew we wouldn't be out too long, and we'd be pretty close to the car regardless. So we just grinned and beared it, and made our way to where the closest trees were.
A few minutes later, we finally got to see the Patriarch Tree, which was really a wide (but not-so-tall) tree with lots of leaves on it. It seemed like most of its orange bark was concealed. Even though there was a sign pointing out this tree, we felt that it was really the other trees that were more compelling photographically as they showed more of their bright orangish bark along with some of their ghostly fire-like twisted and pointy limbs.
As we were strolling around, we were a little bit short of breath given the high altitude. So I guess today was our day to get acclimated to high altitudes knowing that our excursions in Mammoth and the Devils Postpile area was going to be high altitude, too (though not quite 11,000ft).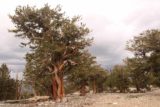 When we saw that the dark clouds were getting closer while the frequency of lightning strikes were increasing (and seemingly getting closer to us), we knew that our tour was pretty much done. At such high altitudes, we knew that the risk of lightning hitting us was higher than what we were comfortable with. And as we were headed back to the car, out of the corner of my eye, I saw another lightning strike not far from our mountain, which drew a "Whoa!" reaction from some dude sitting at a picnic table seemingly entertained by the show.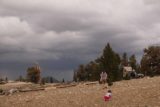 Anyways, by 5:20pm, we were back in the car. I was now concerned about flash floods possibly washing across the road we had to take to get back to Bishop as the dark clouds were looming over the direction that we were headed to get out of here.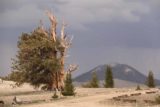 The bumpy drive was now under seemingly darker skies. As we looked west towards the Sierras, we could see that only silhouettes could be seen of them (or at least the parts that weren't covered in clouds). And as we progressed closer and closer to the paved part of White Mountain Road, we could see multiple lightning strikes not far from where we were driving. Indeed, Tahia noticed the sound and light show thanks to Nature, and I guess she was seeing firsthand the word and the meaning of "lightning".
When we were continuing on the paved part of White Mountain Road, Julie's iPhone was making a weird sound. It was something we had never heard before (certainly was neither a ring tone nor a text message ding), and when she picked up the phone, she saw that there was an emergency broadcast system alert for a flash flood warning in our immediate area. That pretty much confirmed my fears about possibly being stranded out here and having to wait out a wash out.
When we finally returned to the Hwy 168, I was concerned that the undulating road had sections where water could easily come across it. I recalled there was a "single lane" road section (probably more on par with a typical bi-directional narrow road in Europe as opposed to it being "single lane") as well as other parts of the road where I saw puddles and tiny streams that could easily blow up into something impassable.
As we were just starting to head west on the road, we saw a cop going the other way. Just as we had passed each other, he had turned on his siren lights, which made me scared that perhaps I might have been caught speeding on the Hwy 168. So for the next few minutes, I kept inspecting my rear-view mirror thinking that I was gonna get pulled over for speeding (though I swore I was going pretty slow given the conditions).
But after a few minutes had passed and he hadn't showed up on my rear-view, we then entered that "single lane" section. And pretty soon, we saw right away that there had been mud that had washed onto the road.
So that was what the cop was flashing his siren lights for! He was trying to warn me about the flash flood danger (or at least its effects)!
Fortunately, there wasn't enough mud on the road to get stuck, but we wondered what it must've been like had that flash flood event occurred in this section and we'd be there to witness it. In any case, based on this, we paid more attention to the engineering of the roads. Since the Hwy 168 was undulating a lot, we figured that the flash-flood-prone sections would probably be lacking a gutter or water channel. Whenever water would pass over the road, then you'd start having problems from potholes, to sinkholes, to ruts, and even mud.
So we saw a few more instances of water puddles covering parts of the road as well as a few more muddy sections. Again, we were fortunate that none of these obstacles stopped us from continuing towards Bishop. And lucky for us, most of the cloud bursts and rain squalls were back while we were on White Mountain Road. The rain seemed to have momentarily died down while we were driving the Hwy 168.
Eventually at 7:10pm, we stopped over at the Sage Restaurant in Bishop since Julie had already Yelped or TripAdvisored about them and saw some decent reviews. It was still cloudy all over Bishop, and when we went inside the restaurant and learned that we wouldn't be seated until about 45 minutes later, we decided to just stick it out. And while we were waiting, that was when it seemed like the rain started to fall again.
Eventually, we would have our dinner, and it turned out that the filet mignon was really good. However, the osso bucco was out, then the salmon with polenta and mango was out, and even the dessert plate she wanted was out. The pesto pasta was creamy and not to Julie's liking. I guess that's what happens when you have a late dinner at these places, but I'd much rather have a disappointing dinner than to miss out on a sightseeing excursion, especially one as impressive as the Ancient Bristlecone Pines that Julie was finally able to experience and appreciate, at last.
At 8:50pm, we left the restaurant. It was now raining pretty persistently, which was quite unusual as normally pop-up desert and mountain thunderstorms tended to die down by evening then start to clear up. But the rain persisted even as we drove for a few minutes out to the Vons for a little grocery shopping.
We were already getting a little wet as we went from car to supermarket, then back after we had done our little grocery run. Even when we returned to the Motel 6 at 9:20pm, the rain continued, and this really made us wonder whether it might be raining when we do Rainbow Falls tomorrow. Well, whatever the case, the weather (climate change induced or not) was beyond our control, and we could only respond when things happen tomorrow. So we'll just see what tomorrow brings.
Visitor Comments:
Got something you'd like to share or say to keep the conversation going? Feel free to leave a comment below...
No users have replied to the content on this page