Day 2: SHUTTLE STOPS
It was 6:30am when we awoke. The room was fairly comfortable, which I guess was indicative of them updating the place as I had recalled it being quite dated and dumpy the last time I was here many moons ago. When I snuck a peek outside, I could see there were still lots of very dark clouds around us. That pretty much had me expect that we might be hiking in thunderstorm weather, and when Julie told me that we didn't have rain ponchos for this trip, I was further concerned about our lack of preparedness for this last-minute trip.
Well, we pretty much ate some leftover food that we had brought with us from Friday night. That was our breakfast. By 7am, I had heard lots of people outside getting into their cars. That pretty much signaled to me that most people staying here were early starters like we should be. In fact, it seemed like no one slept in, which was quite a contrast to the schedules we had to deal with in Spain!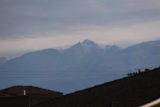 It wouldn't be until about 8:30am when we finally loaded up the car. In the distance, we could see snow on some of the peaks of the Telescope Range visible from our motel! To see snow this late in the year was quite unusual. I guess those persistent thunderstorms last night momentarily revived Winter though I'm sure that snow would be long gone by the end of today.
After checking out, we headed out. The drive out of Bishop was pretty uneventful though there were some impressive vistas towards the high peaks of the Eastern Sierra Mountains bathed in morning light. I wished I had the patience to pull over and take a landscape road shot here, but I figured on the way back, perhaps I could pull over and take a shot from the other side of the road a couple of days later.
In any case, the drive further north ultimately led us to the unfamiliar turnoff for Convict Lake. We decided to go over there as part of our morning excursion since we had never visited this spot in all the years we had been visiting the Eastern Sierras. Julie was convinced that there had to be a good reason why this lake topped the list of attractions on TripAdvisor.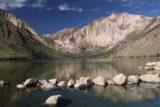 On the way between Bishop and Convict Lake, I had to have seen at least two or three cops pull motorists over on the south-bound side of the Hwy 395. So I made sure to stay within 5mph of the speed limit seeing that they were actively out and about issuing citations for speeding. It seemed like the Hwy 395 and Hwy 14 were huge revenue generators for traffic fines.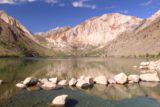 At 9:10am, we parked at Convict Lake. We immediately saw that the lake was very scenic. There were bare but colorful mountains backing the calm clear lake. It kind of reminded me of our Lake Louise experience where that scenic lake was backed by lovely mountains and even a glacier (which Convict Lake lacked)! And so we eagerly looked for ways to better experience this spot as it was quite clear that Julie's call to stop over here on the way to Mammoth was a good call.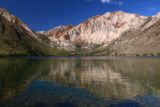 As we were busy walking around trying to find nice spots to take photos, I conversed with some guy fishing here as he helped us take family photos in front of the lake. He was from Hemet, but he seemed to know quite a bit about the Eastern Sierras. He also mentioned something about Rock Creek, which I had recalled a coworker talking about as well as another tourist on a previous backpacking trip making mention of that place as well. I guess that'll be something else to do on a future visit out here.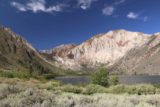 In any case, we spent the better part of the next hour taking reflection shots and scouting out where were the best spots to look at the lake. We went crazy taking photos, and I came to the realization that this lake provided the kind of lake scenery that Ed, Cindy, and I had worked so hard for on other backpacking trips to more remote lakes. The scenery was similar though the relative solitude and camraderie from a backpacking trip couldn't be re-produced in this drive-to spot.
At 10:05am, we were back in the car. The morning was starting to heat up, but it still wasn't unbearably hot quite yet.
As we continued our drive further north, we realized that the 203 turnoff for Mammoth Lakes was quite close. By 10:20am, we found ourselves inside Mammoth town, where we stopped at some place called Stellar Brew, where Julie went inside with the intention of picking up gluten-free sandwiches while Tahia and I waited in the car. However, by 10:35am, Julie returned to the car with a breakfast burrito that was highly touted but not gluten free. The gluten free sandwiches were deemed special orders, and they required a wait of another 20 minutes, which we didn't have.
So we continued on the Minaret Road, of which we were part of a long caravan of cars. So I knew that parking might be a problem by the time we would get up to the ski resort, where we'd have to catch the mandatory shuttle to get into the Devil's Postpile National Monument. For sure, this would be the very first time that we'd all have to take this shuttle service. In all my prior visits to the reserve, we were able to drive in because we showed up very early or because we were staying at Red's Meadow.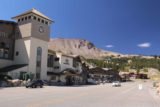 Eventually at 10:45am, we managed to find parking at Mammoth Mountain. We had to park a little further down Minaret Road, but at least it wasn't so ridiculously far that it would be like a hike just to get to the shuttle queue. We had to pay $7 per adult and Tahia was $4.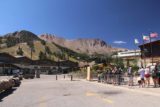 At 11:15am, we were queued up in line as apparently we had just missed the last cutoff for the previous bus by a few people. That sucked. Because it wouldn't be until 11:35am when we were finally boarding the next shuttle bus. Given the slow wait times for the shuttles, we decided not to make multiple stops in the reserve and just gun it for Rainbow Falls only. I had a feeling that both Devil's Postpile and Sotcher Lake would not be feasible under the shuttle system without getting an early start in the morning.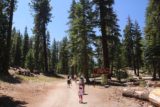 That was a bummer because I was hoping to do the waterfall at Sotcher Lake just so we could say we did a new waterfall on this excursion. But that infrequent shuttle schedule stopped us from doing that, especially since we knew that we'd be meeting up with Cindy and Ed later this afternoon for dinner, and we still had to do the Rainbow Falls and Lower Falls excursion. Time was running out and the shuttle schedule simply made fitting all this stuff in not feasible.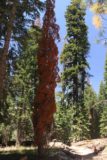 Eventually at 12:20pm, we were finally at the Rainbow Falls Trailhead. I guess the shuttle to even get from the ski resort into the reserve took a bit longer than I thought. Once we got dropped off, we walked the 100 yards to get onto the actual trailhead. There was a ranger here giving out surveys about the park experience, but since we only just started our visit, Julie told her that we weren't in a position to fill out that evaluation just yet.
The hike was on the famililar sandy and dusty trail, where Tahia kept feeling compelled to kick the trail and kick up that dust, which was very fine and could easily get into our lungs (making breathing harder in the already-thin air). We also noticed a few trees with noticeably brown leaves surrounded by other trees with green leaves. We figured that the brown-leafed trees were probably dead due to those pine beetles that managed to survive longer and kill more trees in times of warm Winters, especially brought about by Climate Change). Seeing those was disheartening, and very worrisome that the signs of Climate Change were very loud and clear.
Futher along in the hike, we could see there were sproutlings growing in between the old burnt trees from past fires. Yet surprisingly, this trail didn't feel too hot despite the lack of shade, and I attributed that to the high elevation. For I'm sure at Bishop, it must be like an oven.
With each minute spent on the trail, I was marveling at how Tahia was able to do the trail unaided (though we had to hold her hand to keep up the pace). I guess all that walking from our Morocco and Spain trip as well as some of the hikes we took her on even before that seemed to have built up her stamina both mentally and physically.
Anyways, at 1:10pm, we finally made it to the first lookout. It was crowded here, but we could see that there was a small rainbow at the base of the falls. Shadows were starting to creep in from the right side of the falls, but by and large, the falls was lit up with nice afternoon glow. Indeed, if there was a time to be here and experience Rainbow Falls, it would have to be early to mid afternoon.
A few minutes later, we were at the second lookout, where it was much quieter. Here, we were able to get that familiar view that was more directly angled than the first view, which was more severely angled. It was surprising how much fewer people were at this lookout because I thought this was the better of the two.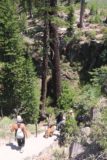 But we could see down below that there were even more people down by the base of the falls, where there was a log sprawled perpendicularly with the flow of the San Joaquin River. And there were many more people along the stream banks in the shade chilling out or letting their kids play.
After we had our fill of this second lookout, we descended down the stairs and joined the crowd at the base of Rainbow Falls at 1:25pm. Tahia was excited because now she could play in the water (at least the shallow parts). Even though the San Joaquin River was shallow enough for us to be able walk through much of the riverbed, the waterfall itself had pretty healthy flow even despite our exceptional drought and despite the fact that we were more than half-way through the Summer.
So we spent some time having a snack lunch of fruits and water as well as some chips with a kind of spicy guacamole-hummus dip.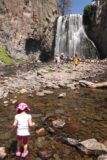 As it was 2:25pm when I had my fill of this spot, we took a few family shots, but then we decided that I'd quickly go out-and-back to the Lower Falls while Tahia would get to enjoy Rainbow Falls for a while longer while I was out and about. That way, she would quickly get over the fact that she was skipping her afternoon nap, and that she would be less likely to complain about being tired.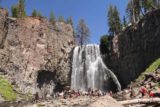 And so I was quickly off as I knew I hiked much faster than if we had brought Tahia with me to the Lower Falls. And as I headed out, I quickly saw on the trail to the other falls that I was one of only a few people on that trail! Indeed, there was one group that was going the other way, and then it was just me again. If one wanted peace and quiet, you'd certainly find it on this trail and I'm sure at the Lower Falls itself.
Sure enough at 2:45pm, I made it to the base of the Lower Falls. There was a couple (one dude with a shotgun) and a dog. I guess since we were outside of the Devil's Postpile National Monument, I guess the hunting season was sanctioned. In any case, they left just as soon as I had arrived. So I pretty much had the falls all to myself. It was incredible to think that Rainbow Falls could be so crowded yet only a half-mile down the river, this place was empty!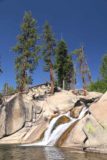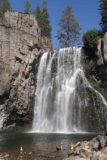 At 2:50pm, I got my fill of Lower Falls and took a movie (something I didn't think I had before). So I got what I needed to get, and now I quickly hiked back to the base of Rainbow Falls, where I'd arrive at around 3:10pm. There was just one group that was headed to the Lower Falls while I was going in the opposite direction. It was incredible how peaceful and sparse the human activity was on this trail.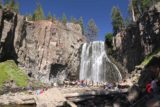 Anyways, back at Rainbow Falls, my arrival pretty much meant that it was time to go. Tahia wasn't eager to leave, but we knew that we still had to get back to Mammoth and check into our condo. Plus, we still wanted to have dinner together with Cindy, Ed, and co. when they'd finally get to Mammoth as well. I guess Sotcher Lake and Devil's Postpile would definitely be out of the question now. This was especially the case when I saw from our shuttle schedule that the 20-minute wait times were only guaranteed between 10am and 4pm. So we really had to move quickly or else be stuck waiting for 45 minutes for the next shuttle outside their peak hours!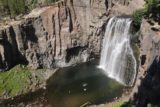 It seemed like they really made sure that if you were riding the shuttle, it would be as inefficient as possible. Because had we been able to drive down here, we certainly would've been able to visit all the other attractions without any problems. I'd bet that was by design so you'd be compelled to buy some shuttle pass to reduce the multi-visit price of the reserve or to make it more compelling to do one of the paid excursions in this valley itself. Maybe that's something to consider next time we visit – to give in and stay at Red's Meadow or book one of the horseback riding excursions (maybe to Thousand Island Lake?).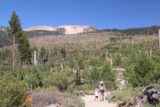 When we got to a junction where we could've kept left to go back to the same trailhead we were dropped off at, we opted to follow the signs and keep right to go all the way to Red's Meadow and the main shuttle stop there. The hike back in that direction seemed to be noticeably longer and more uphill than the one we went down on earlier. But regardless, we were back at Red's Meadow's bus stop at 3:50pm.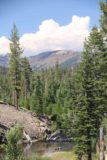 Unfortunately, we missed our ability to get on the bus by one person! So we were told that the next shuttle bus would be in ten minutes. So Julie and Tahia used that time to buy some drumstick ice cream desserts while we waited for the next shuttle bus. But apparently, the desserts were so big and we took too long to eat it that by the time the next shuttle bus showed up at 4:05pm, we weren't even close to finishing our desserts so we had to toss them. That really upset Tahia, but it was either that or risk waiting another 45 minutes for the next bus all over an ice cream dessert we probably shouldn't have bought in the first place!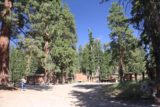 The ride back to Mammoth Ski Resort was crowded. But we were lucky that we were able to find seats although we had to sit separately. I ended up sitting in the back.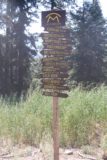 During the long bus ride back up, I was overhearing a couple of guys talking about traveling abroad. That perked up my ears and I was listening to their experiences. But at some point (especially when he was talking about rude Chinese visitors), I just had to interject telling him that it wasn't him. I had to deal with rude Chinese visitors as well in my past experience.
It was quite fun to hear their experiences from places like Vienna, Salzburg (Austria), and even Germany and Czech Republic, which were places that we haven't been to yet. It was also fun to hear their experiences in places we've been to like Bath, England and Roma, Italia, Thailand, etc.
If there's one topic that really piques my interest as well as possibly getting into long conversations with, it would have to revolve around the topic of travel and the different experiences you get when done with an open mind and with respect of the local customs and cultures.
When we finally got off the bus at 4:50pm, I made a suggestion to them to consider Southern Spain since I heard one of the guys was really into cathedrals. I appealed to their sense of new and unique experiences by telling them that you'd get a serious blend of Muslim and Catholic mashed together in the cathedrals, especially in Andalucia. And with that, we shook hands, and went about our separate ways.
By 4:55pm, we were back in the car. Surprisingly, the car wasn't baking like an oven. That was because the air temperature up here was actually quite mild. In fact, earlier this morning we had anticipated thunderstorms and mugginess, but it turned out that this day was anything but. It was clear for the most part, warm but not hot, and the thunderclouds were further to the east and quite clear of our immediate area. I guess the storm from yesterday helped to moderate the temperatures locally here, and perhaps that kept the thunder cells from growing in intensity from the daytime heat and difference in air pressure.
At 5:15pm, we finally arrived at the Sierra Manor, where we went into our room and eagerly dropped off our stuff. However, when Julie found out that the beds weren't made, the dishes weren't washed, and the bathrooms weren't clean, we eventually called the owner and the on-site managers to clean up the place. We weren't sure if they forgot about this unit or not, but whatever the case may be, Julie was already sour on the "unprofessionalism" of the Air Bnb experience. At least as far as first impressions are concerned, our first experience was already not good.
While we've heard generally good experiences from friends with Air Bnb or Vrbo (probably because of cheaper prices more than anything), we also were keenly aware of how hit-and-miss these kinds of arrangements could be. I guess with booking.com or other more professional services, we got much better results. In fact, throughout our entire trip to Spain (which included apartments), they were all up to a certain standard that far exceeded what we were hit with here in Mammoth.
Well, when the on-site manager finally showed up with his cleaning equipment, that was when we had our stuff back placed back in our car (so as to not confuse them with the stuff they're about to clean up or toss), and we finally headed out to buy some more groceries at the nearby Vons just up the street on Old Mammoth Road at 5:30pm.
The Vons over there was very busy. It was way busier than it was at Bishop. Then, Julie realized that people generally do their shopping on Sundays, so perhaps that along with the combination of tourists being here probably made it as crazy as it was. Regardless, we got our breakfast foods along with water, and we were back at the condo at 6:20pm; just in time when the clean-up job was wrapped up.
At 6:30pm, we drove to the Z-Pizza at the corner of Old Mammoth Road and Hwy 203. That was where we were expecting to meet Ed and Cindy and their kids. And sure enough, a few minutes later, they showed up, and we traded stories about our experiences so far over some gluten-free pizzas. Of course, Tahia was excited to see Hannah and Kai as now she got to play with someone a bit closer to her age.
We warned them about the Patriarch Grove road as well as the shuttle delays. I guess since they were planning on doing a horseback ride to Rainbow Falls, they could drive into the Red's Meadow area and drive to the other trailheads at will. I guess that's the least they could do given the good money you'd have to pay for those excursions. But maybe given our experience with the shuttles, perhaps we might consider doing something similar as well.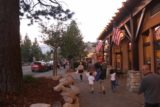 At 7:25pm, we left and followed Cindy and Ed to their condo, which was further out from the main part of town on Meridian Road. We saw that their condo was actually much nicer than what we had. So we chilled out there while they were getting settled. Then, a few minutes later, we drove out to Mammoth Village, where we were aiming to catch some movie that locals would watch over there called "Earth to Echo".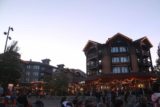 We got there at around 8:15pm, which was just in time for twilight at the village. The movie seemed like some kind of Blair-Witch-inspired first-person-with-a-camera perspective film, and I guess Julie wasn't too interested in watching the whole thing. So at 8:35pm, we eventually headed over to a dessert place called Side Door, where we had some dessert crepes. Later on, Cindy, Ed, and fammily joined us, where we chatted a bit more and plotted what we were going to do tomorrow.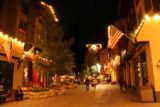 That said, we were intending to visit Bodie (another thing we hadn't done before), then catch lunch at the Tioga Gas Mart, before doing some final bit of touring at Mono Lake (maybe with Panum Crater in there) before perhaps fitting in a Hot Creek excursion. It was going to be a very busy day indeed, but with our lone full day to spend with them tomorrow, we had to make the most of it.
And so at 9:15pm, we were back in our respective cars. And at 9:25pm, we were back in the Sierra Manor to finally call it a day.
Visitor Comments:
Got something you'd like to share or say to keep the conversation going? Feel free to leave a comment below...
No users have replied to the content on this page