Day 3: BODIE PLOT
It was 6am when both Julie and I awoke. Knowing that we had pre-arranged with Ed to meet at their place by about 8:30am, we knew we had to get through our brekkie beforehand. So I helped Julie out in the hopes of expediting our breakfast knowing that Tahia would be difficult in terms of finishing her food in time. But at least the preparation of the brekkie wouldn't take as long with my help.
Well, eventually, we had our brekkie as a family. Tahia got up at 7am and eventually finished her milk and her brekkie in time for our 8:20am departure from the condo. We were at Cindy and Ed's in ten minutes, and by 8:50am, we were finally leaving for Bodie.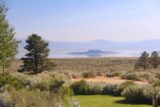 We agreed that I was going to be the lead driver while Cindy drove the other car and would follow. I was making sure that no one was going to get a speeding ticket so I pretty much cruised right at 65mph (with a few hills and valleys on the way so I'm sure the engines got a good workout). We made one quick stop at the Tioga Gas Mart since Ed texted us that they needed to fill up. But aside from that stop, we continued on our way towards Bodie by going north of Lee Vining, then east on the 270 Road (Bodie Rd).
I rebelled against what the GPS was trying to get us to do (which was to take the Ho Line Rd or Hwy 167 then head north to Bodie), but I stuck with my instincts by following the published directions to get to the ghost town. Even though there might be a "more direct" road to get there, who knows if the road would be beat up and mess with our cars some more. I knew that the suggested route only had a three-mile unpaved part at the end. I'd bet the GPS-suggested route might put us through more rough driving than that!
Anyways, at 10:20am, we finally made it to Bodie. We paid $15 for two adults plus a kid ($13 total) plus a $2 brochure. Right away, we could see there were quite a few structures here that seemed to be in reasonably good shape. Some looked new, while others looked like the elements were really taking over.
We learned that this place had some real brutal extremes in terms of cold and hot. Apparently, some girl lamented that she was leaving heaven because she was headed to Bodie. We also learned that this place was pretty much the wild west during the Gold Rush as murders seemed to be routine daily occurences.
Anyways, we took quite a few photos of this place, including photos of the kids. We also got to go inside some of these buildings, which had some furniture there still left behind. Julie loved these kinds of things because they tended to paint a more immersive picture of what it must've been like to be here at the time.
Some of the buildings looked restored because we saw there were some props that were set up in such a way that it helped us appreciate what a saloon here might be like, or a hotel, or even a church! In fact, we were quite surprised by how this town apparently only became a ghost town as late as 1974! I guess that would explain some of the slightly more modern things we saw here. But since the town started in the 1880s, we also saw relics of 19th century automobiles as well as stages.
At 11:45am, we were back in the car. This time, I let Cindy and Ed lead the way back to Lee Vining and the Tioga Gas Mart. At first, Ed considered going the GPS-suggested route, but when they couldn't figure out which road to take to do it, they then asked someone at the fee collection kiosk (which now had a long queue of cars waiting to get into Bodie), and I could tell from the body language he was giving that he told them to take the way we had come in. Anyways, regarding the long line of cars, I guess it was a good thing we did this excursion first as we had apparently beat the worst of the rush.
The drive back to the Tioga Gas Mart was uneventful. However, when we finally showed up at 12:40pm, this place was way busier than I had ever recalled in all the times that we had eaten here. Still, it had been probably 12 years since we were last here so I guess the word was out about the gourmet nature of the Whoa Nellie Deli here.
So we all had ourselves a pretty satisfying lunch (though truthfully, I wasn't sure what was the fuss about the lobster taquito since I didn't taste any lobster from it). Julie heard that the mango fish taco was fried so she passed on it. She got ahi tuna salad instead as well as a BBQ chicken sandwich so Tahia would be more inclined to eat it. But when we were all done with our lunches, we let the kids play a bit on the rock props here before we would finally head towards the South Tufa Reserve of Mono Lake.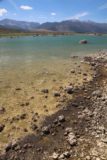 We got back into our cars and by 2:10pm, we were at the car park for the South Tufa Reserve. Mono Lake looked greenish from a distance, but it was a pleasing color as the water also looked clear. It was quite a bit warmer at this time of the day (and drier), but the kids didn't seem to mind. That was because Tahia, Hannah, and Kai got to get to the lakeshore, where they had fun with the black flies.
These alkali flies had this sense that if anyone approached, they'd fly just a short distance further from you in a kind of force-field-like effect. Meanwhile, the kids were also busy throwing rocks into the lake. As much as we tried to discourage the kids from doing this, it seemed like it was futile. Even Cindy tried to passively stop Tahia from doing it, but that didn't seem to work either.
It was also nice to take photos around the tufas with some color in the lake and some looming thunderstorms further to the east. In fact, we could see some sections of the thunderstorm out there that seemed like there were cloud bursts of rainy squalls. It was always interesting to see streaks of clouds touching the ground like that.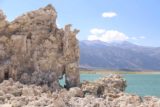 Eventually at 3:25pm, Julie, Tahia, and I went back to the car. Ed and co. were intent on doing Panum Crater (which was actually on the way to the South Tufa), but Julie wasn't interested in doing it given the heat. She wanted to go back to the Whoa Nellie Deli to finally try the mango fish taco (seeing that she skipped out on it during lunch), and then go to Hot Creek Geological Site afterwards.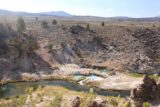 Anyways, at 3:45pm, we were back at the Tioga Gas Mart. It was still busy at this time, but it was nowhere near as busy as it was earlier when we lunched here. So we ended up having our mango fish taco fix and we washed it down with some sangria just for old times sake (bringing back memories of Spain). Tahia was busy jumping off the rock props then doing somersaults after she landed. We didn't see her do that before.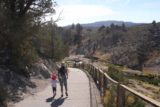 And once we were done with our second lunch at 4:20pm, we then headed south on the 395 to Hot Creek. Eventually at 4:55pm, we made it to the main car park for the geologic site after driving the graded dirt road to get there. There was a lookout that peered down at the Hot Creek itself as well as some colorful thermal pools next to it. With the sun still pretty high up at this time of the afternoon, the lighting still brought out the colors in the pools for decent photo ops.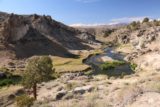 Then, we descended the sloping path to get closer to the banks of Hot Creek. However, we could see that it was pretty much barricaded almost the entire stretch of Hot Creek around the walking path. Those barricades weren't there before. In fact, we used to be able to wade and bathe in Hot Creek, but now that it was apparently more geothermally active, it was too dangerous for them to let the public into the creek at this time.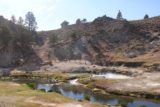 Still, we noticed that one part of the barricade was smashed low enough that it was easy to cross to access the creek. Julie first went in to at least touch the water and see for herself. And when she touched it, she immediately told me that she could see why they closed it off. The water was quite hot!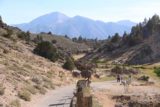 She then let Tahia join her so she could touch the water herself albeit VERY briefly. I worried about there being toxic stuff in the water (maybe arsenic or acids) and given Tahia's tendency to put her fingers in her mouth, we had to make ultra sure this time that she washed her hands. Unfortunately, there was no running water in the restrooms here (they were merely pit toilet outhouses) so we had to use our drinking water and wipes to try to cleanse the hands.
Eventually, they had their fill of this experience, and by 5:30pm, we were back at the car. With the texts exchanged between Julie and Ed, we ultimately agreed to meet up with them at their condo at around 7:30pm or so. This time, we were determined to let Tahia have a swim in their jacuzzi over there. After all, we had promised Tahia pool time, and it was gonna be now or never.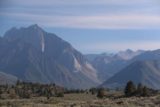 But before getting there, we decided to have a dinner back at Mammoth Village at Toomey's. Their service was really slow (more like non-existent) while we were seated outside so Julie had us sit inside, where we finally had a meal of duck breast and "New Zealand elk". It was a bit overpriced, but by now, we came to expect that everything in Mammoth was overpriced. Indeed, just for these two entrees, it costed us $70 with tax and tip. We didn't even get any desserts nor appetizers nor drinks.
After dinner, we then went to Mimi's at 7:30pm. Julie had seen Mimi's desserts being offered at Toomey's, but she figured we mind as well try the real deal at the dessert place itself. And while this place offered gluten free and vegan options, they had to be special-ordered for the most part and they were near closing at 8pm so it wasn't gonna happen during this visit.
Their mud pie in a jar was gimmicky. It tasted fine, but I didn't think it was anything special. Julie liked the macarons, however. And the ice cream was ok as well. However, the price for it all was on the order of $24, which was a total rip off.
Anyways, at 8pm, we were finally at the Conness Place, where Cindy and Ed and co. were staying. They were chilling out at the outdoor jacuzzi there, and we joined them. Tahia got her swimming gear and floatie on, and so she joined Hannah and Kai in the jacuzzi, which was pretty much acting like a pool for them. The adults stayed outside and just dipped our lower legs into the jacuzzi to somewhat offset the slight wind chill as it was getting cooler on this clear evening.
And so we happily watched the kids play with each other while we were conversing over our experiences and other random thoughts that came to mind. Unlike the backpacking experiences we'd have every other year over the last six years, this time felt different as now we got to share in our outdoor experiences with our respective families. I'm sure going forward that we might have more opportunities like this.
Well, by 9:05pm, play time was over, and we dried off as it was now bed time for the kids. We bid Cindy, Ed, Kai, and Hannah farewell knowing that tomorrow would be time for us to head for home, while they'd continue their weeklong holiday in the Mammoth area. And by 9:10pm, we were back at our condo to shower, brush, and finally call it an end to this very busy yet very fun and memorable day…
Visitor Comments:
Got something you'd like to share or say to keep the conversation going? Feel free to leave a comment below...
No users have replied to the content on this page