Day 4: HELLO TO MANZANAR
It was 6:30am when Julie and I finally awoke. It was a little later than yesterday's start, but we figured that with the long drive home, the only real sense of urgency on this day was to get to Manzanar and tour it as early as possible to avoid the heat as much as possible. Hannah lamented to us a couple days ago that their Manzanar experience was under 113F heat! The hope here was that by showing up closer to their opening time of 9am that the temperatures should be much more bearable so we should be able to visit more things there.
And like yesterday, I was helping Julie to help alleviate the preparation burden. Anyways, we got Tahia up at 7am so she could have her eggs and gluten-free toast brekkie with avocados and blueberries. Then, we'd pack up and load up the car so by about 8:15am, we were finally leaving the condo behind. And I'm sure in Julie's mind, it was good-riddance.
The drive south was pretty uneventful as we were smoothly driving on the 395 towards Bishop, then Big Pine, and then through Independence. What was striking about today was that the skies seemed to be significantly more hazy than it was two days ago when I saw beautifully-lit mountains near Bishop. Now, it didn't seem like it was worth making that stop I swore I would do since we were now on the correct side of the highway. I guess that was one of those moments where when you see something you like, you seize the moment and don't delay. You never know what happens later.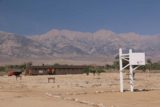 Well, it wouldn't be until 10am when we would finally arrive at Manzanar. This was Julie and Tahia's first time here, and we really made it a point to stop here on the way home since we were on this theme of doing new things in old places (especially since these things were excursions we ordinarily wouldn't even bother considering in the past).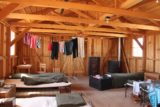 Anyways, not quite sure what we should be doing on this visit nor where to go, we noticed there were signs for an auto route and we promptly followed it onto an unpaved road leading away from the big car park and visitor center.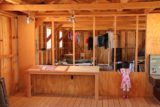 Just a minute later, we stopped near one of the re-created living quarters by a basketball court. I didn't recall these things being there the last time I was here with Cindy and Ed one hot afternoon, but then again, I wasn't really paying that much attention. But on this go, we went inside the living quarters and saw the basic army-like barracks where interned Japanese Americans of both first generation and second generation were essentially forced to get into.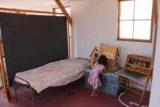 And right away when we got in there, we could see how f'ed up it must have been for them. Indeed, it was a reminder of how shameful parts of American history can be. But seeing the living conditions here as well as the injustice of people losing their hard-earned livings and properties to be interned as well as being treated like prisoners was really mind boggling. But as Japanese people do, they've learned to adapt and even turn a place as unforgiving as Manzanar into a more-or-less thriving community with Japanese gardens and dances, and other things to help them keep their minds off how f'ed up things were for them.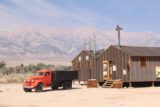 As we were done checking out the living area, we then went to an adjacent block where there seemed to be a more developed living quarters, which I'd imagine was a re-creation of what it must've been like later on during the internment years. Then, we walked to the other side where we saw the mess hall, which was also very interesting.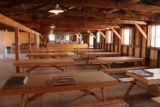 After that, we got back in the car, and drove around the route seeing that there were baseball diamonds, ponds, churches, etc. But perhaps the highlight of this autotour was the eerie yet elegant cemetery memorial, which was right in the back of the complex looking right at the Eastern Sierra mountains. It was too bad that mountains were hazy at the time so it kind of muted the dramatic landscape backing the white pillar with kanji written on it.
There were a handful of graves behind the pillars as I'd imagine some people had died for one reason or another. But as it was getting hotter while we were standing out here taking in the scene, it was now time to get back in the car and continue on the autotour to its conclusion back at the visitor center. And so we'd be back there at 10:55am.
Now that we were in the air-conditioned confines of the visitor center at around 11:05am, we learned that the 22-minute movie that Cindy recommended that we see had already started. We weren't going to wait around until 11:30am to start from the beginning so we just walked into the theater and watched it in mid-stream. But even as we watched the movie and saw how Japanese internment survivors were narrating the movie and recalling their experiences, it even further reinforced the notion of how f'ed up the whole ordeal was.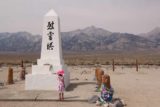 I could see some people were emotionally affected while watching the movie as there were some eye-rubbing going on. I guess it was definitely a powerful experience to see how injustices like this affected most of the people watching it regardless of race. It was also during the movie that we saw that there was one riot instance where guards opened fire into the crowd and killed soem people. And apparently, some of those graves that we saw near the cemetery memorial were probably victims of that riot.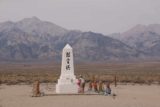 When the movie ended, we briefly checked out the interpretive models and displays of other aspects of the internment program that went on. I was surprised to see that Manzanar was but one of many Japanese internment camps. I also heard Tule Lake near the Oregon border was another such camp, but there were others apparently in other inhospitable climates throughout the country.
Anyways, at 11:30am, we were back in the car. Now, it was time for lunch, and we decided to have that meal in the nearby town of Lone Pine. Julie had read good things about a food truck (i.e. the kind of OG food trucks that hispanics ran before it became hip to have gourmet food trucks) called Tacos Los Hermanos across from the Mobil Station in town, but it wasn't open yet when we showed up. So we wound up having saucy pan pizzas at the Pizza Factory, which was another one of those places that Cindy and Ed used to enjoy during our backpacking excursions in the past.
I think Julie was pleasantly surprised by the quality of the pizza (at least the sauciness of it), and of course Tahia was happily eating the pizza without help since she loved pizza (what kid doesn't like Italian pizzas and pastas?). Anyways, they had TVs on inside the Pizza Factory, and Julie noted that there were news about fires going on around the area. That was when I realized that all that haziness we saw this morning was most likely due to smoke from these wildfires.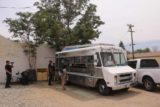 At 12:20pm, we were done eating at the Pizza Factory, and out of a whim, I decided to head north on the 395 to go back to that taco truck. Sure enough, they were open by the time we saw them. There were lots of fire fighters enjoying these tacos over there, and I'd imagine they were getting their lunch before they had to go to work. Anyhow, we tried a couple of carne asada tacos as well as a taco de camarones.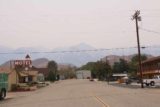 While we were waiting for the tacos to be prepared, Tahia was busy playing with Fanta bottle caps from the floor. She was also busy saying hi to the kid inside the truck, who I believe was the son of the taco truck owner or cook. Tahia was back in Spanish mode as she was trying to tell him "Hola!" and "Como estas?" since she at least learned how to say those things from our Spain trip.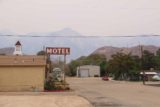 When the food came out, we devoured them despite our somewhat full stomachs from the pizza. It was yet another instance of a double-lunch (like the double-dose of Whoa Nellie Deli yesterday), but we had to give this place a try before going home. Still, I think Julie still preferred the way King Taco does it.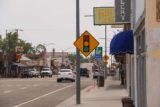 By 1:05pm, we were finally done eating the taco lunch, and we were finally driving uninterrupted for the rest of the journey. Eventually at 5:20pm, we were finally home, but that wasn't before we had to contend with rush hour traffic the moment we got onto the 405 freeway where it was slow all the way from the Sepulveda Pass all the way to home. Since I had to get to work tomorrow, we did what we could to unload the car, sort and clean our clothes, and overall just unwind from our last-minute trip.
I guess these things always seem like they're too short. But short or not, there were still priceless moments and memories in there, and I always say that for things as seemingly frivolous as vacations or road trips, it's still far more important to do these and not regret them than to bypass them for work under the guise of fear of being laid off or something. I guess time will tell how much longer we can keep our work-life balance going, but in the mean time, we'll just control what we can control and seize the opportunities where we can to keep creating moments and memoories that we'll treasure for the rest of our lives…
Visitor Comments:
Got something you'd like to share or say to keep the conversation going? Feel free to leave a comment below...
No users have replied to the content on this page