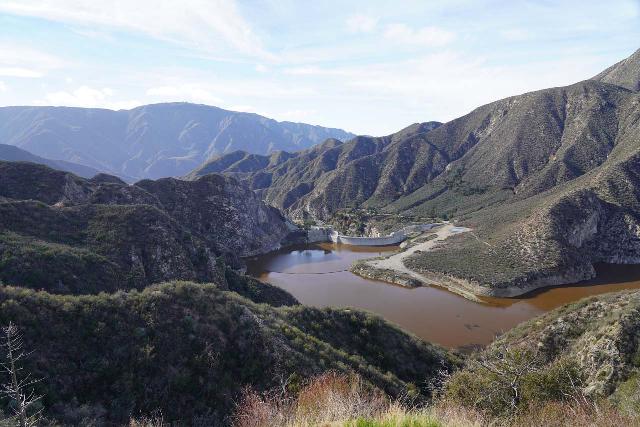 31-December 2021 to 1-January 2022:
Regardless, when I showed Julie the pictures and videos of what I captured with this hike, she then started to turn on me telling me that I misinformed her about some internet picture showing the falls where I wasn't sure was Josephine Creek Falls.
She blamed me for telling her that it wasn't the falls so she didn't want to do the hike, but she didn't want to hear the truth that she didn't own her own decision not to come down with me.
Adventures in general have an uncertainty of outcome that comes with the territory, and if you don't have a positive mindset (after all, how can you know in advance if a hike is worth it or not, especially if you've never been before?), that's on you!
Day 1 (December 31, 2021 – Los Angeles, California): "Guy Group and Gal Group"
It was 6:30am when Julie and I awoke, where it was unusual that we had to get up this early over the past holiday week between Christmas and New Years.
The plan for today was to fit in some waterfall hikes because we had been getting some pretty good rain over the last couple of weeks.
Knowing how Global Warming had been shortening our winters in the past, this could be the last of the rains for the rest of the winter season! so we wanted to do some new waterfalls (i.e. those we hadn't done before) that required timing.
Indeed, it was time to "get to work" as far as us visiting local waterfalls, and I wasn't keen on visiting the familiar waterfalls like Eaton Canyon Falls or Bonita Falls.
So that's when I had this idea of pursuing at least San Juan Falls and Ortega Falls, especially since I knew we were going to be joined by Wendy's family who weren't as familiar with the harder hikes. However, I'd solo going to Chiquito Falls, which I knew was a much longer hike.
That said, it still took some time to get ready, where Julie and Tahia really were slow, and so it wasn't even until about 8:20am when we finally got into the car and headed out.
Now the original plan was to get to the San Juan Loop Trailhead by 9am so I might be able to do my solo hike after hiking with them to at least San Juan Falls. The rest of the group would then go to Ortega Falls and maybe the Ortega Oaks Candy Store or something.
Moreover, we hoped to get to a beach to see the sunset before the year ended, which was a desire that our friend Wendy wanted.
However, we got texts from Wendy's family (who were going to join us for today's activities) that they weren't going to make it until closer to 10am.
I wasn't sure how long Chiquito Falls would take (though I knew it was over 9 miles round-trip of hiking), but I had a feeling that it was going to be tight to finish off the hike and still meet them for sunset at the nearest beach.
We googled the sunest time and learned that sunset was officially around 4:54pm, so there wasn't much time to get what we needed to make that desire possible.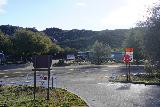 Anyways, we ended up getting to the San Juan Loop Trailhead at 9:20am, where we showed up to the Ortega Oaks Candy Store to pick up a couple of Forest Service Day Passes (for today and to pick one up for Wendy's family).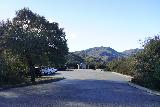 And we took our time to prepare ourselves for the hike since Wendy's ETA was still closer to 10am.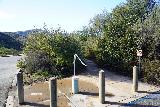 I was a little anxious about the hike because I knew it was long, and I was nursing an inflamed Achilles, which I tried to rest and heal up for the rest of the year until today.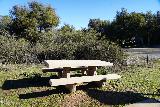 My left achilles had a nodule that I was afraid might get me closer to rupture over time, but the last podiatrist I spoke to said that it would be something I'd have to live with for the rest of my life barring surgery (which was something I didn't want).
In any case, by about 9:55am, Wendy's family finally showed up, and it took some more time for us to get ready for the hike.
It wouldn't be until about 10:05am when we finally started on the trail, which was surprisingly not that busy.
The hike was pretty short as we took the more northern route of the loop, which eventually descended towards the overlook of the familiar San Juan Falls.
Thinking that the previous heavy rains would revive the falls, I was hoping it might flow better than it did when we were last here some 5 years ago.
But when we finally got to see it at around 10:25am, we could see that it was nearly as thin (maybe slightly thicker) than it looked on that first visit five years ago.
So we spent most of our time taking pictures of the waterfall against the morning sun, and I took a brief moment to take the short trail down towards the San Juan Creek, which surprisingly looked like it had less water in the creek than before.
And then by around 10:45am, we had our fill of the San Juan Falls, and then I was getting ready to split up with the group to pursue Chiquito Falls.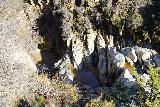 This waterfall was something that I decided I mind as well do solo since I wasn't sure when would ever be a good time to pursue this "little boy".
But I didn't want to subject Wendy's family nor the rest of my family to do the long hike over a waterfall that I knew was small. Still, I wanted to see what the appeal of the hike was as well as see fewer people and less graffiti.
As I started to head out, Van (Wendy's husband) wanted to join me on the hike (maybe to keep me company or to avoid some of the dramas from his kids fighting).
And as we were getting further away along the San Juan Loop while leaving the women behind, Konnor (Van's son) caught up to us and wanted to join us, too.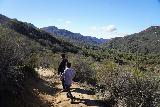 I was a little worried about whether they might be taking on more than they can chew as well as blowing the chances of Wendy catching the sunset at the beach.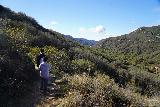 But whatever the case, their decisions were made, and it was pretty much the guys going on the long hike to Chiquito Falls and back while the gals were headed back to the car to pursue Ortega Falls, and then have lunch at the In N Out in San Juan Capistrano.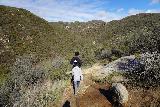 We told them in advance that we should be back some time between 3-4pm though in the back of my mind, that was already kind of sporty since we really had less than 6 hours to finish everything (more like 5 hours, which might be possible if we rushed).
Anyways, Van, Konnor, and I continued down the San Juan Loop as the trail followed a ledge and then started to descend.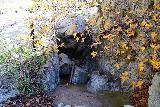 But it didn't take long before I noticed some kind of informal spur trail near some sounds of falling water as we were approaching one of the descending switchbacks. Could there be another waterfall in this excursion?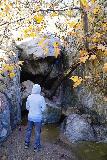 As much as I wanted to get to Chiquito Falls and back in time for sunset, I decided to pursue the steep and slippery side trail leading down to what appeared to be noise made by San Juan Creek.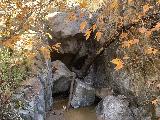 It was the same creek that yielded the San Juan Falls, but this sounded like there was a bit more water down here than upstream by the falls.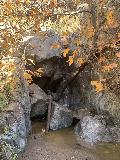 The descent itself was a little steep and overgrown (and I think I got caught on one branch somewhere on this descent), and I even managed to slip and fall (though I caught myself so it wasn't a hard spill) on one rocky stretch.
But by about 11am, we made it to a small waterfall that was making all the noise, but it was a nice little secluded spot even though the falls might not even be 10ft or so.
Plus, there was a tree leaning across the falls making it even harder to see and photograph.
After having our fill of what I dubbed the "Lower San Juan Falls", we then scrambled back up to the San Juan Loop Trail, and then continued the descent until it went along San Juan Creek.
Eventually at about 11:25am, we reached a signed trail junction with a bench, where the San Juan Loop veered to the left while the Chiquito Trail went to the right.
Almost immediately, we had to cross the San Juan Creek, but there was enough water in there that it was going to inundate our hiking boots. Fortunately, we found a trail-of-use going to the left where we then rock-hopped across the stream.
Once on the other side, we then continued along the Chiquito Trail, which pleasantly followed a feeder stream of San Juan Creek (which I think is Morrell Canyon).
It went along a somewhat flat stretch alongside the creek before crossing the minor stream after around 3/4-mile from when we left the San Juan Loop. Then, the trail made a pretty long ascent (said to be about 1400ft over the next 2 miles).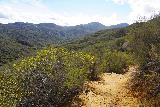 At least in this stretch of the hike, the monotony of the climb was offset by us having a good chat even if it was dominated by how Konnor's Roblox discussions.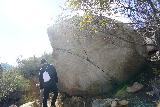 At least both Van and Konnor were educating me on how people make money off this "meta" world though I still think you tend to hear about the 1% of the people that might be able to make lots of money but you never hear about the 99% that can't.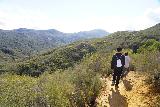 In that way, I thought all this Roblox talk was good to know as far as trying to get in the mind of my daughter's addiction, but it really does feel like the younger generation sees social media in much the same way we saw computers and the internet.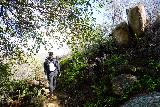 It's like we've become the old generation that are a bit out of touch with the younger generation, and their lingo and mentality has evolved to the point that it's almost like they're speaking another language.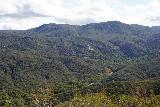 As the hike was continuing on, Konnor was starting to complain that his hiking boots were a bit too small as he was growing quickly.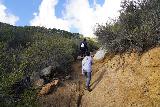 I had already loaned him one of my trekking poles for balance on the stream crossing, but I loaned him my other one so he can try to take some of the pressure off his toes, especially on the downhills.
While we were starting to ascend above the vegetation, which started off as some trees before thinning out to some bushes and ultimately more prickly desert vegetation, we started to notice the Ortega Highway in the distance.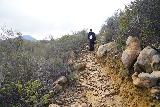 We also noticed some construction vehicles closer to where I would imagine Ortega Falls would be, and that was where we wondered how the ladies were doing.
While I knew that there were probably going to be quite a few more people over at Ortega Falls since it was so close to the road, we were enjoying the subtleties of the scenery around us.
There were lots of these interesting-looking boulders strewn around the mountain that we were climbing as well as some interesting vegetation (like a stalk of a tree that looked like dried up Venus fly trap or something).
We even started to notice scat on the trails, and we wondered if they were from coyotes or other mammals that were present in this part of the wilderness between San Juan Capistrano and Lake Elsinore.
For most of the entire hike when we left the San Juan Loop Trail and ascended on the Chiquito Trail, we didn't see another person.
That started to change when we got near the apex of our climb just as clouds started to roll in and give us some relief from the sun.
By the way, it was a good thing we did this hike in the winter time because this would be brutally hot and sun-scorched in the summer!
Anyways, as the trail started to go around a bend, we met one woman who was hiking by herself as she was headed the other way. That was the first person we saw, and for a moment, we thought she was the only person we'd see on this trail.
However, as we made the descent for the final 3/4-mile, we encountered a few more parties of people heading back up.
As we got closer to the bottom of the descent, there was even a family of four trail-running that caught up and passed us.
At that time, we already started to see the Chiquito Falls across Lion Canyon, and while we saw that it was flowing, it wasn't flowing by much.
Still, it hastened our pace and when we finally got to the trail junction at the end, we then veered south to join that family that beat us to the falls.
Then, we saw that it was a bit steep and vertical to get to the bottom of the falls, but we found a worn use-trail that was set back to our left so we could more safely get a bit downstream of the falls, and then skirt alongside the stream back to the falls.
Finally at 1:30pm, we made it to the bottom of Chiquito Falls, where we spent a good deal of time (maybe about 30 minutes) having a snack as well as taking a few pictures and videos.
As expected Chiquito Falls was pretty small (perhaps 15ft is being generous) but it was high enough that you definitely didn't want to jump down from its brink.
So Konnor, Van, and I had ourselves a mix of tangerines and seaweed though Konnor and Van were having Oreos and something that looked like Cracker Jacks.
I know with the way my joints have been responding to me, I had to refrain from inflammatory foods as I have to keep asking myself whether a particular food is worth the cheat?
Anyways, after having our fill of Chiquito Falls (most the people we saw here were already leaving or have already left except for two Chinese mountain bikers), we bouldered up towards the ledge above the top of Chiquito Falls.
It wasn't easy maneuvering, but I could see how even this can be fun for the bigger kids provided no one has a bad accident.
After having one last look down at the Chiquito Falls from a ledge by its top, we then headed back out on the Chiquito Trail at 2pm.
By this time, I was having doubts about returning to the San Juan Loop Trailhead and then driving down to Capistrano Beach in time for Wendy's New Year's Eve sunset.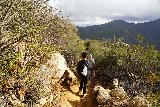 And while it was too late to entertain this thought now, in hindsight, Wendy should have left the keys with Van so the gals could carpool to Capistrano Beach for the sunset and not have to wait for us.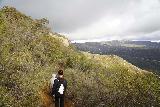 Then, we could recover the other car so we could meet up with them down there. Oh well, hindsight's 20/20.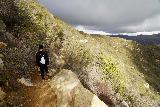 Still, we held out hope that maybe, just maybe, we might make such good time (especially since a large part of the return hike was downhill) that we might pull a rabbit out of a hat.
But with Konnor's shoe troubles, we also couldn't afford to have an injury and a real-life emergency situation.
Anyways, by this time, the clouds definitely took over the skies even though there was no rain in the forecast when we had set out. So this was a bit of a surprise.
We saw God beams in the distance during the ascent, and I wondered if the beams were due to rain or just drizzle or what. That said, I didn't have emergency rain ponchos.
When we got back up to the top of the initial climb to do the long downhill descent, it was already well past 2:30pm.
We then embarked on the long downhill, and as we got down to the bottom, it was starting to sprinkle.
At least the precipitation was only as bad as a sprinkle, and it as kind of feeling cool because we were doing a lot of physical exertion.
After crossing the San Juan Creek again, we finally made it back to the San Juan Loop at around 3:45pm.
But instead of completing the San Juan Loop as I had originally planned, I saw that the southern part of that trail followed the noisy Ortega Highway and it seemed to be a bit longer than just going back the way we came.
So we just opted to go back up the way we came so we can stop by the San Juan Falls with the cloud cover one last time.
As we were doing this, we started to see some people going in the opposite direction again, and that was when we realized that the whole time, no one was around us until we were back on this popular part of the hike.
By about 4:20pm, we finally made it back to the San Juan Falls after noticing some big aloe-looking plants across the ravine.
As expected, with the even lighting, San Juan Falls was easier to photograph, but I couldn't help but wonder if it already started to have lower flow now than it did this morning.
After having my fill getting the even-lighting shots and videos of the San Juan Falls (now that I didn't have to look against the morning sun), we then made the final approach to the trailhead parking lot.
By 4:45pm, we finally got back to the car, but it was way too late to catch the sunset in time.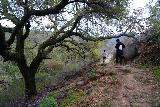 At least us guys got to have cold In N Out food, and we pretty much just chilled out at the parking lot (literally because it got quite cold while we were liingering here).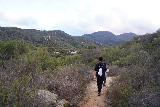 Eventually at 5:10pm, we left the parking lot and went our separate ways. Wendy's family was planning to go play in the snow tomorrow while we were going to go home for a low key New Year's Eve.
Along the way, after driving in the darkness of the Ortega Highway (which was surprisingly dangerous considering how fast people drive this road, especially at night), we ultimately got to the Houston's in Irvine at 6pm.
Unfortunately, the wait time there was on the order of 90 minutes to 2 hours. So Julie thought we could kill some time shopping at the Mother's Market there.
However, they were closed early for New Year's Eve and we just missed their 6pm cutoff. So there went that idea of killing time.
Eventually, we settled on eating at this Panini Kabob Mediterranean Grill right across the street from Houston's, and they didn't seem busy at all.
While we were wondering if they weren't busy for a reason, the food was actually not that bad.
Their hummus was creative (though Julie thought they could put olive oil in them) and their beef kabobs were really juicy (almost Raffi's like).
Tahia enjoyed her chicken pesto panini, which was pretty good (albeit a bit of a wheat cheat), but the portions were so huge here that we ultimately took a lot of food home.
Still, the overall dinner was about $70 which was probably going to be half the cost of Houston's (of what we were going to order probably), and we even got back in the car by around 7:15pm.
Had we insisted on forcing a dinner at Houston's, we'd still be waiting to be seated! Not only that, but we'd have to stick it out over there because they didn't have a pager or text system so you're pretty much a hostage there for all this time!
What an archaic system!
So with that, we drove the relatively moderate traffic back home, and we got there at around 8pm.
That was just in time to get cleaned up and for me to try to get caught up on today's events now that I had to get busy processing all this new content.
We all stayed up until the New Year's, and while it was easy to give into FOMO (fear of missing out), we actually didn't mind staying low key on this day because of COVID (especially with this Omicron variant going around).
While hospitalizations from this variant seemed to be far less than that of the Delta variant, we didn't want to be taking chances, especially since we were going to have another gathering with the family this coming Sunday…
Day 2 (January 1, 2022 – Los Angeles, California): "Going Full Circle"
It was once again 6:30am when Julie and I awoke.
And while I was betting that most people would have trouble getting up in the morning due to New Year's Eve festivities (and super spreader events perhaps), we had an opportunity to get another early start to the day to try to visit new waterfalls.
However, on this day, I was debating whether to go for just Josephine Creek Falls or to try to fit in Bailey Canyon Falls since it had rained so much last week.
Nevertheless, it still took us quite a bit of time to get ready and to leave the house.
And this was further complicated by the fact that Julie wanted to meet up with someone to sell something that we don't use anymore as well as to pick up something from the local farmer's market.
Fortunately, the buyer had the courtesy to inform Julie that he couldn't wake up in time for the 8:30am meeting time, and that she gave up on getting the eggs from the farmer's market.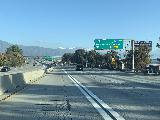 So at 8:30am, we finally left the house and headed towards the San Gabriel Mountains.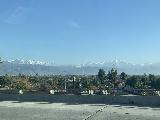 On the drive north, we were captivated by the blanket of white on the eastern side of the San Gabriels and the San Bernardino Mountains.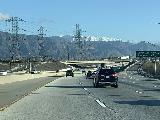 This is how beautiful the mountains backing Los Angeles can be when we actually get precipitation and the storm clears.
Too bad these storms have been getting fewer and farther in between no thanks to Global Warming and Climate Change.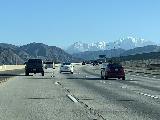 Anyways, with the holiday light traffic exacerbated with late night partying or superspreader get-togethers, the drive out to Bailey Canyon Park was very smooth and quick.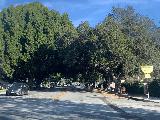 That said, there were at least two or three CHP vehicles that I saw on the way so they were definitely looking for speeders, but with such smooth traffic, it was easy to go well over 10mps above the speed limits.
So we got to the Bailey Canyon Park at 9:05am, and not surprisingly, there were still plenty of parking spots though people were coming in just as we were getting ready.
Thus, even on a day like today, this place is still popular, and I'd imagine the hike up to Jones Peak had more to do with that than Bailey Canyon Falls.
Still, I was anxious about the flow of the falls this soon after the saturation rains that ended on Thursday (it's Saturday now).
So we quickly geared up and went back along the familiar picnic area before going up the paved road towards the Bailey Canyon Nature Trail.
However, it didn't take long before we ascended the paved sloping road towards some hillside of planted desert vegetation just past a manmade concrete slope trying to pass as a genuine hill.
Then, we bypassed the familiar bridge over the dry wash draining into the water catchment that was dry, which was not a good sign that Bailey Canyon Falls would be flowing because that was exactly what we saw in each of our last two visits over 4 years ago.
We then got up to the fork in the trail where Jones Peak kept ascending to the right while the "Nature Trail" dropped into the canyon to the left, and from there on out, it was the familiar narrower hike up to the dead-end of the falls.
Unlike the other times we had done this hike before, there was actually water in the creek where there was hard bedrock, but where there was dirt, the water seemed to disappear underground.
There was one local who was coming out of the canyon and doing this hike in flip flops with her two dogs, which Tahia loved to interact with very much.
Then, we continued further where the treefall obstacles that I remembered having to traverse the last time were gone. However, there were other evidence of landslide obstacles that went into the canyon that I didn't recognize.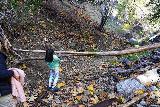 Finally at 10:05am, we arrived at the Bailey Canyon Falls, but it was only trickling like a leaky bath tub faucet or something.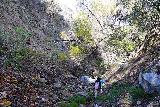 That was disappointing, just like this waterfall disappointed us two times before. I think this was an instance of three strikes and you're out.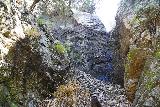 I highly doubt we'd ever do this waterfall again (though I might eat those words if I ever end up doing Jones Peak).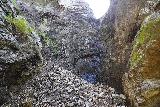 At least there was some kind of makeshift teepee structure that someone set up, which we noticed that wasn't there before.
There was also a landslide adjacent to the trickling wall of Bailey Canyon Falls that I didn't recognize before either.
That underscored the inherent dangers of being in the saturated confines of a canyon like this during a rain storm (i.e. when the falls could be seen flowing but it wouldn't be safe to be in).
Just as we were about to leave the falls, another couple showed up with two small dogs, and this got Tahia interested again as she always loved interacting with dogs.
This couple were locals, and they said that they were at the waterfall yesterday (they actually "snuck" in because the park was closed), and they saw that the falls had a little more water (like a running faucet) than it did now.
We speculated that you'd have to be here in the midst of a rain storm, but with all the landslide evidence (not to mention flash flooding risk), we knew that wouldn't be wise.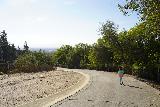 Well, after showing Tahia some dog tricks that they taught to their pets, they then had their fill of this waterfall before we did and started heading out.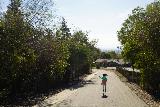 We then followed suit a couple minutes later, where we then made a beeline for the parking lot to end our visit at 10:10am.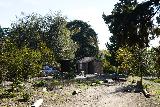 By this time, the parking lot was almost completely full, but at least it was early enough for us to now pursue the real goal of waterfalling today, which was the Josephine Creek Falls.
And so we quickly got back in the car, I had to hear it from Julie about how Bailey Canyon Falls was a waste of time, and then we headed west on the I-210 en route to Sunland.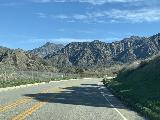 From there, we then drove the familiar streets leading to the mouth of Big Tujunga Canyon, which would usually be how we'd access Trail Canyon Falls.
And on this day, we saw there were numerous cars parked along shoulders (and makeshift shoulders) of the Big Tujunga Road all around the gated turnoff leading to the trailhead for Trail Canyon Falls.
This hike has now really blown up into a full-blown busy spot (whereas in the past, I remembered being only one of a handful of people doing this hike).
It just goes to show you how the most accessible of all the Los Angeles waterfalls are now pretty much crowded, especially since the pandemic.
I was glad we didn't have to compete for parking on this day, and we kept going up along the Big Tujunga Canyon Road as we ultimately got past the Big Tujunga Dam Overlook, and then saw there was a long, unsigned pullout.
Out of the corner of my eye, I noticed a pole that probably marked the informal landmark to identify the fairly hidden trail leading to Josephine Creek Falls (which I learned about through the Angeles Adventures blog).
After overshooting the pullout, I found the next pullout and then turned around and stopped the car at the unsigned large pullout where we were to start the Josephine Creek Falls at 11am.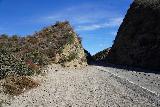 As I was gearing up, Julie also got out of the car (while Tahia was sleeping) to see where the trail was.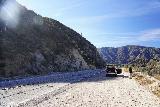 I think given the unsigned and steepness of the canyon, she wasn't comfortable with proceeding.
So it was pretty much just me getting ready, putting on a GoPro that I wore on my head, and then embarked on the narrow trail leading up to the pole I saw earlier.
Right off the bat, I could already see that this was indeed a narrow and seemingly easily-eroded trail, and I was wondering to myself whether this was a sanctioned trail, or just one that got a lot of informal use.
In some early parts of the trail, there was quite a bit of cliff exposure with views to the west towards the Big Tujunga Dam Reservoir in half-shadow as well as views across the head of the Big Tujunga Reservoir towards Fox Canyon.
I knew there was another waterfall in that canyon that someone submitted on our website, but seeing how there was too much water in the reservoir (it'd require swimming to get to the mouth of that side canyon), that would have to be another adventure.
In the first 10 minutes or so of the initial part of the hike, I noticed that the slope of the mountainside this trail was hugging definitely made me aware of the risks involved.
It also made me keenly aware of how easily this trail could be gone with more passing storms (and especially soil-destabilizing fires) resulting in more landslides and eventually the cliff-hugging parts of the trail becoming impassable.
That said, I finally arrived at my first glimpse of the top of Josephine Creek Falls, where I noticed that a new ravine was dropping off to my right.
It looked as if though someone set up some kind of natural ridge wall (or maybe made the trail below that ridge), which acted like a fence so I wouldn't fall into this side ravine.
But upon looking past some of the vegetation blocking the field of view, I saw what appeared to be the top of Josephine Creek Falls definitely flowing!
Bingo! After all the dinky waterfalls seen throughout these last two days, I finally got a waterfall experience that wasn't disappointing!
Anyways, the trail kept going as it veered to the left, still hugged narrow ledges, and ultimately descended a wider ridge as it started a series of switchbacks.
Along the way, I continued to get views towards the Big Tujunga Reservoir as well as the Big Tujunga Creek in the other direction, where there were some orangish trees at the bottom making the place look like it's still autumn.
As I got to the first of the switchback ends, I also got another look into the Fox Canyon, where I could also hear a louder rush of water, but I still couldn't see signs of a waterfall in there (though I knew there was one there).
Now, as the trail headed back towards Josephine Creek Falls (and would do so a couple more times in this series of long switchbacks), I could see more of Josephine Creek Falls in context.
Unfortunately, it was against the sun so photographing it for perspective was tricky at this time of day.
In addition to still trying to stay balanced on the narrow ledges and not giving into some other eroded sections, I was also being pricked by some sharp Yucca plants protruding onto the narrow trails.
As I continued descending the switchbacks, I also started to get into the shadows of the adjacent north-facing mountains that this trail was hugging, and so I was starting to get some better lighting.
There was one section of the trail where the slope was a bit slippery and steep, but it still remained on the trail so it wasn't like I was cliff scrambling like a mountain goat.
Eventually, I got down to a switchback where the trail looked like it kept going forward but narrowing into what looked like overgrowth (and more steep cliff scrambling I'm sure).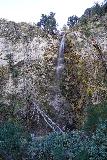 However, there was a separate path doing another switchback and hugging the cliff walls to the right as the descent continued but now more closer to eye level of the impressive Josephine Creek Falls.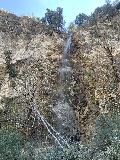 After getting through a couple more narrow and eroded ledges, the trail then descended into even thicker vegetation until finally at 11:50am, I made it down to the bottom of the Josephine Creek Falls.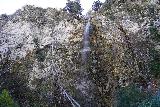 Now that I made it down here, I thought back to the overall hike, and I had to believe that it wasn't as bad as I had initially thought.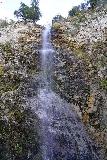 Granted, there were still eroded and narrow sections, where access could no longer be safe over time with increased use and/or increased erosion exacerbated by Global Warming-induced fires or intense storms, per se.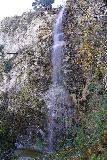 But I really thought how both Tahia and Julie missed out by not doing this hike, and I kind of hoped that maybe they got bored waiting for me and decided to come down here on their own.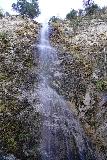 alone at the bottom of Josephine Creek Falls, I unslung my pack and took out my SwitchPod to do some video selfie recordings down here as well as explored around a bit.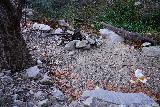 So while I was all While there was what seemed to be a side stream feeding what seemed to be a former landslide area or something, I also noticed another trail going between and over some fallen trees before finally reaching the actual plunge pool of the falls.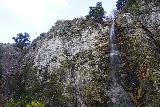 Fronting this plunge pool, I saw what looked to be a fire pit or fire circle that had some empty beer cans as well as some plastic bags strewn about here.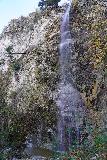 Well, that told me that this place wasn't totally unknown, and it even already attracted the not-so-respectful visitor(s) to start trashing this place.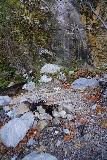 I wonder how much longer before word gets out about this place and explodes to attract even worse disrespecting folk who will start tagging the rock walls and trees here (as well as add to the increasing litter).
I probably had a pretty solid 30 minutes or more before I finally started to sling back on my pack and camera gear, and then started the fairly moderate ascent back up to the Big Tujunga Canyon Road.
Yep, this was an upside down hike, but now that I had a better understanding of what's going on here, I'm sure with a bit more cooperative rain storms and the right timing, I might try to pursue other waterfalls in this area (conditions permitting).
Before I started my hike back up, I did notice there was someone in the distance wearing red.
I thought he was going to join me at Josephine Creek Falls, but he seemed to be too low into the canyon so I'd imagine he was disappearing somewhere closer to the Big Tujunga Creek.
As I continued my ascent, I never saw that person again, but as I slowly continued up the switchbacks, I took my time as I captured more photos of Josephine Creek Falls from a distance.
And even though it was against the sun, it appeared that the sun was already starting to sink lower so I took advantage of the shadows and increasing high clouds to get a few more shots with the better lighting conditions.
Eventually when I got back up to one large boulder, I noticed the words "Big Tujunga Can. Trail" scrawled on it.
I wasn't sure if this was legitimate signage or markings by the US Forest Service working this area, or if this was just informally maintained by a local.
But for some reason, I didn't notice these words on the way down, but I definitely noticed them on the way up.
In fact, they were the only "sign" that I saw throughout this trail, and that's why I wondered about whether this was a legitimate trail or not.
After all, there were switchbacks instead of dicey cliff scrambles (a sure sign of amateurs trying to take the shortest but most unsustainable route over the safer and longer way), which is not indicative of a haphazard trail.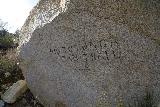 Yet there was a noticeable absence of markings or signs.
Anyways, shortly after going past this marked boulder, I then encountered a couple (a man and a woman) who were coming down.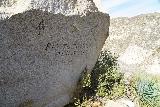 The main said (pointing to the waterfall), "You're not going down to the waterfall?"
"I've already been," I told him.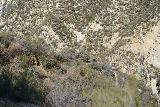 From there, we had a bit of a discussion about this trail, which he remarked had been eroded pretty quickly due to these storms since the last time he was here.
He also told me that he was from the valley but he comes to Big Tujunga Canyon often to f*** around so he knows this area pretty well.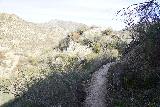 We talked about the Fox Canyon Falls as well, though he recommended that usually once a week, they release the water in the dam so you can get to that side canyon without needing to swim.
But it definitely wasn't possible on this day because the reservoir levels were certainly high enough to force a swim to get into that canyon.
He says he comes often enough that he can come on a Monday or some other weekday to explore these other waterfalls beyond Josephine Creek Falls.
When he started mentioning other waterfalls in the area, I did ask about Fall Creek Falls, which he didn't mention. And that got him talking about the fire road.
He also told me that you can walk down that fire road to get a good look at the multi-tiered Fall Creek Falls, but to get close to it, you'd have to cross the creek, and that still depends on whether they release the dam water or the creek levels in general.
That got me thinking about maybe coming back here the following week to check that part out before we lose our rainy season, because who knows?
Maybe that last storm that passed might be it for the rest of this year with the way Global Warming has exacerbated our droughts!
With that, they continued down the canyon (probably going to Josephine Creek Falls), and then I continued up towards the Big Tujunga Canyon Road.
Eventually, I made it towards the ridge where I had my first glimpse of Josephine Creek Falls' top earlier, but this part of the trail was narrow so I stood off the side to let them pass.
I overheard the father of this family of four asking about whether this was the right place for Josephine Creek Falls.
I confirmed it for him and even told him that you can see part of the falls from here.
That said, I kind of didn't want to tell him because he was playing loud music, and I wondered if encouraging him might encourage other people of his ilk down into this spot (and hence possible tagging, litter, and more people doing this kind of stuff).
Maybe I shouldn't judge, but it definitely wasn't a good (nor respectful-to-Nature) sign if you're blaring music instead of just enjoying the silence of Nature (and maybe even getting a surprise wildlife sighting or two).
When I finally got back to the Big Tujunga Canyon Road at 1:05pm, I saw that there were a handful of cars parked in the same pullout as we were (earlier on, we were the only people here).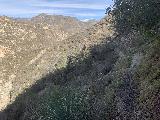 I wasn't sure if this was a lemmings effect or not, but judging from the first two or three people I encountered that really seemed to know this place already, maybe it was just the parked cars that piqued the interest of that family heading down.
Regardless, when I showed Julie the pictures and videos of what I captured with this hike, she then started to turn on me telling me that I misinformed her about some internet picture showing the falls where I wasn't sure was Josephine Creek Falls.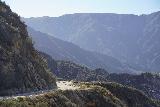 She blamed me for telling her that it wasn't the falls so she didn't want to do the hike, but she didn't want to hear the truth that she didn't own her own decision not to come down with me.
Adventures in general have an uncertainty of outcome that comes with the territory, and if you don't have a positive mindset (after all, how can you know in advance if a hike is worth it or not, especially if you've never been before?), that's on you!
Anyways, aside from that bit of drama, we briefly stopped by the Big Tujunga Dam Overlook for a brief look down at the dam and the mouth of the reservoir, but the litter below the overlook was definitely off-putting.
Then, after having our fill of this spot, we decided that instead of driving back to Sunland to then go to Arcadia for some DTF (Din Tai Fung), we instead headed further east en route to the Clear Creek Station along the Angeles Crest Highway.
We actually had to go through one junction (the other route went to Palmdale) before hitting a second junction at the Hwy 2 itself.
And boy, was the Angeles Crest super busy, especially with people going further up the mountains and towards the snow, I'd imagine.
I couldn't believe how many cars were headed up that way, and it really felt like we were going against the grain as we were heading back down towards La Canada-Flintridge, and eventually the I-210.
After getting past the Rose Bowl (I still had never been to that stadium in all my years of living in LA though we saw the Goodyear Blimp), we'd ultimately get to the Westfield Mall by Santa Anita.
That was where we got to the new DTF location at around 2:05pm, but upon learning that it was a minimum of 2-3 hours of waiting, we decided not to stick around for that and settle on some Hainan Chicken takeaway at Side Chick.
That place hit the spot though Julie was bummed that we were 0 for 2 on rare eating experiences (Houston's last night and now Din Tai Fung today).
But with so many empty tables, I had to believe that DTF was short staffed and probably had to observe COVID safety protocols as well.
And eventually by 2:55pm, we were done with this lunner and got back in the car to head for home.
It wouldn't be until around 3:35pm when we finally got back home, and it was just in time for Tahia to play with the cousins who were in the neighborhood doing piano lessons.
And so ended this eventful New Years Day.
I always say that when we go on trips, the trip doesn't start until we experience a legitimate waterfall.
Well, I guess I can extend that saying to say that the year doesn't start until we experience a (new) waterfall, and what a way to kick off the New Year!
Visitor Comments:
Got something you'd like to share or say to keep the conversation going? Feel free to leave a comment below...
No users have replied to the content on this page