PAINFULLY SLOW START
Julie and I decided last night that we wanted to give Bonita Falls a try. We had been reminded of this falls by visitors of the World of Waterfalls Facebook page about a month ago, and we hoped that we weren't too late to see this one flow given its reputation for having a very short season.
Besides, we needed something to cheer us up after the Lakers-Mavs game.
Anyways, we had all the intention of getting an early start and having Julie's mom watch over Tahia. But when 3:30am rolled around, I was itching like crazy all over my body. This was like the 4th or 5th time this has happened to me, and I knew it was an outbreak of hives or some kind of allergic reaction to eating shrimp (namely the head, which we did from last night's dinner). I used to never have this, but I started to get this sometime in 2009 and it seemed to be even more persistent as time went on. I began to wonder if the waters were getting so polluted that my body was reacting more to whatever it was or if my body was changing and unable to handle whatever it was that shrimp consumed (they are bottom feeders after all).
So the bottom line was that I couldn't go back to sleep from 3:30am to the time Tahia woke up, which was around 5:30am. Julie and her mom insisted that I go back to sleep and let the hives flush itself out while they would work on feeding Tahia.
Personally I thought I could deal with the hives and sleep deprivation for the early start to the hike, but eventually reason won out and I went back to an uneasy sleep knowing that our Bonita Falls excursion might not happen.
By 9:30am, I woke up again. But at least this time, the hives subsided as expected. There were still parts of my body that felt a little swollen (especially internally where it felt like I had heartburn or something), but other than that, I was still in the mood to go for Bonita Falls. Besides, it was May Gray outside, and after the heat wave we had been having all week long, I thought it wouldn't be too hot and smoggy to go for this falls on this day.
But as was the usual MO for doing excursions with the complication of having baby, there was still a laundry list of things to do (pumping, feeding, changing, letting her nap, etc. not to mention preparing water, pump, fruits, and gear) before we could even get out the door.
So it wasn't until about 11:35am when we finally were out the door.
I wasn't particularly happy about the late start because I knew the traffic would be bad, and I was worried about the heat and smog getting real bad around the Rancho Cucamonga area which was quite near where we were expecting to do the Bonita Falls hike.
Anyways, as we were heading east on the 91, my worst fears came true as the traffic was jammed. Apparently, there was some accident that caused all but one lane to be blocked. And even after we got past the accident scene (apparently it involved a motorcycle), the CHP was still running a traffic break until we got past the end of a couple of lane closures.
Then, the long drive was made even longer as the traffic was nowhere near as free flowing as it would have been two or three hours earlier. So we had to deal with all sorts of truck traffic and even drivers playing games (like slowing the fast lane and only speeding up when someone else wanted to pass). I can totally see why people road rage it, and it really made me want to go see this waterfall more and get away from it all.
It wasn't until a little after 1pm when we finally got off the I-15 freeway at the Sierra Avenue offramp then proceeded along this road as it became Lytle Creek Road. The whole time we were driving, we couldn't see the mountains and we couldn't tell if it was really bad smog or if it was just the haze from the May Gray fog that had yet to clear.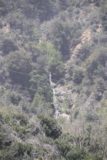 Nonetheless, as we were looking for a suitable place to start our scramble to the falls, we saw some interesting waterfall in the distance. Could this be the Bonita Falls?
Well according to our directions, we still had a couple more miles to go. So we snapped photos of this falls, and continued on.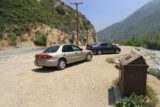 We'd eventually see the Lytle Creek Ranger Station and made a quick stop there to purchase a $5 Adventure Pass.
Afterwards, we continued on past some Green Mountain Ranch sign and then eventually to a pullout area with a bear-proof trash bin as well as at least a half-dozen cars. I was sure this was the spot to park the car and get started, and according to our waypoint that we researched and put onto our GPS navigator, we were at the right place.