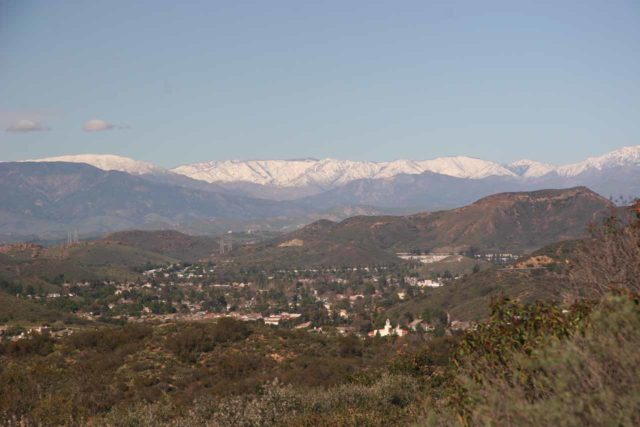 24-January 2010:
Continuing along the familiar trail, we noted that the trail was much softer and muddier than last year. However, it was disconcerting not to see or hear any stream. Still, we continued on, but all we could hear was silence broken only by our voices and footsteps. A little more than half-way there, we saw a hiker headed in the opposite direction. So we asked him how the waterfall was, and his reply was something like, "Well, I don't want to ruin it for you guys…
The morning started off with an early wake-up at 6am. We were anticipating my parents to pick us up, and then carpool together to the Santa Monica Mountains in the hopes of capitalizing on the intense El Nino rains throughout the workweek. It wasn't until around 8:15am when we were picked up.
There weren't any solid plans as to what we wanted to do since we've already done most of the local waterfalls. But we figured maybe today would be a good day to check out the waterfalls of the Santa Monica Mountains (namely La Jolla Canyon Falls and Sycamore Canyon Falls). We had actually visited La Jolla Canyon Falls following a few consecutive days of rain last Winter, but we figured perhaps this was as good as time as any to see the falls actually flow.
Contrasting the weather from this week, today was actually a very beautiful, sunny day. As the 10 Fwy became PCH, we could see big waves (probably 7-10ft) pounding the coastlines with lots of surfers in wetsuits taking on the challenge while the roads were lined with onlookers (some wielding cameras with telephoto lenses). It's not often that you see waves this big off the shores of Los Angeles, but to put things in perspective, they're still nothing compared to what you would normally see on the North Shore of O'ahu.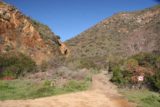 It wasn't until about 9:35am that we arrived at the familiar car park for La Jolla Canyon Falls, which sat on Point Mugu State Park facing the Pacific. The car park day use fee was a whopping $8, which I swore was more than the $5 I thought we were charged last time. No wonder why there were so many cars parked outside the car park and along PCH, I thought!
Anyways, we dutifully paid the money in the self-registration envelope and drop. We figured the state really needs the money, and Mom (being the voice of reason) said we should support the parks if they're something that everyone shares and enjoys.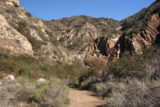 One thing that kind of struck me as odd was that the lighting at the start of the canyon was almost ideal. The soft sun backlighting the canyon walls and all its vegetation this morning was a bit unusual since I thought this canyon was supposed to be facing west and the morning sun is situated east. I guess maybe the canyon faces in a more southerly direction and the low Winter sun helped to make the lighting conditions ideal.
Continuing along the familiar trail, we noted that the trail was much softer and muddier than last year. However, it was disconcerting not to see nor hear any stream. Still, we continued on, but all we could hear was silence broken only by our voices and footsteps. A little more than half-way there, we saw a hiker headed in the opposite direction. So we asked him how the waterfall was, and his reply was something like, "Well, I don't want to ruin it for you guys."
Uh oh.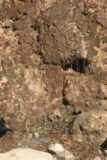 And sure enough, minutes later, we got to the falls or lack thereof. I guess on a more positive note, at least the falls was trickling instead of bone dry. But if five straight days of El Nino rains couldn't revive this waterfall, I concluded that this was really more of an ephemeral waterfall and probably shouldn't even count as a legitimate waterfall.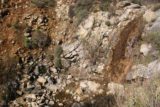 So after taking some photos, we headed back to the car park disappointed once again. I know I said this last time, but I give up on La Jolla Canyon Falls.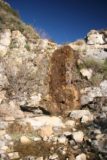 Once we got back to the car at 10:30am, we continued out towards Oxnard before driving up to Camarillo and the 101 Fwy. From there, we headed east and exited Wendy Drive taking it all the way to Portrero Road. At the three-way road junction, we saw a bunch of vehicles parked across the street from a church. We weren't sure if this was for Sunday service or not, but it definitely wasn't the car park we were familiar with the last time Julie and I did this hike.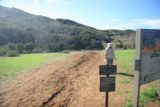 So we continued on looking for the Satwiwa Car Park. But when we got to Sycamore Canyon Road, we saw a sign saying "Authorized Vehicles Only. No Parking." And given that development, we returned to the larger parking area by Portrero and Wendy across the street from the church.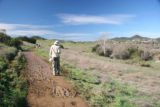 We finally started hiking at 11:25am. A sign greeted us here indicating that we were entering the Santa Monica Mountains and how fire played an important part of the ecosystem here. I guess they get lots of those here, which shouldn't be all that surprising.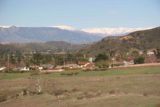 Given the saturation of water from this week's rains, the trails were quite muddy. I was glad we wore our hiking boots, but there were some tricky sections where you simply had no choice but to get them caked in the mud.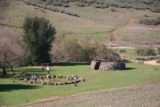 As we continued our hike, we saw the Satwiwa Native American Natural Area in the distance along with a car park full of cars. I guess that was an indication to us that the sign we saw at Sycamore Canyon Road was either false or it was being ignored. Perhaps we should've done the same as those folks except that car park did look awfully full.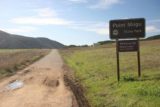 We eventually passed through the Satwiwa Natural Area and onto the paved fire road. We then took this road towards a water tank, which served as the landmark to know when to leave the fire road and continue inland to get to the waterfall.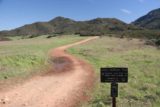 So we promptly followed the signs and took the trail that branched off from the water tank. Then this trail climbed up along a ridge offering views down into Sycamore Canyon as well as out over the Hidden Valley backed by some snowy mountains in the distance looking in the direction of the Grapevine. I don't think seeing this much snow in these mountains was the norm, but then again, it was definitely scenic.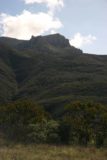 As we continued along the trail, I began to realize that this wasn't the same trail we took last time as we were on the other side of the stream. So I began to wonder whether we were merely going to the top of the falls or not. But eventually after the trail crested, it sloped downwards and eventually joined up with that familiar trail we took before.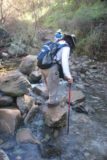 From there, the path involved a few stream crossings but nothing particularly difficult. Perhaps what was more remarkable about this trail was the number of people on it. I had recalled last time it was a busy trail and this time around seemed no different.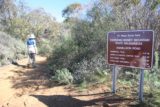 Eventually, we reached the falls, which was already crowded. It wasn't easy to take photos without people in it so we had to use them as subjects in our photography. But the sun's position at this time of day didn't exactly make the photography any easier.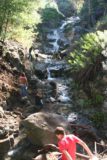 Still, the falls definitely had far better flow than the last time we visited this falls some 8 or 9 years ago. So we picnicked here with a sandwich lunch. And as we sat and enjoyed the scenery, we could see plenty of traffic in both directions of people either continuing to scramble up to the top of the falls or coming back and going the other way.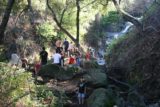 When we had our fill of the falls and our sandwiches, we took the muddier and shorter route back to the car park (since we weren't exactly sure which trail to take in the confusing maze of criss-crossing trails on the way here).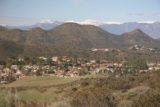 As we were going downhill heading back on towards the Wendy Trailhead, where our car was, we noticed some commotion by other hikers staring at what seemed to be nothing in particular. But as we got closer, we could see a pretty well camouflaged coyote on the prowl looking for something to eat. In fact, we actually stopped to watch it in action waiting patiently before trying to pounce into a gopher or rabbit hole for a meal.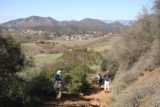 I don't think it was successful, but it just goes to show you the daily struggle to survive in Nature whether you're a predator or grazer. This is definitely something we as people take for granted, but when you're out and about in Nature, you have opportunities to see these things in action – and hence gain a better appreciation of how things work when Nature is more or less in balance.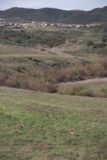 Anyways, by 1:50pm, we were back at the car.
By now, we felt it was getting too late in the day. I was supposed to work the 3rd shift tonight and there were still errands to run like laundry and groceries back at home. So instead of seizing the moment and doing the nearby Paradise Falls, we figured this one has more reliable flow and we could see this one another day.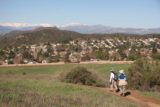 So we faced the LA traffic on a Sunday afternoon and eventually made it home at 3:20pm. At least it was good catching up with the parents after having not seen them for over a month or so due to our travel to New Zealand and Cook Islands. This year seems to be shaping up to be a pretty good local waterfalling year. I sure hope we can do more of these as weekend getaways to both local haunts as well as some others in Northern California (something I've been itching to do for a while now).
Visitor Comments:
Got something you'd like to share or say to keep the conversation going? Feel free to leave a comment below...
No users have replied to the content on this page