Day 1 (January 21, 2022 – Los Angeles, California): "Racing Darkness"
It was 5:30am when I awoke, which was actually an hour later than I usually get up to go to work so this was actually sleeping in for me.
In the time immediately thereafter, I got dressed in my hiking clothes as I anticipated a long hiking day attempting to go to the Bridge to Nowhere with a detour to the Devils Gulch Falls along the way.
I studied my Gaia GPS maps so I would have a better idea when to deviate from the Bridge to Nowhere hike in pursuit of that waterfall.
However, there were definitely no sources on the web telling you how to get there so I knew I had to rely on field observations combined with my ability to interpret the topographic map of the area.
Anyways, I did my usual routine of having breakfast kefir with a bunch of fiber supplements to put into the kefir, but I also had to put away the dishes that Julie and Tahia didn't bother doing last night, and that took some time I didn't expect to spend.
So it wasn't until about 6:45am when I finally left the house, which was a bit later than the 6:30am time that I told the parents that I would be at their place.
It wasn't until about 7:25am when I finally got to their place, and the whole time I was driving up there with all the school traffic and morning rush hour all around, I was a bit concerned about my parents' ability to do the Bridge to Nowhere hike.
I knew from talking with a coworker that the river crossings were about knee-deep with some strong current.
But when Mom said that Dad was coming along this time, I was also quite concerned since he was getting into his mid-70s while Mom herself was pushing 70.
Nevertheless, Mom was usually game on all the hikes that I've done, including those that Julie and Tahia didn't really have the appetite for doing, and Dad was also game though I know he's not as into this as Mom is.
After unloading my car and loading up their car while also doing some last minute business, we finally left my parents' place at 7:45am.
Then, after going on a pretty busy drive on the freeways before getting off at Azusa Ave and heading straight north into San Gabriel Canyon Road, we finally turned off at the East Fork Road as we crossed a bridge over the San Gabriel Reservoir.
All the times that we've gone up the Hwy 39, it was usually to Crystal Lake, where we'd visit Soldier Creek Falls, but this time, we were heading to the Bridge to Nowhere hike.
I was anticipating doing this hike since it seemed like everyone from LA or visiting here have done this hike, except us.
Maybe, it was because I thought there wouldn't be a waterfall hike, and there typically wouldn't be unless you explore the side canyons.
And that was exactly what we were going to do.
Since I took Friday off, I wasn't as concerned about the parking situation as what it would be on the weekends here, and so by about 8:50am, we finally made it to the East Fork Trailhead.
There were already quite a few cars here, but we managed to snag one of the say half-dozen available parking spots (so I'd imagine most people coming on the weekends wouldn't have a prayer finding legal parking).
Anyways, it took us some time to get ready, especialy since we anticipated getting wet with the crossings of a San Gabriel River that actually had some pretty high flow.
I was already prepared with neoprene socks (that we finally found after all these years sitting in our garage) as well as some Altra Peak 5 trail running shoes.
After all, I knew these things would get wet (and dry quickly after use) so I wouldn't have to worry about changing out of hiking boots all the time like I was used to doing.
That said, I don't think Mom really got the message about how I told her she's going to need legitimate water shoes or ambibious hiking shoes that could get wet without having to change shoes.
Dad didn't get the message either as he just had the typical hiking boots, though we brought along some spare neoprene socks (both for Mom and Dad) as well as a pair of Tevas so he could switch into them when we hit a water crossing.
So it wasn't until about 9:10am when we finally started hiking just as at least three more cars showed up to the trailhead parking (so even on weekdays, this place can fill up).
The start of the hike was pretty benign as it was on an extension of the East Fork Road leading to the Heaton Flat area in about a half-mile.
Between the interpretive signs and the restroom facility there was a trail that branched off and headed towards one of the peaks of the San Gabriels.
We kept left as the trail narrowed quickly and stopped being the wide unpaved dirt road that we had done up to this point.
Shortly after passing by some infrastructure of perhaps some past habitation here, we eventually got to the first entry of the San Gabriel River at 9:45am, where we saw one Hispanic family heading back.
We didn't think they had gone anywhere, and they must have turned back prematurely because there was an elderly lady that two family members were helping out, and she didn't look happy at all.
It seemed to me that someone led the family here with grandma in tow, and they completely didn't prepare for the hazards of this adventure since we already saw that the water was running pretty high here (which confirmed my trip research).
After Mom took some time to change her shoes into what I called her reef shoes while had took off his boots while Dad took off his boots and put on my backup neoprene socks and Tevas, we finally got into the water and continued.
We couldn't tell whether this was a spot to cross the river or not as there was no obvious trail on the other side.
However, we did see people up ahead keeping to the right so perhaps we just had to wade on the shallower parts of the river before resuming the trail beyond this wet interlude.
It turned out that beyond this initial water wading interlude, it wasn't long before we hit what appeared to be a legitimate crossing of the river, which was around 10am.
It looked intimidating because there was fast moving water in the San Gabriel River, but we could also see that there was a trail on the other side.
Fortunately, the water was quite clear so we could see how deep the submerged rocks were for the most part.
Armed with trekking poles and our shoes that could get wet, we ultimately got through the knee-deep fast-moving water and onto the other side, where we then continued for a bit.
We'd encounter what seemed to be a few more river crossings before finally crossing the river to the east side yet again at around 10:30am, but this time the canyon scenery started opening up.
At the end of this crossing, I noticed that there was some kind of ruins or something while we were traversing through some kind of yucca patch just as the canyon seemed to be opening up.
I wasn't sure what the ruins were there for, nor whether there was any historical value to them.
All I noticed was that it was somewhat defaced with graffiti (as were lots of the rock walls and scenery throughout this hike so far).
As we continued the hike beyond these ruins, we were pretty much dry hiking for quite a stretch, where we continued to dodge sharp yucca leaves as well as trying not to bust our ankles and knees going over some bouldery terrain.
The trail eventually started to climb and hug some ledges as it curved eastwards near Shoemaker Canyon.
It was also around this dry interlude that the winds started picking up, which concerned Mom because the winds were really forecasted to pick up at around 3pm today (though I was confident that we'd be on our way out of here by then).
The trail still continued rather benignly as we entered the Sheep Mountain Wilderness (as indicated by a sign shortly after a bridge over a dry seasonal stream from Laurel Gulch), where we encountered a few hikers making their way back.
Clearly they must have gotten an early start because we were told that we weren't even 30% of the way to the Bridge to Nowhere, and it was already getting pretty late in the day for my liking for being this far away.
Although the hike had gotten progressively rougher (albeit dry), the dry interlude eventually came to an end as we got to a crossing of the San Gabriel River somewhere near Allison Gulch at around 11:50am.
That caused Mom to change her shoes not long after all this dry hiking compelled her to change into hiking boots again.
As warned by some of the people we talked to on our way up (as they were on their way out), they urged us to be careful because many of the crossings were knee-deep with current.
That was something I was prepared for, which was why I made sure each of us had a pair of trekking poles for four-legged balance, especially when the current conspired to topple us over.
As we continued on the west side of the San Gabriel River, it seemed like we lost the trail though we did pass by some makeshift campsites (of which there seemed to be quite a few of them).
There was even one tricky spot near some rushing cascade where we had to hug some rocks and try to avoid taking a plunge into the fast moving river.
However, in one moment, Dad managed to trip and fall down on the trail, where he actually landed on a yucca plant as well as split his pinky, which was bleeding.
Good thing we had first-aid available to us, but this further reinforced to me how we have to be real careful with my parents even though doing this hike was as far away as cautious as you can be I guess.
Anyways, eventually beyond that hairy part by the small cascading rapids on the East Fork San Gabriel River, we ultimately got to yet another crossing of the river at around 12:10pm.
As we were back on the east side of the river, we had to do a few more crossings and or wadings as we tried to keep the right, but we then got to another crossing at 12:35pm where it seemed like the logical way to go was to cross back over to the left side.
Ten minutes later, by about 12:45pm, we then had to cross two converging streams near some unknown gulch, which made for the trickiest crossing yet.
As we were back on the east side of the river, it didn't take long before we reached a deviation in the trail, where keeping to the right would have led us to the noticeable road to our right up on the mountains.
However, we were interested in getting to Devils Gulch Falls first, and so we opted to continue to the left and pretty much do some dry hiking through some yucca patches while the East Fork San Gabriel River continued to rush downstream to our left.
Ultimately by around 12:50pm, we crossed the San Gabriel River yet again as the vegetation was closing in to our right, and we found ourselves continuing along a wide open yucca patch on the west side of the river.
Although we didn't bother exploring Rattlesnake Canyon, we could see the gulch from there on our left and I knew that Devils Gulch couldn't be that much further away though I was concerned about our pace and how late it was getting.
By about 1:20pm, we reached yet another crossing of the San Gabriel River before we then proceeded briefly past some kind of suspension infrastructure as well as some unsigntly litter or garbage bags left underneath a cliff around here.
Eventually at around 1:25pm, we saw a small waterfall spilling out from Devils Gulch, but we had to cross the East Fork San Gabriel River yet again.
This time, the water here looked quite deep and dicey, and I actually had to turn back and try to enter the Devils Gulch from its south side instead of its north side.
Eventually after being successful with that bit of a crossing obstacle, we then had to scramble our way upstream within Devils Gulch, which itself wasn't trivial either.
Since it was now already getting late in the afternoon knowing that it gets dark not longer after 5pm (and it took us over 4.5 hours to even get to this point), I was worried that we might not even make it to the Bridge to Nowhere.
After a few dicey climbing and bushwhacking parts within Devils Gulch, where my parents were really concerned about whether we're going to even see a waterfall, we'd eventually climb up to a mysterious platform with a chimney.
It was weird because it definitely looked like someone was living here, though we couldn't figure out just how that was feasible considering how rough Devils Gulch was and how prone to flooding it was be too.
Anyways, after dropping down to the creek in Devils Gulch, we rounded a bend and then we finally started to see the impressive Devils Gulch Falls through the overgrowth.
Indeed, by 1:50pm, we were finally standing before the Devils Gulch Falls, which sat in a tight and secluded enclave with overhanging cliffs and quite a few bare trees in the way of getting a clean photo of the entirety of the double-barreled falls.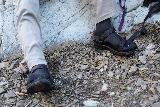 It had much better flow than any of the YouTube videos of this waterfall that I had seen so far, and maybe there was a reason why such photos and videos were rare given the slog that we did to even get here nearly 5 hours after we had started our hike!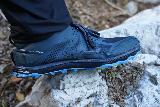 That said, we made sure to savor our experience with this waterfall as we were somewhat protected from the increasing canyon winds that were picking up.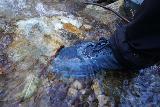 We also had ourselves a well-deserved picnic lunch of "sushi" (though there was nothing raw here except for the cucumbers) along with some eggs and oranges.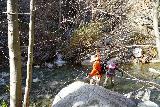 We also took some tripod selfie photos using the phone timer, and I got to take some videos so I could get my YouTube channel of narrated guides started (something I had shied away from doing until now).
Finally at 2:20pm, we started to head out of Devils Gulch knowing that this was going to get dark in less than 3 hours.
Forget about doing Bridge to Nowhere on this day.
I guess we could always come back later in the year when the water levels of the San Gabriel River wouldn't be as much of an issue and the waterfalls probably wouldn't be as reliable, but the bridge ought to still be there (plus we should have more daylight).
So we immediately headed back downstream of the way we came as we passed through the yucca patches again, and then crossed the river.
That said, this crossing was a bit downstream from where we initially crossed and the river was even deeper here, which caused us to backtrack before finding a suitable knee-deep to thigh-deep part to cross with trekking poles.
By about 3:10pm, we made it back to the section of the trail where we deviated from the Bridge to Nowhere Trail.
So that meant that if we were to do a detour to Devil's Gulch without any dangerous shortcuts back up to the road embankments (or back up) would take about 2 hours on top of however long it would take to get to the Bridge to Nowhere and back.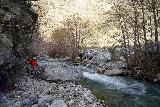 Anyways, we were still trying to haul ass we were heading downstream alongside the San Gabriel River with the strong winds getting seeming even stronger.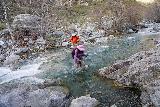 It was now starting to kick up sand or dust so that they'd conspire to get into our eyes, and we were also concerned about falling branches.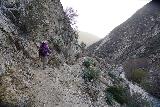 And as we were heading back, crossing the river a few times, we couldn't help but to notice there were now painted red arrows helping to steer us on the way back.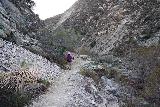 I doubted these were from immature taggers trying to do a service to everyone, and we speculated that it might be the bungee jump cmpany trying to make it easier for people to get to the bungee jump area (and back).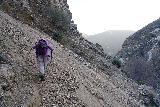 Anyways, the path that they had us take on the way back seemed to cut out a few more river crossings than when we came in with, but it did have to traverse a dicey landslide area.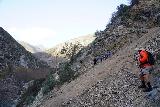 With our trekking poles, none of us had a problem with this crossing even though it was scary given how narrow the path was and how steep the loose slope was to the right of us.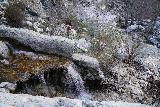 However, there were some people who were catching up to us, and they were struggling with this crossing since they didn't have very grippy shoes.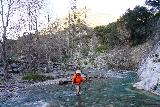 Speaking of the shoes, I was actually quite impressed with how grippy the Lowe Altra Peak 5 shoes were gripping slippery surfaces so far, even though it was wet and icky right now, it seemed like it was a keeper as far as day hiking shoes are concerned.
Anyways, the red-arrow-aided path kept us to the left of the river (or east side) as we ultimately made our way south towards Allison Gulch, where there were signs I hadn't noticed before as well as a side trail leading up into Allison Gulch.
Beyond the Allison Gulch confluence, there was some kind of dam as well as a minor cascade from the mouth of the gulch that we had to get past before continuing further south along a ledge path with a few water interludes.
During this stretch, there was one moment where Swan Rock was in the distance (though none of us were looking for it, and I had completely forgotten about it on our excursion).
After getting past the sign for the Sheep Mountain Wilderness, we then kept going through the extensive dry hiking knowing that it was still getting darker and darker rapidly.
And we were racing against the darkness to get past the last of the water crossings so we wouldn't have to guess about the river depth without the visibility.
Along the way, I struck up a conversation with one backpacker who was middle-aged and seemed to be well-stocked.
He seemed to frequent this area, and upon talking to him and about where we had been and where we were going, he was surprised that we didn't run into a guy who prospects for gold at the Devils Gulch.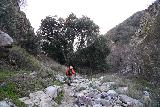 In my mind, I thought maybe he had something to do with that platform and chimney near the waterfall.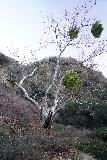 Anyways, when we went our separate ways, he did point deeper into the canyon and say that he was heading "home".
I wasn't sure if he was joking or not, but then the more I thought about it, the more I realized that maybe he was already retirement age or something, and he figured out a way to avoid paying for rent, mortage, or even taxes.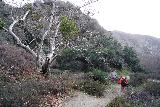 In fact, I realized that he could spent time in civilization to stock up on supplies and do stuff before heading back into this wilderness and spend the nights here (even though it was very gusty this night) pretty much rent free.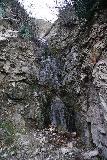 As long as you have the gear and the ability to live in the bush on your own (though I wondered how and where he showers), you could survive and live the rest of your live like this, and I thought it was ingenious.
Nevertheless, the parents and I still hastily made our way back as it continued to get dark and we still had a few more water crossings and wadings to go.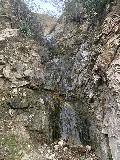 It was a good thing Mom talked me out of going to the Bridge to Nowhere under these circumstances.
Fortunately, by about 5:15pm, we had made it past the last of the water crossings and/or wadings, and eventually by 5:25pm, we had returned to the Heaton Flat Picnic Area.
By this time, Mom was the first to change back out of her water shoes (she had kept them on since Devils Gulch this time) and got back into boots.
And also by this time, it was really getting dark as it was well past sunset now.
We still had a half-mile to go, and mercifully by about 5:45pm, we finally got back to the parking lot for the East Fork Trailhead, where there were still about a half-dozen cars parked here.
Now, Dad and I could finally get out of our neoprene socks (where our feet were definitely pruny) and I could let them breathe barefoot in Chacos again.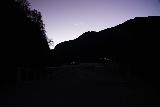 All of us didn't have a proper meal since breakfast, and so we were looking forward to having a Chinese dinner out on the town on a Friday night.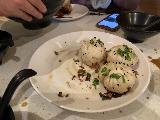 Eventually by about 6:55pm (after taking Azusa Blvd all the way south from Hwy 39 and avoiding the rush hour traffic on the freeways), we got to this place called the Tasty Noodle House because Kouping (Earthen Restaurant) was closed for some reason.
It was basically comfort food with a Shanghai flavor to it so we got dishes like crispy stinky tofu, sen xian bao, xiao long bao, and a couple of soup noodles dishes, and it all pretty much hit the spot (even though it was cheating since they all had gluten).
By about 8pm, we were back at the parents' place after our satisfying dinner.
And by 8:35pm, I finally got home where I could finally unwind on this very long yet adventure filled day – yet one that had unfinished business.
As I was busy trying to get cleaned up and trying to get all the photos and videos as well as notes onto the computer for further processing on this night, Julie wanted us to go to Trail Canyon Falls tomorrow.
This was despite the fact that the wind gusts were expected to be even more intense than what we had encountered on this day along the East Fork of the San Gabriel River!
We'll see whether this happens or not, but we were planning on getting up at 6am to get that hike going knowing that it was a Saturday and that this was already one of the more popular waterfalls, especially since the COVID-19 outbreak.
The last time we were there, there really weren't that many people.
Regardless, it was going to be yet another night of short sleep for me…
Visitor Comments:
Got something you'd like to share or say to keep the conversation going? Feel free to leave a comment below...
No users have replied to the content on this page