Day 2 (January 22, 2022 – Los Angeles, California): "Joining The Crowd"
It was 6:55am when I awoke, where I had overslept the 6am alarm considering that I didn't really go to sleep until about 1am.
So I got myself out of bed since I knew Julie wanted for us to do Trail Canyon Falls on this day (funny how she wanted to do Josephine Creek Falls before but not anymore).
And we pretty much spent the next hour having breakfast, trying to wake up Tahia, and then finally leaving the house on an already windy day at 8:05am.
Mentally, I wasn't that into doing this hike, especially after the adventure that I went on with the parents to Devils Gulch Falls yesterday.
Perhaps this was exacerbated further because Trail Canyon just felt like a waste of time considering we had already done this waterfall numerous times.
Moreover, Julie was only motivated by an Instagram photo of the falls looking more full than we had ever seen it.
That said, the photo she was referring to took place 3 weeks ago, and I'm sure its flow would be nowhere near that voluminous this time around.
Personally, I had unfinished business to do, and I wanted to see how quickly Josephine Creek Falls would diminish while also chasing the Lower Fox Canyon Falls (or "Great Falls of the Fox").
Maybe that's something Mom and I could go chase next Friday or something…
Anyways, we went through fairly light traffic up the I-5 and towards the Hwy 2 near Dodger Stadium before getting onto the 210 West.
As we were approaching the familiar Sunland Ave exit, we were hit by some pretty strong gusts, and it made me wonder if we were being foolish thing trying to do this waterfall hike under such conditions.
We didn't want a repeat of the early 2015 Etiwanda Falls aborted hike attempt when the Santa Ana Winds were so intense that it was hard to even stand up when we were just at the trailhead!
I also wondered how many people would be at the trailhead under such gusty conditions though I doubted they'd be deterred because most people who go there don't bother checking forecasts or come prepared with water and the right gear.
Well, when we got off the Sunland Ave exit, and then made a left at the familiar Oro Vista Street, which ultimately got us onto the Big Tujunga Canyon Road, we eventually got to the familiar Trail Canyon Road turnoff at 8:55am.
We actually made surprisingly good time with this drive as I normally associated this with being more like a 60- to 90-minute drive.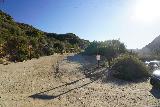 Anyways, not surprisingly, there were many cars here already, and we ended up parking next to some mailboxes though we weren't blocking access to any of them (there was no signage saying not to park in this space either).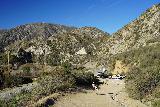 And with that, we got geared up (I was using the same Lowe Altra Peak 5 trail running shoes that I used yesterday) and we headed towards the Trail Canyon Road turnoff.
Julie and I still remembered the days when we could drive this road to the actual trailhead parking, but in each of our last two visits (the last one being in February 2020), the gate was closed and we had to walk that road to the trailhead.
With the blustery winds that were intermittent on this day, I couldn't help but wonder if the winds will cause some rocks to tumble down cliffs and smash the cars parked next to the cliffs underneath.
Since we parked near the mailboxes and away from the cliffs, maybe we'd have a less of a probability of that happening, but then again, maybe there might be residents here that don't appreciate people parking there.
Regardless, we were pretty much going straight to Trail Canyon Falls non-stop as I wasn't as into taking as much photos of this place as I normally would since it was really deja vu for me.
Perhaps the only difference was that the vegetation seemed to be quite a bit greener and less burnt than the last time we were here.
After getting past the driveways and the initial climbs, we then went across a handful of minor creek crossings (each requiring some nifty boulder and/or log hop) before resuming the dry hiking.
Then, we got to the familiar long climb up to the head of Trail Canyon though I did make a quick overgrown and poison-oak-infested gully where there was a trickling side cascade that I had all to myself.
Julie and Tahia kept going so I had to catch up to them, but at least I was still in front of another group behind me, who were going slower than me and so I didn't want to have to pass them and risk contracting the omicron variant or something.
I'd eventually catch up to Julie and Tahia as we were near the top of the climb, and by about 10:10am, we finally saw Trail Canyon Falls in the distance in its familiar half-shadowed confines.
It didn't take long before we got to the unsigned spur trail descending steeply down to the canyon rim, where we then proceeded to make our steep rope-assisted descent to the bottom of Trail Canyon and eventually access the waterfall's base.
We did have to take our time waiting for people to get up the steep portion, which many people that we saw here weren't used to (even more reason to believe that most people came here off of YouTube videos or websites without preparation).
Finally at about 10:30am, we arrived at the base of Trail Canyon Falls, which was probably as busy as I had ever seen it down here.
Indeed, all the reasonably-accessible waterfalls had gotten crowded and only the hard ones (like yesterday's hike to Devils Gulch) were left if we're seeking that more genuine nature experience.
Given how busy it was down at the base of Trail Canyon Falls, we didn't linger here for long, and I definitely didn't want to do an intro video or something with all these people around.
So we got back up the canyon and then pursued the top of Trail Canyon Falls, which I got to at 10:55am while Julie and Tahia stayed behind by a boulder somewhere upstream of the falls.
It was pretty much anti-climactic, but then again, I did spot an intermediate waterfall upstream from the brink, and it was somewhere quieter up here than it was down there.
In fact, this was the official end of the trail prior to people blazing new trails to reach the bottom of the falls.
And so by around a little after 11am, we started heading back to the car since we were told that Tahia and her cousins could perform some piano recording together, which was at 1:30pm.
The hike back to the trailhead was for the most part uneventful though we did notice more of those hideous "Seven" graffiti markings (making me wonder if the residents there would ever identify and make good on their threats).
Even though it was now approaching midday, there seemed to be even more people making their way up Trail Canyon, which was kind of surprising as I would have expected most people to get their start earlier in the morning.
And of these people who were coming up, most of them seemed to be newbies to hiking in general, which led me to believe that they've primarily found out about them on their phone or someone's YouTube Channel and just show up on a whim.
A lot of them didn't bring water nor were they in proper hiking gear.
Even when we made it back to the Big Tujunga Canyon Road, there was someone who pulled up beside us and asked if they were near the Trail Canyon Falls.
Indeed, this place definitely blew up because just a couple of years ago, this place was still relatively unknown.
Fortunately for us, the drive back down the 210, 2, and I-5 were uneventful for the most part though the I-5 was quite backed up from time to time.
However, we did take a detour to the I-710 instead of staying on the I-5 to get home, and when we got there at around 12:25pm, that was when we thought it might be feasible for Tahia to see her cousins after all today.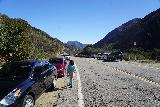 Indeed, the drive ultimately ended at around 1:30pm, which was indeed just in time for Tahia to hang out with her cousins.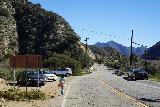 That said, we had to skip out on a King Taco stop in order to even rush our way back home for this last-minute decision for the cousins to be together.
And with that, we ended this rather ho hum day, but at least Julie got to get Trail Canyon out of her system and we got to spend some quality time as a family even though it was at a crowded spot…
Visitor Comments:
Got something you'd like to share or say to keep the conversation going? Feel free to leave a comment below...
No users have replied to the content on this page