Day 1 (May 19, 2016 – Morgan Hill, California): "High Efficiency Road Tripping"
With Julie not feeling well, Mom stepped in and joined me on the first mother-son trip we've had in nearly 10 years. Indeed, it allowed a long-anticipated Northern California Waterfalling long weekend to happen though I knew it wouldn't quite be the same without Julie and Tahia on this trip. Anyways, given the uncertain state of affairs with Julie's health, nothing was booked until the very last minute so that meant that we'd be staying at a pretty dumpy motel somewhere in the Oroville vicinity on Friday and Saturday night (all the quality spots were either sold out or ridiculously expensive at over $300 per night). But other than that, we were successful in finding a place to stay on the first night in Morgan Hill, which was between San Jose and Gilroy. Having been on business trips to Silicon Valley in the past, I knew that San Jose traffic was nasty, and we wouldn't want to waste precious vacation time stuck in rush hour.
Well, the plan was to leave LA by 5am, but it wasn't until about 5:40am when Mom finally showed up. During this time as I was waiting for Mom to show up since 4:45am, I took the opportunity to cancel a booking at a place with bad TripAdvisor reviews in Yuba City called Lexington Inn & Suites and wound up booking a place directly in Oroville. The alternate spot (called Sunset Inn Lake Oroville) was also allegedly dumpy, and the combined room rate was another $100 more, but at least we wouldn't be wasting as much time driving.
So with that, we were off. As expected, there was some degree of rush hour traffic along the I-5, but thankfully, it wasn't too bad. It wouldn't be until another couple of hours later would we finally enter the Grapevine and Bakersfield vicinity, well beyond the rush hour of the LA basin.
At around 9:05am, we made a gas and quick brekkie stop at a Mickie D's somewhere between Bakersfield and Kettleman City. Right off the bat, our relatively clean and healthy diet was already going to hell. Anyways, we then resumed on the familiar featureless drive through the Central Valley along the I-5 until we'd ultimately arrive at the junction with the 152 near Los Banos.
Weather wise, it was pretty hot and sunny throughout the Central Valley. Given that, I didn't have high hopes going into this trip about any of the Bay Area waterfalls, but we were going to try for at least the Uvas Canyon Waterfalls as well as the Castle Rock Falls before continuing our journey further north towards Oroville, where the main prize was visiting Feather Falls.
However, the first thing we noticed while on the 152, we saw that the winds were quite strong and there were deep marine layer clouds seemingly coming from the west. I guess the strong winds was probably a result of the high temperature gradient between the hot Central Valley and the cool coastal area. Still, Mom and I were making such great time that we eventually got to the Holiday Inn Express at Morgan Hill (where we were staying for the night) at 10:50am. We were hoping for an early check-in so we could drop off our belongings before doing the hikes without providing any more temptations for a car break-in.
Unfortunately, none of the rooms were ready so we had to get right into our hike. And the first one of the day was at the Uvas Canyon County Park, which was said to be about a half-hour drive from Morgan Hill. So by 10:55am, we were back out on the road, and we followed Tennant Rd then Butterfield Rd, before getting to Uvas Rd, and finally the narrower Croy Rd.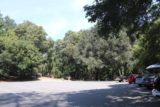 Once we got to the end of Croy Rd, we then had to pass through some private community called Sveadal (which sounded like something out of Norway; corroborated when I saw a sign saying something like "Trollbo"), and then once we got through that, we found the Uvas Canyon County Park. So after paying the machine-operated $6 vehicle fee, we then parked the car in the mostly empty lot at 11:25am and immediately laced up our hiking boots and got moving.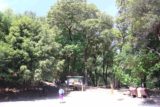 It was a good sign that we could hear a rushing creek as we got out of the car and headed to the restrooms. Then, we promptly went through a picnic area with lots of intersecting trails, which kind of made it a little confusing to us as we weren't quite sure whether we even got to the waterfall loop or not. Anyways, we were also trying to figure out if we should do the waterfall loop clockwise or counterclockwise. But that was a decision we ultimately punted for later.
As we walked past the picnic area, we saw there was a spur trail going up to our left for Alec Canyon. I took note that this might be an additional excursion to be doing after we're done with the waterfall loop as my research (and the map corroborated it) that there was a Triple Falls up there. Unfortunately, that waterfall seemed to be a little out of the way so we'd have to play that one by ear whether we'd have enough time for it or not (knowing that we also wanted to hike at Castle Rock State Park after doing this excursion).
Shortly after passing by the Alec Canyon spur, we saw further down to our right some small series of waterfalls. We saw that there was a trail that descended down towards a bridge fronting that waterfall, and as we got closer, we saw a sign saying it was called Granuja Falls. So Mom and I took a few minutes to photograph this falls before we resumed the hike further upstream along Swanson Creek.
After going by some attractive-looking (and signposted) live oak tree, we then went past a bridge before reaching a junction. We knew this junction was one end of the waterfall loop, and we decided to do this loop in a counterclockwise direction thinking that the right side was easier than hiking alongside (and possibly crossing) Swanson Creek. But as we continued along the trail to our right, we realized that the trail ascended as the ravine was deeper making the alternate trail appear lower the further we went.
The uphill hiking was kind of on the featureless side, and it was at that point that I regretted not starting with the lower creekside trail to the left first. Oh well, we made our decision, and we were now well into our ascent. Anyways at about 12:10pm, we ultimately reached a bridge with a small cascade next to it on our right. We then saw that there was a small trail of use to the left side of the bridge, and we decided to scramble alongside it.
Before we knew it, we found ourselves at what turned out to be Black Rock Falls (shortly after climbing past another smaller but attractive cascade). Mom went past the barricade and scrambled a bit closer to the small falls for a closer look. So we briefly checked out the falls, and then followed a more obvious trail to our right (as we went back downhill), which ultimately rejoined the main waterfall loop again.
We then continued going uphill and upstream when we then saw a pair of waterfalls to our left. As we got closer (at 12:25pm), we saw a sign identifying it as Upper Falls. We got closer to it, and realized that it was perhaps the most attractive of the falls we had seen in this park so far. So we lingered for a little while though the sun peeked through and shone right on the lower falls, which made the photos a bit less than ideal.
After having our fill of Upper Falls, we then continued walking upstream, and not long thereafter, we reached Basin Falls at 12:40pm. This was a pretty tiny waterfall compared to Upper Falls, and as Mom and I was busy checking out this falls, apparently there were mosquitos because I got a bite above my left eye plus I heard one high-pitched one buzz right by my left ear. So we hastily took our photos, then left.
As we headed back downstream, Mom wanted us to hike the part of the loop that went alongside the creek (the one we probably should've done at first on the way upstream). And as we did this, we were having a relaxing time briskly walking to the soothing sounds of Swanson Creek while still enjoying the shade from the tall trees around us.
At about 1pm, we reached a signposted waterfall called Little Falls. It was yet another example of why I regretted not doing the loop in a clockwise manner (as we could've checked out this falls while facing it on the way up). But anyways, we seized the moment and took photos of this falls before continuing towards the end of the waterfall loop right at the junction with the Alec Canyon Trail. The time was now 1:15pm.
It was getting late in the afternoon and Mom and I wavered as to whether we should do this side hike to Triple Falls or not. We still had Castle Rock State Park to do later today as well as checking into to our hotel plus having a quick lunch. Yet I also knew that we'd be facing Bay Area rush hour if we punted Castle Rock State Park for tomorrow morning. Nevertheless, Mom said that we were already here so we mind as well do this extra side hike, and so that was what we did. Sure enough, the Alec Canyon Trail was steeply uphill as the maps had indicated.
The uphill progress was slow thanks to the steepness of the trail, and it didn't take long before both Mom and I were a sweaty mess as the shade started to give way to exposure to the sun. At about 1:35pm, we reached some kind of partially obstructed lookout with a bench. I had thought this was the Manzanita Point (as indicated on the map), but it turned out to not be the case. Five minutes later, we then passed the Contour Trail Junction, where we saw the other end of this trail between Basin Falls and Upper Falls back at the Waterfall Loop.
Mom and I noticed at this lookout that the hills on the other side of Uvas Canyon as well as further down the canyon appeared to have shown signs of deforesting. It was a disturbing development, but we theorized that people with money from Silicon Valley must've bought up lots of land here, cleared it, then built McMansions. We even saw further up the hillsides even more cleared lands as well as other homes with large swaths of deforested areas. I guess this was a clear demonstration of perverse economic incentives in our economic system resulting in severe deterioration of Nature to the point where we'd run out of these things long term.
Shortly after this obstructed lookout, we then noticed that the trail had flattened out somewhat so our progress was a bit improved. We'd finally make it up to Manzanita Point at 1:45pm. While we were here, there was one lone older guy who caught up to us and was zipping by like he was on a mission. Clearly, Mom and I weren't the only ones on this trail.
After Manzanita Point, the trail actually started descending, which was worrisome since we knew we had to climb back out of this elevation loss after eventually visiting Triple Falls. Once we returned to the shade of the tree cover, we then encountered a signposted trail junction, where there was a seemingly dry creek adjacent to the Triple Falls Trail. We still had 0.2 miles to go, and so we hastily made our way up that trail to get to the falls as it was still getting late in the afternoon (dry waterfall or not).
At 2pm, we finally arrived at Triple Falls while passing by some interesting coastal redwood trees, which seemed to be even more abundant than around the Waterfall Loop we had done earlier. Fortunately for us, when we reached Triple Falls, there was some water in the falls, which meant that the dry parts of the creek really concealed the stream as debris was above the stream itself. But unfortunately, the water wasn't much. I guess this drainage received far less rainfall and springs than further down the hill. So the consensus between Mom and I was that Triple Falls wasn't really worth it, and perhaps that was why we didn't really see this waterfall in the literature.
Now that we had our fill of Triple Falls, we headed back to the car park. And since most of the hike was downhill (except for that initial uphill in the sun), we quickly made it back there by 2:40pm (passed once again by the lone hiker we had seen earlier). There was still one more waterfall to visit at the Lower Falls (which Ann Marie Brown called Uvas Falls in her book
), so I was determined to at least do that one before finally leaving Uvas Canyon County Park. So after Mom took a potty break at the restroom near the car park, we then descended past the picnic area, and then we found a sign fronting a narrow trail dropping back down towards Swanson Creek.
Once we got to the creek, we walked downstream, where we then followed a narrow trail that went around a large rocky cliff or rock formation before dropping down towards the base of a waterfall that turned out to be the Lower Falls. This wasn't a tall waterfall, but it was nice compared to some of the other falls we saw on the Waterfalls Loop. It was flanked by some impressive cliffs, and both Mom and I had this falls to ourselves so it was nice and pleasant.
Once we had our fill of this falls, we then quickly went back up to the car park, and we'd get there at 3:05pm. Once we got back up there, we startled a couple of deer, which sensed our presence and pranced their way around the car park before disappearing into the bush up the hill. There appeared to be quite a few more cars in the parking lot at this time, which made me wonder if people started to get off work or something then came here.
As we drove off, we decided to try a different road to get back to the Holiday Inn Express in Morgan Hill. It turned out that we probably should've taken the original way as we were driving some narrower and twistier roads through some ranch lands (including one ranch where there appeared to be a wedding going on). So now we know. By about 3:40pm, we finally made it back to our accommodation, where we promptly checked in and then drove off 15 minutes later as we went looking for the recommended Beach Hut Deli for a quick takeaway lunch.
We'd finally get to the Beach Hut Deli at 4:05pm, and then 10 minutes later, we finally returned to the car with our takeaway food. Finally, we could drive off in search of Castle Rock State Park, but indeed it was getting late in the day, and I was getting nervous about not being able to do it on this day let alone on this trip.
Luckily for us, the traffic on the 101 freeway was mostly going south. Heading north, it was pretty smooth going. Then, when we hit the 85 going west, it was also relatively smooth. So we were making good progress as we then took the Hwy 17 due south past Los Gatos and into the Santa Cruz Mountains. Once we eventually got off at the Montevina Rd off-ramp, we then drove north along the freeway towards Black Road. We then headed west on Black Road and things were going pretty smoothly until we were stopped by some power pole workers who said the road was closed and that we had to take Gist Road in order to continue past this point.
They said that there was a fallen tree or something, and that our late start was now going to be even later thanks to this detour. So immediately, we backtracked and drove some 1.3 twisty miles before turning right onto the single-laned Gist Road. Since there was traffic going in both directions, we had to be very careful when passing by cars going in the other direction. There was one car in front of us who was kind of a pathfinder.
Eventually, we'd be done with Gist Road and finally onto the Skyline Blvd. At that point, we continued driving north along Skyline Blvd until we finally arrived at the entrance gate and car park for Castle Rock State Park at 5:15pm. Seeing that the park was said to close at sunset, Mom ensured that we wouldn't be locked in the day use car park area by parking just outside the gates like what many other people seemed to have done as well. Anyways, contrasting with the weather back at Uvas Canyon, where it was more like in the 70s, here at Castle Rock, the temperatures was more like in the 50s. So it was quite chilly, and the marine layer was apparently taking over as well as the sun was starting to become even more blocked out.
With daylight fading fast, Mom and I immediately made our hasty hike downhill in pursuit of Castle Rock Falls. Of course as we were racing against the daylight (and dinner at a reasonable hour), we were also delayed by stopping for the scenic coastal redwood trees that were all over this trail. I'm sure under less hasty conditions, this would be quite the scenic hike to enjoy. Anyhow, onwards we marched as the trail was going downhill until at 5:35pm, we'd eventually reach the overlook for Castle Rock Falls.
The viewpoint up here was a bit on the disappointing side since looking down at waterfalls from its top typically was not a very fulfilling experience. We did notice some faint trails of use traversing the creek responsible for Castle Rock Falls and going up the other side perhaps in pursuit of a better view of the waterfall. But it was all unofficial, and given how late in the day it was getting, I decided to appeal to my better judgement and skip out on trying to improve the view of this waterfall.
So now Mom and I hiked back the way we came, which was mostly uphill. Having seen some signposted trail junctions for Castle Rock, we decided that on the way back, we mind as well make a detour to see what this Castle Rock was all about. We had seen glimpses of some interesting sandstone rocks with hotpoles and mini-arches in them, and so we were curious whether the namesake rock might be worthy of having a state park named after it.
The detour trail seemed like it took some time, and we wondered if 0.3 miles (as stated in the signpost) was really shortchanging the actual distance. But eventually at 6:25pm, we'd finally arrived at the Castle Rock. There was one barefoot hiker who was rock climbing some of the other rocks here, but it was he who pointed us the way to the main Castle Rock itself, and boy was it pretty impressive.
Indeed, this rock was full of interesting arches and holes, and it made Mom and I wonder how the sandstone became this way. As we walked around this imposing rock formation, we saw on the windward side that there was a tongue-looking pedestal as well as a little alcove with very interesting science-fiction alien-like patterns on the alcove walls. Indeed, this wall kind of reminded me of something I might have recalled seeing while playing the game System Shock
on the PC many years ago. Mom and I theorized that such patterns must have been a result of the fact that this area might have been under water millions of years ago. Otherwise, we couldn't figure out how such strange alien-like patterns could be possible.
After having our fill of Castle Rock, we then hastily walked back to the car park. And we'd eventually get there at 6:45pm. As we drove back along Skyline Blvd, we saw that Black Road was still closed so we had to go back down via Gist Road again. But unlike on the way up, there was much less traffic on the way back down. And so once we were back on Black Road, then on the Hwy 17 headed back to Los Gatos, we'd finally be in town at around 7:15pm.
Our first choice for having dinner was some kind of cafe that rated #1 on Yelp for Los Gatos, but that place was closed as it wasn't a dinner spot. So we eventually walked all the way to this place called the Forbes Hill Steakhouse. And after entering the restaurant, it was clear that we were way underdressed for this place. But in any case, it was a Thursday night, and we were hungry.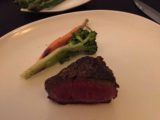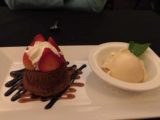 So we had ourselves a steak dinner split between us as well as an assortment of appetizers (foie gras, seared tuna, scallops, and some kind of mushroom ravioli. The dessert was a classic chocolate cake with ice cream. Anyways, the dinner was satisfying though I'm sure we both spiked up our sugar and carbohydrate intake in this one meal. Plus, the cost of the dinner was around $150, which was way above the budget I was expecting to spend for dinner.
Still, Mom was not used to having this kind of food, and she seemed to enjoy herself. It wouldn't be until around 8:50pm that we were finally done with the dinner and then back in the car. And at 9:25pm, we finally made it back to the Holiday Inn Express at Morgan Hill. With this long day finally over (that started with a 4:30am wake-up), both of us were beat and crashed in our rooms after having taken a shower and tending to our oral hygienes.
Tomorrow, we were going for another long drive as we'd leave the Bay Area and head north towards Oroville with some stopovers at a few waterfalls, including a real out-of-the-way one at Grouse Falls…
Visitor Comments:
Got something you'd like to share or say to keep the conversation going? Feel free to leave a comment below...
No users have replied to the content on this page