Day 2 (May 20, 2016 – Oroville, California): "Snow Dramas"
It was about 5:40am when I awoke. I had my alarm set at around 5am, but clearly I had overslept. I guess I was really beat from the long day of driving and hiking yesterday. In any case, Mom was already ready to go, and so I quickly got my stuff together while freshening up for the day. It didn't take long before we loaded up Mom's car and then we promptly got right to the atrium to have breakfast right when they were open at 6am.
The brekkie was the typical Holiday Inn Express fare with fruits like bananas, apples, and oranges, as well as some oatmeal, cinnamon rolls (hot), danishes, bacon, eggs, and pancakes. It was stuff to hold us over, but I'm sure it would be terrifying in terms of the carb- and sugar-free diet that Julie and I had been committing to in order to heal our guts.
Nevertheless, it was about 6:30am when we checked out and left Morgan Hill bound for Oroville, where we were going to spend tonight and tomorrow night. As expected, the traffic going north on the 101 Freeway was a little on the heavy side, and so I knew we made the right decision in not punting Castle Rock Falls for today and fitting that excursion in yesterday. So we promptly drove east of downtown San Jose then in the general direction of Pleasanton then Stockton as we were headed towards Sacramento.
Unlike yesterday, the skies were very overcast, and it looked like it was threatening to rain. Having not looked at the forecast when we did this last minute trip (assuming that this weekend would be as dry as the rest of the California Spring we've been having), I didn't expect to be hiking in the rain. Anyways, once we went through Sacramento, we then continued driving in the northeast direction towards Auburn. Once there, we then got off the I-80, filled up on gas, and drove onto Foresthill Road where the weather was already starting to sprinkle. I figured that would be a worrying development considering that we were pursuing a pretty remote waterfall called Grouse Falls, which involved driving on some unpaved roads as well as climbing up to a higher elevation, where it might be possible we'd be encountering snow.
When I was trip planning, I thought this waterfall was way out of the way and would take a very long time to reach and experience perhaps due to bad roads, but it turned out that the Foresthill Road was pretty smooth going as it was completely paved, and it had nice scenic views in the direction of the Middle Fork American River. Mom wanted me to stop and take some pictures of the canyon, but I knew that with the weather threatening the way it was, we had to get to the falls first before heading back and only then considering additional stops for photos.
Eventually as we drove some 16 miles into the community of Foresthill, the GPS then had us turn right onto Mosquito Ridge Road, which was a narrower but paved and quite scenic road twisting its way deeper into the Tahoe National Forest. While on Mosquito Ridge Road, we were driving some 19 miles, and it seemed like we were the only ones on this road. Our loneliness was broken up by a car going the other way deep along Mosquito Ridge Road. He flashed his blinkers and high beam to try to get us to stop and talk to him. When we obliged, he asked us about some dam that we had never heard of. We told him of our intentions to visit a waterfall and knew nothing about the dam, then he also said he was running out of gas, which reminded us that we were wise to have filled up on gas before even taking on this drive. So aside from that little exchange, Mom and I continued on the drive without anyone else in sight.
To break up the long drive, fortunately, I was getting reception for the Jim Rome Show (probably from CBS Sports Radio in Sacramento), but eventually we were so far away from civilization that I was getting nothing but static (and hence the "thefty" Mickelson take at the time) as we were about to leave Mosquito Ridge Road for Peavine Road.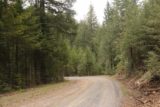 Once we got onto Peavine Road (where a signpost notified us to go left for Grouse Falls), the road became unpaved, but it was a wide gravel road. At first we didn't think it was the right road because it wasn't explicitly signed for Peavine Road, but after going back and forth once, we decided to just pursue this road and it turned out to be the right decision after seeing yet another sign for Grouse Falls. This time, the sign had us turn left onto a more dirt road that was still well used but it did give me some concern about mud if it would be raining hard. Fortunately, this road was only this way for the last half-mile.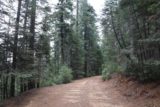 Mom's thermometer in the car said it was in the high 30s and low 40s F, and so instead of rain, we were getting hail. Eventually at 10:35am, we finally made it to the trailhead for Grouse Falls. Mom and I were a little worried about hiking in both rain and hail, but the weather appeared to have calmed down by the time we got to the trailhead. We both donned a jacket as well as some rain gear just in case.
Next, we walked on a pretty obvious trail that snaked its way amongst some impressive tall pine trees as well as perhaps a sequoia or two. The hike was mostly downhill and we knew that we'd have to get back this elevation loss on the way back. Still, we hastily continued our hiking as we were looking to experience this falls then head back to Auburn for lunch.
Eventually at around 11am, we eventually arrived at the lookout platform, where the tall trees opened up and allowed us to get a distant view of the impressive Grouse Falls. We didn't have measuring equipment to tell exactly how tall this waterfall was, but we've seen figures on the order of 500ft or so. But since we were far away from it, we couldn't really get a real impactful sense of its size.
It didn't look like there was a sanctioned way to get closer to the falls for a more intimate experience, and so we basked in the overlook experience for as much as we could before having our fill and returning back uphill to the trailhead. Mom had this idea that we should have a picnic here, but given the threatening weather and the plunging temperatures, we thought better of it and headed back a few minutes after taking our photos and videos.
As we were hiking back uphill through the grove of tall pines and redwoods, it started hailing again. In fact, it hailed heavily enough that we were starting to see some ice accumulation on the trail (at least enough to present some white against the brown surface of the trail). Mom and I were preoccupied with looking at the pebble-sized hail stones before continuing our hike and arriving back at our parked car at 11:30am.
Just when we returned, there was a pick-up truck that had just showed up with a couple. Once again, we weren't alone. This couple said that they chanced upon this waterfall after having visited some other thing nearby. They did mention there was some grove of sequoia trees not too far from here, but without a map marking its location, we couldn't really trust the verbal instructions given that there were all sorts of intersecting roads, and this was certainly not the place to get lost with a looming storm. When we parted ways the guy kept saying to us not to tell anyone else about this place! I guess this area was one of the better kept secrets in California…
So after a brief futile search for the redwoods after driving off from Grouse Falls, we'd eventually be back on the Mosquito Ridge Road headed back to Foresthill. And it wouldn't be until about 1:10pm when we finally got to a lunch spot in the town of Auburn at this hole-in-the-wall called the Flaming Burrito. The food turned out to be pretty filling yet delicious as both Mom and I split a grilled fish taco along with a very satisfying and tasty carnitas burrito. They also had a fresh chips and salsa bar, which really filled us up.
When we left the place, we were given a warm good-bye from not only the friendly lady cashier, but we also got smiles from the Latino cook, who we suspect must be the owner. Indeed, when you get authentic Mexican food from the heart, you almost always get a positive experience.
So it was about 1:40pm when we were back in the car. The skies were now partly cloudy and the sun was definitely out. The temperature in Auburn was definitely much warmer than Foresthill as the temps were more like in the 60s and 70s instead of the low 40s. And since we still had a whole afternoon left before arriving in Oroville, we figured that we mind as well try for a quick waterfall along the I-80 called Devil's Falls. After all, the more waterfalls we experience on this trip, the fewer waterfalls we'd need to experience on future trips to this part of California (that we never really had surveyed before).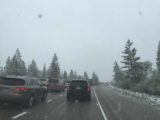 So we continued driving northeast along the I-80, which was surprisingly heavily trafficked with not only trucks but also other passenger vehicles that appeared to be weekending in North Lake Tahoe or Reno or something. We didn't intend to go that far, but we could see that the interstate was climbing quite a bit. Anyways, the weather started to go from sunny to sunny with hail. Then, as we went further up the interstate, the hail became more persistent and we even started to see some accumulations of ice off the side of the road.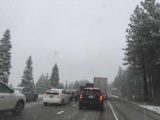 According to our GPS, we only had around 5-6 miles to go, but soon the weather continued to deteriorate from hail to heavy snow flurries. Now, things were getting serious, and it eventually got to the point that the traffic stopped completely. Seeing that the road was starting to accumulate snow and that we weren't prepared for the snow (i.e. no snow chains), we got off the nearest exit we could find so we could turn around and go back southwest along the I-80 to go back down the mountain.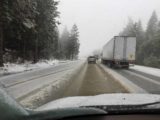 It turned out that the exit we took was exit 155, and the road was already covered in a little snow. So it was a good thing that we were turning around at this point. However, when we got onto the on-ramp to go west and south on the I-80, we had lost traction with the road and started to slide sideways. Luckily, no other cars were around us, and when we finally regained our traction, we then slowly got back onto the I-80 and now left a lot of space between the car in front of us and ourselves.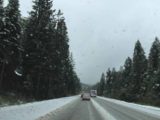 Just like our surprise snow experience near Kitchen Creek Falls east of San Diego some 8 years ago, I knew that I had to tread that fine balance between keeping the distance while not stopping. I knew that if we stopped, we might lose traction with the road in getting started again. It was a bit unnerving driving with this much snow without chains, but we were making good and slow but steady progress.
Eventually, we were at low enough elevation that the snow eventually became rain and the pavement from the I-80 could be seen again. So with our plans for Devil's Falls nixed, we next pursued Rush Creek Falls, which was another waterfall we targeted on visiting before continuing on to Oroville. So we'd eventually leave the I-80 and drive onto the Hwy 174 where the weather was now a pretty persistent rain.
Once we got through the busy Grass Valley town, we then drove northeast along the Hwy 20 before finally heading west on the Hwy 49. I wondered why we couldn't drive the Hwy 49 from the I-80 originally, but then I realized that the Hwy 49 was where Devil's Falls was, and we never made it that far thanks to the snow.
So it wasn't until about 3:35pm when we finally found the South Yuba Independence Trailhead, which was essentially a large paved pullout with at least three handicapped spots. Mom and I were a little nervous about break-ins since the trailhead parking was so close to the busy Hwy 49, but we donned our rain gear and promptly got started as the weather was still raining at first before the rain started letting up and became more overcast skies.
At the trailhead, we took our much needed bathroom breaks, and then we had to decide on which trail to pursue. Apparently, there was an Independence Trail West and an Independence Trail East. Upon studying the signage a bit more, we saw that Rush Creek was on the Independence Trail West, but the East Trail had an arch rock. So I made a mental note to come back here and walk part of that other trail just to check out that arch. After all, I didn't expect this hiking excursion to take that much time.
With the foliage dripping with moisture and the trail muddy with puddles (and many of these red-colored lizards or salamanders scurrying across the trail in many spots), this hiking experience reminded me of Oregon. Speaking of the trail, it was interesting in that it was often split between an upper and lower section. Since this was supposed to be a handicap-friendly trail (perhaps that's why it was called the "Independence Trail"), the lower trail was wider and more wheelchair friendly while the upper trail was for those who could walk.
There was a trail junction along the way, where a sign indicated that it headed towards the Jones Bar Road. Since I knew that this trail was supposed to be wheelchair-friendly, we kept going on the main trail, but the map showed that this spur trail descended towards Rush Creek, and it made me wonder whether the waterfalls would be down there.
Nevertheless, we stuck to our guns and kept at the main trail. Mom and I remained vigilant about accidentally trampling those red lizards or salamanders as they were abundant, especially where there were puddles from the rain. But after about an hour on the trail, we reached this real interesting section where there appeared to be a long curvy bridge with open-air bars lined overhead. It was kind of like the line of red torii in Kyoto, Japan, except what we saw in this apparent "flume" section was mostly wood. There were plenty of signs expressly prohibiting smoking for obvious reasons.
Mom and I were busy trying to see if we could get better views of the cascades on Rush Creek seen downstream from the flume. But while there were more impressive tiers, we never really got a clean look thanks to all the overgrowth. Now there was also another section of the flume that zig-zagged down to the banks of Rush Creek, but there were a few wooden planks nailed in I guess to prevent access.
Mom and I weren't sure why this part was closed, but there was enough space beneath the planks to crawl underneath and then check out the rest of the flume. And it was a good thing we rebelled in this way because it turned out that we were able to get an attractive look at one of the topmost tiers of Rush Creek Falls, and it was the only spot on the creek where we had a satisfying view of any of its cascades.
So we enjoyed this waterfall for a bit before having our fill, and then we returned to the main trail shortly after 4:40pm. Thinking that the rest of the Independence Trail would be flat and easy, I decided that perhaps we should continue the loop trail. We had anticipated the hiking to be on the order of 2 miles round trip, and perhaps the completion of this loop would make the 2 miles.
But as we continued our hike, the more we started to realize that perhaps completing the loop hike was a mistake. For it was now getting closer to 5pm and it seemed like there was no sign of the Jones Bar Road at the other end of the loop. In fact, it wasn't until 5:25pm when we were finally at the Jones Bar Road, which was a seemingly unused unpaved road.
And as Mom and I followed the Jones Bar Road back towards Rush Creek, we noticed that the road was descending. We'd eventually make it all the way towards where Rush Creek joined up with the South Yuba River, where there was a bridge over Rush Creek. And down at this bridge, there was indeed no waterfall, and so completing this loop was indeed a mistake as we had surmised earlier on. So our anticipated two-mile round trip hike was now probably more on the order of 5 miles!
Anyways, beyond the bridge over Rush Creek, we saw the steep uphill trail returning us to the Independence Trail. Both Mom and I were huffing and puffing as the ascent was taxing. And it wouldn't be until about 6pm when we finally regained the Independence Trail (probably about an hour behind schedule at this point). Five minutes later, we were back at the trailhead, where thankfully, our vehicle wasn't broken into. However, there was another van parked here so apparently we weren't alone on this trail.
Even though it was now pretty late in the day and no matter where we would eat dinner, it would be during the busiest time, I was still determined to check out the arch rock before heading back to Grass Valley for a bite. So we hastily made our way onto the Independence Trail East, where we probably walked a good 1/2-mile or more passing by a very scenic bridge with a view down towards the South Yuba River with rapids and cascades loudly crashing below. And then a few minutes after this scenic stretch, that was when we finally saw the Arch Rock at 6:20pm.
It was a small rock that could be argued that it was more of some rocks stacked onto each other forming the "arch", but it was still interesting nonetheless. The weather at this point was now partly cloudy as the sun was poking itself through the clouds. And after having our fill of the Arch Rock, we then were back at the trailhead at 6:40pm. There was one young lady walking her dog along this trail so perhaps that van belonged to her.
Once we were back in the car, we now had to negotiate a tricky re-entry onto the high-speed Hwy 49 as there was a blind turn near the trailhead. So I kept the windows down listening for any oncoming traffic before quickly speeding onto the Hwy 49. And once we were on the highway, we were then promptly in Grass Valley at 7:10pm. After seeing some Yelp reviews, we decided to eat at this place called Cirino's, which was an Italian restaurant.
The walk to the restaurant was interesting in that Grass Valley seemed like a historical town with some interesting architecture reminiscent of the 19th century or something. I'm sure this could've been a pretty neat place to stay and check out despite the cold weather and threatening rain. But since we still had to drive up to Oroville, we were here for dinner, and then promptly leave thereafter.
We had to wait for a bit before being seated and served, and we really weren't sure what we should be ordering here. But we ultimately got samples of their Bloody Mary (which was like a V8 with some alcohol) as well as some Bloody Mary slider, some Moroccan chicken salad, and some kind of interesting prosciutto-wrapped grilled prawns. The food was good and we didn't really overeat though I somehow got the feeling that we didn't really get anything they were famous for since we knew there were pretty large portions here.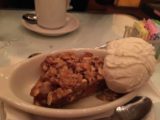 At 8:30pm, we were back in the car. The temperature was now 44F and it was quite cold as we started to drive off. As we got onto the Hwy 20, the sun was setting and we were pretty much driving in darkness. It took some time before we then drove north on the Hwy 70, which was a pretty straight shot road. And ultimately by 9:30pm, we arrived at our sleepeazy in Oroville called the Sunset Inn Lake Oroville.
Beggars can't be choosers with last-minute bookings like this (especially on a Friday and Saturday night), and so we wound up with a smoking room (it definitely reeked of smoke) with a broken toilet seat cover and plenty of stains in the bathroom and the sink area. There were even cigarette holes in the sheets and the nasty duvet cover.
Indeed, this place was a sleepeazy (which was our code for "sleazy" borrowed from the Simpsons), and we'd have to put up with it for the next two nights. But given that we'd be out for most of the day tomorrow as well, we figured that it was a small price to pay for at least having a roof over our heads as well as a hot shower. Tomorrow was the big hike to Feather Falls, but the weather forecast didn't look good as it was forecasted to rain all day tomorrow. Yikes!
Anyways, for better or for worse, we were doing this hike no matter what. So we mind as well get our rest and see what happens when tomorrow comes…
Visitor Comments:
Got something you'd like to share or say to keep the conversation going? Feel free to leave a comment below...
No users have replied to the content on this page