Day 3 (May 21, 2016 – Oroville, California): "Doing it the Right Way"
It was 5am when Mom and I awoke. Having seen the forecast from last night, our mentality was that we were racing against the rain. When we looked out the window, it was still dark, but the ground didn't look wet so we knew it hadn't rained yet. And when Mom looked at the forecast on her phone, apparently, it was supposed to rain at around 11am today, which suggested that if we didn't want a soggy hike, we had better get started as early as possible.
So by 5:40am, we were already freshened up and got dressed for our hike. Bringing along our rain gear and our waters, we were mentally ready for our 9-mile hike rain or shine. After grabbing a quick breakfast to go from the nearby McDonalds, we then drove on Lumpkin Road towards the Feather Falls Trailhead.
As the daylight started to break through the darkness, Mom and I could clearly see that it was very overcast, and that the clouds in the direction of the mountains looked pretty dark. It was already starting to sprinkle a little as we were further along Lumpkin Road.
Speaking of the road, it was all paved though it was surprisingly narrow for a two-lane road that was said to be very popular. It was a good thing we spent the night in Oroville instead of Yuba City (over an hour away) because the drive seemed to have taken longer than expected. In fact, it wasn't until about 6:40am when we finally made it to the mostly empty Feather Falls Trailhead. The only people that we were already here were folks who saved money by camping in the cold weather.
At 6:50am, Mom and I got started on the hike. The ground here at the trailhead was wet so indeed it looked like the rain definitely had hit this area. We signed in the trailhead register, and I noticed that some of the previous entries said something to the effect of "Don't do it!" I wasn't sure if they were joking or if they really meant it, but I suspected the 8-9 miles we were signing up for had something to do with it. Anyways, as we were hiking, the weather pretty much vacillated between sprinkling and overcast skies. The weather was also quite cold (in the high 40s and low 50s) so there was also quite a bit of low clouds creating a misty foggy effect.
About 15 minutes into the trail, we reached a junction. A sign at this junction said the falls was 3.3 miles away if we went left, while an adjacent sign said the falls was 4.5 miles if we went right. Recalling from a write-up of this hike from Leon Turnbull, we knew we were better off going right. Little would we realize just how much of a wise move this would be.
Anyways, most of the initial part of this hike was either flat or gently downhill amongst a dense grove of tall pine trees and oaks or other cold weather trees. This scenery persisted for the next 30 minutes or so as within the grove of trees, it was still dark enough for my camera to require me to hold still to take photos even though our eyes could clearly see that it was definitely daylight.
At 7:35am, we then got to a bridge over a rushing creek with a nice cascade just upstream of it. A sign here said it was Frey Creek, and there was an interpretive sign saying something about a riparian environment. Anyways, the attractive shape of the falls was reminiscent of something we might have seen in Tennessee at Bald River Falls without the fall colors. In fact, on its own merit, this falls could've easily been an attraction on its own.
Still, we had bigger fish to fry so to speak, and so we continued on with our hike. Beyond Frey Creek, the trail definitely started to climb. It was the first uphill stretch we encountered on this trail, but at least this climb wasn't terribly steep. It was just somewhat of a steady climb before the scenery started to open up a bit and we could see patches of low clouds hovering just above the thicket of trees all around us.
At 8am, the uphill stretch of trail peaked at a lookout for the Bald Rock Dome, which was way in the distance. There was also some waterfall also in the distance near that one as well. I knew that wasn't Curtain Falls as that other waterfall was on the Middle Fork Feather River. I wasn't sure what that other waterfall's name was. In any case, the presence of this dome kind of brought us back to the kind of granite scenery more typically seen in Yosemite National Park. In fact, the interpretive sign here said that it was similar in geology to that of Half Dome.
Beyond this lookout, the trail was pretty much flat to slightly downhill again, but the density of trees was less so we could always look in the distance towards the contour of the canyon carved out by the Middle Fork Feather River. This stretch of trail persisted for the next 45 minutes or so, and though Mom and I pretty much had this trail to ourselves, there was a young Indian couple that passed us at 8:45am.
Five minutes after they passed us, we then got to another trail junction with a signpost labeled "Falls" pointing to our right. There was also a path going left, but since there was no signage in that direction, I figured that was the continuation of the loop hike but headed back to the Feather Falls Trailhead. So we followed the sign and promptly went uphill on a couple of long switchbacks before the trail straightened out while continuing its uphill climb.
The surprising thing about this part of the trail was that it looked like it was paved (or at least paved at some point in its past). We couldn't imagine why a trail like this would be paved, but perhaps they didn't want overgrowth to take over or something with the pavement. Anyways, at about 9am, the climb peaked again, and we found ourselves at the Middle Fork Feather River Lookout, where there was a railing and a bench along with signage.
We could clearly see the river further downstream, and we could also hear the faint clashing of water of what clearly must be Feather Falls. Indeed, we must've been very close. As we were busy taking photos of the river from this overlook while also seeing the clouds move in and out of view, I couldn't help but notice how clear Mom's photos were as they were taken from her iPhone 6
. It made me wonder if the quality of the Canon EOS 70D camera
just wasn't as clear nor as good as the iPhone, and it certainly made me wonder if I had made a mistake going from the Canon EOS 7D camera
to this 70D model.
Anyways, after getting our fill of this overlook with the nice view, we then followed the railings and continued to get closer to Feather Falls. As we continued on the hike, we could start to see parts of Feather Falls through the thick foliage. There wasn't a clean view of the falls so we knew that we had to keep going.
Eventually, we'd reach a sign that pointed to the left and down for "Overlook", while there appeared to be remnants of steps to our right. We figured that the other trail must be for the top of Feather Falls and perhaps beyond.
Anyways, continuing with the descent to the overlook, the views of Feather Falls continued to be obstructed by all the neighboring bush and trees, but the falls was definitely very loud and it just hastened our pace to keep going. Eventually at 9:15am, we descended the last stairs before reaching the dead-end of the trail right at the overlook. The platform smelled like new wood or something as its aroma was intoxicating. Still, to the right, we could get a clean top down frontal view of the impressive Feather Falls. We were also able to look downstream at the Middle Fork Feather River (though Feather Falls was technically on the Falls River) as well as some imposing rocks and cliff formations almost next to the overlook that appeared to be perched atop some rock spire or something.
Just looking down from the overlook platform was enough to induce butterflies. And so Mom and I spent a good deal of time taking photos and just enjoying the place. It still hadn't rained as the forecast had predicted, and in fact, there was even a little sun breaking through.
When we arrived at the overlook, the Indian couple that caught up to us were still at the overlook, and after spending a good 30 minutes enjoying this spot, we left the overlook while they were still there. Mom suspected that these folks were probably waiting us out so the guy can propose or something. At least that was her theory.
So as we climbed back up to the "Overlook" sign, we then took the continuation of the steps to our left and followed a more overgrown trail as it skirted the ravine near the head of the canyon responsible for Feather Falls. We were trying to be very careful about limiting our exposure to poison oak due to all this overgrowth. And eventually, we were at a point where we saw some trails of use (i.e. informal "trails") descending steeply towards the banks of the Falls River.
At first, there really wasn't a whole lot of things to see up here besides the river itself. And we suspected that people would probably chill out here under lower flow and hotter weather to go for a swim or a dip here (without getting swept up in the current). But the unsatisfying experience from a scenic standpoint made me wonder if it was possible to scramble closer to the brink of Feather Falls. After all, from the main overlook, I had seen some fencing right by the brink of the falls.
So after spending a few minutes looking for a way to the top, it was clear that none of the trails in the bush appeared to go where we needed. And so we eventually rock scrambled our way closer to the falls, and then we got to a spot where I was able to crawl through an "arch", which was really more like a huge rock stacked on top of two other rocks leaving the gap that was just big enough for me to crawl through.
Once I got to the other side of the arch at 10:10am, there was a small bit of scrambling to get right up to the fencing by the brink of Feather Falls. It was difficult to get a clean view of the waterfall from up here, and I could see why people would be tempted to take risks to get a closer look. There was even a sign here saying some guy died from this spot.
But perhaps what was even more surprising to me was that there was a plaque above the crawlway saying something about "Cooper Point in memory of Dr O.O. Cooper". And as I examined the area even further, it looked like there was some remnants of supports for what might have been a former overlook here. Perhaps this spot was a sanctioned trail and lookout, but then it might have been washed away in a flood or something in high flow. And so what's left now is only for those willing to do a little adventuring to find out about this spot.
Now while I was up here checking out the falls, I was able to look right across the deep ravine towards the overlook we were at earlier. The Indian couple was still there, and I wondered if they were able to see me from their vantage point.
Anyways, with nothing else left to do or see at this point, we scrambled back onto the spur trail, and by 10:40am, we were back at the main trail near the "Overlook" sign again. When we regained the main trail, we saw the Indian couple in front of us though they were faster hikers so they eventually left us in the dust. But when we got back to the Middle Fork Feather River Overlook, we encountered a handful of more hikers about to go to the end of the trail.
And after getting our last fill of this overlook (where we noticed there was a boat in a calm part of the Middle Fork Feather River), we were now headed downhill along the paved part where we encountered even more hikers going the other way. Clearly, our early start afforded us some peace and quiet, and now we figured that the overlook would probably be a bit more crowded as time would go by and we'd be seeing even more people going the other way.
By 10:50am, we made it back to the "Falls" sign, and now we continued our anticlockwise loop hike as we were now on the lower part of the loop. The trail continued to descend fairly moderately, and we were certainly glad that we went in this direction because as we were seeing other hikers going the other way, we could clearly see a lot more heavy breathing from the apparent prolonged uphill of hiking they had to do.
This lower loop trail was pretty much a continuous mix of dense forest with even denser gullies to skirt in and out of, where the overgrowth seemed to be the most intense. These stretches of overgrowth and moisture were also where we spotted a bit more of those red lizards or salamanders that we had seen so much of on the South Yuba Independence Trails yesterday afternoon.
The trail would eventually bottom out before undulating for a bit as we briefly climbed towards a lower lookout of the Bald Rock Dome (getting here at 11:15am). The signage here was the same as the one from above, and it was clear to us that the photo on that sign was taken from this spot since it seemed to have a cleaner view.
The trail then continued to climb beyond this point as it made its way up towards Frey Creek. And when we got to another bridge over Frey Creek at 11:50am, we could clearly see that there was no waterfall. However, there were benches, and just merely walking alongside the stream was relaxing. But other than that, this stretch of trail had been more featureless than what we had encountered on the longer part of this loop further uphill.
Beyond the Frey Creek Lower Bridge, now the trail went up a series of switchbacks. We knew that with all the elevation loss we had benefitted from for most of this hike, we had to get it all back sooner or later, and the pain was now, pretty much towards the end of the trail. So both Mom and I were breathing heavy as we slowly made our ascent while still more people were making their descent.
At about 12:20pm, we arrived at some interpretive sign covering the Maidu Indian Native Foods Prep site, which was really a jumble of big boulders in somewhat of a clearing surrounded by tall trees. We'd eventually catch up to the Indian couple again shortly after this spot as apparently the female was catching her breath from the long hike. They'd eventually pass us once again not far from the original trail junction at about 12:25pm.
A few minutes later, we finally returned to the familiar car park at 12:35pm. There were yet more hikers starting their hike at this time, but they wondered whether they should be going left or right. And based on our experience, we advocated going right even though it was longer than the left from a distance standpoint. But seeing how much the other hikers were suffering from going the left way, we were certain that we did this right.
Anyways, we were surprised to see just how full the Feather Falls lot was. And unlike the weather forecast we had seen earlier this morning, there was quite a bit more sun and blue skies now. So clearly, the forecast from this morning was wrong. But our early start was warranted given that some people even had to makeshift park further down the road as the main parking spots were pretty much all filled up.
The drive back to Oroville took a bit of time as I was getting a little sleepy behind the wheel. And thankfully, we'd be back in the town at around 1:40pm or so. Since Mom was hungry, we went looking for a lunch spot, but the top eatery here was some Greek place that was right across the street from the Sunset Inn that we stayed at. Unfortuantely, that place was closed. And then the second place we went to was also closed (called Jenn's Cafe). Mom was willing to settle for the Appleby's, but I stuck to my guns and went to the nearby Italian Kitchen for a sandwich or wraps and a salad.
So at 2pm, we finally had our lunch, and 30 minutes later, we returned to our sleepeazy. While I was tempted to try to fit in another hiking excursion on this day given how early we had returned to Oroville, I decided that we were better off just resting up and relaxing for the first time on this trip. Mom was relieved that we wouldn't be doing any more hiking anyways since her knees were getting sore from all the hiking of this weekend so far.
We spent the next couple of hours napping and forgetting how dumpy our room was.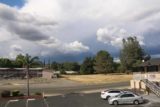 At 5pm, we were finally leaving for an early dinner. As we went outside, we could see there were some menacing dark clouds in the direction of the mountains. Perhaps it was snowing again or something up in Reno and Lake Tahoe, but it wasn't really raining at all (plus there was quite a bit of sun and blue skies in town). So perhaps our decision to take it easy this afternoon was wise.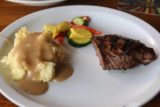 We went deeper into the historic part of Oroville, which had some interesting architecture in that it reminded us of something that might come out of the 19th century during the gold rush days. In fact, Oroville might have been a mix of Spanish (oro is gold in Spanish) appended with "ville". We were looking for this place called Miner's Alley Pub seeing that there didn't seem to be that much of a foodie selection in town anyways and perhaps this was the best one open at the time.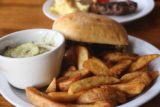 But there were quite a few rif raf loitering about in some of the closed parking lots, and there were even some hispanic gangsters both around the Sunset Inn as well as some parts of the historic downtown area. So I guess we weren't in exactly the nice part of town. Still, once we finally found the pub, we got ourselves some of their rosemary fries, an average steak dinner, a decent pulled pork sandwich, and some "evil brownie" a la mode. Overall, the food wasn't extraordinary, but I figured it was better than Appleby's.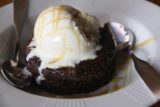 By 6:30pm, we were back at the room just as the Miner's Alley Pub was getting busy. By this time, the menacing clouds further dissipated over town though they were still dark over the mountains. So we had the rest of the afternoon to get cleaned up, and eventually get an early start on sleep. We didn't intend to sleep in on this night given that we were in a dumpy sleepeazy, so our early sleep meant we could also get an early start on the long drive home with a detour towards Sonoma tomorrow…
Visitor Comments:
Got something you'd like to share or say to keep the conversation going? Feel free to leave a comment below...
No users have replied to the content on this page