Day 4 (May 22, 2016 – Los Angeles, California): "Getting Greedy"
It was 4am when Mom and I awoke. We weren't exactly in the mood to be sleeping in despite it being dark outside, but it still reeked of cigarette smoke and it just overall felt pretty dirty in here. So we did what we had to do in order to tend to our oral hygiene while also getting dressed. It was about 4:40am when we left the sleepeazy, and so we figured that we'd have some time in the morning to do at least one (maybe two hikes) before having brunch or lunch in one of the famed restaurants in Sonoma before finally heading home.
The driving south along the Hwy 70 was fairly quick though I was always cognizant of running into deer at this time even though it might have been an irrational fear given how much farmland was surrounding us. Still, you never know.
I was getting some reception regarding sports talk for the Bay Area that kept the monotonous drive somewhat interesting. Though I have to admit that sports talk on the weekends had nothing on the weekday talk shows like Jim Rome's. Anyways, we were cruising along as we passed through Yuba City, then the Hwy 70 started to become more like a freeway. Eventually, we junctioned with the familiar I-80, and we took this freeway to the southwest in the direction of the San Francisco Bay just as the sun was well on its way to breaching the horizon.
Given that it was still early, I thought that perhaps we should head to Marin County first (near Larkspur) and check out Dawn Falls before going back towards the north to check out Sonoma Creek Falls, and finally downtown Sonoma. And so instead of heading west on Hwy 12, we kept going south on the I-80 towards the east end of the San Francisco Bay.
When we got towards San Pablo, the GPS didn't recognize that there was a connecting road continuing onto the I-580. So we stayed on the I-80 and had to take a couple of local streets before finally getting onto the I-580. So I guess my Garmin map updates weren't updated enough despite the upgrade I had just made a few days before going on this trip.
Anyways, that didn't cost us too much time, and after crossing the toll bridge, and getting into the town of Larkspur, we then followed Ann Marie Brown's directions (against the GPS's wishes) and eventually arrived at the rather obscure trailhead for the Dawn Falls Trail. We managed to get there from taking some local streets after getting off the US 101. In particular, we drove from Tamalpais Drive to Corte Madera Ave, then we went under a bridge where there was an obscure left turn onto Madrone Ave.
At first, we thought the road was closed, but then we saw that the sign indicated that the closure wasn't until tomorrow. Anyways, as we continued on Madrone Ave, we immediately saw that it was flanked by impressive coastal redwood trees. The road itself was a bit on the rough side, and I suspected that roots were growing beneath the road thereby making it bumpy. Perhaps that was what the road repair was all about.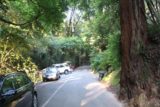 The road continued to get narrower as we went deeper into the residential area, and it started to look like we weren't really headed to the trailhead. But we persisted with Ann Marie's directions, and by 7:10am, we finally made it to the dead-end of Madrone Ave (which by this point was Valley Way). There were a couple of parking spots (one was parked in tandem), so we seized the lone convenient spot (the other was a tight parallel parking job), and then we promptly got out of the car and started walking.
It was quite cold here as it was in the high 40s and low 50s. So the air was very crisp, but the presence of tall coastal redwood trees all around us was undeniable. And that alone made this hike well worth the detour in my mind. So once Mom and I got onto the trail, it didn't take long before we reached a bridge over Larkspur Creek. There was water in the creek, and that gave us hope that we ought to be seeing a waterfall further up Baltimore Canyon. It was also reassuring that we saw signage calling this trail the "Dawn Falls Trail".
As Mom and I were busy hiking up Baltimore Canyon while constantly being distracted by attractive coastal redwoods, we kept getting passed back and forth by what appeared to be locals doing some jogging. We seemed to be the only ones in hiking attire as everyone else we'd encounter here were more middle aged and in sweat pants. A few others were on a more deliberate pace walking their dogs.
The walk seemed longer than I would have imagine for something that was said to be 1.2 miles in each direction. At first, Larkspur Creek seemed to have plenty of water, while even producing a tiny (hard-to-photo) 5ft waterfall or so. However, somewhere along the way (after the junction with the Ladybug Trail), Larkspur Creek suddenly went quiet and mostly dry. This happened where there was a side creek feeding Larkspur Creek, but upstream of that point, it appeared that the rest of Larkspur Creek wasn't flowing. It made me question whether we had somehow missed the falls or not. But we kept pushing on.
Eventually, Baltimore Canyon started closing in, and Mom and I then encountered some switchbacks climbing steeply above the canyon floor. When Mom and I finally went high enough on this series of switchbacks, we finally encountered Dawn Falls at about 8am. The problem was that the falls was merely a trickle, which was very disappointing especially after the initial indications of Larkspur Creek having water. So we documented this experience knowing that the photos and videos wouldn't really turn out. But since we were here, we mind as well be in the moment.
While we were at the falls, we suddenly heard some rocks tumbling across the trail and towards the floor of Baltimore Canyon. Clearly the geologic processes responsible for deepening this canyon continued to be at play, and we were fortunate that we weren't in the slide zone of that minor rock slide. As we looked at Ann Marie Brown's directions, we only then realized that we probably could have dramatically shortened this hike by starting from the trailhead further up the hill about a quarter-mile away. But then, we would've missed the impressive redwoods. And it was a good thing we did the trail from the bottom just for the redwoods and serenity themselves because the falls was definitely a dud.
So with that, we quickly headed back towards the car, and we'd eventually get there at 8:35am. This hike took a little longer than I had expected (by about 30-60 minutes) so I knew that we were at risk of having to wait a while for brunch at one of the Sonoma places. Anyways, we drove off and got back onto the US101, then we followed this freeway until the GPS had us get off onto the Hwy 37 then onto the Hwy 121 going straight north into Sonoma Valley. The target waterfall there was Sonoma Creek Falls, but Dawn Falls kind of gave me a feeling that Sonoma Creek Falls might be a dud as well. Still, that was my excuse to combine waterfalling with wine country so I still felt like since we were here, we mind as well do it.
Mom was paying particular attention to this area because she said that she could partake in some golfing trips that involved Sonoma and Napa Valleys. And now that she had seen the golf courses and the wineries flanking Hwy 121 then Arnold Drive, she had a better idea of what to expect on such trips.
This drive also took a little longer than I had expected, and I suspected that it had more to do with traffic lights and two-lane roads. At least I was now listening to Dave Smith, who was a good sports talk guy in the LA area who always spoke the truth, and he held passed the time while driving this stretch. It wasn't until we were getting closer to Sugarloaf Ridge State Park that we realized that we should've ignored the GPS and remained on the 101 towards Santa Rosa, and then take Hwy 12 back south towards Sugarloaf Ridge.
Anyways, it wasn't until about 9:45am that we had driven up Adobe Canyon Road, which was a little on the narrow side for a two-lane road. It weaved between some residences before reaching a gate where the road then climbed. We noticed that there was a cluster of cars parked alongside the road just before the gate before the ascent, but in following the directions, the actual Waterfall Trailhead was supposed to be further up this hill.
Both Julie and I badly needed to go to the restroom at this point so we ultimately got to the Sugarloaf Ridge Visitor Center at 9:45am. We had to pay $8 for the vehicle fee to get into this park, and it made Mom and I wonder whether those cars that were parked just outside the gates at the bottom of the canyon was really to avoid paying this fee. After all, we only expected to spend no more than an hour here so that would make the $8 fee a bit steep.
When we were done doing our business, we went back down the hill towards the car park for Sonoma Creek Falls. There were already quite a few cars parked here, but there was still enough room for perhaps a couple more. So we stopped the car at 9:50am, and then we promptly got onto the Waterfall Trail, which descended immediately. We knew that the further we had to descend on this trail, the more uphill walking we had to do.
Anyways, the descent was for the most part pretty much a breeze. There were a few false trails conspiring to bring us closer to Sonoma Creek, but we weren't really sure what these trails were for and so we resisted the temptation to keep getting sidetracked by these false trails.
It wasn't until about 10:10am that we finally arrived at the Sonoma Creek Falls. There was a family here with a couple of kids in child carriers, but they were leaving just as Mom and I showed up. And to our surprise, Sonoma Creek Falls had a pretty good flow even this late into Spring. It was definitely better than the Dawn Falls experience, and I was sure glad we made the detour to come here. Perhaps the rains over the weekend that eventually dumped snow in the Sierra Nevada had something to do with the health of this falls. Who knows?
So Mom and I took our time taking photos and savoring the moment. When we had our fill of this falls, Mom suggested that she go back up the trail we had come down on so she could recover her car and pick me up at the bottom. That would allow me to complete this trail to its other end just to see what that was all about.
And sure enough, the lower part of this trail was mostly flat except for one last slight incline to get back up to the Adobe Canyon Road. Now I probably could've walked uphill along this road just to complete the loop, but instead, I decided to walk further down the hill since there really wasn't a place for Mom to stop if she had found me here.
And as I was doing this, I did notice some signage for the Waterfall Trail suggesting it was 0.25 miles from the particular pullout I had passed by. Eventually, I'd reach the bottom of the canyon, where I walked past the gate and approached another pullout where there was maybe a half-dozen or so cars with little room for us to find parking here. Nonetheless, Mom found me near this spot and I got back into the car and resumed the driving duties.
In hindsight, had we known better, this lower car park was the better spot since it only involved walking barely a quarter-mile up Adobe Canyon Road before going onto the Waterfall Trail, which was flanked by nice redwoods. And the trail itself didn't require any steep climbing so I would've given the nod to this lower method for less exertion than the upper approach.
In any case, we left Sonoma Creek Falls at 10:35am, and now it was time to drive back south in search of downtown Sonoma so we could have our last splurge of this trip by having a lunch at the Girl and the Fig. It was either this place or the El Dorado Kitchen based on the Yelp reviews, but I had this fear that they'd be serving brunch and the better stuff that would usually be on offer for dinner wouldn't be available (like the Duck Confit).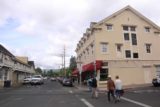 Still, we couldn't control the circumstances, and we still had to get home after this brunch, which was another 8 hours drive away. So when we managed to find parking near an attractive park-like area for downtown Sonoma, we then promptly got into The Girl and The Fig and got seated at around 11am. We didn't have to wait, which was good, because I had read that some people had to wait nearly an hour or more to eat here.
As I had feared, the menu was pretty limited breakfast fare. Given the minimal carb diet that I tried to adhere to for Julie's sake, we wound up forsaking omelettes and croque monsieur (though in hindsight we probably should've gotten them) and gotten a fish stack as well as some mussels and fries. It didn't seem like much, but the prices here was on the high side so it was still priced as if we were eating dinner at a fancy place. The fish stack was like smoked salmon and flounder with some pickled condiments to be eaten on some toasted bagel buns.
To Mom, this food was different, and I wondered if she would've been happier with steak or something a bit more substantial. Anyways, after the tasty profiteroles dessert, we were done with our meal and decided that since there was an attractive park nearby as well as some interesting architecture surrounding this park, we mind as well explore a little bit of this part of downtown Sonoma before going home.
So we checked out the park, which would've been real enjoyable for Tahia had she been here as it featured a few playgrounds and some open spaces shaded with nice trees. There was an interesting-looking building at the heart of the park, which turned out to be Sonoma's City Hall. And as we passed by the northeastern part of the park, we saw there was some kiddie band playing to an audience just soaking up the relaxed ambience of a lazy Sunday afternoon.
Mom and I then continued going to the northeast towards an unassuming historical Spanish Mission called San Francisco Solano. Julie and I had been to the mission in Santa Barbara last year, and we figured that we wouldn't have enough time to properly visit this mission and then go home. So after having our fill checking out the complex's exterior, which was adorned with colorful flowers, we then made one last restroom stop near the kiddie band's stage, and then we finally returned to the car at 12:55pm.
By now, this part of town was definitely busy. We had to be a little on the patient side as we followed the flow of traffic before finally getting out of the downtown Sonoma area. The drive back onto the main highways (starting with Hwy 12 and then Hwy 29 beneath Napa Valley) was also quite busy with lots of cars plus traffic lights. And with gas running out, we were keen to fill up somewhere before doing the long haul home.
It wouldn't be until about 2:15pm where we were near Walnut Creek off the I-680, and that was when we finally got gas. It took a bit of effort because each of the off-ramps were busy, and the gas stations were not by the freeway so they weren't easy to find.
And so after doing this fill-up, Mom and I switched driving responsibilities so Mom got to drive while I finally got to take a nap. And so I found myself sleeping through the part of the drive where Mom merged us onto the I-5 and eventually got us past the 152 turnoff towards Los Banos.
The drive back was mostly uneventful, and we eventually switched back our driving duties as I regained the wheel at around 4:30pm. By this time, I was starting to get ESPN radio on 710 so I could listen to the Oklahoma City-Golden State playoff series, and it turned out that I was able to listen to the entire game though if I was a Warriors fan (or being a part of "Dub Nation"), I would've been quite disappointed as the Warriors got trounced.
Anyways, after a bit of heavy traffic on the I-5 going through the heart of LA County, we finally got home at around 7:55pm. It was indeed quite the long drive, but now I finally got to see Julie and Tahia for the first time in about 4 days. Too bad that I still had to go to work tomorrow, but just doing this trip at this time gave us the idea that perhaps we could do a few more of these quick-hitting trips later this summer… We'll see…
Visitor Comments:
Got something you'd like to share or say to keep the conversation going? Feel free to leave a comment below...
No users have replied to the content on this page