Day 1 (January 22, 2016 – Julian, California): "Jogging Memories"
Earlier in the week, Julie had shown me a Yelp review of Cedar Creek Falls showing a photo taken earlier in the week (I think it was the 18th of January). When we saw how much of a decent flow it had (certainly not with the volume that my Mom and I saw it several years ago in 2008 I believe), we decided right then and there that we should spontaneously make a last-minute weekend getaway to Julian as our early Valentine's Day trip.
We figured it was better to deal with the sure thing (that the falls would flow and that the weather was supposed to be rather good) than the uncertainty of ever getting significant rain again for the rest of the Winter or even coming back here under inclement weather like last time.
In any case, I guess the powerful series of storms that hit the Southland in the first week of January (providing the only significant precipitation for the month thus far) seemed to produce enough snow in the mountains to generate the snowmelt needed to feed the waterfalls. After our Jack Creek Falls and San Juan Falls experiences from the weekend following those storms, we could say for sure that the non-snowmelt waterfalls still didn't have a prayer of flowing despite the storms, and that the snowmelt waterfalls were indeed the only ones worth visiting.
These conclusions pretty much got me thinking that perhaps this could also be our opportunity to finally visit the Three Sisters Falls and Cottonwood Creek Falls, which were waterfalls that I was hoping to visit after all these years (but the drought prevented us from even considering).
And so when my afternoon work meeting was over, I immediately rushed home, packed up our belongings, then picked up Tahia from her school before leaving her with grandma so we could hopefully make it to our accommodation in Julian by their check-in window of 3-7pm.
The accommodation we had targeted was the Butterfield Bed and Breakfast, which was a lovely place that really rekindled memories of a comfy stay as well as a surprising snow storm that turned out romantic getaway into quite the unexpected adventure some 8 years or so ago. We really looked forward to our stay this time around because instead of just spending one night, we were going to spend two nights.
So we didn't leave the house until about 3:30pm, which was a little later than I had hoped. In any case, we were quickly on the road and we were quite surprised at how light traffic was going along the I-5 south in the direction of Oceanside. The only real snag along the interstate was some debris on the road causing a little bit of a slowdown near Oceanside, but after that, it was once again pretty smooth even for the beginning of our drive east on the Hwy 78 after we left the I-5 near Carlsbad.
Just as I was telling Julie about the light traffic, we finally hit the slow down at around 4:45pm somewhere in the city of San Marcos. At that point, the pace was sluggish, and I knew that we still had to get past the I-15. So I figured that our optimism of getting to Julian sooner rather than later was probably a pipe dream at this point. Anyways, the slowdown wouldn't end until somewhere after 5pm as the skies started to get dark and we were finally past the end of the freeway at Escondido. As a matter of fact, the traffic lights there were probably the main cause for the traffic backing out as far as it did on the Hwy 78 during the commute home.
Then, the drive became somewhat smooth going though we were officially mountain driving in the dark on the way from Escondido to Ramona. After getting past the familiar entrance for the San Diego Wild Animal Park, I was keenly aware of the possibility of deer dashing out on the road at this time of night. Also, the semi-twistiness of the road along with the relative high speed driving on the twisty Hwy 78 also made things a little bit dicey as well. But at least the full moon rising was an interesting little ray of light so-to-speak on this drive.
Eventually at about 6:15pm, we finally arrived at the familiar Butterfield Bed and Breakfast. Along the way, we noticed that Jeremy's on the Hill Restaurant was about 3.5 miles from the accommodation (not that close, especially when driving on mountain roads in the dark), yet it seemed like the only dinner place that Julie really fancied.
During our long drive, Julie managed to book us for a 7pm reservation at the restaurant. So after getting introduced to our room by Dawn (the same hostess who chatted with us during breakfast the last time we were here), we got our stuff into the familiar Apple Sweet room, and we were also directed to park the car at a separate driveway (something we weren't aware of last time when we checked in real late).
As soon as we got settled and even reminisced about our last time here under similar circumstances, we then headed to the Jeremy's on the Hill Restaurant at 6:45pm. At around 7pm, we arrived at the restaurant just in time for our reservation, and we immediately sensed the quaint ambience as the place seemed like an old house converted into a fairly upscale dining joint. The last time we were dining in Julian, we ate at Romano's, but I remembered how stuffed we were on that visit. Besides, Julie was totally sold on the organic choices and the farm-to-table scheme that was also seemingly a specialty of the Jeremy's on the Hill Restaurant.
We had ourselves a hot apple cider along with the complementary brussel sprouts (from Julie checking in on her phone), and we also shared bison meatloaf as well as a duck breast. The bison and pork were said to be locally raised so we figured that we could do the bison today and perhaps the pork tomorrow. We finally ended it off with a very tasty apple cobbler accompanied with a scoop of vanilla bean ice cream.
Even though the place was quite busy and the friendly service was on the slow side, we enjoyed each others' company and did lots of reminiscing about our last trip to Julian as well as trying to plan what we were going to do for the next couple of days regarding our upcoming hikes and the dining options.
Speaking of the hikes, we were a little bit anxious about the Three Sisters Falls excursion given how we had read in our research about how rough the hike could get for that one, so perhaps my aspirations of visiting both Cedar Creek Falls and Three Sisters Falls on the same day (tomorrow) might not be realistic. At least we could still punt the Three Sisters for Sunday morning.
Meanwhile, Julie really looked forward to seeing Cedar Creek Falls. The last time she was here sometime back in 2000 or something was somewhat of a dud. I remembered that she brought friends along while I was at home studying for grad school, and then when they finally got to the waterfall, it was dry even though it was around May. So this would be the very first time she'd see this waterfall flow!
We were also making plans to dine here again tomorrow evening, but then bounce over to the Wynola Pizza place to sit in on a live performance. And yet even with all that we were hoping to do tomorrow, I'm sure it would be tight to fit all that in a day with limited daylight and a relatively late included breakfast, which we asked Dawn and Ed if we could do it at 8am instead of their usual time at 9am.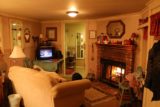 After a pretty satisfying dinner By 8:45pm, we were back in the car. It was a bit chilly at night and the forecast called for some light rain or possibly showers tomorrow evening before clearing up by Sunday morning.
Since we had passed on getting apple cider at Jeremy's, we decided to stop at the local liquor store in town to get the apple cider more cheaply. We wound up getting this 22oz. bottle called Harvest Apple, and we were hoping that the cider here might taste as good as what we had in Superior, Wisconsin. We certainly didn't expect the refined quality from the Breton Ciders of Northern France.
In any case, we were back at the Butterfield at 8:55pm. When we both tried the cider, it had more of that hard beer taste. So neither of us were that fond of it, but since it was a large bottle that we didn't want to go to waste, I wound up chugging the rest of the bottle after Julie's few sips. And as buzzed as I was from that bottle, we spent the rest of the evening getting cleaned up while also enjoying the warmth of the lit up fireplace.
Indeed, while the memories of our last visit was a pleasant Valentine's Day surprise for Julie (I recalled booking this myself since she wasn't even aware of Julian at the time), this time around, we were in the moment and just lived it up for as long as we were conscious. Of course, since we were also tired from the long drive, we wound up dead asleep by around 10:30pm…
Visitor Comments:
Got something you'd like to share or say to keep the conversation going? Feel free to leave a comment below...
No users have replied to the content on this page