Day 2 (January 23, 2016 – Julian, California): "Intimate Experiences"
It was about 7am when both Julie and I awoke. We both had a very restful night, and the coziness of the room really made it easy to sleep in. And unlike the last time we were here, we weren't in any hurry to pack up and get going because we knew that we were going to spend another night here. I guess as we got older, we tended to slow things down a bit so we could better enjoy the experiences and give ourselves greater opportunity to discover something we could've otherwise missed had we been in a rush like in the past.
Also to my relief, the weather looked like it was going to be pretty decent as far as the morning was concerned. It was cloudy, but it seemed like the sun could break through the thin layer of clouds. This also contrasted mightily to the surprise snow that we saw 8 years ago.
At 8am, Julie and I were in the familiar main room. Indeed, it seemed like nothing much had changed in the eight years since we were last here as far as the ambience was concerned. Both Ed and Dawn greeted us as we were chatting about all sorts of topics.
We had a chuckle when Ed recognized us as the "waterfall couple." He couldn't forget that day because we were pretty much the only guests that made it as the snow kept others from showing up.
We also chatted about the Jeremy's on the Hill restaurant as well as how it seemed like Dawn and Ed really seemed to know all the happenings as well as life stories of the residents of Julian. I guess when you've run this bed and breakfast for some 17 years or so, you really have a finger on the pulse of this quaint and charming mountain town in San Diego County.
Then, we talked about the Cedar Falls hike, which they said that the hike from the Ramona side was improved around the time that we were last here. They also recognized that the Three Sisters hike was a very challenging one. They acknowledged that at their ages, they probably couldn't do that particular hike anymore.
Along with the chatting, we had a delicious poached pear starter then a delicious french toast. We also helped ourselves to some delicious cookies.
Then, we finally hopped into the car at 8:55am. Julie and I wavered about whether to give the Cedar Creek Falls hike from the Ramona side a shot, but since we were already in Julian, we figured that it was a shorter drive to the trailhead on the Julian even though we had done it this way before. I guess in the interest of time, it didn't seem to make sense to drive all the way back to Ramona and then drive from there to the Thornbush Trailhead. I figured that drive would've taken at least over an hour as opposed to the half-hour or so to get to the trailhead from the Julian side.
So with that, we made our decision and headed through Julian before heading west towards the turnoff for Pine Hill Road. Then, once we went on the familiar road, which weaved between a handful of farms, we then turned right onto the Eagle Peak Road and continued on that road for a while.
Whether my memory failed me or not, we were surprised at how much Eagle Peak Road was paved. There seemed to be quite a bit more developments of private homes or something as we seemed to drive quite a bit on paved roads before it finally went unpaved with about 8 miles to go. And even then, the unpaved road was pretty smooth dirt road as there seemed to be a handful more of what seemed to be private estates or something.
Eventually, the road got a bit narrower and rougher with about 4 miles to go. And in the last mile or so, the road was essentially on a ledge leading down to the familiar Saddleback Trailhead with the familiar locked gates leading to both Cedar Creek Road and a continuation of the Eagle Peak Roads. The gates seemed to be locked by the forest service so it was as if they were no longer roads accessible to the public given the signage providing warnings that the roads were unmaintained and that the authorities were not responsible for any damages to the vehicle driving on these roads.
It was about 9:30am when we had arrived. There were a couple of guys who were already here, but they walked down the Cedar Creek Road. When Julie and I examined the trailhead sign here, we saw that the permit area was technically at the waterfall area itself. Nobody was checking for permits on the Julian side even though we had already paid online our $6 prior to our visit. Apparently, there was a 75 party daily limit.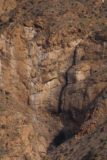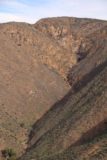 As we walked the trail, which featured quite a bit of overgrowth (clearly this particular trail didn't seem to see that much traffic over these years), we could see that Mildred Falls was merely a wet streak on the mountain wall in the distance to our right. I guess with this observation, we could pretty much determine that Mildred Falls could at best flow well maybe a week at most after the end of a previous snow storm. Any less powerful of a storm or longer time to wait before a visit would mean the falls would be either completely dry or trickling like how we saw it (a little over two weeks since the strong storms in the first week of January).
As we continued following the trail, which hugged the mountains, we couldn't help but notice the amount of shade we were getting. Perhaps it was because it was still Winter or something, but I'm sure this shade (whatever would be left of it as we'd head back up) would help with the sun exposure and heat on the way back as we were pretty much going all downhill.
It was eerily quiet on this trail as it seemed like Julie and I were the only ones on it. Clearly the trail on the Ramona side would be much more popular. In fact, we were even able to see the Ramona trail (also called the San Diego River Trail) in the distance with quite a few people on it. That kind of piqued our curiosity a bit in what the experience might be like from there.
As we got to a fork on the trail as the trail briefly veered away from the San Diego River's ravine, we saw signposts saying something to the effect that it was a permit area. I was pretty sure that that trail would lead to the top of the Cedar Creek Falls, which Mom and I had taken last time after following Ann Marie Brown's
trail description, which was probably outdated.
Knowing that there was a better way to reach the falls, we continued descending on the main trail. Meanwhile, I came to the realization that Ann Marie Brown's trail description also said that the hike was 4.5 miles round trip. However, that seemed to be less than the 6 miles round trip that the forest service had advertised on their trailhead signage. Therefore, her trail distance must've only gone to the top of Cedar Creek Falls and back. It seemed like she didn't make it to the bottom, which required a little more hiking than what she had described in the book.
At about 10:35am, it was still pretty quiet on the trail we were on. Julie and I even heard the croaking of some toads or frogs down below as we were getting closer to the level of the San Diego River. Of course as we paused and listened carefully for more croaking, that was when they stopped. And so we continued our descent.
Eventually we'd get down to the river level, where we joined up with the trail from the Ramona side. Not surprisingly, there were lots of people going back and forth on that trail. Clearly, that was the more popular trail, and it even piqued my interest even more about why that trail was so much more popular.
Anyways, we turned left and went past the fence saying we were entering a permit area. The trail now flattened out as we found ourselves surrounded by attractive triangular mountains. After crossing Cedar Creek a couple of times (easy creek crossings requiring some rock hopping), we'd eventually arrive at the Cedar Creek Falls at 10:55am. Julie was quite excited to finally see the falls flowing so she eagerly joined the crowd that was already enjoying the reward for this hike.
There were probably at least over 30+ people here. It was kind of like the Eaton Canyon Falls or Sturtevant Falls experience, and it was certainly no place for solitude or reflection. Nevertheless, the waterfall was flowing pretty well (albeit not as well as our 2008 visit), but we figured it was already a win just to even see a waterfall doing this well in the drought-stricken San Diego County!
We had to do a little awkward boulder scrambling as well as weaving between the crowd of people to get ourselves to a spot to take pictures and videos as well as people shots to prove we were here. I dared not climb this giant sloped boulder where some other young folks managed to get on top of for real commanding views of the falls.
We were also entertained by a couple who had managed to climb to a precarious-looking rock ledge. Clearly they were going to jump, but I think it was so scary up there that they had hesitated for quite a while. There was even a helicopter that flew by and made a circle. I guess they were taking a head count to see whether it was too high (versus the permits allowed) or whether they could cite someone for climbing the rocks.
Ultimately, the pair did separate jumps, and then there was a third person who went up there and made his jump; all to the applause and cheers of onlookers.
Eventually at 11:20am, we left the Cedar Creek Falls and tried to make our way back to the Saddleback Hill Trailhead. Since we knew that it was going to be all uphill on the way back, I figured it might take nearly two hours or more to get back to Julian for a late lunch. We still had Cottonwood Creek Falls to do, and I was a little worried that we might run out of daylight.
But one thing was for certain, there would absolutely be no way to do the Three Sisters Falls hike on this day.
On the way back to the San Diego River from the falls, I had noticed that there was a trail closure sign nearby where I recalled we were once able to scramble from the top of Cedar Creek Falls down to this ravine. Now, we saw no one doing it as such dicey scrambling was not necessary to experience the waterfall.
As we were about to make the climb up to the Saddleback Hill Trailhead, we could clearly see that there were many more people making their way both down and up from the Ramona side. It was almost as if Julie and I were missing the party or something, and we were wondering whether we would regret not doing this trail from that side.
Anyways, there was nothing we could do about it now, but I made a mental note to see if we could at least hike the Ramona side of this waterfall trail before heading home tomorrow after the Three Sisters Falls hike.
As expected, the hike back up was a little bit on the hot and sweaty side. We couldn't imagine how much harder this hike would be in the hotter months of Spring and Summer. In any case, the hike was mostly uneventful though we finally saw another pair of hikers (the first folks we encountered on this trail) nearly half-way up to the trailhead, and we would encounter another 2 or 3 more parties on the way up later.
At 12:45pm, we finally arrived at the trailhead. And sure enough, there were lots more cars parked around us.
We would finally make it back to Julian at around 1:20pm, but it was difficult to find parking. So eventually, we found ourselves parked just before Hwy 79 turnoff on the far southern end of the main town area. And it was quite chilly when we got out of the car. That was a bit of a surprise considering how warm it was back at the Cedar Creek Falls hike. I guess we were feeling firsthand the elevation difference at Julian as opposed to the San Diego River.
We wound up walking to the first eatery that we saw, which happened to be this place called Granny's Kitchen. We got there at about 1:30pm, and it was a quaint little homey place. We got ourselves a salmon sandwich as well as an apple pie. It was nowhere near the quality of Jeremy's on the Hill, but since we were a little pressed for time, we weren't in the mood to wait in line at one of the other busy joints in town (which was really bustling at this time).
After the lunch, we briefly walked around town as Julie was exploring the town for the first time (since we really didn't have a chance to do it last time). She really dug the historical look and feel of the main drag of Julian, and she even fancied getting some buckwheat honey that was locally produced here. We also noticed that the Mom's pie shop had a crazy long line in front of its entrance. There was no way we'd have time to wait for that on this day!
We made one stop at a local market so we could replenish on some water knowing that tomorrow's Three Sisters Falls hike would require it.
At 2:45pm, we were back in the car. However, I knew that we only had a little over 2 more hours of daylight, and that included the drive to the start of the Cottonwood Creek Falls. So it was now or never to make it down there and back by our 6pm dinner reservation at Jeremy's again.
The drive south on the Hwy 79 was a bit on the twisty side. It seemed like there were still small patches of snow on the sides of the road in some limited spots, but for the most part, the drive seemed like it was passing through more of the familiar Joshua Tree-like rocks as well as the Lake Cuyamaca. We also noticed that the Green Valley Campground was closed, which meant that my hopes of sneaking in a visit to the Green Valley Falls wasn't going to happen on this visit.
After getting to the I-8 and gunning it east to the Sunrise Highway, we'd finally arrive at this really wide pullout just before the 15.5 mile marker on the Sunrise Highway at 3:30pm. There was so much space on this pullout that we weren't quite sure where or how we should park. We ultimately decided to park near this rock (which Ann Marie Brown said was a graffiti-covered rock wall in her book though the graffiti was mostly gone when we were there). Then while Julie was getting ready, I explored the pullout while also taking a badly needed nature call near the rock wall.
Looking down the hill towards the I-8, it was a nice view and the graffiti-covered picnic table seemed to be well-situated to soak in the view. It was the lone picnic table on this pullout however, which seemed strangely out-of-place for such a giant pullout area.
Now that we were equipped and ready to go at 3:45pm with daylight fading fast, we went to the north end of the guard rail on the east side of the Sunrise Highway, then we started looking for the "trail" that would lead down the ravine and ultimately to the Cottonwood Creek Falls. At first, the trail didn't seem obvious, but there was a power pole nearby, and that was where we caught the "trail" descending from the banks of the Sunrise Highway.
At that point, we pretty much brushed through all the overgrowth on the narrow trail (even avoiding a patch of cactus right beside this trail), and the trail ultimately started to widen out a little bit while also flattening out. The trail itself seemed like it was following the trail of power poles and lines above us, which got me wondering whether this trail was blazed by the workers who erected these power poles.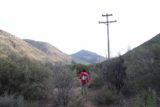 I figured they were from Southern California Edison or San Diego Gas and Electric or something like that. And perhaps the workers might have noticed the Cottonwood Creek Falls during the course of doing work out here (maybe even maintenance work as well), and that might have been how the falls came to be "discovered." It certainly wasn't a well-known spot as there was no signage indicating the presence of the trailhead nor the waterfall itself. Indeed, it was one of those places that you just had to know it was there in order to have the faith to proceed down this seemingly random desert trail.
Eventually, we got to a point where the trail turned towards a T-junction. We were able to see parts of the Cottonwood Creek Falls from the distance along the trail during the descent, and from what we could tell, the falls was flowing somewhat, but it definitely wasn't worthy of the "9" rating that Ann Marie Brown gave in her book. We turned left at the T-junction to go upstream towards the series of waterfalls comprising the Cottonwood Creek Falls.
Julie was already considering this a waste of time, but since we were already here, we mind as well be in the moment and see the merits of this waterfall. Ultimately, the trail led us to falls, which was flanked by a few cactus patches. The falls itself was a mix of water flowing over wet rocks with a few white streaky parts where the creek didn't fan out as much and had a little more depth.
At this point, the hike now became a boulder and rock scramble as we were continuing to hike upstream to see more of the tiers of the Cottonwood Creek Falls. After getting past the second or third tiny tier (probably no more than 5-10ft each), we finally got to the uppermost main tier at 4:20pm, which seemed to be roughly 15-20ft tall. This was the part that was photographed in the Ann Marie Brown book, and so this was our turnaround point.
During the approach to this part of the waterfall, I had heard croaking from what must've been toads or frogs. And as loud as they were and as persistent the croaking was, it seemed like they sensed my presence as I got closer and ultimately the croaking stopped well before I got to this part of the falls. When I examined the small plunge pool beneath the falls, I couldn't see any frogs or toads.
Just to satisfy my curiosity, I did the steep scramble above this waterfall to see what else was further upstream, but it didn't seem like there was much in the way of more waterfalls there as there seemed to be just more boulders and shrubs. I didn't particularly feel like doing any more daring scrambling anyways as it was definitely getting darker and we were in danger of being late for our 6pm reservation at Jeremy's on the Hill.
So after we were done photographing and taking videos of the falls, we left at about 4:30pm. Most of the orange from the fading light in the immediate area was giving way to shadows as the sun continue to sink beneath the horizon unseen above us.
The hike back to the trailhead seemed to be much easier now that we knew where we were going. And by 4:55pm, we made it back to the car just as the orange sun was setting in the horizon in view from the picnic table up ahead. As I was taking my last steps of this excursion before getting to the car, I was feeling a sharp pain in my left foot as if something was stabbing me there.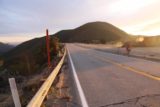 I suspected it was probably from a cactus or something, but it was unclear to me how the spike even got there through the boot and into my wool sock! But sure enough, when I removed the shoes and carefully removed the socks, there was the spike jabbed pretty deep into my left foot. When I pulled the thorn out of my foot, it almost pulled of my skin given how deep it was. I can't imagine how much more excruciating it would be had there been more thorns from cacti jabbing the skin.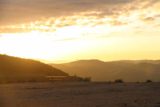 Julie and I speculated that perhaps that cactus patch in the overgrown part of the trail near the trailhead was where it occured though I never recalled stepping into the cactus patch, and we were still trying to figure out just how the thorn even got that far towards the front of the interior of the boot.
Anyways, at 5pm, we left the trailhead and quickly made our way back to the I-8 then the Hwy 79. We only had an hour left to get to our 6pm reservation, and we were both very stinky so we needed to at least change our clothes before getting to dinner. Plus, with the darkness, it was going to be non-trivial driving given how twisty the Hwy 79 was.
As twilight gave way to darkness, we could see that the clouds that were rolling in throughout the day had finally started to fog parts of the drive along the Hwy 79. It seemed to be the onset of the fog, but we were still able to get back to the Butterfield Bed and Breakfast by 5:45pm. And as expected, we probably weren't going to have time to shower before dinner, but at least we could get changed out of our stinky hiking attire.
Ten minutes later, we left the accommodation and promptly made our way to Jeremy's on the Hill again. We got there at 6:05pm, which was not bad considering barely an hour earlier, we were by the I-8 near Mt Laguna. In any case, we were seated in the same corner as last night, which was right next to the fireplace. And this night, it seemed like it was even busier than last night. There was also someone playing live string music (on a guitar I think). No lyrics, just the melodies.
Once again, the dinner was pretty good. This time, we got the beef brisket main dish as well as the Juicy J burger (since the menu said it had the pork brisket on it though it seemed more like a regular burger; did they get the order wrong?). We also started off with another cup of hot apple cider as well as a lobster bisque. We opted to skip on the dessert since time was of the essence and we wanted to go immediately across the street to the Wynola Pizza to catch the live performance there.
So eventually at around 7:30pm, we were done with dinner, and then we got ourselves some kind of brownie dessert and another cup of hot apple cider to enjoy while we were listening to the live performance. At first, there weren't any available seats for us as the cozy and intimate setting was pretty much full. However, one lady beckoned to us to take her seat as she wanted to take pictures.
And so with that, we took her table, had ourselves dessert, and listened to the live acoustic performance by Christine Parker, who had this soulful voice and very Jewel Karcher-like style singing some covers as well as some of her original songs. Julie really liked her voice and her songs, and it was pretty clear that this lady was quite good (maybe even on some shows or even having a record label). Whatever the case was with her credentials, there was no denying the unforgettably intimate setting here.
Indeed, we were glad to spend the second night here and really enjoy little moments like this; further reinforcing our observation that sometimes it's better to take it slow and allow ourselves to discover such things like this.
When Parker took a break, we decided to bail and head back to the Butterfield so we could rest up in anticipation for tomorrow's hike. And just as we left, there was one guy looking around for seats and immediately took ours. Indeed, it was definitely standing room only for the late-comers.
When we got back to the car, we could see that the winds were picking up a bit and there were even some light sprinkles. I guess the forecasts were correct in saying that there was supposed to be some rain starting tonight but ending by daybreak tomorrow morning.
As we pulled out of the Jeremy's on the Hill lot at 8:05pm, we were precariously driving on the Hwy 78 as we realized that the visibility on the road was quite poor. With all the twistiness of the road, that made things a little bit worrisome. Fortunately, we weren't in much of a rush so we took our time. We even noticed some other vehicles pulling off to the side of the road in some of the open spots not wanting to chance it in the fog.
I quickly learned that the key to driving under these conditions was to pay attention to the white lines on the right side of the road. The yellow lines in the middle of the road weren't reliable because there were opportunities for left turns and that could really throw things off, especially if there's oncoming traffic.
I definitely couldn't use the high beams because the bright light would reflect right back to me in the fog. Some parts of the drive were almost pitch black in the fog, which made the drive even scarier.
Eventually at 8:20pm, we thankfully made it back to the Butterfield. It was quite chilly with the wind chill so it was a perfect time to light up the fireplace and warm up in the Apple Sweet for one last night. Eventually at around 11pm, we were asleep…
Visitor Comments:
Got something you'd like to share or say to keep the conversation going? Feel free to leave a comment below...
No users have replied to the content on this page