Day 3 (January 24, 2016 – Los Angeles, California): "Breaking The Losing Streak"
It was about 6am when we awoke. We woke up earlier on this morning because we had to get packed and ready to go before breakfast. Given that today was the challenging Three Sisters Falls hike, I figured that we needed all the time that we could afford, especially since we also wanted to scout out the Ramona side of Cedar Creek Falls before driving all the way home.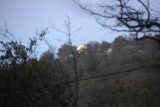 When I looked outside the window, I could see that the skies were definitely clear so whatever weak storm that came our way last night was obviously short-lived. Now, there wasn't a cloud in sight, and there was even a bright full moon that was looking big and setting behind some nearby hills with lots of foliage getting in the way (so it was hard to photograph).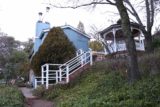 It was a bit nippy outside, but other than that, we spent a good couple of hours getting our stuff together as well as getting ready for the day. By about 7:45am, we had loaded up the car, and we then showed up to the breakfast area a few minutes early, where we chatted with both Dawn and Ed who were already up bright and early.
Julie was enjoying the fireplace they had over there, and we were talking about our experiences last night at the Wynola Pizza place (where Christine Parker performed) as well as our repeat visit to Jeremy's on the Hill. We also learned quite a few things about Ed and Dawn, who revealed to us that they were originally from the Bay Area and that Ed was now part of the Chamber of Commerce for Julian. We further learned that they ran and maintained the Butterfield Bed and Breakfast by themselves, so I can appreciate how it's pretty much constant work even when they're not fully booked with guests.
Meanwhile, we talked some more over the brekkie that we had, which was different from yesterday. This time, we had oranges topped with mixed berries as the starter, and the main was a kind of quiche. When they learned that we had a daughter, the conversations gravitated towards what else we could do around Julian, specifically at Borrego Springs.
We saw that there was a so-called Sky Museum, where metallic dinosaurs were created and on display for the public to enjoy for free. We figured that if there's more precipitation (especially snow) running off towards the deserts, then we might be able to visit some waterfalls nearby Borrego Springs (some 30 minutes east of Julian) as well. With this year seemingly the year of San Diego (as we had been to Legoland earlier in the month, and now we're in Julian), it just might be entirely possible that we might complete the trifecta by going all the way to Borrego Springs. Julie even fancied going to Sea World or something, though I'm not all that keen to visit theme parks.
When it was about 9am, we returned the keys and gave a fond farewell to Dawn and Ed. We then got back in the car at 9:05am, and now it was time to make our way over to the trailhead for Three Sisters Falls.
As we drove back through the town of Julian, Julie wanted me to make a quick stop in town seeing that it was fairly quiet at this time so the town would be more photographable without the crowds. We didn't make the stop for long as I was getting antsy about starting the Three Sisters Hike late, so we got Julie's desired town photos and soaked in the ambience briefly, but we figured that after the hike, we'll come back here again for a late lunch.
We continued on the drive back towards the familiar Pine Hills Road. And we followed the same route that we took yesterday, except we kept left onto Boulder Creek Road at the Eagle Peak Road turnoff. From there, the paved road gradually gave way to a fairly rough unpaved road past the Pine Hill Fire Station (roughly 5 miles from the trailhead according to our Nuvi
).
The driving was pretty tame and it seemed like we were the only ones on the road. There were a couple of sections of fairly deep ruts (clearly a gutter or water channel wasn't provided in such sections), but they were easily handled by Julie's car.
After getting through the Inaja Indian Reservation, we'd eventually get to a part where there were some fine views along the road. The views seemed to continue to improve as we were getting near the trailhead. Then, we suddenly saw a bunch of cars parked some 0.2 miles from the actual trailhead. Seeing that there were many other cars parked up ahead, we figured that we wouldn't have a prayer of parking closer so we just found a suitable shoulder to park, and then we promptly put on our hiking boots and made sure we had adequate water.
The time was now 9:50am and it didn't feel terribly warm at the time. But somehow we had a sense that we'll be sweating on the way back. Anyways, we could see right away that this was a very popular hike despite the challenges we anticipated on facing. We figured this hike couldn't be all that bad if it was this popular, but we'll have to keep pushing forward to see for ourselves.
We eventually got to the trailhead at roughly 10am. I was surprised to see a little girl by the left gate where everyone was hiking. If the hike was anticipated to be hard, should that little girl be doing this hike? In fact, this hike was the very reason why we didn't bring Tahia on this spontaneous weekend trip.
Julie asked others if this was the trail to Three Sisters (just to be sure), and they confirmed it. I could see that without the crowds of people getting started at around the same time as us, we could've easily gotten confused about whether we should've followed the gate on the right side instead.
And so we promptly got started and followed the pretty obvious trail that gradually ascended up to a hilltop before us. We could immediately see that there was an attractive ravine to our left as well as a rolling series of hills and ravines on the other side of the hill to our right. At the top of the hill were some black trees signalling that there was probably a fire that went through here at some point.
Once we were past the apex of the hill, we then started descending towards a pole at the end of a switchback. As we looked to our left, we could see way in the distance the Three Sisters Falls mostly in shadow though it wouldn't be long before it was be partially in shadow. At this time of the morning, it was already a bit difficult to take a photo of it given the high contrast in light.
Thankfully, this waterfall definitely had flow. We didn't expect any worse considering how well Cedar Creek Falls had been flowing yesterday.
Anyways, after the switchback, the trail continued descending gradually as it crossed some dry creek then went through a patch of shade through some fair overgrowth. Eventually, the foliage opened up towards somewhat of an opening, and that was when we had another opportunity to get a distance and attractive view of the Three Sisters Falls.
As we looked ahead, we could see there were already lots of people between the first and second waterfall with a handful of people even at the bottom and top of the topmost waterfall. We couldn't wait to get to the falls, but we were also anxious about the steep sections that we had read about as part of our trip research.
Well after a little bit of undulations, the trail continued descending before we finally got to where it got pretty steep. With our hiking boots, we were getting fairly good grip on these steep sections, but there was a Latino group that had passed us that was struggling already with the slope. There was especially one lady in tennis shoes, who kept slipping and falling on her bottom.
At this point, there was also a guy holding a yellow rope. I wasn't sure if that rope had already been there, or if he was setting it up, but he was waiting there for quite a while. Meanwhile, we saw other people find other paths to scramble both up and down (mostly on all fours) so we figured we mind as well not go on the rope route and descend around it.
Indeed, the slope was steep, but Julie and I felt we were in control for the most part. There were some sections where I could see how a misstep could lead to a pretty nasty head-over-heels-type tumble, but as long as we were careful in our route-finding, we were fine.
So we continued down this steep part, which after a while didn't seem all that bad though we were definitely glad we didn't bring Tahia with us. But then we got to a short but sheer rock wall with a role tied around a tree with exposed roots. Julie paused over here waiting for me as I was catching up.
And once I arrived, she then slowly descended the wall while carefully holding onto the rope. Once she got down, it was my turn. It wasn't trivial, but I also made it down, and I wondered whether going back up would be easier than going down something this vertical.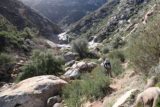 Julie and I wondered why they didn't force people to get permits for this hike (partially to fund a better trail) because all this scrambling was obviously causing erosion on the hill side. We wondered at what point will the erosion be so severe that it would be downright dangerous to do this hike.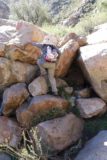 Anyways, once we got past this rock wall, the descent flattened out. We then found ourselves along the banks of Boulder Creek, which seemed to have a bit of water, but it wasn't raging. Now, we could see up ahead that people were doing boulder scrambles (and the section we saw looked particularly discomforting). There were also a few rocks with spray-painted white arrows though they seemed to be pointing in both directions so at this point, we seemed to have lost the "trail", and now we were essentially route finding and boulder scrambling our way closer to the Three Sisters Falls, which seemed so close yet so far away.
When we saw the boulder scrambling that some of the return hikers doing on our side of the creek, we thought it was too dicey to try. So we wound up following some other trail that seemed to be a bit easier that would up crossing Boulder Creek and continuing on the opposite side. But it didn't take long before we had lost the "trail" and had to decide which boulders to scramble around and which ones to climb.
I knew that further progress would be painstakingly slow. I guess this might be how Boulder Creek got its name.
There were some sections where we had to climb higher around very huge boulders, and there was even one part where we went underneath some stacks of boulders forming a little "archway". It was somewhat reassuring that we saw a few hikers going back the other way near us, which gave us a little more confidence that we were going the right way.
I guess that was the silver lining to such a popular hike – we almost always had a frame of reference whenever we weren't sure which way to go thanks to other people either pointing out the correct way or watching their examples. Had it just been Julie and I on this hike, we could totally given us and turned back prematurely.
After a few more minutes of hiking, we started to realize that perhaps this side of the creek might have been a bit harder than the other side. We were looking for opportunities to cross the creek back to the left side, but the crossings didn't look very secure. At least we were observing what other people were doing so we took mental notes that on the return hike, we'd do what they were doing and persist on going back on that side.
Furthermore, we started to realize the further we went that this trail seemed to want to climb higher as it was headed to the top of the topmost of the Three Sisters. That was not exactly where we wanted to go, but fortunately, we saw there was a spot where we could cross below the lowermost of the Three Sisters. And once we did that, we were finally besides the lowermost of the Three Sisters.
We then did a short sloped scramble on some very slippery rocks with some wet streaks on them. Clearly, those wet spots were probably dangerous as a slip and fall there could very well mean sliding down and over to first sister.
Still, we'd eventually get to the top of the first sister and be right in front of the second sister. Of the waterfalls that we saw, that second one was probably both the tallest and the most attractive of the three. It was now 11:45am when we finally made it to this point.
It was too bad that we were practically looking right at the sun as we were facing the second waterfall. That made photographing the falls a bit of a challenge. That said, despite how hard it was to even get to this point, Julie seemed to think this waterfall was every bit as good as Cedar Creek Falls. Come to think of it, this waterfall could very well have broken up our year-long losing streak of new Southern California waterfall experiences that disappointed and could've been deemed a waste of time.
I think Etiwanda Falls was the last waterfall we had done that we hadn't done prior to that visit which had pretty good flow (thus didn't feel like a lukewarm experience or waste of time). But I guess the drought caused all the new local waterfalls that we haven't done since to not flow too well. So waterfalls like "Cold Creek Falls", "Seven Falls", Jack Creek Falls, San Juan Falls, and even Cottonwood Creek Falls from yesterday were pretty much duds. But now Three Sisters Falls seemed to be the new local waterfall that broke this losing streak. But boy did we have to earn it!
Anyways, we could clearly see that there were many people who were content to just enjoy the falls along the slopes flanking this second waterfall. But when we had our fill of this spot, we thought maybe we should try to get up to the third waterfall as we saw numerous other people make it up there.
So after crossing the creek between the first and second waterfalls, we then followed the path where it was obvious that some folks were returning. Again, without their hints, I don't think we would've persisted in trying to find this path to get up to the base of the third waterfall.
Once we crossed the creek, we got a different and shadier perspective of the second sister before continuing with the hike. It wasn't long before we were faced with a rope and a pretty steep climb again. This time, it didn't look like the rope was necessary though that didn't mean the climb around it was any less dangerous.
Once we were atop the rope, there was a particularly scary sloping rock section where if we slipped and tumbled with the slope there, it would probably be a fatal fall. Once we were past that, we were back on a brief section of narrow trail hugging more rock walls before we got to what appeared to be a turn where it wasn't clear how to proceed forward. Some of the other folks there suggested that we could climb up the rock and slope before us to get right to the bottom of the topmost waterfall, but we also saw others scramble up on what appeared to be a narrow notch between rocks before scooting sideways with dropoff exposure until finally getting to the desired spot.
Again, I was pretty uncomfortable with this scramble, but since we had made it this far, we mind as well finish the job. So Julie did the scooting to get to the desired spot before I did. It was definitely an awkward scramble so I kept going up the notch to see if there was a better way. It turned out that I found another trail up there, but I was told by other folks on that trail that it led up to the very top of the third waterfall. That wasn't where I wanted to be.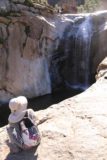 So when I realized that, I scouted around to see if there was a way I could get directly down to the ledge that Julie was on. It was a dicey scramble no matter which way I went except for going back the way I came. And so after figuring out the route, I summoned my courage and did plenty of sit and scoot maneuvers before I was finally alongside Julie before the front of the third waterfall. It was about 12:10pm when we finally made it there.
Now, we could finally enjoy the moment. We had no intentions of going up to the top of this waterfall as we were pretty content with the views (albeit shady and against the sun) of that third waterfall. And when we looked downstream, we could see the lip of each of the other two falls as well as the trail and steep scramble way back in the distance.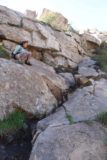 We could see the people on that trail looking like ants, and we could especially see the large spaces between the people who were at the steep part of the hike.
We took a few people shots as well as some movies of the scene. We tried to balance the savoring of the moment and accomplishment of finally getting this far to the falls. However, that was tempered by the fact that we still had to get back to the trailhead then have a late lunch as well as scouting out Ramona before finally going home. Indeed, it was getting late.
So at 12:35pm, we finally pried ourselves away from the turnaround point of the hike, and now we had to face the dangerous scrambling in the opposite direction. So first things first. We had to at least get back to the front of the second waterfall, which meant going through all that steep scrambling going downhill now.
There seemed to be a lot more people going in the other direction, especially at the rope. We saw other people sit and scoot their way down the rocky slopes away from the ropes, and we eventually did what they did to avoid waiting in the long queue to use the rope.
When we were back at the front of the second waterfall, our boots were wet from crossing the creek so we now had to weigh the risk of slipping and sliding on the steep and smooth rocks sloping downwards with wet soles on the boots or waiting for the bottoms of our boots to dry to get better traction. When we realized that the boots probably wouldn't dry fast enough, we carefully made our way sideways towards some dirt patches amongst the sloping smooth rocks.
The descent from there was more or less more sure-footed, and then after a brief descent over the smoother parts of the rock (no way around those), we were finally below the first waterfall. Now, it was time to stick to this side of the creek and follow the spray-painted white arrows, which we could now clearly see on the rocks up ahead.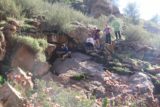 Somehow the "trail" and scrambling seemed a bit more obvious on the way back. However, we'd eventually get to a spot where the trail disappeared and we had to boulder scramble on some dicey slopes with dropoffs below. But after watching some younger guys do this part, we sat and scooted our way across until we could finally confidently plant our feet and continue walking and scrambling.
Once we were past that obstacle, we were finally done with the boulder scrambling and regained the trail. However, before we could gain any momentum, we both had to find a private spot so we could do a nature call. We really didn't have any opportunities to do this throughout the hike. And when we finally did find a spot, we both did our thing, but out of the corner of my eye, I saw some lady scrambling amongst the bush (not sure how or why she was there) and said something to the effect of, "I see a burrito!"
Julie wouldn't stop joking with me about this for the rest of the day.
Next, we were back on the trail, and then we waited in line to go up the nearly vertical rock wall with rope and tree with exposed tree roots. There were some folks with their dogs who managed to ascent the rock wall without the need for the rope, and I entertained the idea of doing what they did. But I figured the rope was easier, and I still needed to help Julie up just in case.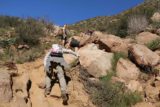 Once we got past this obstacle, we next had to scramble up the dusty gullies hand over foot. It was getting hot as it was the height of the day, and we even saw one lady who was laying down next to the "trail" seemingly in bad shape. One of her friends was next to her trying to tend to her, and we wanted to give them some of our water. Her friend said they were fine and we kept going.
But we knew that there was a long way up from where they were at, and if the passed out lady was already having trouble just to get up to this spot, she wasn't going to make it all the way back up.
In any case, we and a lot of other folks continued our steep ascent. I was following Julie so as she was climbing, she was also kicking up some dust, which I happened to be breathing behind her. Not pleasant. Also, my hands were noticeably dirty given the amount of hand usage on these steep slopes. I don't think my hands had ever gotten this dirty since elementary school.
With our calves burning, our breathing heavy, and our clothes wet with sweat as well as wreaking of BO, we finally made it above the hard part of the climb at 1:25pm. At that point, we took a bit of a water break knowing that the worst was finally behind us.
Meanwhile, we heard chopper sounds as there was a helicopter flying around the ravine. Since this wasn't a hike that required permits, we wondered what the chopper was here for. But then we realized that perhaps these were choppers aiding in search-and-rescue. And in the case of the passed out lady down below, perhaps that was what these folks were here for.
Barely a few minutes later, Julie noticed that there was a uniformed guy who was quickly making his way down past us and perhaps down to that struggling lady lying down. Man, they're fast!
Anyways, we resumed out climb until we eventually got up to the clearing that I thought might be the "helipad" where the choppers would make emergency landings or something. That was also where we got a few more parting looks back at the Three Sisters Falls with a little less shadow than what we had seen earlier in the morning. The time was now 1:40pm.
Continuing on with the hike, it was now gradually uphill. But with all the danger and challenges of the hike up to this point, this sunny and hot uphill hike was actually not too bad considering. It didn't take long before we were finally in view of the trailhead at some time after 2pm. Up ahead, we could see that there were actually two helicopters here as well as a handful of fire engines, paramedics, and ambulances here.
I wondered if this was an everyday occurence on the weekends like today. I'm also certain their services aren't cheap. So this further reinforces the notion that they really ought to require permits for this hike like they do Cedar Creek Falls. At least then, they might use those permit proceeds to help improve the trail itself as well as provide another opportunity to warn would-be hikers of the risks and the costs of being rescued.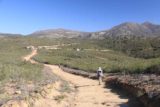 Well, it seemed like just as we had finally made it back to the trailhead, quite a few of the emergency vehicles were on their way out. It wouldn't be until 2:20pm when we were finally back at the car. And yet amazingly, it looked like there were a handful of people who were starting their Three Sisters hike at this moment. I don't think they'd make it out of there by night time with such a late start. There was even a pair of girls who just pulled up and asked us whether this was the right trailhead.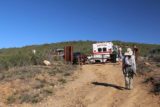 They knew they were pushing it with the amount of daylight left. Anyhow, we confirmed their suspicions, yet I still think they're nuts for starting the hike now.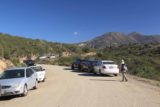 At 2:25pm, we finally left the Three Sisters Trailhead, and now we were driving back towards Julian. We were actually catching up to one of the emergency vehicles who had a head start well before us. That vehicle looked like it said something to the effect of Julian-Cuyamaca. We also saw other vehicles looking like they came from Descanso to the south. Clearly, this was a multi-district problem that each of the respective emergency crews seem to respond to the events that happen here.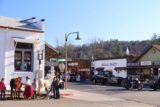 Finally at 3pm, we were back in Julian again. Even this late in the afternoon, it was quite busy in town. We were lucky to find a parking spot along the Hwy 78 just east of the four-way stop. Once we parked, we quickly got ourselves a torpedo sandwich (just something quick as we had no time to do sit down lunches). While in the deli at the corner, I was watching with the store clerk the TV which had the Broncos vs Patriots game. As Julie was getting some buckwheat honey further in town, I was glued to the TV watching the exciting end to the game.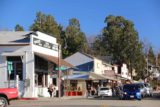 The game was so entertaining that Julie came back in time for me to pick up the sub. That was when we continued walking around more of the town as Julie wanted to try some of the famous apple pies here.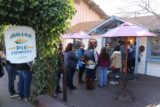 Given the long line at Mom's, Julie saw that there was the Julian Pie Company, which was a little offset from the center of town. It too had a long line, but we saw that there was a much shorter line around the side of the business if we were willing to puchase the whole pie. So we promptly did that to avoid the crazy long line. But that also meant if we wanted to eat the cinnamon ice cream with the pie, we had to purchase a pint of that ice cream.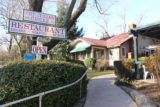 So after paying about $20 for all those things, we then returned to the car so we could have our late lunch in the car. There was no seating available at the restaurant. So we quickly downed the torpedo (not that great), then we had the pie, which was delicious and crumbly. I guess we could now see why the Julian pies were famous. Unfortunately, Julie couldn't each much of the cinnamon ice cream since it had milk and it also had corn syrup so it was me that gorged on the ice cream since we knew it would melt by the time we got home.
Eventually at 4pm, we were finally left Julian and followed the long caravan of cars towards Ramona. With the fading light in the day, I wasn't sure how much of the Cedar Creek Falls hike I could do before it got dark. But I was still determined to see what that trail was like before going home.
The Nuvi wanted us to take some crazy back roads towards the Thornbush Rd at the San Diego Country Estates, but we stuck to our guns and stayed on the main highways entering Ramona, then leaving Hwy 78 at the lighted intersection with 10th Street. Turning left onto that street, it was then pretty straightforward driving as it became San Vicente Rd, then turned left becoming Ramona Oaks Rd.
This drive was fascinating as it seemed to go through a series of country clubs before passing through what seemed to be a new housing development or community. The homes here looked pretty upscale, and given how the road so far had been all paved, it became pretty clear why the Ramona side of the hike was so much more popular! Indeed, the drive to the trailhead was a breeze!
Eventually, after passing through a residential neighborhood and turning right onto Thornbush Rd, that road would dead-end past some houses, and that was where we could see there was a parking lot, some cars still parked on the street, and some restroom facilities as well as a picnic table with shelter with a fine view back towards the expensive homes here. There was even a big water tank, which I'm sure was for the residents here. We ultimately parked next to the orange cones and trailhead at about 4:45pm.
Looking down towards the San Diego River, it was clear that this seemed to be a very scenic view towards those mountains we had skirted on the Saddleback Hill Trail yesterday. I guess if I had to evaluate which was the more scenic trail, I'd have to say that the Ramona side had more scenery even if we would be looking against the sun in the morning and at midday.
I also noticed at the trailhead that there was a table with sign-in sheets and a chair. I'm betting that that was where someone watching the trailhead would check for permits and ensure that people were fit to do this hike. Since no one seemed to man it at the time, I kept taking pictures then running onto the trail quickly trying to see as much of the trail that I could before it got dark.
With the fading light of the day, the orange glow on the mountains before me were very attractive. The trail itself seemed quite easy and well-used. They even had flagged poles with signs attached to them tracking the progress typically in 0.25-mile increments.
I'd eventually descend the switchbacks of the trail down to about the 1.5-mile post. At that point, I knew that going any further down would be futile and would merely delay our ability to go home with no pictures to show for it (due to darkness). So that was my turnaround point.
Eventually at 5:35pm, I was back at the car. Julie told me that there was a lady here who asked her what I was doing. I guess she was the person who watched over this trailhead. But I guess when she told her that I was just scouting the trail and not going down to the falls, they chatted a bit about her working arrangements here as well as some of her stories about some of the folks she had to turn back – e.g. some without permits, one guy who showed up drunk, and others who came without enough water!
And with that, we promptly drove off and headed for home. The drive was still without its dramas as we had to continue to descend along the Hwy 78 from Ramona to Escondido along some pretty twisty mountain roads even though it seemed like the average speed was around 40-50mph.
When I was being tailed by some cars who seemed to be going very fast (because I thought I was gunning it), I eventually found a shoulder to pull over and let them pass. That was when we realized that the cars tailing me seemed to be some kind of car club as there was one Mustang after another that would pass by. It took quite a while before I could finally get going again, and I managed to follow the last of the Mustangs so they were my frame of reference and I wouldn't have to react to the curves from being ahead of the pack.
Still, those guys were going really fast for such curvy roads!
Once we got into Escondido, the driving was much smoother and more straightforward. With it being pretty late on Sunday night, the traffic was moving swiftly even though I was still surprised at the volume of vehicles still out on the I-5 at this time.
Eventually at 7:40pm, we finally made it back home. We had fancied doing a dinner along the way home (possibly a Brodard takeaway), but we decided against it given what a long day we had. And with tomorrow being a workday, we pretty much called it a day.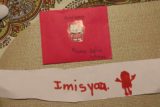 Julie and I were excited to see Tahia again, and Tahia missed us as she wrote her own makeshift greeting cards, including one that said that she missed us. Awww, how sweet!
I guess as much as we wanted to take Tahia on this trip but couldn't, it was nice to be away from her for a little bit. But as Tahia's note indicated, I guess absence makes the heart grow fonder, and indeed it went both ways in this case…
Visitor Comments:
Got something you'd like to share or say to keep the conversation going? Feel free to leave a comment below...
No users have replied to the content on this page