Day 1 (April 7, 2017 – Lone Pine, California): "Spring Rain"
It wasn't until about 1:35pm when we left home. The original plan was to be out the door by noon and pick up Tahia early from school during her lunch, but with the morning being full of errands (I definitely needed to take the day off work) from shopping for groceries for Julie to wrapping up the trip journals and writeups from last week's trip to Santa Barbara, we ultimately decided to have a lunch and make some kefir before we were ready to leave, and that just so happened to be almost the time for Tahia's normally-scheduled dismissal from school.
Eventually, Julie, Tahia, and I were on our way to drive up to Lone Pine after getting Tahia at 1:55pm. In parallel, my parents and Joshua (my nephew) were going up in a separate vehicle. Mom had originally wanted all of us to carpool, but that turned out to not be a practical idea given how much luggage that was necessary even though the car could fit that many passengers (6). Still, we could carpool tomorrow when we'd have the full day in Death Valley.
In any case, this was the largest overnight Nature trip that we've done so far (as Joshua had previous not been on these kinds of trips). We didn't bring his sister Sophia, nor did my brother and his wife want to come (they're not into these things). But we were bringing Joshua along first just to see how things go on this trip before bringing Sophia along. I know Tahia was very stoked about spending time with Joshua, and I'm sure Joshua felt the same.
From looking at the maps, it didn't seem to make sense for us to fight the I-15 traffic heading to the northeast before going northwest up along the 395 from the Victorville area towards Lone Pine, which was where we were to stay for the next two nights. So we wound up driving north along the I-5, which was very sluggish for almost the entire way. We'd eventually get to the Hwy 14 as we made a brief stop at a Mickie D's in Palmdale at 4pm.
However, the restrooms there were locked and Julie was not going to purchase junk from them to justify a restroom visit. So she made us drive across the street to an In N Out, where they were a bit more open about the restrooms. And as we were tempted to grab one of their burgers on the go, we refrained as we had already eaten lunch and we were trying to save ourselves up for dinner.
Once we got moving along the Hwy 14 passing through Mojave, the drive was pretty uneventful. The skies were quite sunny and mostly clear, but as we got onto Hwy 395 as we were making our way through Olancha, we noticed there were lots of clouds up ahead. Some of the clouds were even touching the ground! When Mom texted Julie, she said that they had already made it to Lone Pine, and that it was raining!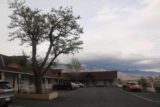 We weren't expecting to deal with rain on this trip, and we were wondering if that was the reason why we managed to score accommodations for the weekend at the last minute at a Best Western. Anyways, we'd eventually make it to the Best Western Plus in Lone Pine at 6:15pm, and sure enough, it was raining somewhat lightly to moderately.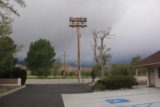 After spending the next half-hour getting our stuff out of the car and into the room, we then all carpooled together to drive for 15 miles further north towards the town of Independence. That was where we looked forward to having dinner at the French / North African place called Still Life Cafe. I hadn't been there since a backpacking trip with good friends Cindy and Ed, which was probably almost four years ago now.
Still, Julie was sold on the chicken tagine she saw on a Yelp review, which I'm sure would be steamed so the dish ought to be clean and soft to facilitate her digestion issues. And so we'd arrive at the Still Life Cafe at 7:05pm, which was just when it was raining a bit harder. Who knew that it'd be raining this much out here after going over a month without rain?!? I swore that this was probably the first time we've been in the Eastern Sierras during a Winter or Spring storm. Normally, we were exposed to Summer thunderstorms out in these parts.
With both Joshua and Tahia finally able to keep each other company for an extended period of time, they were busy making quite a raucous, which made us uncomfortable about disturbing the otherwise peaceful ambience of this place. We repeatedly had to shush the children and keep them in line the best we could.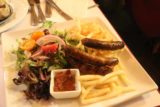 But other than that, we enjoyed a merguez (spiced lamb sausage), rib eye steak (excellent), burgers, pasta, escargot, and some greens. Julie was bummed that the chicken tagines were apparently more special occasion and they weren't intending to do that dish today. Nonetheless, we enjoyed the food but it costed the whole table around $162, which right off the bat was a bit more than I was hoping to spend on this trip.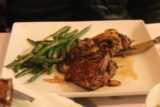 We were back in the car at about 8:50pm as it was still raining pretty moderately. Eventually at 9:20pm, after filling up gas, we got back to our rooms. I was still getting used to driving Mom and Dad's new car (too many fancy features, I reckoned) as I was much more comfortable with more low-tech controls, but I figured these extra features were more of a ploy by car companies to upsell their maintenance in such a way that if something went wrong, you couldn't hack a solution or just to go to the trusty old family mechanic. Instead, you'd have to go to the dealer or something who would be better equipped to fix or replace parts of a much more complex system.
And so ended this first day, which was really more of a travel day. We all had no trouble sleeping and looking forward to Death Valley first thing tomorrow morning…