Day 3 (April 9, 2017 – Los Angeles, California): "The Carsick Kid"
It was about 4:35am when I awoke to my alarm. Last night, I had arranged with Mom to meet met at the breakfast room a little after 5am so we could check out the Alabama Hills before we would be ready to go back to Death Valley at around 8am. I eventually got into the brekkie room at around 5:10am, and Mom joined me about 15 minutes later as she was struggling with getting Joshua's car seat re-installed.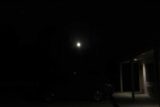 While having breakfast, I briefly talked with the receptionist about how long of a drive it would take to get up to the Whitney Portal Falls. But she dashed those hopes of trying to squeeze that in when she told me that the road to get there was closed right now due to storm damage. So I guess that pretty much meant that we were only going to focus on Alabama Hills on this early morning.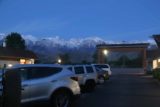 The skies were still dark so perhaps our early start was a bit too early. But when we were done with our early brekkie, I decided that perhaps we should view the alpenglow from sunrise at an open field adjacent to the Best Western Plus. I managed to take photos from here while waiting for the rest of the family to get ready yesterday morning, but now it was Mom and I looking at the gorgeous Sierras, including Mt Whitney dominating the sky line.
But as we were taking pictures, our hands were getting numb. We didn't realize it at the time, but apparently the temperatures were either at or below freezing!
Eventually, the sun started to rise and cast a pinkish glow on the Sierras. But then some high clouds started to get in the way and kind of mute the colors as the morning wore on. So we got our snaps, then immediately put our hands back in our pockets to warm them up again. And by 6:45am, we were back in the car where we could use the heater to help get feeling back into our nearly frost-bitten fingers.
We'd eventually make it to the Arch Loop Trailhead within the Alabama Hills. Having never been here before, Mom and I really enjoyed how scenic these rock formations were as they fronted the snowy Sierra mountains, which included Mt Whitney. We saw there were quite a few RV and car campers sprinkled about these Alabama Hills, which made us wonder if this should be something to consider the next time we're in the area (like climbing Mt Whitney and checking out the Whitney Portal Falls for example).
Anyways, we walked the pretty easy trail as it descended into a dry wash before climbing back out and heading right towards a jumble of rock formations. There was one photographer with a tripod already atop one of the formations. But as we walked near the rock formation he was standing on, that was when we saw both a tiny arch as well as the more significant Mobius Arch.
Immediately, we climbed up through the span of the arch, then tried to take advantage of the soft morning light to shoot Mt Whitney through the Mobius Arch. It was quite the unexpected pleasant surprise of this trip, and our experience here gave Mom the idea that perhaps we should delay our drive to Death Valley so the kids could come here and enjoy the Alabama Hills before driving over to the Mesquite Sand Dunes.
So by about 7:30am, we were back in the car, and 15 minutes later, we were back at the Best Western Plus. The silent radio there said it was still about 29F in Lone Pine though a different thermometer from the Lone Pine High School said it was more like 38F or something like that.
It still took the rest of the family quite a bit of time to finish breakfast and then finish packing. And so it wouldn't be until about 8:40am when we were finally checked out for good.
At about 8:55am, we were back at the familiar Arch Loop Trail within the Alabama Hills. Tahia was already digging the rock formations along the way. But now it was time to walk to the Mobius Arch to see how the kids react to it as well as some of the other rock formations in the area.
It didn't take long before we'd get back to the arch. And as expected, the whole family (including Dad) were digging the Mobius Arch. So we spent some time taking family photos as we knew this was the kind of place that might end up in a frame or something. We then took more photos nearby the smaller arch, where Joshua and Tahia were being their silly selves again.
As more and more people started showing up and it was getting pretty late in the morning, that was when we finally got back to the car at 9:55am, and then started driving back to the Best Western Plus for a final potty break before finally heading back to Death Valley.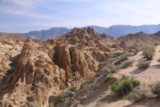 The drive started at 10:15am, and I was getting a bit nervous about our late start back into Death Valley. So I figured that we could at least visit the Mesquite Sand Dunes, but then we'll have to make a re-evaluation about what we could do after that (if anything). For driving south towards Badwater and then towards Baker seemed like we'd be pushing our luck.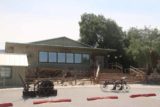 Anyways, we'd eventually make it to the Stovepipe Wells Village at 11:40am. When we got out of the car, we saw how crowded the restrooms were by the General Store. But Julie thought we should beat the rush and have an early lunch at the Saloon across the street instead. And so that was what we did.
However, as we were making our way over, Mom was telling me that Joshua had gotten carsick and threw up in a plastic bag. At first, she blamed Dad's driving since Joshua wasn't car sick yesterday when I was driving. But when Joshua divulged later that he had been playing with the iPhone during the mountainous drive between Panamint Valley and Death Valley, that was when we knew that that must've been the smoking gun so-to-speak.
And so while we were dining at the Saloon, we wound up having a chili burger, some salads, and some chicken tenders for the kids. It wasn't exactly high quality food, but it was still priced like it was as the lunch was once again over $100 with tax and tip. The service was a bit on the slow side so it wouldn't be until 1:20pm when we were finally back at the car.
Now, we could drive further east to the Mesquite Sand Dunes, where we'd arrive at 1:30pm. With it being the height of the day, there wouldn't be the soft morning light that I was hoping to experience like the last time we were here, but at least the kids could finally get to play with the sand. And with the winds quite calm on this day, we quickly made our way out to some of the dunes and fused-sand basins just to let the kids be kids for a bit.
When we had our fill of the place as the hot sand (even though it wasn't even 80F) and bright incident light threatened to burn us, we would return to the car at 2:10pm. It was quite busy and popular at the Mesquite Dunes as it was quite an easy place for people to pull over and experience. But now that it was quite late in the afternoon, I decided that we ought to just drive back to have dinner closer to my parents' place.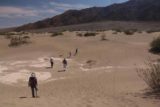 But that meant we'd have to go back over the Telescope Range and into Panamint Valley again, and so I knew that that wouldn't be good news for Joshua's carsickness. I knew that once you have it, you'll have it for the rest of the day until you stop moving or you sleep it off. And I didn't see that happening with Joshua until the trip was over.
And so we made the drive back out of Death Valley, but instead of going all the way back to the 395, we headed south on the Trona-Wildrose Road. This road was paved but quite a bit rougher than the other roads we had driven on, which made me worry about the treads of our tires.
I never recalled doing this drive before (or maybe Julie and I did take this route back in 2006 because I recalled going by the Trona Pinnacles on that trip), but it was quite refreshing to drive on pretty empty roads with the other side of the Telescope Peak with its snow still in view.
By about 3:40pm, we made a gas stop in Trona, which seemed like a pretty depressed town that was buoyed by mining and other extractive industries. There was a Shell Station that had a restroom, but Julie had to buy a home-made burrito to justify that restroom visit as we filled up gas at a Valero further up the road (though someone ran off with the keys there so we couldn't take a potty break there).
After the stop in Trona, we pretty much drove straight shot all the way back to having dinner at this place called Man Chan in Rowland Heights. I was reminded of why driving south on the 395 towards the I-15 was actually pretty painful as traffic was heavy, the roads remained two lanes, and there were traffic lights for much of the stretch between Adelanto and Victorville/Hesperia.
So it wouldn't be until 6:40pm when we finally made it to the restaurant, which was earlier than the 7:15pm arrival that we had expected. The restaurant wasn't expecting us so soon, but we eventually got seated in the tight quarters of the small eatery. And we wound up having some spinach, Hainan chicken rice, beef luc lac, and some pig ears with chili peppers as appetizer. Joshua still wasn't feeling well and so Mom, Dad, and Joshua left dinner early. And that pretty much left Julie, Tahia, and I eating the final dinner of this trip before heading home.
Right before taking off, we tried their coconut jelly dessert, and it was quite good as it was pretty much young coconut, but they put something to thicken the coconut water and make jello out of it. Tahia and I were competing for spoonfuls of the stuff before I finished off the flesh inside the young coconut when the jelly was gone.
And with that, we left the restaurant at 8pm and finally made it home at 8:30pm. Once again, we had little time to do anything else but to get cleaned up, unload the car, and straight up sleep as I had to get ready for the work week again right after a trip for the second week in a row. It was going to be a short workweek for me as Tahia's Spring Break trip to the Four Corners States was going to start later this week. And so the hits just keep coming, but I don't regret doing this one bit as we're continuing to seize the opportunities to live life and create lifelong memories for the whole family…