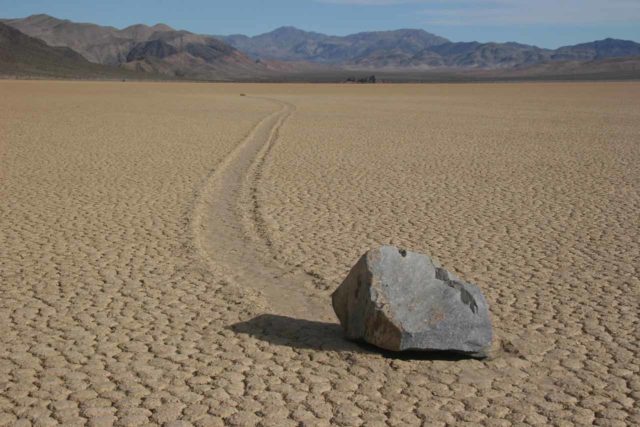 24-March 2006 to 26-March 2006:
In one moment, Julie and I used our tripod to take a couple photo here, but it was so windy that when the timer was armed and fired and we were smiling for the camera, the wind managed to pick up the tripod and topple it with the camera!
It was too late in terms of the impact the camera made with the ground, but I also had to wipe away all that sand and salt that was suddenly all over the newly-bought expensive device…
Day 1: A PERFECT OPPORTUNITY TO TRY THE NEW CAMERA
It was a Friday and I had taken the day off. My parents had informed us that they were in China so we could use their SUV and save ourselves the expense and hassle of renting a car.
It had been a three years since I had hit a deer that totaled Dad's MPV in Utah so that was still fresh on my mind since that was the last time he left me alone to drive his vehicle. Still, that was the very reason why my parents' ended up with this MDX, which delighted my Mom since she probably got tired of Dad pinching pennies driving old, used beaters.
Anyways, this time I didn't expect to be seeing any megafauna. However, I did expect to do some driving on unpaved roads. Since this car was supposed to have high clearance, we figured it was probably better to take my parents' SUV instead of my old low clearance Acura Legend.
So with our early start, we first had to drive up to my parents' place to drop off our old beater (it was Julie's Toyota Corolla this time) and exchange it for the parents' MDX. Once that was done, we then had to go fight the morning rush hour traffic which we tried to beat.
The route we ended up taking was through the Lancaster/Palmdale area to at least get onto the Route 395, which we normally associated with going to the Eastern Sierras. However, this time, we knew we weren't going to go that far north. Instead, we'd be heading east to Death Valley on one of the two eastbound routes.
The drive was pretty uneventful once we got through the morning rush hour. And by the time it was about 10:45am, we found our way to the Panamint Springs area at the trailhead for Darwin Falls.
Even though Darwin Falls was technically within the boundaries of Death Valley National Park, it looked like the Panamint Springs area was annexed. So I guess you can't really say this waterfall was in the harsh desert ecosystem in the main part of Death Valley, but nonetheless, we were for all intents and purposes in one of the most harshest places in the lower 48 states. So to say we visited a waterfall here was kinda neat!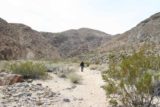 The trail started off in a wash not far behind the Panamint Springs resort. The scenery here indeed looked like it was desert, but not the arid Saharan Desert that the word typically conjured up. In fact, this Panamint Springs area felt more like some of the local area hikes we had done as there seemed to be a significant amount of shrubbery hinting that there was at least some subsurface water in the wash.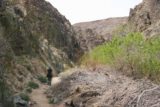 As the hike persisted, the wash started closing in and we could see some taller trees in addition to the shrubbery. Indeed, whatever we were walking through, it was definitely more moist and more conducive to a waterfall than we had imagined.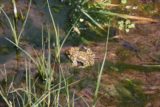 Eventually, the trail pretty much was sandwiched between the creek and the canyon walls itself. By this point, we started to notice there were some toads or frogs in the stream. They seemed oblivious to us as they were busy hopping around apparently looking for mates.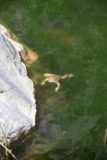 We saw more than one pair of frogs actually on top of each other (front to back), and Julie and I looked at each other wondering if these frogs were mating.
In any case, with these frogs present, we treaded lightly and watched our steps so we wouldn't accidentally step on them. It wasn't often that we got to share a waterfall excursion with frogs.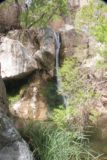 By about 11:30am, we finally reached Darwin Falls. We weren't the first ones on the trail as there was another couple that was here as well. However, it looked like they were looking for a way to continue on the trail as they claimed there was another waterfall further up the stream.
Julie and I didn't follow them as we were pretty content with the waterfall that was before us.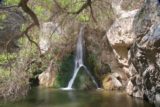 With the new DSLR camera that we were finally able to use (we were supposed to have used it on our February Yosemite visit to capture the firefall, but the camera showed up too late), we still had to get used to it. Up till this point, I had never used an SLR though the manual functions on our old Sony Cybershot definitely helped prepare me for the concepts that I would have to employ in using this camera.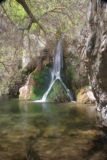 Eventually, I'd figure out how to use the shutter priority on this camera, but then that also meant that I was prone to blowing out the bright scenery around us. Even though we had darkening filters, it seemed like the camera was trying to compensate for the lower light. It was a bit more tweaking than I was used to in order to get shots, but I guess this was the learning curve I was eventually going to have to go through in order to become a bonafide DSLR user.
I knew that once I switched over to DSLR, there was no going back.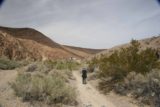 Anyways, this short waterfall was probably nothing special by our standards. However, to say we visited a waterfall in Death Valley, I guess that kind of bumped up our perception of it.
By about 12:45pm, we left the Darwin Wash and returned to our parked car. By that time, we saw many more cars parked in the wash, but strangely, it seemed like we didn't see nearly as many people on the trail. Could it be that we missed out on something?
Next, Julie had a bit of a lunch craving. Since it was pretty much high noon, we figured we ought to make the drive all the way to Scotty's Castle. I recalled my Mom said something about some kind of property in the middle of nowhere with a stream running through it. I wondered if this was the place she was talking about.
In any case, Julie was hoping that we could at least grab a bite there since there seemed to be nothing but wilderness for most of the drive.
The drive was pretty long and it wasn't until around 3:30pm that we finally arrived at Scotty's Castle. It appeared that the cafe wasn't open and Julie wasn't too pleased about that. Fortunately, we had snacked on some junk food we picked up from rest stops along the way to Death Valley. So that would have to hold us over for at least tonight.
It was quite a sight to see this structure out in the middle of nowhere. We decided to take a tour of the place considering we had driven all the way out this way and at least had to learn a little about this place as well as sightsee it.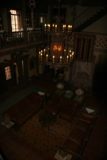 We were guided by one of the employees here who suddenly broke into character not long after introducing herself to us. The whole time, it was as if she was posessed or reincarnated by someone from the 1800s or something because I could swear there was nothing that was going to break her out of her 19th century mode.
So she walked us around the property showing some of the intricate interior of the place. I don't think Julie nor I recalled much of what she had to say. I guess we were probably a bit too immature to fully appreciate the history of this place and to really imagine ourselves here. Then again, maybe it was because we were also hungry.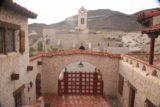 Touring this place was kind of like touring Hearst Castle in a way though the furnishings in here weren't quite as opulent. Still, whether we knew it or not, we were somehow mentally transferred into the 1800s even though we wouldn't have a clue as to how it would've been back then since we had no way of personally experiencing it. Perhaps, it was our guide who was still in character and the environment we were in that kind of subconsciously put us in that state of mind.
Even though it wasn't hot outside (it only got up to the high 70s and low 80s), it still felt cool inside the castle. I could only imagine just how much more of a relief it would've been in here had we showed up closer to the Summer where temperatures would've routinely broke the century mark and even get into the 120s!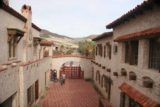 The photo ops were a little bit limited, but nonetheless, the mental pictures we knew we'd be bringing home from this visit would sure leave a lasting impression.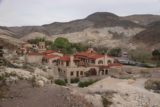 By about 4:15pm, our tour ended and the tour guide once again suddenly broke out of character and was back in modern times again.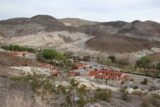 We'd spend a few more minutes taking a few more photos of the Scott's Castle area, but it was getting pretty late in the afternoon so we figured that we had better start heading back in the direction of the campsite we were intending to spend the night.
We didn't bring any of our camping gear as we had intended to sleep in the trunk of our parents' SUV, which we figured was roomy enough for us to sprawl out.
It seemed like we weren't going to have problems with being shut out of a campsite since this time of the year, Death Valley seemed to be pretty quiet.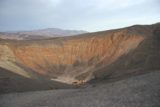 On the way to our camping area, we decided to take a brief detour to the Ubehebe Crater after seeing signs for it. Even though the light of the day was starting to wane towards night, we figured that we mind as well see what this place was all about since we were already here.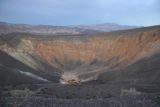 So we took the road towards this place without much expectation other than to see perhaps some volcanic scenery or at least something close to it (since our last experience with craters involved going up to the summit of Haleakala in Maui).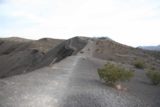 We'd eventually get there at around 5:45pm.
We decided to walk some of the short trails here, especially one that circled around one of the larger craters. It was very clear that there was indeed a crater here as the depression in the earth was ringed by colorful walls that seemed to suggest something was deposited here or there was perhaps some weathering effects that might have oxidized whatever iron that was in the rocks here.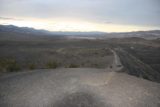 The walk took long enough for us to not only try to compose the crater in different ways, but also to start seeing the clouds change color as the sun was setting. That was definitely something we didn't set out to see, but it was pretty cool nonetheless.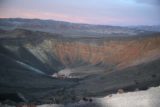 With the Ubehebe Crater being an unexpected surprise for us, we wondered what else Death Valley had in store that we didn't anticipate going in.
Even though tomorrow was going to be a full day of touring some of the sights that we had set out to see like the Racetrack, Badwater, and some natural arches, we were totally looking forward to it given our positive experience on this day.
Indeed, this place felt a little otherworldly. Desolate. Colorful. Blackened.
After circling another one of the craters, we then headed back to the car as the sun was disappearing behind the horizon.
As the daylight faded fast, we then drove over to our campsite. Even though we showed up pretty late, it seemed like there was plenty of spots. So just staked our claim to one of the open spots and then proceeded to tend to our hygiene as if it was a camping trip with no amenities.
We had brought along plenty of water though we still had to ration it. And so with nothing else left to do on this evening, we tried to sleep before 9pm. It was a task made harder by some of the commotion from neighboring campsites, but at some point, I guess the will of wanting to close our eyes to sleep took over.
Day 2: TESTING THE PARENTS' SUV
It wasn't the most comfortable night of sleeping, but at least it got the job done in terms of us getting enough rest to carry on with today's full day of sightseeing.
Powered by munchos like Kit Kats, chips, and beef jerky, we proceeded to drive towards the Racetrack Playa, which was one of those places that I had always dreamed of seeing. However, I knew that getting there required some extensive driving on unpaved roads. But I figured if there was a time to test my parents' SUV by taking it off the paved roads, then this would be it.
Our very early start was made easier by the fact that there really wasn't much more to do around the camp. We didn't pitch a tent so we didn't need to collapse it and clean up. We didn't go outside to picnic because we didn't have much to eat.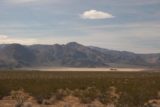 So before we knew it, we were already at the Racetrack Playa a little after 6am.
We expected that we would be the only ones here, but it turned out that there was another individual that was already here taking photos. I figured he must be pretty serious about photography.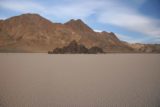 First, we stopped at a sign with a contextual view of what the sign said was a dry lake bed. Within the lakebed was a large rock that was known as the "Grand Stand" and we could totally see how one could envision that being a grandstand while the rest of the racetrack would be that lake bed.
As we proceeded past the contextual view, we'd eventually get right to the side of the lake bed. And that was when the hexagonal patterns in the lake bed could be clearly seen. And we could totally envision why people like to come here to take photographs.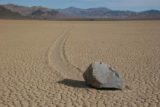 It was also from this spot that we could see a handful of rocks leaving streams across the racetrack. We weren't sure if they were moveable or not, but they didn't appear to be as large as what some of the literature out there would have us believe. Indeed, I could envision picking up some of these rocks (with some help) and moving them.
So whatever mysteries that the signage and the literature here would have us believe, it didn't seem quite as credible. Indeed, I could totally envision some human activity to try to create photo ops to sell as stock or post cards or something. You just never know I guess.
The Racetrack was much bigger than the distant view led us to believe. Indeed, we could easily spend a lot of time here simply walking the circumference of the Racetrack, but we weren't going to do that. We were simply content to photograph the rocks that left streaks on the lake bed. We even managed to get a handful of couple shots courtesy of that guy taking photos. That was real nice of him.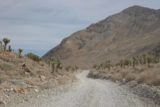 By about 9am, we had our fill of the Racetrack Playa and drove back towards the paved roads again. The unpaved roads were pretty long and I believed that it took at least over a half-hour to get through it. Even though I had a lot of confidence coming here in my parents' SUV, I did wonder if all that dirt and dust being kicked around couldn't have been good news for whatever went on in the undercarriage of this car.
After another pretty lengthy drive headed south on the main road, we'd eventually get lower and lower to below sea level. There were signs indicating the elevation we were at, and we had passed the sea level sign long ago.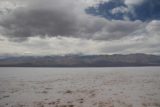 Our first stop was Badwater, which we got to at high noon. Last year, we had so much rain that Badwater was essentially a very salty lake. This year, it was back to being mostly salt flat with a remnant pool of standing water that we knew wouldn't be anywhere near fit for drinking (hence the name).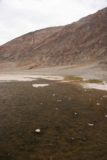 In one moment, Julie and I used our tripod to take a couple photo here, but it was so windy that when the timer was armed and fired and we were smiling for the camera, the wind managed to pick up the tripod and topple it with the camera!
It was too late in terms of the impact the camera made with the ground, but I also had to wipe away all that sand and salt that was suddenly all over the newly-bought expensive device.
Julie was reprimanding me for the stupid idea of taking a couple shot with a tripod under windy conditions. For this was the very first trip we got to use this Canon EOS 20D DSLR and right off the bat it was already subject to abuse that could kill it. Even that default zoom lens that it came with seemed to have managed to get some of the fine particles into the grooves of the lens, which I could hear as I was messing with the zoom and hearing some of the unseen grains in there get crushed.
Well after we got over the trauma of possibly losing the functionality of this camera, we were still able to snap photos so we got over it (oblivious to the long term damage this incident probably caused).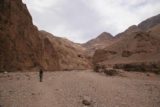 Next, we headed over to the Natural Bridge. Since Julie and I were into arches as well as waterfalls, and we knew that there would be arches where there typically wouldn't be waterfalls, this was a must-see attraction in our eyes.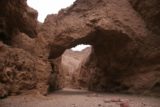 When we came to the correct canyon at about 12:45pm, and did the walk within the wash, it wasn't long before we found ourselves before and underneath the impressively large span of the Natural Bridge. There seemed to be some low-lying vegetation growing in the wash, which I tried to exploit as a subject for the arch, but those photos didn't turn out. I guess I still had a lot to learn about composing photographs.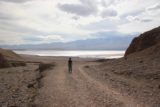 When we had our fill of the Natural Bridge, we walked back towards our parked car where we could see in the expanse before us was the large salt flats of Badwater fronting an even longer stretch of flatness before the terrain rose again on the opposite end representing the Telescope Ranges.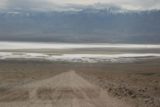 From what we could tell on this partially cloudy day, there was no snow atop the Telescope Range, and I guess that would be consistent with the fact that this year was turning out to be significantly drier than last years record rains, where it seemed like we got all of the Pacific Northwest's rains while they got lower than normal rain.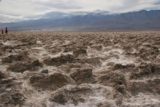 Next, we drove the roads towards other attractions. We didn't really have any more in mind though we did make one stop at the jagged Devil's Golf Course at 1:45pm. That was kind of an interestingly weird interplay of salt flat and jagged rocks. However, we didn't linger here for too long.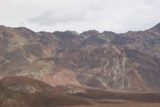 As we left the Devil's Golf Course, we continued driving north somewhat aimlessly. However, we did notice some intriguing color and patterns on some distant rocks or mountains, which I guess were known as the Artist Palette. We didn't go any closer to see them, but from where we were at, photographing them was sufficient to get the flavor of that spot was all about.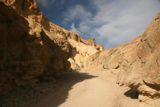 But eventually, we'd find ourselves at the Golden Canyon at about 2:15pm. Julie had read in the park literature that it was a colorful place for a hike. We weren't sure if there were more natural arches here, but we decided to give it a go.
The walk was kind of a relaxing stroll as the canyon walls quickly closed in on our sides.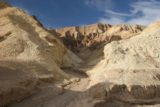 The sun was finally out and in full effect by this time so the canyons were creating some shadows. However, as the park literature promised, it was indeed a colorful place.
The lighter canyon walls were glowing gold with the sun as stated, but there were also reddish canyon walls in addition to some orange ones. At least my camera was able pick up the colors, which was kind of cool.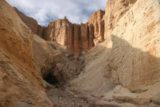 Eventually, we got to one end of the trail where the canyon walls seemed to have closed in at some formation known as the cathedral or something like that. There were column-like erosion patterns on the wall that prevented further progress, and it kind of brought us back to our 2001 trip to Capitol Reef National Park.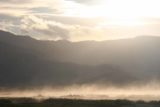 When we had our fill of the Golden Canyon, we headed back to our parked SUV. And just then at around 5:20pm, it seemed like a combination of the afternoon sun and a minor sandstorm made the blowing sand glow. It was quite a surreal sight!
In any case, this was kind of a cool way to end off this busy day of sightseeing. Next, we had to find a place to park the car and rough it for another night in the SUV. We were hoping to stay at the Panamint Springs Lodge at the very last minute, but when we showed up, they didn't have a vacancy. So we'd eventually drive all the way to the familiar campsite we had stayed at last night, but somehow I had the feeling that we could've easily parked off to the side of the road and given the vast emptiness of the place, we probably could've gotten away with it.
Day 3: DUNES
Once again, we awoke from the hard trunk of our parents' SUV at some time around 5am. We had no problems getting up given the uncomfortable night's sleep. And given our early start, we figured we mind as well start our drive home so we could still have the rest of Sunday to literally rest on this day of rest.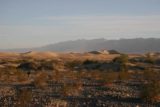 However, as we were making our way back in the direction of the Panamint Springs area, we noticed there were some attractive sand dunes glowing with the early morning sun. So Julie thought it was a pretty cool idea to make a brief stop and check out these dunes.
At just before 6:30am, we were literally walking in sand looking to see if we could get some pretty cool photographs of these dunes while taking advantage of the soft morning light.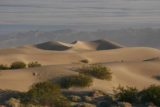 We still had to walk a bit before we would finally set foot on the dunes themselves. And that walk seemed to be deceptively further than we had anticipated. I guess there's something to be said about long flat expanses in the desert and deceptively long distances. I could totally see how those shows and cartoons depicting some poor unfortunate soul lost in the desert start hallucinating or think that oasis is just over there only to disappear when he arrives.
When we were on the sands, it was as if the Sahara (or at least mental fantasies of it) were transplanted into Death Valley. We saw a few other folks leaving footprints while also walking further onto the dunes. But Julie and I were just content to take photos to at least capture this particular moment and place.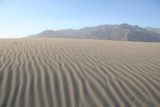 As we examined the sands further, we could see rippling patterns probably formed from the winds that always blow by here. These patterns simply seemed surreal and so they were clearly photo friendly.
Visitor Comments:
Got something you'd like to share or say to keep the conversation going? Feel free to leave a comment below...

No users have replied to the content on this page