Day 1 (May 17, 2019 – Joshua Tree National Park, California): "Change of Plans and False Starts"
It wasn't until about 1:05pm when we finally left the house.
We had spent all morning getting ready for this camping trip, but this late start pretty much ensured that any aspirations I had of doing any sightseeing on this day were dashed.
To compound matters, both Tahia and I were coming down with a cold or a flu or something.
Tahia was getting a temperature that went as high as 102F in the past couple of days. Meanwhile, I was getting this persistent scratchy throat yesterday and it didn't seem to get any better today despite me sleeping in and trying to refrain from carbs.
This camping trip was originally supposed to be a Yosemite Valley camping trip where I attempted to score a couple of campgrounds for this weekend except my attempt occurred way back in early January.
Unfortunately, I got shut out of that in the first ten minutes as apparently I wasn't successful snagging a spot.
So Julie and I reverted to doing a Bass Lake Camping Trip. However, the forecast for this weekend called for lots of rain at Oakhurst and even snow higher in the Yosemite Valley area.
That resulted in a last-minute cancellation earlier this week. And we ultimately decided to do a two-day camping trip in Joshua Tree National Park, instead.
Julie was lucky to score a campsite this weekend, but the catch was that we had to move sites because we couldn't get any sites on back-to-back nights via recreation.gov. So I knew that would be a bit of a bummer.
Nonetheless, despite all the setbacks, last-minute cancellations, and all the excuses to cancel this trip and just say screw it, I was determined to make it happen and give Tahia, Joshua, and Sophia their first camping experience.
The very last time I got to sleep in the outdoors was a backpacking experience with some good friends Cindy and Ed back in 2013. And Julie didn't camp with me since at least 2004 when Julie and I might have camped in Wawona. Indeed, it had been quite a long time ago when my equipment was last used.
Anyways, my Mom and Dad were also driving my Joshua and Sophia to camp, and we'd be meeting up at Joshua Tree National Park at the Cottonwood Campground. It was familiar to Julie, Tahia, and I because this was where we went stargazing on a New Moon in the middle of sweltering August!
On that late Summer's night back then, the experience was magical.
We were really looking forward to recreating that magic on this trip.
Yet alas, with all things last-minute, it turned out that this weekend was a full moon! The exact opposite of what we wanted to happen for stargazing.
Again, it was another setback, but the goal of this trip was all about the camping experience, and hopefully the kids would enjoy it and want to do it again.
Anyways, with our late start, we also made an unexpected stop at Target to pick up some ice to try to preserve some of the meets in the cooler. It wasn't until about 1:30pm when we finally left the Target.
As we were driving through the pretty heavy traffic on the 91 East, Julie had this idea to pick up some late lunch in Anaheim Hills. We were originally thinking of doing a Chipotle somewhere east of all the rush hour traffic, but she ultimately decided on this place called True Seasons Organic Kitchen.
Julie goes there frequently, and given how both Tahia and I were both in need of something healing, we opted to do that.
So at 1:55pm, we showed up at the True Seasons Organic Kitchen. And sure enough, we got our healing pho without the noodles while Julie got the grilled wild caught salmon salad.
It wouldn't be until about 3pm when we finally left the restaurant, and as soon as we resumed on the 91 East, it seemed like the traffic really had gotten bad.
Indeed, the drive was brutal and it turned out that Mom and Dad with Joshua and Sophia had already made it to the Cottonwood Campground well before we showed up.
We didn't get there until about 6:05pm. They seemed to have already gotten set up, while we were spending the remaining daylight hours to get our gear in order.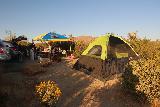 As I was pitching my trusty Sierra Designs Meteor Light CD Tent (which I've had since 2002 though the seam seals were cracking and producing debris), somehow I had forgotten the tent footprint, but everything else seemed to be in order.
The rest of the evening was spent enjoying some grass-fed hamburger patties with some toasted gluten-free buns as well as some organic hot dogs.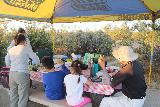 It was delicious, and even the strawberry fruits and greens that accompanied our dinner was delish.
We had also toasted some hamburger buns and hot dog buns, which were gluten free. But I was a little concerned about whether these carbs might also feed the virus. Still, everything tasted good when out in Nature, and I tried to savor the experience.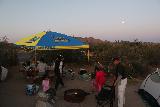 By around 8:15pm, the sun had set. But the full moon was quite bright and we knew there'd be no shot at seeing the Milky Way on this night.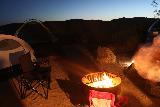 And with some quick-start fire logs, we had a bonfire going and the kids were roasting marshmallows.
However, it was the ultimate tease for Tahia because she couldn't have any s'mores considering she was getting over a cold or flu and we didn't want to feed the virus with sweets.
So Joshua and Sophia got to have the all-time favorite treat by campfire. While the rest of us looked on really disciplining ourselves (for Julie, myself, and Tahia) to indulging and potentially making our respective conditions worse (though Julie had gut issues and wasn't fighting off a virus).
With a lot of no-shows in the surrounding campsites, we wondered whether we might luck out with our mandatory move tomorrow. However, we were on site 28 and tomorrow, we were supposed to be on site 29. And someone was already occupying that spot so we'd have to wait for them to vacate before we could move our site over and even get our day started.
Regardless, after about 9pm, I tried to get some shut eye hoping that my chest congestion and sore throat might improve this weekend. Indeed, I was hoping that Nature would be healing in this instance, but I also knew that getting over sore throats doesn't happen quickly.
And so for the first time in what seemed like forever, I reclined on my Thermarest and cozied up in my Sierra Designs synthetic sleeping bag (one I that I had been using since 2002 along with my other gear like my tent, etc.) and tried to get some rest as much as possible…