Day 3 (May 19, 2019 – Los Angeles, California): "Unexpected Tahquitz Experiences"
It was about 5:35am when I awoke for good. I wasn't going to fall back asleep as my back was once again stiff. I guess it had been so many years since I had done this that my body was still trying to get re-adjusted to the less-than-comfortable conditions.
Anyways, Mom had already been up earlier than this as I could hear some activity beneath the easy-up as she was busy making hot dogs and leftovers to get brekkie started.
My sinus congestion showed no signs of slowing down and I was a bit worried that it was for sure going into the lungs (meaning I probably wasn't going to sleep well tonight and it threw my intentions of going hard at work starting tomorrow).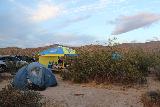 After getting started by getting dressed and brushing, I then started to break camp. Julie got up to do ther thing, and I then started to get her stuff organized as well.
For the next 3.5 hours, we had a satisfying breakfast and we were spending lots of time cleaning up the campsite.
As much as we wanted the kids to help, they had no interest in doing that. So it took a bit longer than expected to finally load up the car.
Eventually at 9am, we finally left the Cottonwood Springs campsite, and proceeded to drive over to Tahquitz Falls. Julie thought that with my deteriorating condition that we should just go straight home, but I figured that to at least salvage a waterfall out of this trip, we mind as well do it, have a chicken lunch in Palm Springs, and then head home.
That at least would give the kids some play time around water since water was definitely lacking on this trip so far.
With all the cloud cover around Joshua Tree, we knew that it was probably going to be raining west of the mountains or even in the mountains themselves. Who knows if Tahquitz Falls would be raining, but we knew that it was an easy (albeit expensive) hike.
Eventually by about 10:05am, we made it to the Tahquitz Falls parking lot. My bladder was pushing really hard so I had to get my gear and immediately head to the visitor center to pay $68 for everyone before taking the much-needed restroom break. Eventually by 10:30am, the rest of the group finally showed up, and then we could finally start the hike.
The hike itself felt a bit on the warm side as the sun was still beating down on the pretty exposed Tahquitz Canyon. But the way the trail was routed, it appeared like they made us now hike the loop in a counterclockwise manner, which meant that we had to hike the higher and less shadier side up to the waterfall.
This was opposite all the times that we've done this hike in the past.
So instead of going down the steps and some of the tall rock steps, we had to climb them. We also got to go upstream alongside some of the gauges and weirs along the way as Tahquitz Creek seemed to be flowing quite well on this day.
The wildflowers weren't quite as vigorous though as we had overheard the staff saying that earlier in the season, this place was very busy with all the superblooms that were going on.
Anyways, just as the kids were starting to complain about getting hot and sweaty, we eventually made it back up to the familiar Tahquitz Falls at 11:05am.
It looked like the rock bridge that was erected to get across Tahquitz Creek before the falls was raised a bit more so it wasn't quite the flooded affair like I was afraid it might be (based on prior years' experiences here).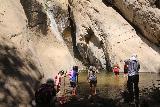 The kids wasted no time taking off their shoes and getting into the calmer parts of the plunge pool by Tahquitz Falls. However, it seemed like there was still a lot of water here and that there was not so much a beach or play area that I thought I might have seen in the past (either that or I remembered things wrong over the years).
The kids definitely were busy splashing about and posing for pictures in between their play, and they all seemed to have gotten their clothes all wet.
But with the heat of the day, we knew that it might benefit them on the return hike.
At around 11:30am, Julie noticed that it was getting pretty late and she still wanted us to have a lunch at a reasonable hour. So it was time to go.
The kids reluctantly left the plunge pool, and while everyone was slowly getting their shoes back on (after drying their feet), we started the short climb up before the long descent back down to the visitor center.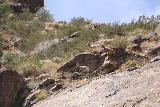 But before we really got started, we noticed at least eight bighorn sheep high up on the cliffs overlooking the Tahquitz Falls.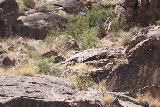 It was too bad that the pair of sheep with the larger spiral horns were busy grazing and hiding behind rocks so we couldn't photograph them well, but the rest of the sheep were easy to photograph. And the kids seemed to enjoy looking up at them.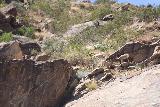 So based on us deciding to push forward with at least salvaging a waterfalling experience out of this trip, we also happened to get a bighorn sheep sighting!
It was yet another example of how you just never know what surprises can occur unless you go out in Nature and experience things firsthand.
On the way back to the visitor center, Tahia and I fell back as Tahia was taking her time walking with her Natives and the hiking stick that seemed more like a burden than a benefit for her.
We were then further delayed when we a nice lady was chatting with us and showing us that there were some wild edibles along the trail. In particular, she showed us how to spot wolf berries, and so Tahia now took her time picking the orange berries and munching on them.
Just like with prior hikes where we had spotted huckleberries in the Rockies, wild strawberries and raspberries in the Austrian Alps, and now wolf berries in Tahquitz Canyon, it seemed like Tahia's memories of these waterfall hikes were full of these wild edibles.
I'm sure she must be thinking that these places were like Nature's supermarkets or something (a concept that the Native Americans here knew very well as they lived off the land for centuries).
It took a bit of effort to try to get Tahia moving along because she could have picked the wolf berries all day long.
Eventually at 12:30pm, we finally rejoined the rest of the crew, who were waiting for us. Tahia managed to save just two wolf berries to share with Joshua and Sophia.
On the way to the car, I felt a few rain drops even though I looked around and didn't see any significant clouds immediately overhead. I concluded that they must have come from the San Jacinto Mountains and blown eastward by the winds with the clouds being mostly hidden from view.
That kind of hinted to me that the storm system was definitely in effect in the mountains and west of here, I'm sure. And I'm sure the drive home might be a bit on the wet side.
Anyways, after Tahia got dressed in a change of clothes, we finally started to leave the parking lot and head over to the familiar Chicken Ranch, for the clean rotisserie chicken place that was kind of a staple to us every time we go to Palm Springs.
After disobeying Julie's iPhone (which wanted us to drive on Palm Canyon Drive), I took Belardo all the way up to Chino Drive, and then found parking by the Chicken Ranch. I knew how busy Palm Canyon Drive was and I just didn't feel like making left turns on such a busy street.
At 12:45pm, we sat ourselves outside and we had a simple but healthy meal of 1.5 rotisserie chickens with some asparagus and arugula salad with onions. We also got some yams.
While I was starting to feel the chills even though it was quite hot when the sun was beating down on us. I definitely couldn't taste the flavor in the food, but I appreciated the texture.
Eventually at 1:30pm, after queuing up to use the restroom (it took some time since they only had two), we finally left Palm Springs and headed for home.
The drive home was a bit on the zombie side given how slow and slugging things were the moment we rejoined the I-10 near Morongo. Indeed, the traffic was pretty heavy, and it was further complicated by the unstable weather where there were a few heavy but spotty squalls.
Even the drive to get back on the I-10 was a bit interesting as we saw haze from both a sandstorm as well as a squall, and we really couldn't tell which was which until we saw lots of raindrops on the car.
Good thing that I didn't pursue my aspirations of visiting Dark Canyon Falls (a waterfall we hadn't done yet) near Idyllwild given this weather. Indeed, Tahquitz Falls was right call since we knew it was easy and it wasn't as prone or susceptible to hazardous conditions given bad weather. Even Murray Canyon Falls was a bit of a stretch given the number of stream crossings it took to get there (despite it being a cheaper alternative to Tahquitz Falls, I figured).
Anyways, the traffic would remain until we finally started to join up with the I-215 south and ultimately to the 91 east.
By about 3:30pm, we finally made it home. Now the next chore of unloading the car and getting things in the wash were in order. And of course, we had to shower after not having done so for the past two days…