Day 1: FROM POURING RAIN TO VERY CLEAR SKIES
I took the day off from work so we could celebrate our little Valentine's Day excursion a day earlier. But it didn't help that I felt like I was coming down with a cold. Still, we made bookings earlier and we weren't going to cancel on that now.
The strange timing of our trip was due to the fact that we knew that if we waited until Saturday to do everything, then we'd be subject to skyrocket accommodation and restaurant prices (with Saturday being Valentine's Day). And, well, we weren't up for spending more money than we needed to.
So at 9:55am, we left our home. We figured by waiting until then instead of leaving earlier in the morning, we'd avoid most of the traffic. So we took Julie's car, which had over 225,000 miles on it but was pretty reliable over the years, and decided not to hire a car. Clouds were already overhead and it seemed true that the rain's coming as predicted.
So as we were making the drive out of LA, I planned in my head to go for a different waterfall instead of Tangerine Falls, which was the ultimate goal of this trip. I hoped that by tomorrow morning, the weather'd calm down enough to try that one. I entertained the thought of doing San Ysidro Falls, but that was a fairly lengthy hike and to do it in what was predicted to be pouring rain wasn't appealing. So instead, I suggested to Julie we do Nojoqui Falls and then stroll around nearby Solvang with an umbrella if need be.
I had never been to Solvang before so I looked forward to seeing what this Danish town was all about.
By around 11:30am, we were well out of LA county and approaching Santa Barbara County. And as the forecast predicted, it was pouring rain between Oxnard and Santa Barbara. In fact, it was pouring so much that apparently there was a traffic accident somewhere in Santa Barbara and traffic was at a standstill for about 20 minutes before we could proceed.
We knew this was too early to drop off our bags in Carpinteria (where we were spending the night) so we kept on going to Nojoqui Falls.
After the traffic break ended, we eventually got through Santa Barbara along the US101 and then something strange started to happen. The weather started to become noticeably calmer the further north we went. In fact, it became partly cloudy skies and even lots of sun and blue skies were showing up!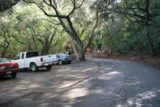 This apparent break in the weather revealed some hint of snow on the neighboring Santa Ynez Mountains. I don't think I had ever seen a combination of snow and ocean in one scene in California ever! Talk about strange weather!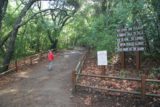 By 12:55pm, we finally made it to the well-signed car park for Nojoqui Park. From there, we proceeded to put on our jackets and go on the 10 minute walk to the falls.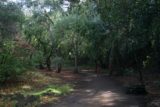 There were already four cars that were here before us so even on this "weekday," it seemed the falls were indeed popular.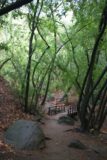 The walk itself was quite lovely and quiet. The trail was surrounded by lush trees dripping with the passing rain. There were some puddles on the ground and some parts were a tad muddy, but the walk was mostly developed and no drama came of it.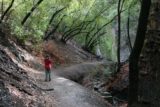 By the time we got to the falls itself, we waited for the four people before us to leave and we ended up having the falls to ourselves. That enabled us to snap photos and enjoy the silence of the scene broken only by the sound of the falling water of Nojoqui Falls.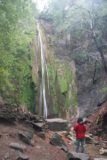 We managed to have the falls to ourselves for the better part of 20 or 30 minutes before another troop of people started to come. So that was our que to leave and at this point, we were starved as we hadn't had lunch yet.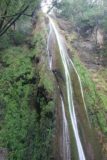 It was almost 2pm when we got back to the car and we wasted no time heading straight for Solvang, arriving some 20 minutes later.
We ended up eating at some pancake joint called Paula's Pancakes. Rain was coming down again as we got into the restaurant, but we didn't care. We just wanted to eat something and their pancakes topped with fruits seemed to be the thing to fill us up.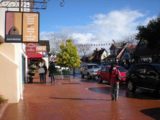 After the quick lunch, we strolled further into the Danish town. It was a bit strange seeing a mix of giant American cars whizzing along the main street with some charming Danish architecture fronting shops, restaurants, and even pubs.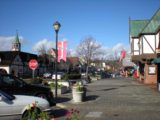 For some reason, I thought about our time in Norway even though Solvang was more about Denmark. But perhaps it was because I recalled some local Norwegians telling me that the Danish language was probably closer to Norwegian than Swedish. And that was probably what triggered my little mental reverie.
By now, the sun was coming out even though it was bitterly cold.
We initially thought Solvang only consisted of this strip on the main street, but we noticed a windmill to the southeast corner of town and we headed towards that.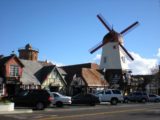 That ended up revealing a charming little pedestrian-friendly downtown area with more shops, more people walking about, and of course, more windmills.
Since dinner wasn't that far away, we had to discipline ourselves not to fall for waffle cone ice creams, which we remembered was so delicious in Norway and was sure not to disappoint in a Danish-themed town. We ended up refraining.
One thing that really did catch our eye while strolling through town was the number of shops that were closed. Apparently, the economy has hit this town pretty hard and even some of the buildings with large windmills were closed with "For Lease" signs on them.
By 3:40pm, we returned to the car. And an hour later, we arrived at the Best Western Carpinteria. By now, the weather had pretty much cleared up completely and the skies were crisp, cool, and when night time arrived, stars were easily seen overhead.
We ended up eating at a local joint called Clementine's just down the street. And while the dinner was more reasonably priced than anything in Santa Barbara (at least that was our assumption), the portions were rather large and we stuffed ourselves. In hindsight, we should've shared the food to save both our stomachs and some money.
They say you're supposed to feed a cold, but I don't think this was quite what was in mind.