Day 1 (February 21, 2020 – Santa Rosa, California): "Noun 1 and the Noun 2"
Stressing about getting out of LA traffic, the plan was to leave the house by 6am, which meant that we had to try to say our good-byes to Tahia last night and very early this morning (even though I'm sure she'd only be half awake by then).
We really packed at the last minute last night, and we weren't totally ready when I awoke to my alarm at 4:30am.
So as much as I wanted to look forward to this day as a relaxation day, it was really more like a typical work day since this was when I would normally wake up to get ready for work.
Not only that, but I never really had a chance to sleep in since probably about two weeks ago since we had activities that required us to wake up last weekend.
Nevertheless, with so much to do on this day, a lot of what we wanted to accomplish on this trip hinged upon how soon we can get out of LA so we can have a smoother drive up the I-5 as well as the remaining freeways and highways to get to Sonoma.
That was where we could get to Kenwood and visit the Sonoma Creek Falls before continuing on to Santa Rosa, where we were staying for the next couple of nights (on Hyatt anniversary nights mind you).
Anyways, it wasn't until about 6:30am when we finally loaded up the car and headed out into the LA rush hour traffic.
Fortunately for us, the I-5 traffic wasn't too bad though it was certainly heavy at times, which was to be expected. But at least, we managed to make it out to about Hungry Valley at around 8:05am to accommodate a restroom stop for Julie while I took advantage of that time to fill up on gas.
I guess taking about 90 minutes to get close to the Grapevine was about as good as you can ask for considering we were navigating through LA's gnarly rush hour scene.
We were probably as unprepared as we could be on this short weekend trip to the Napa and Sonoma Wine Country as I only realized after the fact I didn't have casual street clothes of jeans and a T-shirt or something.
I only had hiking attire for anticipated hikes today and Sunday as well as something fancier for those times we'd have dinner dates. So hopefully the places we go to the rest of the time won't have dress codes such that they'd deny me if I rocked up in hiking pants, a T-shirt, and Chacos with wool socks or something.
Such things are what happens when you leave things to the last minute I guess. But at least Julie seemed to have her stuff except for maybe one probiotic supplement. We always seem to forget something on trips like this.
Regardless, we continued on with the drive with the intention of maybe stopping for a lunch at a Chipotle along the way before making it up to Sonoma and the waterfall. Going into this trip, we did have low expectations regarding the performance of the waterfalls considering how little rain we have had since Christmas night.
We definitely anticipated a very bad fire season this Summer, especially when we saw how brown things already started to look as we descended into the Grapevine. Even though there were some signs of lightly green mats in the fields of this part of the California Central Valley, the fact that it was already looking like a weak Spring already this early was definitely a bad sign.
Regardless, we figured that this was the new reality as Global Warming and Climate Change consequences were things we could only react to and do nothing about. After all, the systems that we abide by to earn money still largely reflected a system by which you have to be an asshole.
That is, you have to be an asshole to other people in order to earn more than the next person (there's always someone that loses in this scheme; to borrow from a Christian Slater line in Mr Robot).
Or, you have to be an asshole to Nature since the system rewards plundering its resources at the expense of its sustainability and long term health.
Or, you have to do both, which the Trumps of the world (like the PM in Brazil or in the UK) can certainly do and get away with it.
Regardless, as we pressed forward, our momentum on the I-5 was checked only by a few jerks on the road dwelling in and clogging the passing lane on the I-5, or truck drivers seemingly passing other trucks at the worst times (sometimes cutting you off before letting you pass as they'd start their passing maneuver way too soon).
This long distance driving inconsideration was something I only notice in California or on the I-15 to/from Vegas (again, where you contend with mostly inconsiderate Californian drivers who don't understand that you keep right except to pass). Yet, I don't see this issue as much elsewhere in the states and definitely not in Europe, where such road rules are respected.
Regardless, with the momentum we have gained, we actually made pretty good time as we were already somewhere near the east side of the Bay Area at around 11am (where we had already left the I-5 and headed west on the I-580 towards the I-680).
Somehow, we had missed the cheap gas and the Chipotle that we had targeted (recalling from our Spring Break trip to the Bay Area last year), and that kind of bothered me as I wasn't sure if I was incorrectly remembering things or if we completely whiffed on the whereabouts of this place (was it off the 101? or the 99?). Indeed, I was questioning my recollections and my sanity by this as it seemed like something didn't quite add up.
Nevertheless, we did have to pay $6 in cash at a toll station to go over one of the bridges on the far east side of the San Francisco Bay, but after that, we ultimately got to the Hwy 12, which was surprisingly very busy as I guess lots of Bay Area weekenders came up here to get into the Napa Wine Country.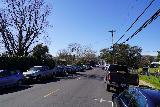 We did have to get through some pockets of pretty bad delays from merging lanes to a traffic accident that looked like it happened not that long ago. But finally by about 12:55pm we found street parking on the outskirts of downtown Sonoma.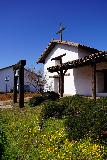 We ultimately decided to check out this place called Girl and the Fig, which was a place that Mom and I went to when we first came here for a brunch or breakfast back in May 2016 (after driving early from Oroville and making a detour to Sonoma Creek Falls en route to home).
This was Julie's first time here, and I was eager to see how she'd react here as she didn't have much expectation about this place.
But as we walked past some horse pasture before walking alongside the San Francisco de Solano mission, and then into the downtown Sonoma area, she was pleasantly surprised by how charming it was.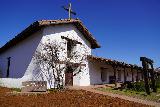 We also walked by a historical park part of Sonoma, which was something that Mom and I completely missed the first time around (as we took the time to explore the city park in the square block in the middle of town).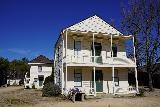 Julie liked the seemingly old school structures on the store fronts as well as across the street, but we still had to get to the Girl and the Fig, which was the restaurant that we had targeted for lunch.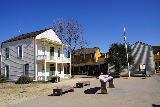 I knew this place wasn't cheap, but I guess we would at least start the splurging at this time instead of punting it for tonight.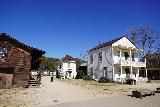 And in this case, I guess I didn't appreciate it at the time, but this place was really all about French countryside dining a la Provence or something like that.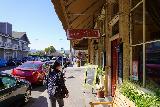 So that got Julie excited and willing to let go on her Plant Paradox diet a little (or at least some of the things deemed "non-compliant") by indulging in some of the cheeses and red wines as well as any possible sugars they'd put into syrups or sauces that we're sure to ask to put on the side.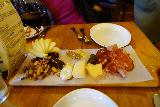 Indeed, we got to the restaurant at about 1:15pm, and they seated us straight away even though we had 1:30pm reservations, which it seemed like we really didn't need to do so.
We pretty much let the waitress take care of us as we really weren't wine connoiseurs (nor did we know how wines would pair up with foods to supposedly bring out the flavors of the foods), and we ultimately splurged big time by getting The Works (choice of three cheeses from their salon du fromage with some cured meats, apples, mustards, and some nuts), the brussels sprouts, and some kind of liver pate (not a foie gras since this version was apparently more "humanely done") as starters.
We were also giving into to trying a couple of different glasses of red wines with the one we liked from Mathis Grenache, which was so local winery that made their reds pretty tasty and sweet). The other one was apparently Les Petits Secrets, which tasted drier though it was something we weren't that into.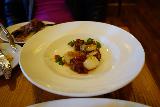 As for the mains, we got a Duck Confit with two legs as well as a flounder dish, which were both recommended by the waitress. We were interested in doing the Crispy Chicken thights, but we kind of suspected that we were going to be having way too much food.
And actually, it turned out that we were already starting to get full by the time the mains came around, and by the time we finished the meal at around 3pm (it was a nearly 90-minute meal), we were totally stuffed and not really looking forward to dinner as I knew our bodies probably paid the price of overeating.
That said, Julie thought it was a good call to eat lunch here as it was definitely a good experience and whatever dinner spot that Julie had booked for us in Santa Rosa (where we were staying) would have a lot to live up to.
When we finally left the Girl and the Fig, we then walked back to our parked car along the suddenly emptied-out downtown Sonoma scene as most of the parked cars were mostly gone but the roads seemed to be much busier with road raging motorists as it might have been a kind of afternoon "rush hour" at this time.
It was quite warm out, which made us think that the temperatures had to be in the 80s or something, and I was thinking that it wasn't going to be a good sign as to whether the Sonoma Creek Falls would be flowing.
Whether it was unusual to be having the weather this warm in the middle of February was a Climate Change thing or possibly a Wine Country norm was probably besides the point since there's nothing we can do about it. But it definitely messed with our piece of mind trying to visit the only waterfall that we're aware of in wine country.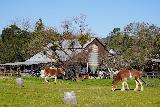 By about 3:20pm, we got back into our warm car, which required us to actually turn on the AC (again something that I didn't think was normal when you're talking about mid February in Northern California).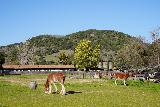 Then, we tried to navigate through the streets of Sonoma, which induced some unwarranted honking by other impatient motorist determined to not let us into the traffic even though we signalled and intended to get into the traffic from our parallel parking spot well past the stop sign that that motorist was behind before speeding up and pulling her road raging behavior.
I guess that thing I said about being assholes to each other to make money also extends to road etiquette as well.
I don't know what it is about Northern California, but it seemed to be a bit more angst to get behind the road up here than at home in So Cal, but then again, that could be just me since I generally take the train to work and try to minimize driving as much as possible on a typical workday.
Regardless, we had to navigate through more rush hour traffic at merging lanes and lights (as it seemed to take a pretty solid 15-30 minutes delay just to get out of the downtown area) before we'd finally find the Adobe Canyon Road and the turnoff leading to the Sugarloaf Ridge State Park and the Sonoma Creek Falls.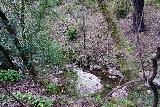 When we finally got into the confines of the canyon in the lower car park, which required a day use fee, Julie decided to stay in the car while I got geared up and started hiking by around 4:05pm.
A good sign that the waterfall might have water was the sound of a rushing creek down below the lower parking space, which got me to try to convince Julie to come with me. But she was suffering from food coma from the huge lunch we had and decided to just chill out in the car and read.
Another surprising thing about getting out of the car was that it suddenly felt cool, which drastically contrasted the seemingly 80+ afternoon that we had felt in downtown Sonoma.
Thus, I headed up the familiar road, then went past the gate. One guy in a bike saw me with a day pack and some hiking gear and said "you look serious" which drew a chuckle from me.
Upon walking up the road (with a false detour earlier on leading to other tiny cascades before I had to backtrack), I then passed a waterfall pullout by the side of the road, and then walked another 100 yards further to the trailhead (or at least the lower one) that left the road and down an obvious trail that descended a short few steps before skirting Sonoma Creek.
The trail was for the most part flat and towered over by tall trees (I wasn't sure if these were also coastal redwoods), but they all seemed to have blackened trunks, which was probably a result of the bad fires that happened here a couple of years ago that burned whole communities.
Still, redwood trees tended to be fire resistant so most of them still stood tall, and I got to see firsthand how such trees could grow so tall since forest fires were a natural part of the order of things in the forests.
After crossing a couple of bridges spanning side creeks (which also flowed), I ultimately made it at the surprisingly flowing Sonoma Creek Falls at about 4:30pm. By this point, I was thinking Julie was really missing out, and I wanted to text her about it so she could join me here.
Regardless, it was quiet and serene, and I was all by myself here. It just felt like such a nice surprise and yet here I was on a workday in Nature, which was the perfect detox to all the road raging it took to get here as well as all the work from my day job I had to endure since we got back to work in the first week of January.
After taking my shots and videos and heading back to the road, I did notice one car that was parked on the shoulder of the road higher up, and some girl that was walking down from that car with hula hoops and some music.
I didn't think anything of it as I headed straight back down the road to let Julie know about what I had just seen, and when I got back to the car at about 4:50pm, I showed her pictures of the waterfall, and then she thought a bit about whether to do it or not.
When I mentioned that there was a waterfall parking pullout further up the road, I think that kind of sealed the deal in terms of us driving up there, and then shortening the already short hike even more.
Thus, by about 4:55pm, we were at the pullout closer to the lower trailhead, and then Julie changed her shoes, and we were on the Sonoma Creek Falls Trail soon thereafter (as I had to do it again).
By about 5:05pm, we were back at the falls after passing by the hula hooper filming herself doing some kind of routine along an open part of the trail. She must be local or well aware of this spot because it seemed like a fairly open spot on the trail that only locals in the know would know about.
Anyways, we quickly got our fill of this surprisingly nice and flowing waterfall before we headed back to the car and past the hula hooper again. My gut was telling me that I should go to the restroom to #2, but I was holding it in since I figured we were close enough to Santa Rosa by this point.
By about 5:15pm, we were back in the car, and then proceeded to drive into the somewhat moderate to heavy traffic along this road leading to Santa Rosa, where the traffic picked up at the traffic lights again.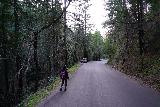 We had never been to Santa Rosa before, but the theme I got from this experience was that any of the towns in the Napa and Sonoma Wine Country had lots of traffic and lots of people. And it made me wonder if the entire Napa Wine Country had gotten more crowded and commercialized over the years as the population centers further south in the Bay Area exploded and the publicity to go along with this further exacerbated things.
Since we don't come up here all the time (or at all), I could only speculate on this. But I had to believe that this wasn't always the case in the not-too-distant past.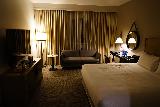 By about 5:55pm, we finally parked at the reception at the Hyatt Regency Santa Rosa. It was next to or shared with some railroad, which made its parking lot layout a bit unusual as its entrance was right next and parallel with the 101 Freeway onramp.
Nevertheless, the valet guys here let us park at the reception checkin spot for about 10 minutes, which gave us time to get our stuff up into the room (passing by a wine tasting stand along the way) before we got settled into the room at about 6:05pm.
After doing a badly needed restroom break, we then got back to the car (where we had forgotten the keys and luckily no one droe off with the car), and then proceeded to park the car and have a brief moment in the room where we Facetimed Tahia and also showered from our long day so far.
Eventually by about 7:30pm, we left the room and headed to the Bird and the Bottle (another one of those Noun 1 and the Noun 2 named restaurants), and found parking at some doctor's office where we weren't sure if we could legitimately park here.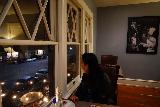 Even though our dinner reservation was at 8pm, we decided that we wanted to try to show up earlier so we wouldn't have to eat so late. While we were glad to have made a later dinner reservation so we could fit in the Sonoma Creek Falls hike, we also needed the time to check in and get cleaned up.
Regardless, the food from our large lunch still sat in our stomachs, and as much as Julie wanted to eat dinner, I felt like I could have gone without it.
Anyways, we wound up sitting in a quieter part of the upstairs part of the restaurant. This was kind of more of a hipsters tapas place so it wasn't like the typical sit down that I was associating with the fine dining in the Wine Country scene.
We ultimately wound up getting a crispy pork belly dish, a bone marrow dish, a roasted cauliflower dish, and a salmon dish.
They were all tapas portions (as opposed to full up raciones), but they were also very filling due to the fact that the meat and fish dishes were quite fatty.
I also tried the 7% alcohol kombucha, which was actually quite good and wasn't as nasty as I would have expected something yeasty and beery to taste. It made us wonder if we could brew our own kombucha in a similar manner and let it sit for days or something so all the sugar would be eaten away and wouldn't be as sweet as the typical kombuchas that we're used to.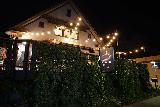 When all was said and done, we were totally stuffed and also quite tired from the long day.
So after paying the bill (which ended up being half as much as our Girl and the Fig lunch), we left the restaurant very stuffed at 9:15pm, and we were bcak in the room at 9:30pm.
With little energy to do anything else, we just brushed and flossed, and then crashed in bed looking forward to at least sleeping in a bit for at least 8 hours or so for the first time in a couple of weeks…