Day 2 (February 22, 2020 – Santa Rosa, California): "Bleeding Money"
It was about 7am when I awoke to Julie's alarm. I guess this was as much of a sleep in as I was going to get considering that we both had slept at around 10:30pm last night so we got well over 8 hours of sleep, which was better than any one night that I got in the last two weeks.
I felt like I could have slept in a little more, but I wanted to get caught up on the blogging and I figured that Julie had some kind of plan for today regarding the spa treatment, which forced us to adhere to a schedule.
By about 8:20am, Julie decided to have a breakfast at the Railroad Stop, which was a restaurant attached to the Hyatt Regency property in Santa Rosa.
The breakfast actually turned out to be quite good as we both got a Sonoma Benedict with the Hollandaise sauce on the side (that was apparently gluten free). Julie didn't want her muffin, but I got mine with the eggs on top of it.
We didn't want to do the buffet because that didn't seem to be a good value. Plus, we knew that we were going to be eating a lot later on today at the next pair of restaurants that were more on the Napa Valley side on this day.
By about 9:05am, we were back in the room to do some last minute getting dressed and ready for the day. Then, by about 9:25am, we headed out on this chilly morning.
As we drove out, we followed the 101 freeway north towards a mountain road that cut across towards Calistoga to the east. We had never taken this route before, but regardless, we had gone at a pretty good clip, and by about 10am, we found parking at the Indian Springs Resort and Spa in Calistoga (after having passed through a fairly charming downtown part of Calistoga).
Once we parked, we walked to the reception area, where Julie paid for a day pass at the pool (at a very pricey $50 per person) as well as a couples massage. I found the day pass to be quite pricey, but Julie was under the impression that the Buddha pond required this kind of pass.
After we got dressed and walked towards the pool, we noticed that it was nothing but a pair of swimming pools that were fed by geothermally-heated water. It didn't seem like we were getting a good value by spending $100 total just to spend less than 30 minutes here, and I didn't think that we needed to make our money's worth by spending it here when there were other things to do later on after lunch.
There was even one moment when Julie managed to drop her iPhone into the pool! I quickly reached down into the pool's shallow corner (where the phone fell into) and picked it up, but then I told her to immediate turn off the phone. Whether the phone will have survived this episode remains to be seen, but I'm sure that kind of weighed in on her mind during this visit.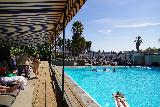 Regardless, we soaked for what turned out to be 20 minutes in the larger pool (while trying to let the phone bake in the sun for a bit; possibly her cover might have helped limit the damage since it covered up the interfaces and the vent I think), then we headed back to the spa area to strip down and wear a bath robe in preparation for the massage.
We then proceeded to do the couples massage which was something we hadn't done since Thailand, I think (and those kind of hurt), while the last one we did prior to that was I think in Palm Springs many decades ago.
Nevertheless, after the relaxing massage was over, we then chilled out for a few minutes at the Buddha pond. There were no photos allowed, but it was basically a pond where some of the geothermal runoff went into it. It was surrounded by fan palms as well as one Thai Buddha statue (probably why they named the pond as such), and a bunch of lawn chairs and a few sheltered lounges to stare at the pool.
While we were chilling there, I saw what appeared to be some kind of eagle or condor up in the sky circling and gliding.
Eventually at around 12:45pm, we were back in the car after having had our fill of the spa treatment and the facility. We wound up spending about $445 for the entire experience, but I really felt like we wasted $100 on that pool pass, which we didn't really use or get our money's worth from it. That didn't sit too well with me considering how much money we had already spent last night.
So let the money bleeding begin, I thought, as we weren't about to go to any cheap places the rest of the day. At least when Julie turned on her phone, it appeared to still be working. Perhaps we dodged a bullet there, but we'll see if there was any latent (i.e. long term damage) going forward…
Next up, Julie decided that we should continue south to the town of St Helena to go to this restaurant called Farmstead. It was popular and highly rated, and we also made a ridiculously late reservation of 3:15pm thinking that that was the only time slot available, but we wanted to at least see if we could stand by and eat a bit earlier than that.
Eventually at about 1:10pm, we made it to Farmstead, where we managed to score a parking spot, and then we checked in with the receptionist, who said we could get seated right away at a community table, which we had no trouble doing.
Then, we proceeded to place our orders, where Julie eyed a Dungeness Crab in spicy oil, I got some pork chop dish (which was the waiter's favorite), and we both got a brussels sprouts dish since that was probably the only greens we'd be having on this visit.
It took a real long time for the food to show up, and the crab showed up first. So we took quite a while eating that, which was messy, but it was very fresh and good.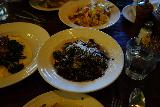 However, the brussels sprouts and the pork chops came much later together. The brussels sprouts were pretty good, but we found the pork chop to be a bit on the dry and tough side. Maybe it was left in the heating lamp for too long.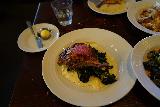 When the water came by to ask how the food was, we told them about how the pork chop wasn't great, and he wanted to make up for it with a dessert. But we were getting late on time, and we ultimately asked for the check so we could leave sooner rather than later (as we were encroaching on a nearly two-hour lunch).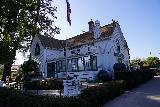 By about 3pm, we finally headed back out, but not before I noticed that we weren't charged for the pork chop (so with tax and tip, the total was $72 though I could totally see us paying over $100 for this meal under more normal circumstances).
So the meal turned out to be cheaper than I expected, but I felt like we should at least tip the waiter over 20% considering it seemed like he went to bat for us when it came to us having a good experience, and we didn't really have one given how slow the food came out and how bad the pork chops were.
When we started to face the Napa traffic and head out towards the Benziger winery (because Julie wanted to see what it meant to be "biodynamic"), we realized that the last departure of the popular tram tour was at 3:30pm and we were unlikely to catch the last one. After all, we wouldn't get there until well after that considering that we had to drive up and over a steep and curvy mountain road before switching back over to the Sonoma Valley.
I guess that was another bad thing about the slowness of the experience at Farmstead as it ultimately costed us this tram tour that Julie wanted to see for herself. In hindsight, we should have done our research and cut our losses when we knew about the last tour time. Instead of leaving Farmstead at 3pm, we could have left at 2:30pm.
Regardless, we ultimately got to the Benziger winery at around 3:45pm and we went right to the tasting room, where we tried the Estate tasting, which was all local and biodynamic. We ultimately liked the Pinot Noir the best, but the person helping us actually allowed us to try a few extra bonus wines, including a port, a Russian River pinot noir (as opposed to the local one), and the helper's favorite red wine.
We ultimately left by buying a bottle of the Russian River pinot noir as well as the Imagery Port, which waived one of the tasting experience costs, and at the end of it all, we paid about $105 in all. Again, it felt like bleeding money.
By about 4:45pm, we were back in the car, and then we proceeded to drive back over the mountain and back into Napa Valley. The next stop was the Bouchon Bakery since Julie had this craving to try their macarons again. But after having Pierre Herme macarons in Paris (which we thought was better than Laduree), I was a bit skeptical about this place's macarons.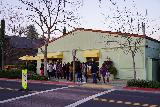 At around 5:30pm, we finally got to Yountville, where we parked and queued up for the Bouchon Bakery. I couldn't believe how long the line was itching to get the large macarons here. But we figured that since we're here, we mind as well see if it was worth the hype and the wait (and the cost).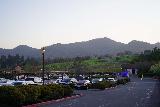 After we finally placed our order and got the sweets, we paid probably close to $23 for just a half dozen large-sized macarons. Julie and I split a vanilla macaron, and we didn't think it was very good. Actually, we thought it was worse than the Costco brand one that she had gotten before, and it made us wonder what the fuss was all about with this place. Maybe we were too spoiled with the genuine French macarons that it made this place seem like expensive junk by comparison.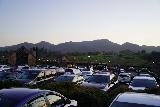 By about 5:45pm, we left Yountville, and we then proceeded further south into the city of Napa. We ultimately got to this corner restaurant called Grace's Table, where we had an 8:15pm reservation, but when we showed up at 6:10pm, we asked if we could get seated earlier.
They said that we could sit at the bar straight away, and that's what we did.
So we ultimately ordered an organic beets salad (that also included avocado and Romaine lettuce I think, as well as some other veggies.
Then, we also got a Petra Sole Meuniere, which was similar to the Flounder Meuniere that we had at the Girl and the Fig yesterday.
Then, I got the lamb leg special, which was ok, but the Petra Sole was by far the best dish of our dinner.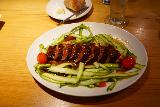 I also got a non-alcoholic ginger kombucha, which was quite good though Julie knew that perhaps the most potent and honest ferments that we typically get was from the Fermantation Farm in Newport Beach. You never really know how genuine the stuff is when you see it coming from a tap at a restaurant.
After our meal, it appeared that the owner had a chat with us, where we learned that this place was Michelin rated for a category that hit a certain price range (i.e. more affordable $30 plates or something like that).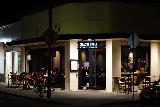 Eventually at around 7:25pm, we finally left Grace's Table after having paid around $94 with tax and tip for the whole thing. Again, it wasn't cheap, but then again it didn't break the bank either.
We then drove in the dark along the Hwy 12 (where drivers seemed to still be zooming along at high speeds) before heading west on the 116 and then finally onto the US101 north back to Santa Rosa.
By about 8:25pm, we finally made it back to the Hyatt Regency Santa Rosa, where we scored a parking spot (it seemed to be busier this night than last night).
And by about 8:35pm, we made it back to our room to crash, but not before I got our two glasses of complimentary wine, which were pretty tough to drink, especially after having the organic finer stuff at Benziger. Still, we ended off the night sharing a cabernet and a merlot (we liked the cabernet better, but still were a bit bitter or not-so-smooth).
And so ended this wine and dine and spa kind of day, but I couldn't wait until we headed home (possible with a hike at Pinnacles National Park) because it really did feel like we overspent no matter where we stopped at, which ultimately made me feel like we were just bleeding money this weekend.
Indeed, we had been spending way more than I anticipated, and it could very well be one of the most expensive (if not the most expensive weekend) trip that I could ever recall…