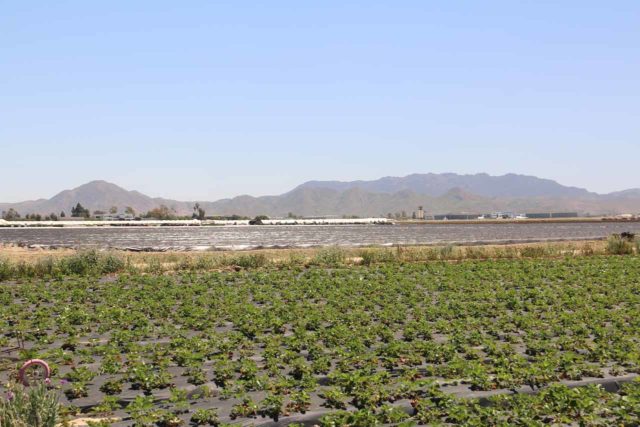 16-April 2016:
When we had our fill of Paradise Falls, we then headed back up at 3:45pm. And as expected, Tahia was not in much of a mood to walk. She wanted us to carry her, but we couldn't accommodate that request given how much bigger she had grown now and how much our knees wouldn't be able to handle it in our advanced ages (plus she was getting too big for the child carrier).
Indeed, the uphill hiking was a bit taxing, especially with the hot weather. When we got back to the main trail with the views of the mesa-like cliffs to the north, we were flanked by the exposed natural gas pipes once again. Every time we see these pipes (having done this hike several times now), we were reminded of the recent natural gas leaks that have essentially accelerated Global Warming…
Julie was antsy about doing another weekend hike, especially given the fact that Tahia didn't have Chinese school today. We had talked about whether to do Cooper Canyon Falls (for that mysterious Buckhorn Falls or something like that, which she saw on the interwebs) or Switzer Falls (as kind of a veiled attempt for me to try scrambling up to the base of the main waterfall). But then Julie came to the realization that it was becoming strawberry season and that perhaps we should get out there and pick some fresh organic ones. And when she saw that there was a particular organic farm out in Camarillo, I knew that we could also fit in a waterfall hike while we were way out there – Paradise Falls.
And so our agenda was set on this not-so-lazy Saturday. I knew that if we were going to drive all the way out there, we had better get an early start because traffic wouldn't be fun. But as was usually the case, we almost always wind up leaving the house an hour or more later than we should've.
Indeed, Julie targeted visiting the McGrath Farm, which was open at 10am, but that meant that we had to leave the house at least by 8:30am in order to get there when they open (the drive was at least 90 minutes). Instead, we didn't leave the house until about 9:30am, and I had a sinking feeling that we were going to be faced with a lot of traffic.
Sure enough, the traffic already started at the 91 freeway. There was always a stretch at the 605 freeway where the folks going north were bottlenecked as there was only one lane turning to I-605N and one lane turning to the less trafficked I-605S. Instead of re-painting the lines to allow for two lanes going to I-605N, then letting the lanes merge on the I-605N, we always have this huge bottleneck at the interchange that almost always backs up further east on the 91 freeway going west.
Repainting the lines would be such a simple solution to this problem, but it really takes bureaucrats a long time to figure this out (if they even care at all). And so we're stuck with the high tensions and people cutting using the I-605S lane before cutting in at the last minute taking advantage of some driver who left a lot of space between him/her and the car in front.
So that was the start of the long drive. It went a little smoother on the I-605N, but then we had to get onto the I-5N, which was notoriously busy. And sure enough, when we got onto that freeway, it was sluggish, but at least it wasn't crawling. But the sluggishness definitely meant that it probably wouldn't be until around 11:30am (nearly the height of the day) when we'd be out in the sun picking strawberries.
The drive continued as we then got to the 101 Freeway, which was also sluggish. It would remain that way until we got through downtown LA and parts of Hollywood before it would move again once we got to Burbank and Studio City. But then, it would crawl again once we got to the I-405 interchange and the valley. I don't know how people making this commute daily could tolerate this, but I could totally understand why people road rage.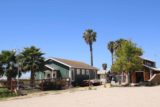 The 101 wouldn't free up until we got well past Canoga Park and towards Thousand Oaks, but by the time we descended the hill and entered Camarillo, there was traffic again. And it wouldn't be until about 11:25am when we finally arrived at the McGrath Farm. Julie's iPhone navigation had us going to the wrong side of the farm, but eventually we figured it out and got to the right spot after ignoring it.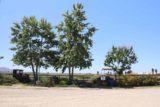 It still took some time before we'd be ready, but it seemed like we were amongst the first people at the McGrath Farm so we scored a shady spot (perhaps the only one in their lot). But we realized that we had forgotten to bring sunscreen so we worried about getting sun burned while out in the field picking strawberries. At least we brought hats and were wearing hiking attire knowing that we'd be in the field where I'm sure parts of it could be muddy.
It woudn't be until about 11:45am when we finally paid our admission (about $10 per adult plus $2 per pound of strawberries). Then, we walked on our own into the field, where there was a path going around its perimeter, then crossing a ditch over a little plank bridge before getting right into the strawberry path. Julie was commenting how it seemed like we had the strawberry field all to ourselves, and it made us wonder if we were in the right spot or not (though the signs here confirmed we were in the right spot).
And after starting to see some bright red strawberries in the patch for the picking, we promptly got into the act. Julie commented further how this experience was way better than the Tanaka Farms experience because we were pretty much on our own out here, but the Tanaka experience was more "manufactured" as there was a tour before getting about 5 minutes to pick the strawberries. Plus, it was less crowded and less expensive here (I believe we paid around $18 per person including Tahia). I guess that's what happens when you're closer to the city (in that case, Orange County), whereas we were way out here in Ventura County.
Not surprisingly, it was quite hot as we were out doing the picking, and it made me wonder whether we were experiencing June conditions in mid-April. As we examined the strawberries, we could see that the side that faced the sun was almost always a bright red. But its other side was a bit less colored. That kind of convinced us that the energy of the sun was what was being concentrated into the sugar that would give the strawberries their sweetness.
The longer we were out in the field picking the strawberries (I don't think Tahia got the idea that you'd want darker strawberries and not necessarily larger ones), the more Julie and I came to the realization that size does matter, but it's not what you think. Actually, the sweeter strawberries tended to be the smaller ones, and I supposed that it was due to the reduced surface area and volume that the sun could be concentrated to make the strawberry sweet. The larger ones weren't as sweet, and they tended to have less of the deep red color, especially on its non-sunny side.
Maybe after around 20-30 minutes of engaging in the strawberry picking, we started to notice a handful of more people trickling in. So much for having the field to ourselves, but it was still quite peaceful and fun (compared to the busier Tanaka Farms experience we could think back to a few years ago). Tahia definitely had fun, but we had to be cognizant of the presence of bees trying to suck the nectar out of the plants that happened to flower.
At about 12:35pm, we were done picking strawberries, and then we headed to the little farm animal area, where Tahia was looking forward to petting or at least interacting with the pigs, bunnies, roosters, and geese. She wanted to feed them, but it didn't seem like this farm was set up for that as the animals seemed perfectly content to nibble stuff out of the ground (perhaps the feeds were spread throughout the ground).
There was one clueless Chinese lady who opened the gate and left it open, which allowed a bunch of the chickens and roosters out into the field. When we went back to the main market area to pay for the strawberries we picked, the Latina lady working there said it wasn't a big deal upon being told what happened. I guess they were escaped into the main part of the farm, but their hunger would probably bring them back to the pen.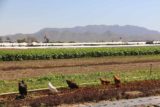 So at 12:55pm, we were finally done with our McGrath Farms experience, and it was good that we had gotten our early start because now there was a lot of cars packing the lot. But now, Tahia was complaining that she was hungry, so we went to this place called Lure Fish House, and we had our lunch at 1:15pm. It wasn't cheap, but the seafood was decent. I guess their shtick was that the seafood prepared here were said to be sustainably caught (which sounded like an oxymoron to me since I wondered what the definition of "sustainable" meant in this context but I got their gist considering we knew what were the more grossly unsustainable practices were, which was far more common).
So we had ourselves a half-dozen blue point oysters, an ahi tuna ceviche (good), Julie's seasoned seared ahi, and wild grilled shrimp (so Tahia could eat it given how picky she was and we didn't want to fight with her at this time). There was also a Warriors game going on in the TV while there, though I wondered why he went to the locker room (was he injured?).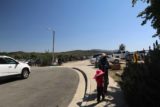 Anyways, by 2:15pm, we left Lure, and now it was time to fit in our hike to Paradise Falls before heading back home. There was already traffic even heading east on the 101 east, but fortunately for us, we were able to get off the familiar Lynn Rd, and then go right off of memory to get to the familiar Wildwood Park (after all, we had been here at least 4 or 5 times now). We got to the trailhead at about 2:40pm, but this time, we saw that there was street parking, where we took advantage of the trees there providing shade (a handful of other cars parked here provided us with the confidence to do this).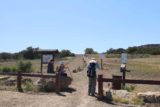 Usually, we'd come to this falls first thing in the morning, but we learned that perhaps sometimes it's good to get an early to late afternoon start because the initial rush of people would be leaving at this time. Plus, we knew that lighting wise, perhaps Paradise Falls had better color (in its surrounding cliffs and its underlying algae) later in the afternoon than in the morning when we'd kind of be looking against the sun.
Now, Tahia wanted to nap since it was getting into her nap time, and she wasn't particularly in the mood to hike. So that kind of complicated things. But with an ice cream vendor selling stuff at the car park, we used that as Tahia's carrot stick as we promised her that she could have ice cream when she completed this hike.
Sure enough, we got back onto the familiar Mesa Trail shortly after 2:55pm and indeed it seemed like most of the people visiting were going the other way (i.e. headed back to the car). And like Julie and I surmised, the lighting seemed to be better as the mesas and cliffs to our right were perfectly lit as the sun was to the south and west. So we were kind of looking against it as we walked, but we also knew that Paradise Falls faced to the southwest so it would be lit up quite well.
It was also a bit windy so that conspired to blow off our hats. But anyways, we continued towards the junction of the Paradise Falls and Teepee trail as it branched off the Lizard Rock Trail. It wasn't until this visit that we could see why they called it Lizard Rock as out in the distance, we could see a rock formation looking very much like a lizard's head.
Then, the trail descended as its was flanked by cacti and other drought tolerant native bush. We were cognizant of rattlesnakes though Julie and I haven't seen them around since our very first visit here way back in 2001, I think. Tahia was busy doing trail running on the downhill stretches as she was full of energy now, but we knew that she wouldn't be running on the return hike when these downhills would become uphills.
After seeing the teepee, then descending further to the right as we took the familiar direct trail right down to Paradise Falls, we'd ultimately be there at about 3:30pm. And as expected, the late afternoon sun was right on the falls though some shadows started to grow on the cliffs opposite the falls already starting to shadow the far end of the plunge pool.
So we took advantage of this opportunity to perhaps take our most compelling photos of the falls. Meanwhile, Tahia was busy trying to drop leaves and other things in the smelly water at the plunge pool of the falls. Julie was trying to take photos without getting too deep into the muddy parts.
And so we once again enjoyed this rare sight of a fairly healthy-flowing waterfall whereas most of the other waterfalls in these parts wouldn't have any water. That was quite a shameful statement to make considering it was in the middle of Spring on a supposed El Nino year where we were expecting a lot of rain, but got far less than that. I guess our drier climate was indeed going to be the new normal, and we wondered if we're going to be in real trouble in terms of water shortages in the years to come…
When we had our fill of Paradise Falls, we then headed back up at 3:45pm. And as expected, Tahia was not in much of a mood to walk. She wanted us to carry her, but we couldn't accommodate that request given how much bigger she had grown now and how much our knees wouldn't be able to handle it in our advanced ages (plus she was getting too big for the child carrier).
Indeed, the uphill hiking was a bit taxing, especially with the hot weather. When we got back to the main trail with the views of the mesa-like cliffs to the north, we were flanked by the exposed natural gas pipes once again. Every time we see these pipes (having done this hike several times now), we were reminded of the recent natural gas leaks that have essentially accelerated Global Warming (given that methane was many times more potent than carbon dioxide in terms of trapping the sun's reflected radiation). Julie mentioned that there might be another leak in this general area, though when it comes to money and the powers that be, none of this comes as a surprise for those that made out like bandits got theirs and let everyone else figure out how to clean up the mess they've caused.
Anyways, by 4:30pm, we were finally back at the car park, where Julie paid for a couple of ice creams from the vendor at the car park. We weren't sure where this guy got his supplies from, but it sure seemed to be hard work as he was out there sitting in the sun trying to make ends meet by earning some extra change on the side while out here.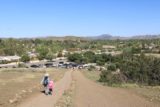 Julie bought a drumstick and some kind of Mexican fruit ice cream for $4 total, and that seemed to pacify Tahia quite a bit now that she got her reward for being a good sport. Now, it was time for the brutally long drive through traffic back home. I was totally not looking forward to that knowing how busy both the 101 and 405 freeways (we thought we had better take the 405 instead of staying on the 101 at this time of day) could get.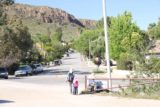 And as expected, as Tahia was knocked out and napping well in the car, we were fighting traffic practically the whole way from the Valley along the 101 through to the 405 freeway all the way from the Sepulveda Pass to the 105 interchange. It wouldn't be until we were on the 105 that it was more or less smooth sailing, but it had been such a long time on the road that we headed straight for dinner at the Renu Nakorn Thai restaurant. It wouldn't be until about 6:30pm when we'd finally get there. And it wouldn't be until about 7:30pm when we were finally home.
It was such a long day today, but Julie and I were sure that Tahia got a lot out of a day like this. And that's the way it ought to be. For the more time she spends outdoors, we figured the better off she'll be mentally and physically…
Visitor Comments:
Got something you'd like to share or say to keep the conversation going? Feel free to leave a comment below...
No users have replied to the content on this page