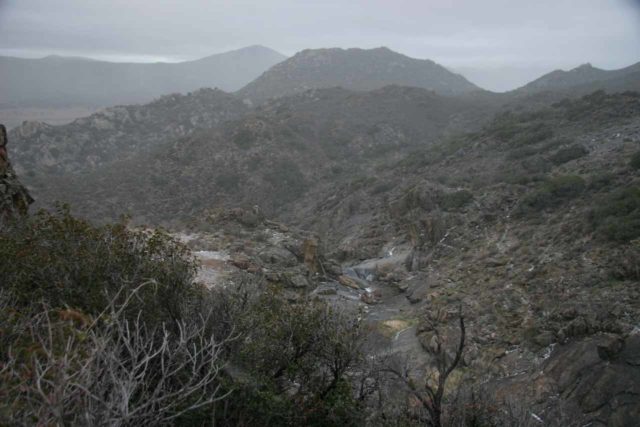 13-February 2008 to 14-February 2008:
It was still rainy and chilly, but Julie and I were quite relieved as the only snow left was on our car. Both of us were also relieved about finally going to the restroom after the tense hour of driving only 20mph through snow. When I hastily returned to the car and its comforting heating, a big caucasian guy in a blue jacket knocked on my door and had me roll down the window.
"Did you just come down from the pass?" he said, pointing eastward.
"Uh, yeah," said I, thinking he must be going the other way.
"What was it like?" he asked.
"Uhh, well, it was quite slow. There were a bunch of cops looking like they're about to close to highway," said I. At this point, I wasn't sure where he was going with this.
Sensing my hesitation, the guy then said, "I'm with Channel 8 News. Do you mind if I film you?"
Day 1: FROM TRAFFIC TO CHARM
I decided to take a half day off today so Julie and I could head over to Julian for our little Valentine's Day getaway. I figured leaving the city and doing something still local but out-of-the-ordinary while still doing a waterfall trip was the best way to celebrate this commercialized "holiday." Besides, we both figured beating the crowds who'd undoubtedly set off tomorrow while not caving in to wasteful gifts of flowers, chocolates, or other material things was the thing to do.
So we rented a car (not willing to drive with our beaters with over 200,000 miles on them) and set off at about 2:45pm.
Apparently, that wasn't early enough as we already started to hit traffic as we approached Yorba Linda while heading east on the 91 Freeway. Earlier, we had decided against going south on the I-5 for traffic reasons. I guess we were screwed either way.
It was still about 3:30pm, and I was a bit incredulous that rush hour traffic had already kicked in. I wondered what all these peoples' work hours were.
"This is why I take the train to work," I reminded myself and Julie.
Anyways, it took over an hour just to reach the I-15, where we headed south towards Temecula. Traffic was still a little heavy, but it cleared up considerably as we approached the turnoffs for Lake Elsinore.
By about 4:45pm, we finally reached the town of Escondido, where we left the I-15 and headed east on Hwy 78. From there, it was a bunch of street driving passing by some burn areas from the recent fires last October and November as well as the San Diego Wild Animal Park.
"Ah, so that's where it is!" Julie exclaimed – pondering where this famed park was.
Hwy 78 wound its way through some hills before reaching another little town called Ramona. From there, we continued eastwards towards the town of Julian.
It was dark when we finally arrived in the town of Julian. I was worried that we might be way too late for our 6pm dinner reservation at Romano's Dodge House in Julian, which was a place that I had read good things about.
A few minutes before 6pm, we checked into the Butterfield Bed and Breakfast where we met Ed, one of the innkeepers. He showed us to our reserved Apple Sweet room while insisting that we have his freshly baked chocolate chip cookies. Then, he left us alone for the evening.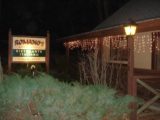 It was quite windy and cold in Julian. We wasted no time dropping off our belongings into the room and getting to Romano's for dinner. It was about 6:15pm when we got to the restaurant, but there were plenty of empty tables at the time.
Romano's was the highly touted Italian food in town. It felt warm and homey in the restaurant. We were thoroughly impressed with how flavorful and different the food was – especially the Pork Julian, which was drenched in a soupy sauce of apple and cinnamon as well as other spices I can't remember.
They provided a very hearty dinner (typical of most Italian restaurants) for a very reasonable price.
"This is better than most Italian restaurants back in LA," Julie said.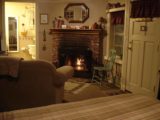 Thoroughly stuffed, we paid for dinner and returned to the Butterfield B&B to finally get settled.
The Apple Sweet Room was a charming suite with classic country furnishings with an apple theme as apparently the fruit was a big deal in the Julian area. The room also had a fireplace, which Julie loved, as well as Wi-Fi Internet, which Julie really appreciated as she still had things on her mind regarding work.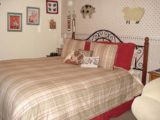 In fact, it seemed like the innkeepers really paid attention to detail as it seemed they thought of everything. In addition to the fireplace and Wi-Fi, there was a television, heater, all bathroom amenities, and carefully themed wall decorations. It contrasted with our B&B experience at Kulaniapia Falls in Hilo, Hawaii, which was basic but pleasantly homey. Butterfield B&B was both welcoming and charming, and did seem to yield better bang for your buck.
Julie was thoroughly impressed with this place.
Anyways, we showered, watched TV, and basked in the warmth of the fireplace. I was paying close attention to the weather since we were supposed to go hiking to Cedar Creek Falls tomorrow.
The forecast called for partly cloudy skies tonight and tomorrow with clearing and warming continuing into the weekend.
But when Julie had me go upstairs to the common area to bring more chocolate chip cookies back down, I couldn't help but notice all the fog and rain drops on the ground. But I figured it would all be ok by tomorrow. The weather I had checked online before the trip and the local weather forecast we saw on TV seemed to be in agreement that the weather would be benign.
Indeed, this spontaneous midweek Valentine's Day excursion had all the makings of one pleasantly blissful getaway that we would remember for a long time…
Day 2: "I'D RATHER BE IN RUSH HOUR TRAFFIC THAN THIS"
We were told last night that breakfast wasn't until 9am. It was kind of late for my taste, but both of us took full advantage of sleeping in.
I was hoping that we'd be able to hike both Cedar Creek Falls and Kitchen Creek Falls today. But one look out the window quickly made me reassess our situation…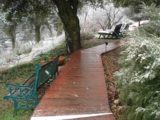 It was snowing outside!
"What?!?" I thought to myself. This went against all the weather forecasts leading up to last night.
Well the local news weather forecast said this pocket of precipitation would pass as the cold front out in the Rockies was licking the San Diego area as it was passing through.
It was about 9am when we were finally fully packed and ready to go. As I went ahead and loaded up the car, the snow was falling a bit heavier.
I had to accept the fact that our rental car probably wouldn't make it to Cedar Creek Falls since there was a stretch that involved driving on dirt road.
Afterwards, we joined another couple as well as the innkeepers Dawn and Ed for breakfast. We showed up a little after 9:20am, which was just in time for the San Diego couple to be on their way out.
Our breakfast consisted of apple pancake, sausages, and a bowl of sweetened stawberries topped with whip cream. The drinks were hot tea, coffee, milk, and orange juice.
But more importantly, we got to socialize with Dawn and Ed. That was when we came to appreciate more their attention to detail as Dawn had spoken to her friends about trail and waterfall conditions prior to today when she knew we were planning to hike to Cedar Creek Falls (when I made the reservations to book here). She even pulled out her books to check elevation information in light of the snow we were seeing this morning.
She even knew about my book about New Zealand Waterfalls without even me mentioning it as she followed one of the links on my email signature.
That was really cool!
When I announced my change of plans to just tackle Kitchen Creek Falls today, Dawn seemed to agree with my plans as it was right off the I-8 about 50 miles east of San Diego. So that was the plan!
In any case, breakfast was done, we bid a fond farewell to Dawn and Ed, and we had to brave the light snow by about 10:25am. I was a bit concerned about driving in snowy weather without chains (something I had never done before), but Ed had assured me that the roads were sanded and the temperatures weren't cold enough for the snow to "stick" on the roads.
As we left Julian and headed south on Hwy 79, the snow had let up and even the light drizzling rain that followed where there wasn't snow had also relented. There was even some patches of sun breaking through the clouds.
It certainly looked like the weather way playing out like the local forecast had predicted, and indeed doing Kitchen Creek Falls in lieu of the popular Cedar Creek Falls today seemed like a good move.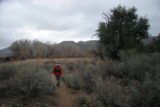 We carefully followed the directions in both Ann Marie Brown's book as well as a local website printout about Kitchen Creek Falls (especially on the so-called "Frontage Road" which is really the Old Hwy 80), and by about 11:30am we were at the Boulder Oaks Campground.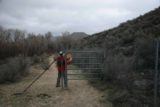 No one was around except for a few sightings of some Voluntary Border Patrol vehicles coming and going from time to time (I guess we were quite close to the Mexican border at this point).
It was freezing cold when we got out of our car. My hands were starting to go painfully numb whenever my hands were out of my pockets. Julie wasted no time taking the climbing gloves out of my pack and wearing them.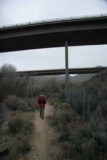 At first, we had a bit of trouble finding the trail to Kitchen Creek Falls. I knew it was headed towards the Interstate I-8, which noisily made its presence known to the east.
When we followed the Pacific Crest Trail further back up the Old Hwy 80, we saw where the trail crossed the road and headed beneath the Interstate. The crossing was directly across from a large pullout/bus stop area.
That was when it dawned on me that this must have been where the old (now demolished) Boulder Oaks Store was located. No wonder why the directions were confusing at this point.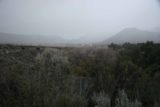 Anyways, we finally got on our hike in earnest at noon. The skies were ominously overcast, but I had all the confidence that the weather should be improving as the day wore on as forecasted.
After passing underneath the noisy I-8 overpass, the trail climbed along a somewhat gently sloping ridge. As the trail went up the first two switchbacks, Julie and I couldn't help but notice holes cut into the chain-linked fence at each switchback.
We pondered why they were there, but didn't pay much more attention to them as we passed through a couple of gates and further away from the highway.
By now, the interstate was in the distance and the raucous of cars and trucks whizzing along slowly faded as we got further away.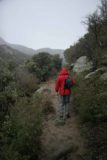 I'm sure drivers who might have noticed two people in bright red jackets on the nearby hillside must've thought we were nuts to be out hiking in this cold weather this day.
After about 30 minutes or so into the hike, the skies started to drizzle. Then, that drizzle started to turn into mini-hail stones (or I guess what is sleet; I had never experienced this before).
With the winds gusting, some of those mini-hail stones stung our faces so we made a concerted effort to look down at the ground.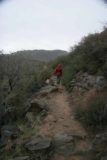 We still continued onwards with our hike thinking these moments of weather were brief.
Sure enough, the weather let up again as we got higher up on the mountain.
By around 1pm, we saw the easy-to-miss spur off the Pacific Crest Trail that Ann Marie Brown warned us about. The spur trail looked somewhat obvious and the 6-ft rocks were a noteworthy landmark. Plus the pair of PCT signed poles nearby made sure we'd regain the trail again on the way back out.
So Julie and I followed the spur trail towards Kitchen Creek Falls.
Up to this point, there was no indication of the waterfall nor any running stream. Both of us had doubts about whether we'd be seeing anything or not. After all, we were in the middle of a mountainous desert and perhaps the cold might have re-frozen Kitchen Creek or something while choking off the flow to the falls.
Then, we were a bit worried about the spur trail degenerating into a scramble amongst the jumble of scratchy desert vegetation.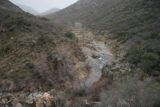 We could totally see how rattlesnakes could be a problem on this hike. But more importantly, getting lost or injured here was not a good thing either.
At first we had difficulty finding the waterfall as we approached the now-noticeable stream of Kitchen Creek.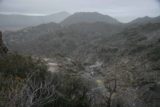 Julie gave me cynical remarks about how this waterfall wasn't worth it and questioned why Ann Marie Brown gave it a rating of 10.
"This is not a 10!" she'd exclaim.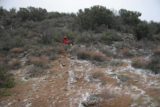 And I had to agree. But I also knew that the falls had a dropoff and we were clearly upstream from that dropoff. So we had to scramble back up and find the scramble leading to the bottom.
But by now, the sleet started to fall again and the winds were blowing harder. Julie was really getting worried about scrambling in this kind of weather. So was I.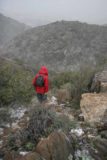 Anyways, we had a bit of a leap of faith moment and proceeded down a steep gully leading to a flat area at the brink of the falls. We couldn't see the waterfall here but we knew we were on the right track.
Then, we descended further down another steep gully that went directly towards the rocky granite base. This descent was rather precarious as it was riddled with loose rocks, slippery slopes, and some getting tangled with desert vegetation. As the weather continued to deteriorate and the sleet started turning to snow, we both had doubts as to whether this waterfall excursion was worth it.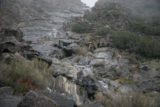 Finally at about 1:45pm, we made it to the bottom. We still couldn't see the falls at this point, but we could certainly hear it.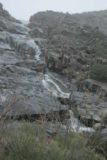 So we crossed the stream over some boulders slick snow and snowmelt. The scrambling beyond the stream got rougher as there was obviously no trail at this point. So I had to bushwhack my way through a mix of large boulders and still desert vegetation while trying to avoid a few stray cacti along the way.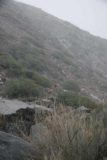 Julie saw the bushwhacking that I had to do to finally get a view of the waterfall. She opted to stay behind and wait back on the other side of the stream.
Meanwhile, the snow that was coming down was coming down even harder. It was 2pm, and I knew I didn't have much time left. So I finally reached a spot where the falls was in full view, took out my tripod, and tried real hard to man the SLR camera under the freezing conditions. It was hard to do anything with my hands as they were painfully cold and numb.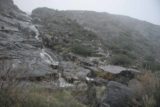 So with some persistence, I was finally able to get my shots (both fast and long exposure) but I really didn't have time to try to get closer nor find a different angle to shoot the falls.
Indeed the snow was really coming down hard now and I was a bit concerned about losing the trail as we still had to scramble out of here and get back on the Pacific Crest Trail.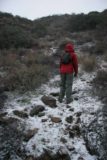 So Julie and I wasted no time climbing up the steep gully back towards the top of Kitchen Creek Falls. Snow had already obscured the obvious brown dirt sections so we judged based on steepness which route to ascend.
Under the circumstances, we climbed fairly fast and we were breathing heavily in the suddenly snowy conditions.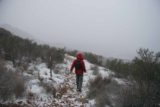 When we finally made it to the top of the falls, the winds were gusting and the snow still had some hail-like sleet pebbles stinging our faces. Still, we were able to find our way up towards the spur trail where the brown dirt "trail" was still visible despite the snow collecting around it.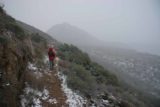 From that point forward, it was easy to follow the trail and we observed how the trail still managed to remain snow-free despite everywhere else getting whited out. We attributed that to the trail workers putting sand or something on the surface to keep the snow from "sticking." Still, we could be wrong in our reckonings.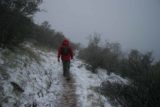 The snow continued to fall relentlessly and it seemed like we were edging closer to a blizzard.
Now that we didn't have to worry about getting lost on the trail, my thoughts next turned to the driving conditions. Even though we were under 4000ft, I could see the road was starting to get some snow.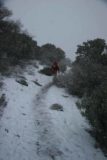 Since our rental car didn't have tire chains, I wondered if we would have difficulty negotiating the I-8 as we headed west towards San Diego.
So that hastened our hiking pace.
During our hour-and-a-half or so of the return hike, I echoed my fears to Julie as well as the unpleasant thought of driving towards San Diego then up to LA during rush hour traffic.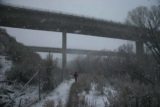 "I'd rather be in rush hour traffic than this," she said.
Finally by 3:30pm, we made it to our car which had some light snow accumulating on the windows, roof, trunk, and hood.
"We're not out of the woods, yet," I told Julie. She didn't say anything in response, but she knew the precarious situation coming up as we now had to drive through this sudden snow storm.
I still couldn't believe how this cold front that was forecast to pass this afternoon all of the sudden became a snow storm. It just goes to show you how weather predictions are an inexact science, but that did little to calm our fears about possibly getting into an accident or getting stranded in this snow storm when we're supposed to be back in LA by this evening.
We next wasted no time starting the car, turning on all the defrost and heaters, and heading out towards the I-8. A pair of vehicles going the opposite direction as me turned on their emergency hazard lights when I passed by. I wasn't sure what this meant, but it did cross my mind that maybe they didn't want me to drive on the I-8 or something. Who knows?
Once we got on the I-8, I was following a vehicle in front of me and at first he was going about 40mph or so, but when he saw vehicles moving slower up ahead, he slowed down and I made sure I kept a safe following distance behind him.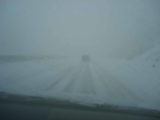 Before we knew it, we were only going between 0-20mph and there were plenty of vehicles pulled over on the snow-blanketed shoulder trying to wait out the storm.
It did cross my mind that maybe we should wait it out with the rest of these folks.
But at the same time, there were other cars still moving so I went ahead and followed them.
After one moment where our rental car didn't seem to move when I accelerated from a complete stop (because the car was sliding on the snow), I knew that we had to keep moving and try hard not to stop the car and run the risk of losing traction again.
So from that point forward, I allowed enough space between me and the guy in front. When they really slowed down or stopped, I gently slowed down and nudged the car towards them hoping they'd get moving again before I arrived.
Now, I-8 was mostly white except for the obvious tire tracks that I've been following as well as the line of cars behind me.
The traffic all of the sudden became mostly a singular train of cars with a few SUVs or crazy drivers blazing their own trails as they passed us on the "passing lane," which was no longer visible. All the lines on the road were covered in snow so it was hard to tell where one lane started and ended nor where the shoulders started.
Traffic still proceeded no faster than 20mph.
During these tense moments of not knowing if we're gonna slide into the next car or the car behind us sliding into us, I kept my focus on the guy in front and keep my concentration.
Our gradually moving train of cars passed by one car that was upside down. Julie and I briefly speculated how that happened, but we reckoned it was definitely snow related.
Julie also noticed three bears on a trail as she looked out her passenger window. I couldn't entertain the thought of stopping to try to photograph the bears or something due to the inclement weather and our dangerous driving conditions. Still, I guess it was rather reassuring to know that California still has bears even near the Mexican border, but what were they doing out instead of hibernating?
Eventually, we got to a part where the I-8 continually descended on a 6% grade for some 17 miles. Still keeping a safe distance between myself and the car in front and trying not to brake suddenly to prevent any further slipping on the snow, we still maintained 20mph speed.
Eventually as we approached the town of Alpine, we started to get under 3000ft and the snow accumulation on the road was less abundant.
The interstate continued to descend even more until finally we started to notice that the snow turned into rain and the road was mostly free of snow.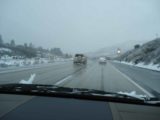 "I think we finally went beneath the snow line," I informed Julie.
By this point, the speeds picked up to about 50mph.
While our minds we on the fear of getting into a wreck or pile-up in the snow, I also had a terrible urge to use the restroom. So we found a gas station where we finally got to do the deed.
It was 4:40pm, and it was still rainy and chilly, but Julie and I were quite relieved as the only snow left was on our car, and our bladders must've thanked us for making the pit stop.
When I hastily returned to the car and its comforting heating, a big caucasian guy in a blue jacket knocked on my door and had me roll down the window.
"Did you just come down from the pass?" he said, pointing eastward.
"Uh, yeah," said I, thinking he must be going the other way.
"What was it like?" he asked.
"Uhh, well, it was quite slow. There were a bunch of cops looking like they're about to close to highway," said I. At this point, I wasn't sure where he was going with this.
Sensing my hesitation, the guy then said, "I'm with Channel 8 News. Do you mind if I film you?"
This took me off guard. My BS meter was on, but when he readied his big camera (one I know you need serious money to be carrying around), I gave in and said, "Uh, sure."
He first asked for my name, which he then must've input into the camera. I guess that's how they are accurately able to flash the names of the people they interview on the spot on the local news.
Next, he proceeded to ask me, "So how difficult was the driving on the pass?"
I told him, "It was quite precarious. We basically made sure to keep a safe distance with the car in front of us and that the car kept moving. We weren't moving more than 20mph the whole time."
He went on to ask a few more questions, which I can't recall off the top of my head. I couldn't even remember the responses I gave to those questions. I guess the whole day just seemed a bit surreal with a snow storm in the San Diego County deserts on Valentine's Day and now I've got a camera pointed at my face.
Julie entered the car after her pit stop somewhere during this line of questioning.
Finally when he asked me, "So what were you guys doing up at the pass?"
I smiled and told him, "We were hiking to Kitchen Creek Falls. We were at the falls when the snow storm hit, and that was when we knew we had to get out of there."
After that question, he was done with the questions. He then asked if he could film the hood of my car.
I guess he wanted to show the television audience the snow that still remained on the rental car.
After he thanked me, I wasted no time pulling out of the gas station and headed towards the I-8. As I pulled out, that was when I saw the body paint of his van that said something to the effect of Channel 8.
Clearly, he wasn't BS'ing at all, but it was too bad we wouldn't get to see my mug on TV since we don't get San Diego stations (let alone Channel 8) up in LA.
From that point forward, the driving on the I-8 was fairly smooth sailing as it was clear we were going against most of the traffic. The I-8 East was a parking lot as the Highway Patrol and Caltrans probably closed off the road until the snow storm calmed down.
Traffic didn't really start building up until we were on the 805 North, which eventually became the I-5.
As the rain gradually became drizzle with the dark cloud looming over us still, there were moments where we could glimpse towards the ocean and see the setting sun.
What a surreal ending to a strange Valentine's Day!
As we started edging towards Carlsbad, the traffic got considerably lighter and we were back to the more familiar 70mph by around 5:30pm.
Julie wasn't too happy about making us hike in what turned out to be a drama-filled day in the snow, so I had to try to make it up to her with a Valentine's dinner at the Houston's in Irvine. Sure we knew it would be busy, but we mind as well enjoy the moment while LA's rush hour was in full effect.
We finally arrived at Houston's by around 6:45pm. Sure enough, the parking lots were packed, but we were fortunate to find a parking spot.
We were still dressed in hiking attire when we declared ourselves and were told the wait would be about an hour.
That gave us time to change our clothes in the car and get into the more "formal" jeans and sweater we had worn while we were up in Julian the night before.
Clearly our hiking attire wouldn't cut it with everyone else dressed to impress for Valentine's Day.
But that also threw off the hostess' memory-based system as she must've remembered us in the hiking attire and not the more normal attire.
"Did you guys change clothes?" she asked.
"Yep," said I, wondering why they don't use a pager or announcing system, especially when it's as busy as today.
Finally when all was said and done, we had ourselves another good dinner, and we finally arrived at home while returning the rental car.
We had no trouble sleeping on this evening as we were tired from our drama filled day.
Visitor Comments:
Got something you'd like to share or say to keep the conversation going? Feel free to leave a comment below...
No users have replied to the content on this page