Day 1: FROM TRAFFIC TO CHARM
I decided to take a half day off today so Julie and I could head over to Julian for our little Valentine's Day getaway. I figured leaving the city and doing something still local but out-of-the-ordinary while still doing a waterfall trip was the best way to celebrate this commercialized "holiday." Besides, we both figured beating the crowds who'd undoubtedly set off tomorrow while not caving in to wasteful gifts of flowers, chocolates, or other material things was the thing to do.
So we rented a car (not willing to drive with our beaters with over 200,000 miles on them) and set off at about 2:45pm.
Apparently, that wasn't early enough as we already started to hit traffic as we approached Yorba Linda while heading east on the 91 Freeway. Earlier, we had decided against going south on the I-5 for traffic reasons. I guess we were screwed either way.
It was still about 3:30pm, and I was a bit incredulous that rush hour traffic had already kicked in. I wondered what all these peoples' work hours were.
"This is why I take the train to work," I reminded myself and Julie.
Anyways, it took over an hour just to reach the I-15, where we headed south towards Temecula. Traffic was still a little heavy, but it cleared up considerably as we approached the turnoffs for Lake Elsinore.
By about 4:45pm, we finally reached the town of Escondido, where we left the I-15 and headed east on Hwy 78. From there, it was a bunch of street driving passing by some burn areas from the recent fires last October and November as well as the San Diego Wild Animal Park.
"Ah, so that's where it is!" Julie exclaimed – pondering where this famed park was.
Hwy 78 wound its way through some hills before reaching another little town called Ramona. From there, we continued eastwards towards the town of Julian.
It was dark when we finally arrived in the town of Julian. I was worried that we might be way too late for our 6pm dinner reservation at Romano's Dodge House in Julian, which was a place that I had read good things about.
A few minutes before 6pm, we checked into the Butterfield Bed and Breakfast where we met Ed, one of the innkeepers. He showed us to our reserved Apple Sweet room while insisting that we have his freshly baked chocolate chip cookies. Then, he left us alone for the evening.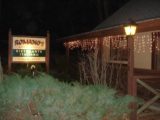 It was quite windy and cold in Julian. We wasted no time dropping off our belongings into the room and getting to Romano's for dinner. It was about 6:15pm when we got to the restaurant, but there were plenty of empty tables at the time.
Romano's was the highly touted Italian food in town. It felt warm and homey in the restaurant. We were thoroughly impressed with how flavorful and different the food was – especially the Pork Julian, which was drenched in a soupy sauce of apple and cinnamon as well as other spices I can't remember.
They provided a very hearty dinner (typical of most Italian restaurants) for a very reasonable price.
"This is better than most Italian restaurants back in LA," Julie said.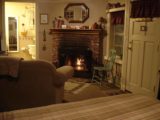 Thoroughly stuffed, we paid for dinner and returned to the Butterfield B&B to finally get settled.
The Apple Sweet Room was a charming suite with classic country furnishings with an apple theme as apparently the fruit was a big deal in the Julian area. The room also had a fireplace, which Julie loved, as well as Wi-Fi Internet, which Julie really appreciated as she still had things on her mind regarding work.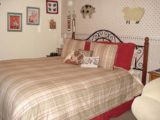 In fact, it seemed like the innkeepers really paid attention to detail as it seemed they thought of everything. In addition to the fireplace and Wi-Fi, there was a television, heater, all bathroom amenities, and carefully themed wall decorations. It contrasted with our B&B experience at Kulaniapia Falls in Hilo, Hawaii, which was basic but pleasantly homey. Butterfield B&B was both welcoming and charming, and did seem to yield better bang for your buck.
Julie was thoroughly impressed with this place.
Anyways, we showered, watched TV, and basked in the warmth of the fireplace. I was paying close attention to the weather since we were supposed to go hiking to Cedar Creek Falls tomorrow.
The forecast called for partly cloudy skies tonight and tomorrow with clearing and warming continuing into the weekend.
But when Julie had me go upstairs to the common area to bring more chocolate chip cookies back down, I couldn't help but notice all the fog and rain drops on the ground. But I figured it would all be ok by tomorrow. The weather I had checked online before the trip and the local weather forecast we saw on TV seemed to be in agreement that the weather would be benign.
Indeed, this spontaneous midweek Valentine's Day excursion had all the makings of one pleasantly blissful getaway that we would remember for a long time…