Day 1: PICKING AND CHOOSING
It was about 6:30am when Julie and I awoke, but given that it was unlikely that we would be able to avoid rush hour traffic even if we would have somehow miraculously left before 7am. So Julie decided to make some brekkie while allowing Tahia some time for her to come around and wake up on her own.
When all was said and done, it was about 8:05am when we finally left home. Again, it was later than my liking, but at least we thought that we would avoid the peak of the bell curve of commuters, and we figured that we'd be going in the opposite direction as well.
As we were taking off, we could see that the schools were getting horrendous drop-off traffic, and we wondered if that was going to be us when Tahia gets old enough to start attending these. Seems like whenever you have to deal with kids, it's all about joining the bell curve. Clearly the freedoms and flexibilities that we managed to get away with in the past were slipping away the older Tahia would get.
In any case, we thought that doing Tahia's Spring Break trip to Big Sur might be thinking out of the box, but little would we realize that other people were also on Spring Break at the same time, and that this peak-of-the-bell-curve theme would be recurring throughout this trip. Yep, we weren't the only ones spring breaking out of what we thought was the norm.
Anyways, the drive along the 105 and 405 freeways was sluggish at times, but for the most part, not that bad. But when we got on the 101, it seemed like most of the slowdown was there until we started to get past Thousand Oaks. At that point, the drive was pretty much smooth sailing, even as we were passing through the busy Santa Barbara part.
There was some road construction going on near Gaviota as we were headed inland towards Solvang and Buellton, but other than that, we were doing fairly well on time until it was getting close to noon, and Julie and Tahia were getting hungry. Suddenly, Julie spotted a Panera Bread from the highway as we were entering Arroyo Grande and getting even closer to San Luis Obispo, and we ultimately decided to eat in there instead of taking it to go.
I thought we weren't that far from where we needed to go so I thought spending about an hour for a hot lunch here wouldn't be too bad in terms of time.
So we made our stop at 11:50am, and it wasn't until about 12:35pm when we were back in the car. At that point, we then proceeded further north though I almost missed the turnoff where there was an exit from the 101 for the Hwy 1 towards San Luis Obispo and Morro Bay.
As we were proceeding to drive further north of San Luis Obispo (reminiscing with Julie how things were the first time we actually stopped by this area back in 2001), we then were following a caravan of slower cars in front of us refusing to use the pullouts.
The neighboring coastal hills had an eerie brownish look to them as the greens were giving way to them. Considering we were only at the start of Spring, this didn't bode well for the Summer situation as that season appeared to have already begun months ago. It was going to be a long and difficult Summer, I reckoned. And just like the Australia situation, I knew that this was definitely Global Warming related, and I felt real bad that this was the world that Tahia was inheriting.
Anyways, the road seemed busier than I would have expected for a weekday, and when we noticed that there were a ton of cars parked at a vista point, we were wondering what all the fuss was about.
Seeing that it was well past 1:30pm at this point, I kept on going. But when I glimpsed some of the coastline, I couldn't help but notice the rocky beaches along the coast were full of sea lions! When Julie heard me commenting about why that vista point was so full, she urged me to make a U-turn and go into that crowd of cars to let Tahia check them out. Even Tahia got in on the act trying to get me to turn around even though we were well past the vista point on the two-lane highway and we were already behind in terms of what we tried to accomplish today while also trying to get all the way to Monterey, where we were staying for the next two nights.
Tahia was bummed when it was apparent that I wasn't going to turn around (as I was thinking that perhaps on the way home, we should be able to see them), but we still had a long ways to go. We even entertained going to Hearst Castle on the day we go home as well. Julie had told me that Climate Change and the warming ocean off the California Coast had caused these sea lions to go hungry as their food sources went further out to sea. And so the sea lions went to the beaches and rocky coastlines of the California Coast in search of food.
So I figured that we shouldn't have a problem seeing these sea lions on Saturday morning on the way home though Julie kept telling me to "Carpe Diem" over and over again.
After passing the familiar Ragged Point Inn (where Julie and I stayed at back in 2001), we couldn't help but notice how much more developed and crowded this place was. At that point, it totally dawned on us that perhaps our thinking that taking advantage of Tahia's Spring Break to go out to Big Sur without crowds was misguided. Clearly other people were also on Spring Break, and I guess we'll just have to deal with traffic and crowds (contrary to our thinking going at the beginning of this trip).
When we passed by the familiar hairpin turn over Salmon Creek, Julie took a look at the waterfall noting how it wasn't flowing very well. I wasn't able to see it in any of the rear-view mirrors, but I took a mental note that we should probably skip this waterfall on the way home if we come down this way (I had previously thought that we could make a quick stop here on Saturday morning as well).
Finally at 2:30pm, we made it down to the familiar Limekiln State Park. It would turn out to be our first time back at this reserve in nearly 12 years! In last visit to Big Sur back in 2010, Limekiln State Park was closed due to fire damage. And now this time around, it seemed like the park was not only busy, but it now costed us $10 to park here (I recalled it was something like $7 the last time we were here).
Tahia was really eager to check out the beach that was here, but first, we had to do the waterfall hike as a family. After all, it was only a half-mile hike in each direction, and I had heard that they managed to improve the trail. I guess we'll see how much of an improvement was made over the years.
First, we walked through a very busy camping area where the campsite was crowded with lots of car campers under the shade of majestic coastal redwood trees. They weren't as thick and imposing as the sequoias in the Sierra Nevada mountain range, but the trees here were impressively tall. Clearly, the coastal redwoods were something we didn't really appreciate the first time here (since I never took any trail or tree photos from the past trips), but on this go around, it seemed like Julie and I have learned to smell the roses so-to-speak on our excursions. And so we took our time.
After passing through the first bridge, we then followed the signs for the waterfall and kiln trail (ignoring the Hare Creek Trail on the first junction). After another bridge crossing, we then reached another junction, where the falls trail branched to our right while the kiln trail kept going straight. And immediately upon getting onto the Falls Trail, we could see that it immediately descended towards an unbridged creek crossing.
I guess the trail improvements didn't apply to the falls trail.
Nonetheless, there were thoughtfully placed logs and wooden planks to make the creek crossings easier. Julie made sure that Tahia was able to get across them without too much difficulty while at the same time trying to let her figure out how to get across without getting her feet wet.
This was the first stream crossing. I think I counted at least another two or three more. Some parts of the trail were a bit narrow, but they weren't anything we hadn't seen before. In fact, it seemed like a pretty family-friendly hike as evidenced by other parties on the trail with kids. This was the case despite the minor hazards along the way.
Sure enough, we made it to the familiar Limekiln Falls, but it definitely looked different than the last time we were here when the falls had a lot more water draping over the 75-100ft limestone wall. Now, the falls was split and draped on the opposite ends of the limestone wall exposing the mossy green wall in the middle. It had sort of a Burgess Falls quality to it. Still, the falls was impressive, though to get up to the very base of the falls, there was some steep climbing across a fallen log to do (kind of like before).
There were a lot of shadows covering the lower parts of the falls so it wasn't the best of photo conditions, but at least the deep blue cloudless skies contrasted the uppermost reaches of the falls.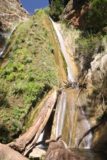 Julie and Tahia didn't chill out for too long at the falls since they couldn't do the climb up to the very base of the main falls. They left that to me to document the falls the way that we've been doing for the past few years (but didn't do on the first go around). Meanwhile, they would be headed back to the car and then the Limekiln State Park Beach beneath the Hwy 1. I figured since I'd be spending time here, and then hiking towards the Lime Kilns further up the Kiln Trail, that'd give them ample time to enjoy the beach before I catch up and rejoin them.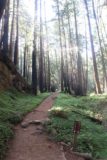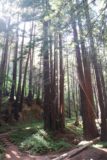 So after chilling out for the next 15-20 minutes at the falls (sharing it with a large family that was here enjoying themselves), I then hike back down to the Kiln Trail, where I then continued going further into the valley surrounded by more coastal redwoods with a few memorial signs interspersed amongst them.
I wasn't sure how much further I was supposed to walk to get up to the kilns, but it was nice to be alone on the trail for most of the hike. It contrasted mightily to the much busier waterfall trail. And after what seemed like another 10-15 minutes or so, the trail then narrowed before opening up again right in front of four kilns, which were really four tin cylinders with concrete-brick-like bases. There were some scraps that had already fallen from the kilns, and there were warning signs indicating that the kilns were unstable and that we shouldn't get too close to them (i.e. beyond the rope barricades).
I could see that some of the kilns were blackened possibly from a fire that had passed through here. In any case, I recalled reading previously before this trip that these kilns were supposed to process mined or quarried limestone (since they were readily available considering the featured falls here flowed over a limestone wall). The processed limestone would then become fodder for roads or buildings serving whatever settlements were along this rugged coast at the time.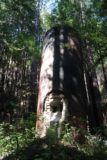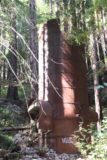 When I had my fill of the kilns, I then quickly made my way back to the car park as it was now encroaching on 3:45pm or so. When I finally made it back to the car park, I was shocked when I caught up with Julie and Tahia waiting to use the bathroom and that they said they didn't even get to the beach yet! I couldn't believe it considering I was taking my time on my extra excursions while they were supposed to make a beeline for the falls.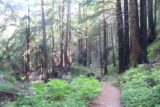 So with Tahia still wanting to play at the beach like we promised, we then headed over to the beach beneath the highway, but now we were running out of daylight. The inefficient use of time meant we probably weren't going to check out Pfeiffer Beach at sunset like I was hoping. Plus, we probably weren't going to have dinner nor check into Monterey until much later in the evening that we were hoping as well.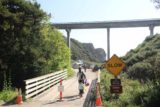 Anyways, the waves were a bit rough at this dark-sanded beach. It wouldn't surprise me if there were rip currents here, and it seemed like the swells were funneled into this cove.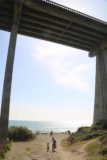 On the way to the beach, I noticed there were a few campsites a short distance upstream from this beach. We never knew that you could camp at these spots, and I wondered if it might be a good idea to camp here to save on accommodation expenses next time.
At 4:20pm, we were back at the car. Tahia didn't want to leave as she was well into playing in the sand futilely building sand castles without being able to wet the sand. Since we weren't going to let her get near the water, I think she eventually capitulated and let us take her back to the car so we could at least fit in the Julia Pfeiffer Burns State Park visit before gunning it to Monterey.
It only took us another 25 minutes to get to the busy Julia Pfeiffer Burns State Park (arriving at 4:45pm), and we weren't able to find parking in any of the designated parking spots near the payment kiosk. We showed up just as the park employee was leaving so I guess we wouldn't be paying the $10 fee with a live person (though I wondered if our $10 fee from Limekiln State Park would've also covered this spot).
So we parallel parked where some other cars were parked right across from the payment kiosk. Julie and Tahia then stayed in the car waiting for me to do a quick out-and-back hike out to Canyon Falls (knowing that this was another one of those places we hadn't visited in 12 years due to fire damage from our 2010 visit that denied us that opportunity).
As I was hiking past the sign at the interior of the car park, then past a small picnic area, I then followed an initially obvious trail, but then it started to get a little confusing around a creek crossing and some makeshift rope barricades. The further I went upstream, the more I realized that they indeed re-routed the trail from last time (apparently braching off the Ewoldsen Trail along the way).
But it didn't take long before I found myself alone with the Canyon Falls, which was not easy to photograph given the shadows cast on it. But I did notice that there were some hidden upper tiers to the falls while also having a surprisingly decent flow despite the drought.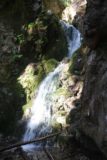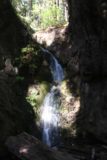 I had a feeling that ocean-bound creeks and waterfalls probably benefitted from being at the bottoms of drainages before rejoining the ocean so perhaps that was the reason for its resilience to the multi-year drought in which we were in the midst of our fourth straight year of it.
A father and two kids eventually showed up while I was busy taking photos and movies of Canyon Falls. They provided subjects on some of my photos to show how small this waterfall was. But while they were chilling out at the falls, I was making my return back to the car park. And by 5:25pm, I rejoined Julie and Tahia so we could get out of the car and check out McWay Falls together.
Julie and Tahia were busy avoiding the poison oak that was flanking parts of this trail (just like they were all over the Limekiln Falls Trail), and they headed straight to the overlook of both the falls and beautiful cove. Meanwhile, I took a slight detour to finally check out the Pelton Wheel since I always skipped it in years past.
Apparently, the Pelton Wheel was a little hydroelectric waterwheel that was in use in the 1940s to provide electricity probably to the Waterfall House, which was just beyond the overlook of McWay Falls. The signs here indicated that McWay Creek didn't have high volume, but it did have high velocity from the topography here as well as a steady stream.
Anyways, I then rejoined Julie and Tahia again along with heaps of other people all checking out the beautiful view of McWay Falls that never disappoints as far as we were concerned. This time, it seemed like the color in the water was a beautiful hue of blue, and we even noticed some sea otters or sea lions doing backstrokes in the McWay Cove.
We then contined walking beyond the overlooks towards the remains of the Waterfall House. I had recalled back in 2001 when we last went this far, this placed seemed unremarkable and pretty overgrown. At least that was what I thought I remembered though it seemed like we didn't have the photos to prove it.
However, this time around, it was busy with lots of people taking photos against the wide open overlooks or chilling on the pair of benches or even reading the signs here talking about the massive landslide in 1983 that changed the appearance of McWay Cove while closing Hwy 1 for nearly a year as well as the life of Julia Pfeiffer Burns who made this place her home for a good part of her life.
In any case, the feeling here was definitely different than all the other times Julie and I have been here in years past. It was just way busier than I had ever seen this place, and it further affirmed our suspicions that Spring Break was in effect at the same time as Tahia's. Nonetheless, Tahia enjoyed the experience, and we were back at the car at 6:20pm.
As much as I wanted to squeeze in a visit to Pfeiffer Beach (which according to the signs at Julia Pfeiffer Burns State Park said it was 11 miles to the north), we ultimately decided to just gun it for Monterey and go for a late dinner. It was a shame because I knew that Pfeiffer Beach would be the best for photographs at sunset, but I guess we'd have to come back to it tomorrow, meaning that tomorrow's planned excursions wouldn't just be the Monterey Aquarium at a relaxed pace.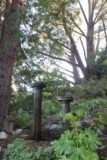 So while we were thinking about dinner, we thought maybe we should strive for early dinner around the Big Sur area. When we saw that Deetjens was crowded (given the lack of parking there), we then thought about heading for the Nepenthe Restaurant. When we pulled up to that restaurant at 6:35pm, then walked past its zen-like garden on the way up to the main restaurant, we were then told that we had to wait an hour before dinnertime.
Waiting there for that long and forcing us to drive Hwy 1 in the dark didn't seem palatable. So we headed back into the car 10 minutes later, then continued straight north to Monterey. Along the way, we could've stopped and pulled over and waited for the sunset, but we just pushed on. Eventually at 7:35pm, we finally made it to the Holiday Inn Express, which we managed to score two free nights using rewards points.
We actually stayed by some lake at the town of Seaside, which wasn't near the Cannery Row location deeper in Monterey, but for the extra 10,000 points per night, Julie thought it wasn't worth doing that just for that location, especially since it turned out that we weren't that far away anyways.
Once we checked in and got settled, we then quickly drive a mere four miles to this place called the Monterey Fish House, where again we had to wait an hour before getting our long awaited dinner, but in the end, at least we were fed, we weren't desperate enough to have to eat at the Chili's by our accommodation, and we got some crab cake, a lobster pasta, and some seared ahi tuna. The food wasn't extraordinary and we were a bit lighter on the wallet, but it wasn't bad either.
After the dinner, we left the restaurant at around 9:45pm (they closed at 9:30pm and we weren't seated until about 8:45pm), and we then went to a nearby Safeway to pick up water and some munchos. While we were checking out, Tahia commented, "Daddy! Look! Is that a tattoo?" as she was pointing to a young lady's thigh, which was marked up with a tattoo.
That was the ice breaker, and that engaged her and her friend in a conversation with her. I guess kids can be so honest sometimes. And it's all part of the fun when we go traveling with her.
With the pleasantries over, we returned to the accommodation at 10:10pm. With our day starting at 8am and not ending until now, it indeed had been a very long day out. All of us were beat, and we were looking forward to having a more laid back day at the Monterey Aquarium then at Pfeiffer Beach tomorrow…