Day 2: TAHIA'S BEACH FIX
It was about 7:30am when we awoke. The morning was pretty lacksadaisical as we took our time getting up, getting ready, and then having the included breakfast. Since the Monterey Aquarium wasn't open until 9:30am today, we weren't in a rush. Plus, we intended to spend the afternoon visiting Pfeiffer Beach, which was something that Julie and I had never done in all the times that we have come to Big Sur over the years.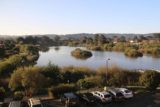 The brekkie room was crowded as apparently there were plenty of other families whose kids were on Spring Break. I just knew from the chaos of the morning that the Aquarium was probably going to be a zoo. In any case, we left the Holiday Inn Express at Seaside at about 9:10am, but not before taking a few photos of the adjacent lake, which had favorable morning light.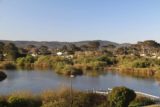 It only took us until about 9:20am to get to the Monterey Aquarium, and this was even with driving a loop in search of the nearest metered street parking (seeing that we probably wouldn't be spending the entire day in just this one place). But even as we were doing this, we could see that it was already pretty busy. There was even a line piling up to buy tickets to get in!
The parking costed us on the order of $1.50 per hour, and we put in enough money to stay the maximum four hours ($6 total). That was still cheaper than paying the $10 flat rate at some of the further parking structures.
When we walked into the Aquarium, we then queued up to buy the tickets at the window wondering if we had been better off buying these things online before showing up. Julie actually made an attempt to do that while we were queued up, but something went wrong and apparently we were better off just buying the tix in person and not make things overly complicated over a few minutes.
Once inside the aquarium, we then meandered around on the first floor. The first thing that caught our fancy was a couple of tanks containing some big and graceful purple octupuses. Of course Tahia was paying attention as she stared at the sea creature while Julie and I were busy trying to capture the moment.
Shortly after the octupuses, we then looked at other tanks as well as a large tank where large sharks were sharing the waters with some other big fish. I got the feeling that Julie and I got more of a rush checking out the large fish while Tahia got bored pretty quick.
Next, we went towards the impressive jellyfish display where Tahia was having a blast looking at the graceful and abundant creatures with their interesting shapes and colors. Again, Julie and I were trying to capture the moment while Tahia kept inquiring about what she was seeing.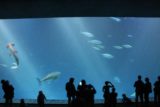 We then went to another big tank full of sharks and other big fish with viewing from both the ground and upper floor. Then, we went towards an area where Tahia got to touch some of the docile sea life like certain crabs, kelp, starfish, sea urchins, and others. Tahia was timid, but the employee there was being gently encouraging to her.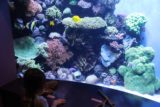 After that, we then went upstairs towards the coral reef area as Tahia got impatient and was insisting that we go see Nemo (i.e. the clownfish). So we took her there, and let her get her fix. Then, she noticed there were tunnels and playgrounds and that was pretty much it as far as our aquarium visit as she refused to do anything else except play with the stamps, the toys, and the slides.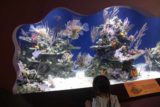 Just watching Tahia being a kid was exhausting work even though neither Julie and I were exerting ourselves much on this visit. But it was almost like the feeling I would get when Julie used to take me shopping (before she realized how brutal that was for me and would leave me home).
By around 11:30am, we left the Monterey Aquarium (which at $105 total for all three of us spending two hours here wasn't like we were getting much bang for the buck). And we then headed into Cannery Row, which was a historical area that was pretty much turned into a made-for-tourist block.
There was an attractive area with a fountain and some statues as well as some blooming flowers as well as a view of a small golden sand beach as well as the Fish Hopper Restaurant jutting out over the blue waters under beautiful skies.
We ultimately decided to eat at the Fish Hopper, which was expensive, but I guess that helped us to control our portions. The food was decent though the price was probably a bit on the high side for the quality of food.
Anyways, after the lunch, we then got back to the car at 1:10pm. We pretty much exhausted our four hours of street parking, and now it was time to head on to Pfeiffer Beach. Tahia was really looking forward to it, and she wouldn't stop asking us (more like demanding) that we go to the beach.
We had built up her expectations for Pfeiffer Beach and hopefully it would deliver – especially considering that we would have to drive nearly 90 minutes to the south to even get there.
The drive was beautiful but slow thanks to slow drivers who refused to use pullouts. I guess that was something to deal with on a day as busy as today (Spring Break and apparently Good Friday as well!). And so it wouldn't be until we found the easy-to-miss Sycamore Canyon Road, which was a sharp turn (as we were headed south) right off the Hwy 1 not far from the Pfeiffer State Park.
Just as we turned onto the road, we had to wait behind a couple of cars as someone was there doing traffic control. Clearly, the parking situation was full, but it turned out that we wouldn't have to wait too long since they had let us through after barely five minutes. We were about to claim one of three spots that had just freed up.
The drive was on a narrow 1.5-lane road that was pretty bumpy but still mostly paved. It was nothing compared to the even narrower roads that we were used to dealing with in Europe. But since we were driving our own car (instead of renting one this time around), I was a little less aggressive with the turns and the margins as well as being generous in letting cars going in the other direction pass by before proceeding.
Finally at around 2:30pm, we would make it to the closest car park for Pfeiffer Beach where we claimed one of two spots. There was an employee directing traffic there so it seemed like they had the parking situation and traffic situation under control despite how busy it was apparently.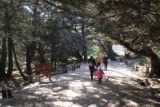 The cost to park was $10 which was pretty pricey. But I guess since we had a four-year-old in tow eager to play on the beach, we didn't want to spend more time than necessary on walking the Sycamore Canyon Road. That said, we did notice quite a few people who didn't wish to pay the $10 and park on some large pullouts on Hwy 1 before walking all the way to the beach.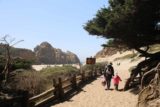 It was only a couple of minutes walk through a shaded riparian habitat and grove of wind-bent trees before finally showing up on the fine sand. It was quite bright and it was also a little bit windy. Still, Tahia wasted no time finding a spot by the freshwater stream, which allowed her to make her attempt at building sand castles or play with the sand toys that we had brought.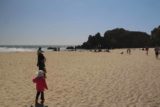 Julie stayed with Tahia while I was busy exploring Pfeiffer Beach.
Immediately as I looked towards the ocean, I could see there was a large sea rock with what looked like a pair of small arches. There was enough of a high tide so that it would require some degree of climbing to get up to the arches, and I could see immediately on the other side of them that the waves were crashing and splashing. Since I was looking almost directly against the high mid-afternoon sun, the photos were suffering from sun glare as well as high contrast.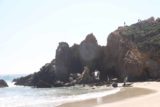 There were also people standing on top of that rock, which actually didn't look like a very trivial climb. I didn't bother with it.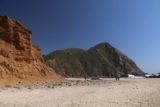 As I walked further along the beach, I started to get stung by sands kicked up by the sporadic gusts of wind. It didn't take long before I started to notice an even more impressive sea arch on another sea rock. This time, the arch had more of a rectangular shape and there was no way the tides would let me get close to the arch. In fact, sometimes the waves were high enough to essentially fill up the span of the arch with whitewater.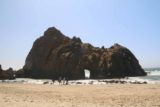 And again, the lighting conditions didn't do me any favors in terms of taking that nice shot of the scene, and I could see why photo buffs would want to wait until near sunset to take their shots (especially in those rare times of the year when the rays from the setting sun would shine through the arch).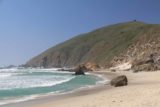 Beyond the arch, I kept going along the sandy beach just to see what else was there. And the further I went, the more I was getting stung by high velocity sands kicked up and hitting my arms and neck. My hat also had a tendency of blowing off my head with the strap wrapping around me neck so the hat wouldn't completely fly away.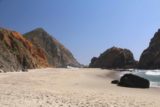 At some point, I started to see a dark purple patch of sand. So this was the purple sand that people were talking about!
It was pretty impressive. Even as I looked back towards the rocks and the reddish cliffs contrasting the cloudless blue skies, the purple sand complemented all those colors and made for decent photos.
The wind was really blowing out here (and so were the stinging high-velocity sand grains), so I endured what I could while taking what photos I could while trying to keep my camera from getting sandblasted. Indeed, this was a similar kind of force to what gets used to remove graffiti from walls that probably couldn't be painted over.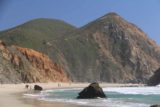 Eventually, I made it back to Tahia and Julie. Tahia was totally happily playing in the sand and Julie was playing along with her. It was nice to have the freshwater stream adjacent to the sand so we wouldn't have to get close to the rip currents and crashing waves of the Pacific for the water to help with the sand castles.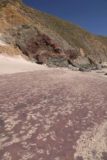 Indeed, this spot was somewhat protected more so than where the purple sand was. But there were some sporadic gusts here and there that conspired to life our mat and our belongings out.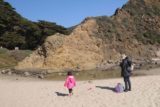 In fact, Tahia was having so much fun that we eventually found out that she had peed in her pants without telling us. I guess in her mind, she'd rather stomach the consequences as long as she got her beach fix in. But little did she realize that we could've let her play an hour more or so, but as punishment for soiling her clothes, play time was over.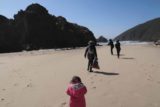 Julie spent time getting Tahia to the bathroom by the car park, which turned out to be quite gross. Julie also didn't have a backup pair of pants for Tahia. So she just had to deal with it.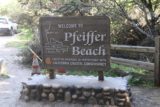 We spent the remaining minutes of our time at Pfeiffer Beach checking out the squarish arch. That was about as far as we would go because Tahia wasn't enjoying getting blasted by the sand in the high winds. So by 4pm, we were back at the car. Even though it was getting late in the afternoon, this beach was still quite the popular spot as the car park remained mostly full. I wondered if we would've had a better experience yesterday afternoon at this beach when it was less windier and we were getting closer to sunset.
Oh well. Hindsight's 20/20.
We followed another very slow caravan of slow-moving vehicles along the Hwy 1 (this time there were a pair of RVs refusing to use the pullouts and caused probably a mile's length of vehicles following them with us being the fifth or sixth in line).
So the drive was excruciatingly slow, but when we got closer to Monterey and Seaside, we ultimately decided to just forget going back to the Holiday Inn Express to change Tahia's clothes and just gun it for Cannery Row again, where there was this French Restaurant called Moulin that Julie wanted to try.
We'd eventually get there at 5:25pm where we once again found street parking that was metered (though we realized after the fact that the restaurant had their own parking apparently). Oops. Anyways, we put in for 3 hours figuring that would give us plenty of time to enjoy the French cuisine.
The food was pretty good as it started with escargots in the Burgundy style (always something we like). And then we had the mains though Julie regretted getting the quail over the duck (though the foie gras on the quail was what sold us). She also had osso bucco and Tahia ate what we ate. Then, we topped it all off with tiramisu dessert.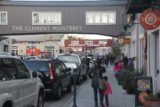 When we left the restaurant, we still had nearly an hour left so we decided to walk back to Cannery Row just to see what it was like there at twilight. I had thought the block would be dead at this time of day, but it turned out to be a bit busier than I had imagined.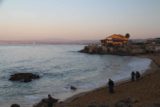 We ultimately went back to the pretty little spot with the fountains and statues to take some photos before settling in at the Ghiradelli place on the far opposite end of Cannery Row (relative to the Aquarium). We ended up indulging in an expensive hot fudge sundae ($10 though the vanilla ice cream left much to be desired for such a pricey dessert). I'm sure we'll be paying for it with our bulging guts or lactose intolerance tonight or tomorrow.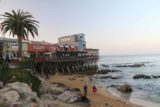 Fully sated and indulged, we then returned to the car at 7:55pm. And by 8:05pm, we were back at the accommodation at Seaside so wind down this day. At least we wouldn't have to have a late dinner like last night, and so we eventually slept at a more reasonable hour as well.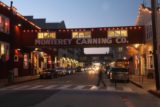 Tomorrow, we were going to drive home, but somewhere along the line, Julie decided to ditch Hearst Castle and the Sea Lion watching tomorrow and just head straight for home. I guess given the traffic experience and how busy it was on this day, it sounded like a reasonable idea. But at the same time, so much for carpe diem.
Oh well, at least we'd be home in time to watch the Final Four (something I thought I would have to miss), and then Julie would get to catch up with one of her friends who actually came down to So Cal from No Cal for this Easter Weekend.