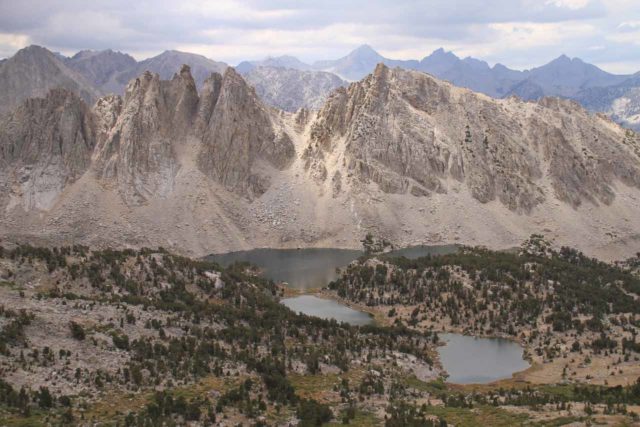 29-August 2013 to 1-September 2013:
Then, as we were climbing the last few switchbacks, it started raining at 12:20pm. This was definitely not a good sign. When we encountered another pair of guy hikers who were coming back down, they too were echoing the earlier sentiments that it was definitely worth the view up at Kearsarge Pass. However, one of them expressed concern that it was going to be iffy about whether the weather would cooperate or not.
Still, we trudged on. The rain got bad enough that we had to bring out our rain gear. Of course, when the rain gear was on, it tended to get hot real fast…
Day 1: SLOW FOOD
It wasn't until 1:40pm when we finally left from Cindy and Ed's place. With kids and house issues, there wasn't much time to pack and get organized. We kind of took for granted that we had done this before so understood the drill and went through the motions. We figured that we could check into the motel at Independence as soon as we arrive today, then pack after dinner.
So we proceeded under this plan, and with the nearly 100F weather in suburbian Los Angeles, we were kind of glad to feel the AC of the rental car when we left, though with its black leather interior, it kind of took a while for the interior of the car to cool down. Cindy, who was sitting in the back seat, needed us to turn up the AC to almost full blast in order for the cold air to get to her.
Cindy and Ed made babysitter arrangements beforehand. Meanwhile, Julie and Tahia were left at home since there was no way they'd be roughing it in the Sierras with us.
In any case, the drive through the I-5 was pretty traffic free (probably because it didn't quite get to Friday rush hour yet). I always dreaded driving through the LA basin to get into the Santa Clarita area before we'd finally catch the 14 to get into the High Desert area of Lancaster.
Anyhow, the drive was pretty uneventful up to that point, and we even skated through the High Desert area eventually getting to the Hwy 395 without much incident. I made sure to follow the flow of traffic knowing that CHP were out to nab unsuspecting speeding motorists along the entire drive that we were on.
The goal of this weekend backtrip trip (which was happening at a rate of once every two years for the past 4 years, making that three trips over this span if we include this year) was to hike up Onion Valley and then camp at Matlock Lake before doing a day hike out to Kearsarge Pass. Upon learning of this hike, I knew to print out a Topo of the area we were hiking, and I also did a little more research into the area hoping there might be a waterfalling reason to even talk about this weekend's trip on the website.
From the sparse info I was able to get from the literature concerning Onion Valley and waterfalls, I wasn't very optimistic about the prospects of this combo considering this was the second consecutive year of very low precipitation throughout California. On top of that, there was a wildfire burning near the northwest of Yosemite that was said to be potentially a threat to the Hetch Hetchy area (including the O'Shaugnessy Dam, Mather, and other places we were familiar with in our many travels to those parts).
Anyways, Ed told me that given our late departure, we'd have to secure overnight permits from the drop box instead of in person at the Visitor Center in Lone Pine, which would close at 5pm today. That meant we would only have a little over 3 hours from the time we left home to the time we'd get there in order secure the permit in person.
The reason why we'd want to secure the permits in person instead of in the overnight drop was because we wouldn't be able to go past Kearsarge Pass without securing the permits in person. Now I could understand not being able to camp beyond Kearsarge Pass, but I never heard of not being able to step foot beyond Kearsarge Pass even as a dayhike!
So that kind of amped up my urgency a bit to strive to get to the Lone Pine Wilderness Station before 5pm, but we knew that it might be a bit of a stretch to get there on time considering how government workers tend to be notorious for closing on time.
At about 5pm (okay, maybe 5:01pm), we finally found the Wilderness Permit Station at Lone Pine. Sure enough, there was a ranger who was in the process of closing the gate into the large car park, which still had many vehicles inside. But the ranger refused to let us in.
Instead, he punted us over to the overnight drop kiosk a few paces from the soon-to-be-closed gate. That was when Ed signed his name, and we could see in large handwriting highlighted in yellow at the bottom of the paper permit, it said, "DO NOT GO BEYOND KEARSARGE PASS!!!"
So with that, we knew the limits of what we could do on our trip, and now it was time to do some last minute grocery shopping for picnic lunches to take with us on the trail. And once that was done, we then continued driving towards the town of Independence where Ed managed to secure three rooms at the Independence Inn.
Ed informed us that this place was basically a one-man show. The proprietor basically did all the breakfast cooking, the maintenance, the reception, the marketing, etc.
Apparently, there were only six rooms total for this place, and our group (which not only included me, Ed, and Cindy but also Dymph, Karen, Heather, and Gabe) took us three of those rooms.
We checked in at 5:50pm. The place looked quaint and the interior looked pretty adequate for what we needed, which was merely a place to stay for the night. There was also a TV and a fridge as well as a pretty clean bathroom. The only annoying things were a few mosquitoes we spotted in the room, which we thought might be a bad sign in terms of facing mozzies in our hike starting tomorrow.
At about 6:20pm, we decided on having dinner at the Still Life Cafe in Independence. Cindy and Ed knew about this place (through Larry) in all the years they'd gone Sierras backpacking, but never got around to eating here. They just knew that you couldn't be in a hurry as the average table time there was at least two or three hours depending on circumstances, I guess.
But since we were the first ones there, we didn't mind trying some ethnic food, which seemed kind of out-of-place in a place like Independence. Indeed, the interior of the cafe seemed like a charming little French Bistro with artsy portraits and artworks hanging on the walls as well as some interesting specials like a North African lamb sausage dish as well as Burgundy-style escargot on the menu!
When I used Ed's cell to call Julie to let her know that we made it safely to Independence, I told her about the French bistro we were in, and I knew she'd be jealous (especially since we were big fans of French cuisine).
When we conversed with the waitress (who appeared to be the daughter of the parents who ran this place), she explained that her mom was of North African descent. It kind of explained her curls as well as the ethnic dishes that we saw on the menu.
I told her that Julie and I were headed to Quebec, and the waitress said she went to Montreal before, but didn't like the cold. I assumed that she must've been from southern France because I thought Paris could be equally as cold as Montreal. Then, I was surprised when she said her parents were from Paris and Champagne.
As we were having our escargot (something Cindy and Ed said they never tried before), Karen and Dymph walked in. We hadn't seen each other since our last trip to Lake Sabrina in 2011, which was fun. They were great company, and it was good to see them again.
Not much later after that, Heather and Gabe walked in and joined us. We hadn't seen them since the Big Pine Creek Trip in 2009. And we also enjoyed their company on that trip. Indeed, when it came to backcountry backpacking, sometimes the company you keep would be equally important (if not more) than the sights that brought us here in the first place. And from that standpoint, it seemed like things would be looking up this long weekend.
In addition to the escargot, Ed, Cindy, and I ordered family style and shared something called Merguez, which was some kind of North African lamb sausage served with salad and fries with a spicy kind of dipping sauce. We also got some kind of steak sandwich aus jus as well as some kind of Summer squash soup.
It wasn't until 8:50pm when we left the Still Life Cafe. We knew this place was slow food (and we weren't in a hurry), but we kind of saw why the place was slow as the kitchen was pretty much staffed by just the wife with some help from the daughter who was dividing time between waiting the tables and helping her mum. The father was manning the counter at the front though it seemed like he was busy looking at a book. Indeed, family run businesses can be really hard work.
Still, stuffed and fully satisfied, we returned to the Indy Inn where we then organized our stuff and packed for tomorrow.
And before 11pm, we were pretty much in bed knowing full well that this could be the last sleepful night we'd be having for the next couple of nights.
Day 2: RETURN OF THE GAS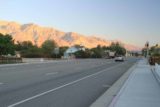 Since we knew that the Indy Inn served breakfast at 7am (and it was cooked by Jim the proprietor himself), we took our time having the meal (consisting of coffee bread, apple toast, and some cereal). We were also making some small talk with someone else who was also staying at the inn, who was also from the Los Angeles area.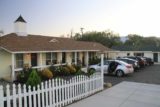 He called himself Mark, and he and his wife were headed to Rock Creek, which was somewhere near Bishop. They were going for some fishing and they were going to meet up with family.
When all was said and done for the morning, we checked out and left the Indy Inn at 8:10am.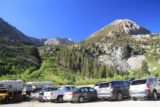 The road up to the Onion Valley car park was quite twisty, but it wasn't anything I couldn't handle driving wise. However, it seemed to have gotten Cindy a little car sick.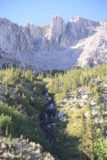 Mercifully, we arrived at the Onion Valley car park at 8:35pm, but as expected, we saw that the car park was quite busy. Nonetheless, there were still enough parking spaces for the three vehicles in our group.
And with that, we got our packs out and prepared ourselves for the physical challenge that was in front of us.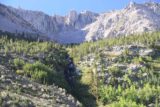 As we looked around at the car park, we could see the climbing on the trail started immediately from the car park. There was even one young and spry backpacker who skipped his way down the trail eventually to his car just a few minutes later. I don't think I had ever seen anyone skipping and dancing his way down the trail, and it seemed like a pretty novel idea though I wasn't sure we could pull it off ourselves given the loose rocks that conspired to twist our ankles and make us tumble badly wish some 40-50lbs of weight on our backs.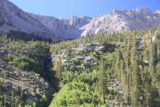 On the opposite side of the car park, we could see there was a cascade that was still audibly flowing with water. Even though the flow was low at this time of the year, it far exceeded my expectations in that I could still see water coming down the rocky slope that was partially in shade at this time of the morning.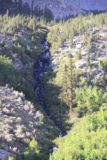 Just as we were about ready to get going on our hike, we suddenly learned that Karen had forgotten her trekking poles back at the Independence Inn. Since she still had hip issues from a fall a while back, we could understand her need for the trekking poles.
So we knew that it would take some time for both Karen and Dymph to drive back down to Independence, then drive back up to the trailhead. We figured it would be another hour before we'd get started.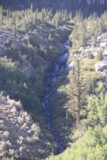 So as this was happening, I took the opportunity to use the facilities while also taking a few more photos of that waterfall tumbling right behind the car park. I was already satisfied that I'd be getting my waterfalling fix for this particular hiking trip so I was certainly going to capitalize on this unexpected down time though I knew there was only so many ways I could capture this waterfall that was certainly for looks but we wouldn't be able to get close and touch it.
Unfortunately after I had gone to the toilet for the second or third time, I could feel the gas returning to my GI tract. Just as I had feared from my two previous experiences in backpacking the High Sierras, I knew I'd be fighting diarrhea on this trip. And that meant frequent trips to do the unpleasant deed our in the mozzie-infested bush while running through more toilet paper than I wanted to.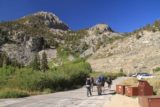 When Karen and Dymph were back at the trailhead at 9:20am, it took another ten minutes more to get to the trailhead, take our group photo (for that before and after shot), and then get going.
As expected, the initial climb wasn't easy, especially with us carrying packs. But given the popularity of this trail, we knew that it wasn't so grueling that we'd be dying. That said, the physical toll this would take on us in getting to camp was something I didn't really want to think about while engaging in the activity itself.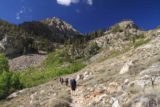 So it was a bit of mental game to keep myself occupied with the scenery (which there was a lot of) while conversing with the fellow backpackers and taking photographs all while filtering out the negative thoughts that I knew would keep creeping in the moment I'd feel out-of-breath from the altitude, or I'd feel some kind of soreness from carrying all that weight on my back (though they were technically on my hips given the way the internal frame packs were designed).
The hiking group was already strung out with Karen and Dymph staying in the back while Heather, Gabe, Cindy, and Ed were way up front. I decided to remain in the back so I could take photos then catch up.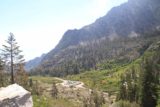 While I was keeping Karen company, Ed told me during the drive up to Independence yesterday that Karen had just returned from a trip to Scotland.
Scotland and England was high on Julie's and my next big trip overseas next Summer, if it were to happen. I figured I might take that opportunity to keep Karen company and hear from her what Scotland was like.
I kind of expected that Scotland would be mostly misty and overcast throughout the year, including the Summer. So I had no illusions about good weather on a trip up there. However, I also knew that there was something hauntingly beautiful about such places, and I also knew there'd be waterfalls there.
Not only that, but Julie had a great friend who was a coworker with her who was Scottish. And we knew how friendly and warm she was, and how much she spoke of Scotland.
From what Karen was describing (especially since she had visited some islands off the main British isle), it seemed very much like my mental picture of what Iceland might be like. We had experienced the raw beauty of Iceland back in 2007, and I had to believe that a trip up to Scotland would be at least as emotionally impactful from a beauty standpoint as well as that sense that we were truly in a place very different from home.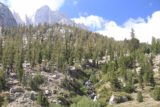 At 10:05am (barely a little over 30 minutes from the start of the hike), we took our first rest break in a shaded area not too much farther from signs saying we were entering the John Muir Wilderness. The hike up to this point wasn't as bad as I had anticipated, but perhaps it was because Karen and I kept each other company with the Scotland talk.
When we resumed our hike after the first break, I then found myself amongst the leaders of the pack with Heather, Gabe, Cindy, and Ed. Karen and Dymph dropped behind this front group.
This time, the conversation changed as we conversed about work. It wasn't a topic I really wanted to talk about considering I came out this way to get away from the insanities of work, but I guess work was a natural topic to get into when people are trying to make small talk as well as learn a little something about each other.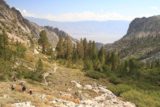 Of course, I couldn't help myself as I kind of painted a picture of how corporate politics (i.e. manipulation of people for specific self-interests) tended to interfere with company survival (where you get everyone gladly pulling in the same direction because they believe in what you're doing).
It always seemed like there was a bit of hypocrisy where you had current company leaders and aspiring leaders who tended to sing the same song about best practices and doing what's good for the company, but then they turn around and pull political stunts thereby undermining the very things they'd be preaching.
And as I was saying this, I wondered whether I might have crossed a line with the audience of four or if I might appear to be some disgruntled schmuck.
I knew deep down that people have to be political to some extent to maintain professional relationships. It was probably one of the greatest dilemmas that face every individual when it came to earning money, and why it seemed to be an age-old choice of whether to lose dignity in pursuit of money or lose money to maintain dignity. I wasn't going to pursue the issue any further since nothing would be solved here, but I guess it passed some time as we were still climbing up the trail.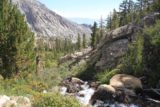 Thankfully the topic changed (though I wasn't sure what brought that about), and we were talking about past backpacking trips and some other stuff that I didn't quite recall anymore.
At about 10:45am, we made it to the top of what appeared to be a second cascade. This cascade was above the one we saw at the car park, but it didn't seem all that significant or photographable on its own (other than we could hear the soothing sound of rushing water).
Ed and I were also paying attention to the sky and we noticed that there were some dark clouds forming and obscuring some of the peaks towering high above us. This was not a good sign as it didn't even hit afternoon yet, and past patterns suggested that thunderstorms typically popped up and dumped in the early to mid afternoons.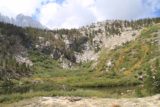 So that kind of amped up our desires to keep pressing on and set up camp before the threatening thunderstorms would dump on us and conspire to get us wet.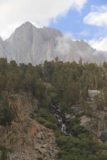 About 20 minutes later at 11:05am, we made it to Little Pothole Lake. This was actually more of a pond than a lake, except it was draining towards the two mountain cascades that we had just passed below us.
Little Pothole Lake was scenic in that there was a lot of green growing around body of water, but there was also a pair of cascades tumbling down at opposite ends of the "lake."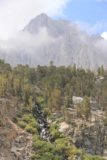 And in the backdrop behind Little Pothole Lake were some tall jagged peaks that were classic High Sierras scenery. The only problem was that some of the clouds were obscuring the tips of those backdrop peaks while creating shadows (which tended to be bad for photography whenever there were light and dark zones in sunlight).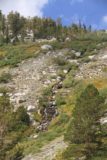 I was the first to make it up to the lake, but with the time spent taking photos, I was easily caught up to by the rest of the party who also took the time to chill out here for a bit before continuing on.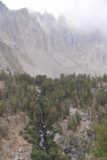 The front four of Gabe, Heather, Cindy, and Ed continued on. I then followed while Dymph and Karen wanted to chill out at this real pretty scenic spot for a few moments more before continuing on.
It wasn't long before the skies were pretty much partly cloudy while long stretches of time would go by where the sun was hiding behind some of these patchy clouds (some of which were quite dark and looked like they could easily organize into something more significant).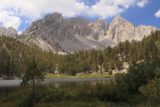 At about 11:55am, I made it to Gilbert Lake on my own. I spent some time here checking out the picturesque lake backed by the partially clouded peaks. There were quite a bit of foreground foliage near the trail so that kind of limited my options on what photos I could take around the calmest parts of the lake.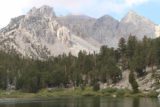 So after lingering for a bit here, I then continued on past some other backpackers who were enjoying this spot.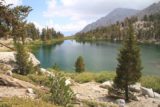 I then got onto a rocky outcrop on the far side of the lake to look further downstream in the direction of Onion Valley beyond Gilbert Lake. There was someone other lady who was sitting here enjoying the scene, and I made sure not to disturb her peace when taking the photos before I continued on.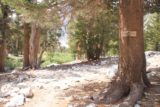 After roughly 12:15pm, I found a signed junction for Matlock Lake. Since I knew that we were going to camp there, I went ahead and turned left at this junction and got off the main trail towards Kearsarge Pass.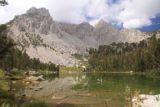 Since the front four of the party were well ahead, I thought I saw a lake off to the right of the Matlock Trail spur. And as I explored a bit further, I could see there was a very picturesque and calm lake backed by some pretty jagged peaks where the clouds didn't quite get to obscuring these yet.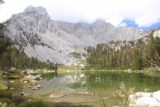 According to my paper printout, this was supposed to be Flower Lake, and I swore somewhere during my random pre-trip research readings, that this was supposed to be the prettiest lake of the lakes we were to see on this trip.
After my time photographing this lake from the Matlock Lake spur trail, I could totally see why.
After having my fill of Flower Lake, the trail continued climbing, which definitely took a bit more out of me. Without others to keep me company, the mental exercise of keeping negative thoughts out was a bit more challenging than before.
I was able to entertain myself a bit more by looking down at other hikers on the other side of Gilbert Lake though from what I could tell, I didn't recognize anyone down there, including Karen and Dymph.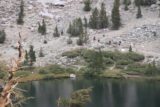 The thought did cross my mind that I might have skipped past the front of my party by Gilbert Lake as one of those groups down there could've been from our group. But it was hard to tell, and I knew I had to keep going to establish camp at Matlock Lake anyways.
Not much longer after I got my last glimpses of Gilbert Lake, the trail plateaued then started to descend towards the destination basin.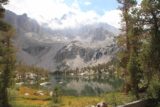 I could see right away that there was a large pond as well as an even larger lake not far from it. I also saw there were tents pitched in between these bodies of water so I knew I it wouldn't be long before I'd be down there with them pitching camp.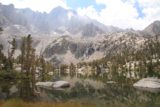 As I got closer to the camp between the two bodies of water, Ed noticed me and yelled out my name.
Yep, I knew we'd be in our temporary home for the next two nights.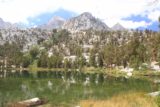 However, before I got into unpacking and pitching the tent, the bigger body of water, which I knew was Matlock Lake, was too visually pleasing to pass up photo ops. So I took the time to take photos of the lake backed by more tall jagged peaks rising up sharply towards the sky.
There were still some clouds conspiring to obscure the majestic peaks (one of which I believe was University Peak) looking down on us, but there was also plenty of sunshine.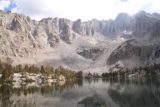 Eventually at 1:05pm, I'd come around to pitching my tent, which was next to Heather and Gabe's tent. With my body still being adjusted to the high altitude, I was easily short of breath with some minor headaches as I was doing the usual chores of getting the tent all set up.
Each time I bent over then went back up, I felt it in my lightheadedness and shortness of breath. It's times like these that I wondered why I keep putting myself through physical ordeals like this for vacation. My thought then turned to what Julie would say whenever Ed and Cindy try to convince her to go on one of these things…
"Dayhikers have more smiles per mile!" which came from Ann Marie Brown's California Waterfall book that we have used quite religiously for almost all of our local hikes.
Anyways, I was all set up by about 1:55pm. I didn't bother setting up the Therm-a-rest and sleeping bag or other interior stuff yet. I figured when it'd be cooler in the evening, I could go ahead and do that. Instead, I finally got around to having our packed lunch, which we had bought from Lone Pine just yesterday.
It was basically a mix of turkey cold cut with some lettuce and some cheese and salami mixed in there from Cindy's opened pack, which she left for me. Both Cindy and Ed already had their lunch by this time.
The lunch certainly hit the spot, and I made sure to stay hydrated knowing that that was one of the big keys to staving off altitude sickness.
However, not long after I ate, I had to find a place to go potty knowing that all that pent up gassiness and bloatedness in my bowels meant I was going to have diarrhea. So I eventually found a spot wedged between rocks where I could dig up a hole and use that as the toilet. And I knew I'd be using this spot quite a bit as I had to accept the reality that I was going to have diarrhea for the next two days.
Not long after I did my deed, I then walked back to camp and took my collapsable bucket to round up some water. I was a little concerned about the stillness of both the lake and the adjacent pond by our camp. However, I did see there was a cascade on the other side of Matlock Lake from our camp, so I decided I was going to pursue that running water to fill up the bucket.
As I was walking around the lake slowly (as I was still staving off altitude sickness), I couldn't help but notice a lot of splashing sounds each time I would take a step.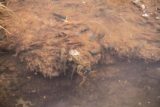 As I investigated the source of the sounds, I noticed there were frogs that were doing the jumping. Plus, there were thousands of large tadpoles among these frogs. It was definitely a sight that I hadn't seen before, and I thought it was quite cool.
It was a good thing I brought my camera along to photograph this bit of native wildlife that I wasn't expecting to see.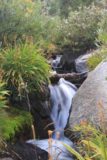 Meanwhile, I was also getting a few more cross-lake views towards University Peak and other jagged peaks adjacent to it. The lake was calm enough that some reflections of the peaks were showing in the water.
After a few more minutes, I finally made it to the cascade, and sure enough, I was able to fill up the collapsable bucket with the running water. I figured the steady flow of the water ought to reduce the likelihood of having stuff growing in otherwise stagnant water from the lake (possibly frog or tadpole droppings or other bacteria and stuff they feed off of). I was especially cognizant of poisoning considering Julie and I had to deal with a week of having the runs while in Italy early this year.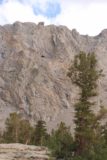 At 3:30pm, I was back at camp filling up everyone's water bottles while taking comfort in the fact that my MSR filter was still good after all these years (I think I had bought this back in 2005 or something).
While we were shooting the breeze with Gabe (who wasn't on an afternoon siesta), he pointed out that there was a cave high up on the cliffs near the side of University Peak. We speculated whether bighorn sheep used that cave or whether bears would be there, but it really seemed rather inaccessible given how steep it was. Maybe birds used it?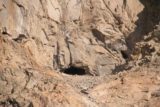 Once that was done, Karen and Dymph (who had already set up their tent roughly a couple of hours ago) just came back from a short walk around the pond opposite our camp from Matlock Lake. That gave Ed and I the idea to explore some of the lakes around our campsite according to our Topo map. I figured we were already here, so why not see what the rest of this place had to offer?
So at 4pm, Ed and I were on a dual mission to do a little reconnaissance of the immediate area about our camp while also looking to fill up our collapsable bucket again. I had it in the back of my mind to seek out the outflow of Matlock Lake draining into Slim Lake, where I suspected there ought to be some kind of cascade or flowing stream to fill up some more water (again, out of concern of picking up water from a stagnant body of water).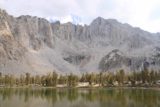 As we were passing by Karen and Dymph's camp, which was facing the pond we were about to go around, we saw this pond was even more reflective when looking over it towards University Peak. And as we continued further along the circumference of the pond, we could see that there were even more vistas looking up in the direction of the hidden Bench Lake and the peaks towering over it to the west.
I kept a mental note to come back here one of these mornings to get an alpenglow shot at sunrise.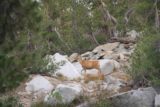 Then, as we continued past the pond and headed in the direction of Slim Lake, both Ed and I noticed there was a trio of deer. There was a full-sized adult and two smaller deer. We managed to see them prancing away from us, but I at least caught the big adult on camera before it made its disappearing act.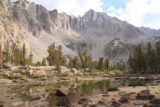 After the deer disappeared, we then passed by a pair of smaller ponds (appearing to be what's left of the body of water made bigger by precipitation in the Winter and Spring) not quite becoming meadows yet. Then, we found ourselves besides what seemed to be the long Slim Lake.
We apparently startled a waterbird that flew off flapping its wings with its neck sticking out forward. It seemed like another native wildlife though we weren't really wildlife experts here so for all we knew it could be a common bird.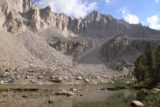 Eventually, we got to the head of Slim Lake, but we were on a granite bench and it seemed like getting to the shores of Slim Lake was a bit more trouble than it was worth. We did hear some gurgling waters meaning there was a stream, and as we got closer to the source of the sounds, we actually stumbled upon a mini cascade draining Matlock Lake.
Bingo! This was the place to fill up our bucket again.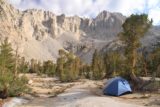 Not long after doing that and hauling the cargo back towards camp, we saw Dymph and Karen who were going in the opposite direction we were going as they were exploring Slim Lake. It turned out that they passed through some mosquito-infested area though Ed and I saw no such thing.
In any case, we were forewarned, but by 5:05pm, we were back at camp.
Now, all of us were gathered around the camp, and it was time to cook dinner. Heather and Gabe went over-the-top with the gourmet backpacking by bringing steak. I could imagine just how good that must have tasted, especially after the pain of hauling our stuff all the way out this way.
I learned early on that everything tastes better after a long hike or backpack. I mean, Cindy, Ed, and I were raving about the apple we ate during lunch, which was one of the sweetest tasting ever (at least given the distorted palette of physical exertion done earlier), but that steak must've been something else.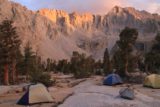 Our trio had Indian food using the water we just fetched heated with the trusty pocket rocket stove and a small isopro container. We had curried eggplant, paneer, and some gorgonzo beans along with some sick-tasting porridge rice as well as basmati rice.
Dymph and Karen had beef stew as well as something else nicely heated from their jet engine-sounding stove.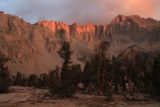 We were all eating at around 6:05pm just in time for the thunderstorm clouds that were a constant threat throughout the day to be breaking up.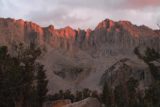 After the dinner was over, we tended to our oral hygiene while also savoring the last moments of the afternoon for alpenglow photos.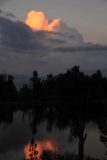 There were also what appeared to be bats flying around. They were probably of the fruit bat variety so we weren't too worried about rabies from bat bites trying to suck human blood (like vampire bats).
Gabe got a card game going at about 8:15pm or so, but it was getting dark. The flying bugs were also attracted to everyone's lights so it kind of cut their game short.
Meanwhile, I was busy having diarrhea again, and when I was finally done cleaning up to join the card game, it was over just as I was approaching them. Oh well, maybe I can join them tomorrow.
By now, darkness had taken over and stars were revealed. Heather, Gabe, Cindy, Ed, and I were talking about the Blair Witch Project because it was one of those movies that might make you think twice about camping. We got into some chatter about other horror movies like The Ring, Paranormal Activity, etc.
Then, we started to identify the stars in the night sky. There was no moon so the skies were dark and the stars were really shining bright and twinkling. We were even able to see some moving stars, which we suspected were satellites. They simply moved too slow to be shooting stars.
We even started to see the subtle cloud in a line that was supposed to be the Milky Way Galaxy. I thought it was kind of cool that we were able to identify it for I never really knew that that was it! I guess I had always assumed that seeing such clouds were in the realm of telescopes, but never did I imagine it might be visible to the naked eye!
Then, we started to see moving flashlights way in the distance as it appeared that someone was setting up camp very late. They were approaching the north end of the pond near our camp. And it seemed like they were engaged in quite a bit of activity (we thought they were going closer to our camp at first), but when we then saw they lit up a bonfire (clearly breaking the rules of having fires above 10,000 ft), we figured all that activity was for gathering firewood.
Now we were a bit concerned about what would happen if a wildfire were to break out up here, but we weren't sure if we were to approach them whether that might actually cause more trouble for us (especially since we'd be day hiking tomorrow and we weren't sure if these folks would raid our campsite while we were away).
Well, eventually, the big bonfire was out, which surprised us. We weren't sure how much more of their antics we'd have to put up with, but in any case, it was getting late in the day and we all retreated back into our tents for our first night's rest out in the bush.
It was 9:20pm when I got into my tent, and I hoped against hope that I might have a restful sleep knowing that my stomach would probably grumble most of the night…
Day 3: FIRST PASS SUCCESS
I didn't have a very restful night as I had trouble falling asleep. It was one of those deja vu moments where my mind was fixated on too many thoughts that kept me from dozing off as quickly as I was used to.
In one instance, I was shivering a bit in my sleeping bag, and that was when I decided to put on my jacket and zip up my sleeping bag all the way up to my head (as usually I would be sweating in the sleeping bag, but not on this night).
I found myself waking up in the night twice due to my gassiness. Again, it was a familiar feeling from the last two trips to the Sierras that I've had with Ed. And so I got up at around midnight to go diarrhea, then I might've taken another 30 minutes to an hour before I finally dozed off.
Then, I woke up again at around 3:30am to once again go diarrhea. With all the darkness around, I was getting a little concerned about nocturnal night predators (e.g. mountain lions) possibly blindsiding me while I was doing my deed. So I kept moving my head around as much as I keep with my headlamp just to survey the darkness around me since I was quite a few paces away from my tent.
Once that was done, I probably fell back to sleep another half-hour to an hour later. Then, I woke up once again at around 5am or so and then I probably dozed off again before I was up for good at around 5:50am.
So clearly given all this blurb of activity overnight, I guess it was just indicative of the kind of restless night that I had. Once again, it was times like these that I would ask myself, "Why do I put myself through this?"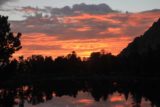 Well, since daybreak was commencing as I could see some light through my tent, I got dressed and went outside perhaps in the hopes of getting a nice alpenglow shot or something. But once I got out of the tent, I was a bit dismayed to see so many clouds around us, including some that were obscuring the peaks nearby us as well as some ominously dark clouds starting to obscure peaks on the opposite side of the valley.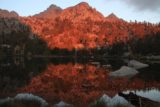 Of all the years I've been waterfalling in the Sierras, I don't think I had ever seen this many clouds already forming this early in the morning on a typical Summer's day. But then, I thought to myself that with Climate Change, maybe this was yet another instance of the removal of normalcy as what was once normal can no longer be counted upon as being normal.
Add it all up, and this wasn't a good sign since today we were planning on doing the day hike to Kearsarge Pass. This was the point of the whole trip, according to Ed. And to go through so much effort to not be able to see the main attraction, I knew that would be a royal bummer. I know Julie and I had gone through such moments on international trips where more money was involved. In this case, it was more about the time and energy invested.
So while everyone was sleeping, I brushed my teeth, then wondered what I would be doing for the next couple of hours. I knew everyone probably wouldn't be getting up for a while, and I didn't want to be idling during this time.
Eventually, I decided that I would try to find Bench Lake, which was the one lake in the immediate area that we haven't explored yet.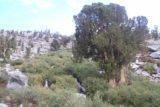 So at 7:10am, I went about on my hike. I left a note at camp letting everyone know where I went just in case someone woke up and wondered where I went. I had this sense of deja vu as the last time I did something like this where I went off on my own with Cindy and Ed trying to sleep in a bit, I had hit a deer and totaled our only means of transport.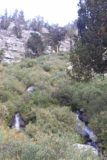 Immediately, I went around the north end of Matlock Lake going past a green tent camped there and going back to the cascade where I first collected running water for the camp. At this point, I had no idea where the trail next went to get up to Bench Lake. So I assumed that I had no choice but to go scrambling.
I knew how dangerous scrambles could get, but I was determined to see what was at Bench Lake. So I was south of the audible cascade that wasn't easy to photograph from a distance, and it was even harder to photograph so close to the cascade itself.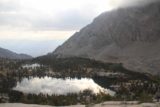 And as I was tentatively trying to flatten out the steep scramble as much as I could by making my own switchbacks where I could, I would eventually get to a point where I had to use my hands and my feet to continue climbing. I was starting to get nervous at this point, especially since I was wearing a camera bag across my torso while I was holding onto one Klean Kantene bottle with my free hand.
At around 7:45am, I was wondering whether I should declare defeat and head back down. However, the steep scramble that got me up to this point also seemed rather iffy to go back down the same way. Would I even remember the way I took? Or would I inadvertently take a tumble after biting off more than I could chew?
It seemed like I had to press forward, especially since I could see that I was very close to the top of the grante slope and bench that I was ascending.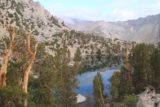 Finally at 7:55am, I summited the granite bench and I saw Bench Lake behind the trees down below. I'm sure this lake would've been even more scenic if it weren't for the clouds obscuring some of the sharp peaks rising over this lake in much the same way that Hungry Packer Lake would.
As I looked over towards Kearsarge Pass, I could see that I must have been almost at the same elevation as where I thought Big Pothole Lake must be (little did I know that I was only about as high as Heart Lake instead).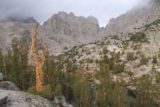 And since I had promised in my note that I left back at camp to be back there by 9am, I figured I had enough of Bench Lake, got my photos, checked out the views looking back down towards Matlock Lake and Onion Valley way in the distance, and find a way back down to camp.
But realizing the difficulty of the scramble to get up here, I knew that going back down the same way wasn't an attractive way to go. So I decided to scramble along the bench towards the cascade. Then, I crossed the top of the cascade where it was fairly straightforward to hop rocks before I found myself on the other side of the cascade where the terrain seemed to be a bit more conducive for a much less hairier downhill scramble than the way I came up.
I had entertained the notion of scrambling sideways towards what I thought was Big Pothole Lake then going up to the pass before returning to camp (thinking it wasn't that far away), but then I questioned whether I'd be back at camp before 9am. But fueling those desires was the sense I got that the pass would be clouded over and prone to lightning strikes if we left too late in the morning (which was certainly what was going to happen if I waited for everyone to get up, finish breakfast, etc.).
In the end, I decided on going down the other side of the cascade back towards our camp besides Matlock Lake.
Although the descent was less steeper than the route I took earlier, I still had to exercise caution due to the possibility of taking a really bad tumble.
After carefully surveying the safest route-finding paths to go, I'd eventually get back to the familiar cascade again. This time, there was a boy, a dad, and a dog. I must've startled the boy when I showed up because he jumped a bit upon me saying "hello".
Then, I continued around Matlock Lake along the froglined-path before I finally returned to camp at 8:30am. To my surprise, no one had gotten out of their tents yet and no one even looked at my note. So for all anyone could tell, I never went to Bench Lake if I didn't say anything.
I started conversing with Gabe through the tent as he wondered if I had been out and about already. But when I told him that he probably wouldn't like the quantity of clouds around us, he got up and out of the tent to see for himself. Ed heard that and did the same. And we all had this ominous feeling that there was a real likelihood that we might not be able to make it up to Kearsarge Pass if the weather wouldn't allow it.
Personally, I would've liked to have gotten started with the hike no later than 9am knowing that the conditions might likely deteriorate towards midday. But at the rate that everyone was getting up and having breakfast, there was no way that would be possible.
Eventually after having our breakfast, then filling up on more water, donning our daypacks and fanny packs, and wielding ours cameras and trekking poles, we finally left camp at around 10:30am. And by now, I could see that even though it was somewhat clear in the direction of the pass, clouds were dominating Onion Valley, including our camp.
But at least we wouldn't have to be hauling up heavy packs up to the pass.
After the initial climb to get out of the Matlock Lake basin (which easily took a bit out of us since we were still getting used to the high altitude), we then descended rapidly towards the Kearsarge Pass Trail. Just before we hit the junction with the main trail, we met a young and fit couple with a dog. They said they just came down from the pass, and that it was only a half-hour away.
This made us wonder if the hike really was that short. Some of us doubted it while others took it as an encouraging sign.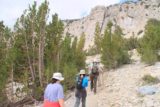 Then, we hung a left and followed the busy trail past Flower Lake.
As expected there was a lot of backpacking traffic in both directions. The hiking was brisque but deliberate as I made sure to set a somewhat manageable pace given that high altitude hiking typically meant that you had to take your time to minimize those breathless moments and the onset of altitude sickness.
However, the hiking was pretty much all uphill on long deliberate switchbacks. It seemed like quite a while before we had expected to make it to the next lake, which we thought was Big Pothole Lake.
We saw an elderly couple who had spent 9 days on the other side of the pass, and they said that they were on the pass an hour and a half ago. The man said it was probably the best Eastern Sierra panorama he had seen and the skies were sunny. Of course, we weren't so sure that would be the case with us.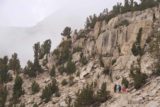 The partly cloudy skies quickly gave way to mostly overcast skies shortly after conversing with the elderly couple. In fact, it seemed that it started to get foggy as the clouds were sinking right onto us.
The trail somewhat hugged the north edge of the valley before veering towards the middle across and onto what appeared to be a rocky bench. It was when we were going up a few more switchbacks when we were passed very quickly by a young solo female hiker who was wearing a pack full of gear.
We were marveling at her speed considering we were all dayhiking without the gear, and yet she was confidently making strides with the extra weight and that she was solo. You definitely don't see that everyday.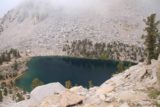 At about 11:40am, we only made it to Heart Lake, which was in the basin we had earlier assumed was Big Pothole Lake. And by this point, the clouds had already overtaken us and even started to fog up the skies we were amongst.
Although the aptly-named heart-shaped lake looked like a wringer for a heart, the clouds obscured the peaks above it making it not seem very photogenic. The darkened skies even made the lake seem darker and not colorful.
Well, at least the flip side of this unusually overcast and potentially stormy weather was that the hiking was quite comfortably cool. I couldn't imagine how much taxing it would be under the hot sun under all this uphill and sun-exposed trail.
While we were looking at Heart Lake, somehow we missed a switchback and I thought the trail went steeply around a rocky outcrop. But the ladies were quick to point out that the trail was behind us so we swallowed our pride and continued about on the trail climbing higher than this lake and going further up into the clouds that appeared to get thicker with each passing minute.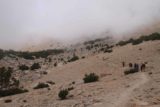 The climbing stretch of trail went for what seemed like forever. We thought Big Pothole Lake was pretty close to Heart Lake, but it turned out that we still had to do quite a bit of climbing on long switchbacks just to even get above the treeline.
When we finally made it up past the treeline we were passed by a large group of kids. They didn't seem to be carrying much, but we suspected that the adults in the group (just a husband and wife?) were carrying most of the gear and foodstuffs for the group of some 8 or 10.
Not long afterwards, it seemed like they then veered off the trail and headed towards a bench that appeared to contain the Big Pothole Lake, which was the last lake before the Kearsarge Pass on the east side. At first I entertained the thought that maybe their route might also be a shortcut to get closer to the pass, but I thought better of it and persisted on the switchbacking trail.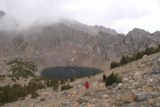 Then, as we were climbing the last few switchbacks, it started raining at 12:20pm. This was definitely not a good sign. When we encountered another pair of guy hikers who were coming back down, they too were echoing the earlier sentiments that it was definitely worth the view up at Kearsarge Pass. However, one of them expressed concern that it was going to be iffy about whether the weather would cooperate or not.
Still, we trudged on. The rain got bad enough that we had to bring out our rain gear. Of course, when the rain gear was on, it tended to get hot real fast.
I led the party and kept going since all I had to do was to put on my rain poncho that was packed in my fanny pack. The rest of the party, however, took their time to get the rain stuff out and then put them on. When I kept going, Ed asked where I was going, but I told him that it was only a couple of switchbacks more to the pass, and I was going to meet them up there.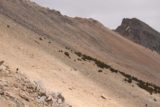 Fortunately, after just one long switchback, the rain kind of let up into mist and then disappeared altogether. So I took off my rain poncho and kept going. I could see the pass just up ahead though I was still uncertain whether the view would be nothing but clouds or some compromised panorama draped in clouds.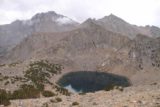 As I continued further up the last stretch, I could look down at the round Big Pothole Lake, which was backed by some attractively jagged peaks. And I was also starting to see some more jagged peaks starting to come into view just beyond the ridge of the Kearsarge Pass.
As I got closer to the end point, those peaks hiding behind the pass became more prominent. From looking at the Topo maps, I somehow thought that it was going to be flatter on the other side of Kearsarge Pass, but I was soon about to be pleasantly surprised from the jagged peaks behind the pass that was teasing me with its partial revealing of its tops.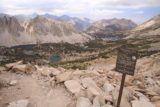 At 12:45pm, I finally made it up to the sign at Kearsarge Pass 11,760ft!
As soon as I looked past the sign, my jaw dropped as I was greeted with the famous panorama looking into Kings Canyon National Park. Now I can understand why the Onion Valley/Kearsarge Pass Trail was so popular.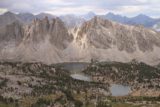 To the left of the scene, there were a series of lakes backed by the tall mountains that had teased me on my way up to the pass. Those tall mountains were actually called the Kearsarge Pinnacles. The lakes that fronted them were called the Kearsarge Lakes.
Further out on the panorama to the right was Bullfrog Lake, which was backed by a vegetated rounded mound that also seemed to have a little bit of red in it.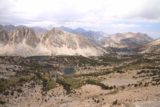 The vista was quite surreal, and it really felt like I was on top of the world.
When I turned around, I could see Big Pothole Lake below me with some more of those jagged peaks that we were more familiar with flanked to its side. Further down the valley was the rest of the lakes basin with Onion Valley way in the background.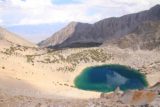 And just when I was at the top, the sun started to come out. It was unbelievable that such a bleak outlook on the way up could end up being such a sublime moment right now. And the more I thought of it, the more I realized that this was the first mountain pass I had ever done in the Sierras. The last pass that I had done was the Milford Track in New Zealand back in 2004 under some really crummy weather.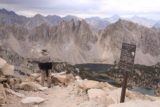 Anyways at about ten 'til 1pm, Ed, Cindy, Heather, and Gabe joined me at the pass. And I could just predict their reaction when they would first gaze upon it.
Indeed, we were all equally amazed at the scene before us, and all those doubts that we had melted away and now the predominant thought was how sublime the view was. And with all the work it took to get up here, we finally had ourselves a well-deserved picnic lunch.
We couldn't help but notice some other people who were up here even manage to make a phone call from here. How can that be?!? Well, it turned out that apparently, Kearsarge Pass was still in the line-of-sight from Independence. So even though the signal was weak, it was technically still possible to pull this off.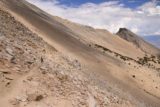 It wasn't until about 1:25pm when Dymph and Karen finally made it up to Kearsarge Pass. Now, the whole crew was here, and we were relishing in the achievement. I'm sure Ed was relieved that this trip he had planned months in advance to secure the Wilderness Permits (which wouldn't let us step foot into Kings Canyon by the way) all for the chance for this one moment of being on the pass finally came to fruition!
Well, we rebelled for a bit taking photos on both sides of the pass. And there was no way we'd go down into Kings Canyon only to hike back up to the pass again. We were already having sore legs because of the climb just to get up here once. Forget about doing it twice!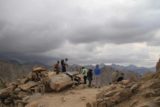 At about 1:45pm, the dark clouds that had apparently blown towards the Kearsarge Pinnacles had now hovered back towards the Kearsarge Pass. I was getting nervous about a lightning strike where we were pretty much lightning fodder as there was nowhere else to hide.
And when we saw one flash of lightning striking somewhere behind the peaks we were admiring earlier followed by a rolling thunder, I knew I wanted to get out of here real quick. So I was the first to leave and Heather and Gabe kept pace with me. Cindy and Ed then followed, and Dymph and Karen were the last to leave.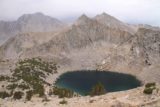 The nice thing about the hike back was that it was pretty much almost all downhill. The bad thing was that it was taking a toll on my knees. I knew the inflammation would eventually creep up on me and sure enough, it got to a point where I could feel some discomfort on the exterior of my left knee with each step that I took.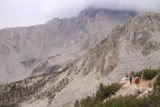 I knew I'd be stiff for the rest of this trip, but I also knew that it shouldn't be delibitating enough that I couldn't backpack out on my own.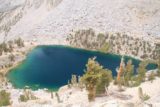 As we returned to Heart Lake, I took advantage of the fact that the clouds were much higher than they were this morning. So the photos I took of the lake were much more attractive than before. And it was because I paused for photos that I fell behind Heather, Gabe, Ed, and Cindy for a very long time.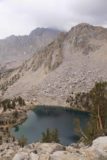 There was even one moment where it seemed like the sun briefly showed itself to illuminate Heart Lake with a bit of a deep blue color with green tinge around its edges.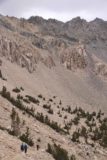 It wasn't until we were near the junction for Matlock Lake did I finally catch up to them. By that point, the clouds were definitely dark over us and it was starting to sprinkle.
Unfortunately, this stretch of trail was also a bit uphill as it was the only uphill stretch before we'd descend back into camp.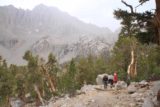 By the time we had crested over this climb and went on the final descent to Matlock Lake, that was when it was raining pretty hard. We didn't bother donning rain gear at this point because all we had to do was to get back into our tent to seek shelter from the rain.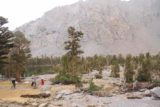 By 2:50pm, the five of us were back in our tents. Karen and Dymph were still out on the trail probably dealing with the rain.
Inside my tent, it was a little on the muggy side, and I could see between the rain fly and the tent itself, there were quite a few small mosquitoes. None of them seemed to be in a biting mood, but it did seem rather disturbing to see so many so close to me.
What's more, I also noticed some parts of the tent were dripping. I suspected that the seam seals probably needed to be re-done since my Sierra Designs Meteor Light CD tent was bought back in 2002 (i.e. it was about 11 years old)!
Fortunately, the drippage was bearable as I tried to keep the more critical stuff dry and put the more waterproof stuff under the drips.
And then we all pretty much waited out the rain, which seemed to be lasting for a good 20 minutes or more.
Some time around 3:30pm, we heard Karen's voice as she finally made it back safely. And her arrival seemed to have coincided with the end of the rain. So with the afternoon sun out, our tents really heated up, and that was when I left the tent to join Gabe and Ed in some conversation.
Meanwhile, the ladies gave themselves a well-earned siesta.
Our chatter was pretty much about random topics. Though I did recall that somehow the conversation turned towards some stuff on the news regarding Edward Snowden and the NSA snooping on everyone's personal emails or calls or whatever. Gabe brought up the point that with all this content that was out there for the government's perusal, they could easily use the content out of context to paint an incriminating portrait of someone who happened to be a political dissident, which was a pretty scary thought.
We were also talking about how easy it could be for personal data becoming public metadata such as GPS locations, personally identifiable information, etc. Whether it was for marketing purposes, or child predator purposes, or for identity theft, etc., our privacy was becoming increasingly open source, if you will.
I guess the takeaway from all this banter was that the world was definitely tending towards being a much more paranoid place where all notions of privacy were being blurred.
So on that note, the topic then switched towards that cave we noticed from our camp. I think we eventually made the link that perhaps that cave was really a bat cave since we knew that bats tended to fly around here in the late afternoon.
Once again at around 5pm, we all had ourselves a final dinner in the bush. And unlike last night, we immediately played a game of Sheepshead, which Gabe was real enthusiastic about getting us to play. So we passed the time playing several rounds of this game (as opposed to just one round last night, which I missed out on), and then when it got after 6pm, we started to notice that the clouds were turning purple in the distance while the skies were quite clear directly above us.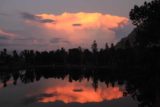 So we took our alpenglow shots of the colored thunderclouds in the distance before we resumed our game.
We'd play until it got too dark to see the cards and the bugs were out and about.
At around 8:20pm, we all pretty much retreated to our tents. Before that time, I had to go find my favorite toilet spot in the bush and go diarrhea once again. It kind of sucked that I had to put up with this, and that prompted Gabe to offer me some charcoal pills to try to head this off.
And so ended this eventful day. This time there would be no stargazing as there was a bit more high clouds and the thunderclouds in the distance started to come back towards us to obscure them stars.
I knew I was going to get up in the middle of the night at least twice to diarrhea, but with a stiff arthritic knee and a tired body, I was hoping that tonight was be a bit more restful than last night.
Day 4: VICTORY SONG
It was 5:55am when I woke up with a stiff back. This was after waking up at 11pm and again at around 3pm to go diarrhea each time. And I recalled how freaky going potty during those dark hours were as I would see frequent distant flashes in the night sky as there must've been lightning strikes in another valley since I wasn't hearing the sonic boom of thunder accompanying the lightning.
Anyways, I used this early morning time to get changed, deflate the Therm-a-rest, stuff the sleeping bag, and stuff the dirty clothes and liners. I was pretty much half-way packed by the time I got out of the tent at 6:20am.
I then took the rain fly off and try to lay it out so it can start drying off.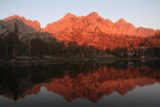 As I was about to remove stakes and other things to break down the tent, I couldn't help but notice that the east-facing cliffs were starting to glow pink and orange. So this time I was going to seize the moment and take some sunrise photos from the other side of the adjacent pond.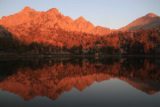 It only took me a few minutes to get there, but my stiff left knee made it hard to bend it past a certain angle. But in any case, I took as many shots as I could imagine of the orange cliffs and pinnacles reflected in the pond.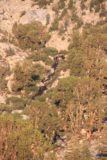 By about 6:45am, I had finished taking these sunrise photos, and then I was back at camp to try to take advantage of some of the sunnier spots to dry out the rain fly and part of the tent itself.
By this time, everyone else had just about woken up.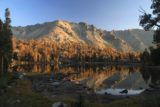 We were all pretty much packed up and ready to go by about 8:30am. But we took one last group photo then exchanged handshakes and hugs for yet another fun and pleasant outing. Indeed, good company definitely stays with you even though it was the scenery that brought us all here.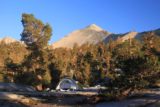 At 8:45am, all of us except Karen and Dymph had already started hiking with our packs. They would eventually get going but they had themselves one hot brekkie (das frustuck [I was practicing some German with Dymph, who was Dutch by knew German]).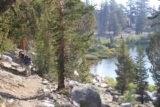 This time, Heather was leading the pace, and she was going at quite an appreciable speed. Even with our heavy packs, it wasn't easy keeping up this pace even with that initial climb before going downhill.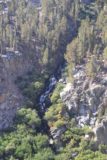 I started to lag behind as I had myself a water break once we returned to the main trail between Flower and Gilbert Lake. Then after conversing with some Koreans at the rock outcrop at Gilbert Lake, that was when the group really took off while I stayed behind to take some photos of this lake, and then later Little Pothole Lake with its cascades.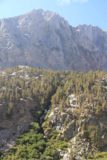 Throughout the hike back, I was quite intrigued by the fact that there were several Korean people on the trail. I couldn't tell if they were all one party or not as there were several groups of them spread throughout the trail.
I also noticed that on this day, it was definitely sunnier and less overcast than it had been on the way up on the first day. Since I had already taken some 700 photos, I didn't feel like duplicating shots in many cases. Would I regret this decision to skip some shots when I had them? I guess only time would tell.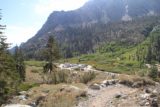 At about 10:30am, I finally made it back to the rental car. About 5 minutes earlier, Heather, Gabe, Ed, and Cindy were already at the car park. It was such a relief to finally get out of our hiking boots and our gear and back into the AC of the rental car.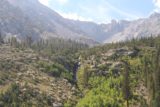 Cindy and Ed were really hungry and in the mood for Mexican so we decided on seeing if Los Tres Hermanos food truck would be open, but that meant we'd have to go to Lone Pine.
When we were at Lone Pine, we had trouble finding this food truck. So instead we went to this Mexican Restaurant called Bonanza at 11:20am. It turned out to be a pretty good call as we enjoyed the Chile Verde pork, Carne Asada taco, Carnitas taco, and Cindy's Huevos Rancheros.
After going two days of preserved food, we definitely savored the authentic Mexican fare.
Immediately after the lunch, Cindy and Ed went next door to a Native American Trading Post store to get some souvenirs for their kids. While I was browsing through the post cards, I couldn't help but notice an attractive arch with Mt Whitney through its span as well as a waterfall at the Whitney Portal. I was wondering if that might be a reasonable trip to do next time though I wouldn't be looking forward to the high altitude of Mt Whitney if we were to attempt to do that hike.
Anyways, it wasn't until about 12:20pm when we left Lone Pine and embarked on the long haul home. Before leaving, I tried to search for a song on my iPod called "Still Life" by The Horrors. I figured since we ate at the Still Life Cafe earlier in the trip, why couldn't this be the victory song.
Of course, my playlist was a bit too big and I couldn't find the song before I had to start driving so I just left it on shuffle. That song wouldn't come up until we got into LA Traffic on the I-5, but at least we got to hear it and associate it with the memory that was this successful backpacking trip.
By 4:30pm, all of us were finally home to see once again our kids (and in my case, my wife as well)…
Visitor Comments:
Got something you'd like to share or say to keep the conversation going? Feel free to leave a comment below...
No users have replied to the content on this page