Day 2: RETURN OF THE GAS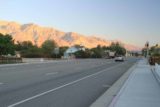 Since we knew that the Indy Inn served breakfast at 7am (and it was cooked by Jim the proprietor himself), we took our time having the meal (consisting of coffee bread, apple toast, and some cereal). We were also making some small talk with someone else who was also staying at the inn, who was also from the Los Angeles area.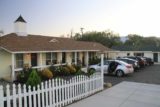 He called himself Mark, and he and his wife were headed to Rock Creek, which was somewhere near Bishop. They were going for some fishing and they were going to meet up with family.
When all was said and done for the morning, we checked out and left the Indy Inn at 8:10am.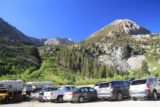 The road up to the Onion Valley car park was quite twisty, but it wasn't anything I couldn't handle driving wise. However, it seemed to have gotten Cindy a little car sick.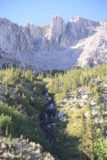 Mercifully, we arrived at the Onion Valley car park at 8:35pm, but as expected, we saw that the car park was quite busy. Nonetheless, there were still enough parking spaces for the three vehicles in our group.
And with that, we got our packs out and prepared ourselves for the physical challenge that was in front of us.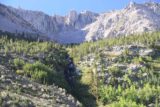 As we looked around at the car park, we could see the climbing on the trail started immediately from the car park. There was even one young and spry backpacker who skipped his way down the trail eventually to his car just a few minutes later. I don't think I had ever seen anyone skipping and dancing his way down the trail, and it seemed like a pretty novel idea though I wasn't sure we could pull it off ourselves given the loose rocks that conspired to twist our ankles and make us tumble badly wish some 40-50lbs of weight on our backs.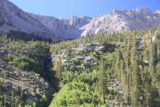 On the opposite side of the car park, we could see there was a cascade that was still audibly flowing with water. Even though the flow was low at this time of the year, it far exceeded my expectations in that I could still see water coming down the rocky slope that was partially in shade at this time of the morning.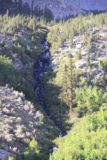 Just as we were about ready to get going on our hike, we suddenly learned that Karen had forgotten her trekking poles back at the Independence Inn. Since she still had hip issues from a fall a while back, we could understand her need for the trekking poles.
So we knew that it would take some time for both Karen and Dymph to drive back down to Independence, then drive back up to the trailhead. We figured it would be another hour before we'd get started.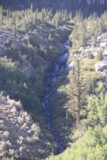 So as this was happening, I took the opportunity to use the facilities while also taking a few more photos of that waterfall tumbling right behind the car park. I was already satisfied that I'd be getting my waterfalling fix for this particular hiking trip so I was certainly going to capitalize on this unexpected down time though I knew there was only so many ways I could capture this waterfall that was certainly for looks but we wouldn't be able to get close and touch it.
Unfortunately after I had gone to the toilet for the second or third time, I could feel the gas returning to my GI tract. Just as I had feared from my two previous experiences in backpacking the High Sierras, I knew I'd be fighting diarrhea on this trip. And that meant frequent trips to do the unpleasant deed our in the mozzie-infested bush while running through more toilet paper than I wanted to.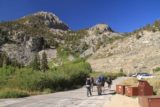 When Karen and Dymph were back at the trailhead at 9:20am, it took another ten minutes more to get to the trailhead, take our group photo (for that before and after shot), and then get going.
As expected, the initial climb wasn't easy, especially with us carrying packs. But given the popularity of this trail, we knew that it wasn't so grueling that we'd be dying. That said, the physical toll this would take on us in getting to camp was something I didn't really want to think about while engaging in the activity itself.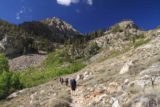 So it was a bit of mental game to keep myself occupied with the scenery (which there was a lot of) while conversing with the fellow backpackers and taking photographs all while filtering out the negative thoughts that I knew would keep creeping in the moment I'd feel out-of-breath from the altitude, or I'd feel some kind of soreness from carrying all that weight on my back (though they were technically on my hips given the way the internal frame packs were designed).
The hiking group was already strung out with Karen and Dymph staying in the back while Heather, Gabe, Cindy, and Ed were way up front. I decided to remain in the back so I could take photos then catch up.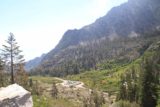 While I was keeping Karen company, Ed told me during the drive up to Independence yesterday that Karen had just returned from a trip to Scotland.
Scotland and England was high on Julie's and my next big trip overseas next Summer, if it were to happen. I figured I might take that opportunity to keep Karen company and hear from her what Scotland was like.
I kind of expected that Scotland would be mostly misty and overcast throughout the year, including the Summer. So I had no illusions about good weather on a trip up there. However, I also knew that there was something hauntingly beautiful about such places, and I also knew there'd be waterfalls there.
Not only that, but Julie had a great friend who was a coworker with her who was Scottish. And we knew how friendly and warm she was, and how much she spoke of Scotland.
From what Karen was describing (especially since she had visited some islands off the main British isle), it seemed very much like my mental picture of what Iceland might be like. We had experienced the raw beauty of Iceland back in 2007, and I had to believe that a trip up to Scotland would be at least as emotionally impactful from a beauty standpoint as well as that sense that we were truly in a place very different from home.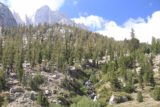 At 10:05am (barely a little over 30 minutes from the start of the hike), we took our first rest break in a shaded area not too much farther from signs saying we were entering the John Muir Wilderness. The hike up to this point wasn't as bad as I had anticipated, but perhaps it was because Karen and I kept each other company with the Scotland talk.
When we resumed our hike after the first break, I then found myself amongst the leaders of the pack with Heather, Gabe, Cindy, and Ed. Karen and Dymph dropped behind this front group.
This time, the conversation changed as we conversed about work. It wasn't a topic I really wanted to talk about considering I came out this way to get away from the insanities of work, but I guess work was a natural topic to get into when people are trying to make small talk as well as learn a little something about each other.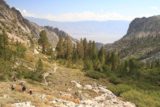 Of course, I couldn't help myself as I kind of painted a picture of how corporate politics (i.e. manipulation of people for specific self-interests) tended to interfere with company survival (where you get everyone gladly pulling in the same direction because they believe in what you're doing).
It always seemed like there was a bit of hypocrisy where you had current company leaders and aspiring leaders who tended to sing the same song about best practices and doing what's good for the company, but then they turn around and pull political stunts thereby undermining the very things they'd be preaching.
And as I was saying this, I wondered whether I might have crossed a line with the audience of four or if I might appear to be some disgruntled schmuck.
I knew deep down that people have to be political to some extent to maintain professional relationships. It was probably one of the greatest dilemmas that face every individual when it came to earning money, and why it seemed to be an age-old choice of whether to lose dignity in pursuit of money or lose money to maintain dignity. I wasn't going to pursue the issue any further since nothing would be solved here, but I guess it passed some time as we were still climbing up the trail.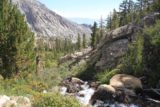 Thankfully the topic changed (though I wasn't sure what brought that about), and we were talking about past backpacking trips and some other stuff that I didn't quite recall anymore.
At about 10:45am, we made it to the top of what appeared to be a second cascade. This cascade was above the one we saw at the car park, but it didn't seem all that significant or photographable on its own (other than we could hear the soothing sound of rushing water).
Ed and I were also paying attention to the sky and we noticed that there were some dark clouds forming and obscuring some of the peaks towering high above us. This was not a good sign as it didn't even hit afternoon yet, and past patterns suggested that thunderstorms typically popped up and dumped in the early to mid afternoons.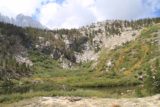 So that kind of amped up our desires to keep pressing on and set up camp before the threatening thunderstorms would dump on us and conspire to get us wet.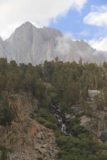 About 20 minutes later at 11:05am, we made it to Little Pothole Lake. This was actually more of a pond than a lake, except it was draining towards the two mountain cascades that we had just passed below us.
Little Pothole Lake was scenic in that there was a lot of green growing around body of water, but there was also a pair of cascades tumbling down at opposite ends of the "lake."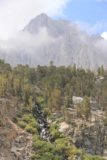 And in the backdrop behind Little Pothole Lake were some tall jagged peaks that were classic High Sierras scenery. The only problem was that some of the clouds were obscuring the tips of those backdrop peaks while creating shadows (which tended to be bad for photography whenever there were light and dark zones in sunlight).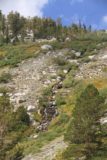 I was the first to make it up to the lake, but with the time spent taking photos, I was easily caught up to by the rest of the party who also took the time to chill out here for a bit before continuing on.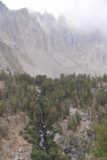 The front four of Gabe, Heather, Cindy, and Ed continued on. I then followed while Dymph and Karen wanted to chill out at this real pretty scenic spot for a few moments more before continuing on.
It wasn't long before the skies were pretty much partly cloudy while long stretches of time would go by where the sun was hiding behind some of these patchy clouds (some of which were quite dark and looked like they could easily organize into something more significant).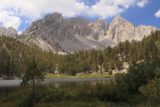 At about 11:55am, I made it to Gilbert Lake on my own. I spent some time here checking out the picturesque lake backed by the partially clouded peaks. There were quite a bit of foreground foliage near the trail so that kind of limited my options on what photos I could take around the calmest parts of the lake.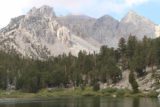 So after lingering for a bit here, I then continued on past some other backpackers who were enjoying this spot.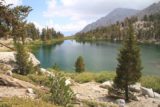 I then got onto a rocky outcrop on the far side of the lake to look further downstream in the direction of Onion Valley beyond Gilbert Lake. There was someone other lady who was sitting here enjoying the scene, and I made sure not to disturb her peace when taking the photos before I continued on.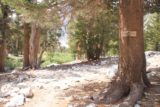 After roughly 12:15pm, I found a signed junction for Matlock Lake. Since I knew that we were going to camp there, I went ahead and turned left at this junction and got off the main trail towards Kearsarge Pass.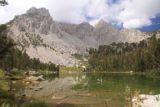 Since the front four of the party were well ahead, I thought I saw a lake off to the right of the Matlock Trail spur. And as I explored a bit further, I could see there was a very picturesque and calm lake backed by some pretty jagged peaks where the clouds didn't quite get to obscuring these yet.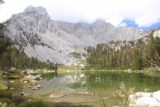 According to my paper printout, this was supposed to be Flower Lake, and I swore somewhere during my random pre-trip research readings, that this was supposed to be the prettiest lake of the lakes we were to see on this trip.
After my time photographing this lake from the Matlock Lake spur trail, I could totally see why.
After having my fill of Flower Lake, the trail continued climbing, which definitely took a bit more out of me. Without others to keep me company, the mental exercise of keeping negative thoughts out was a bit more challenging than before.
I was able to entertain myself a bit more by looking down at other hikers on the other side of Gilbert Lake though from what I could tell, I didn't recognize anyone down there, including Karen and Dymph.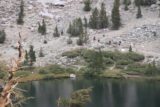 The thought did cross my mind that I might have skipped past the front of my party by Gilbert Lake as one of those groups down there could've been from our group. But it was hard to tell, and I knew I had to keep going to establish camp at Matlock Lake anyways.
Not much longer after I got my last glimpses of Gilbert Lake, the trail plateaued then started to descend towards the destination basin.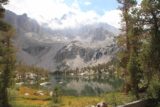 I could see right away that there was a large pond as well as an even larger lake not far from it. I also saw there were tents pitched in between these bodies of water so I knew I it wouldn't be long before I'd be down there with them pitching camp.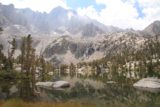 As I got closer to the camp between the two bodies of water, Ed noticed me and yelled out my name.
Yep, I knew we'd be in our temporary home for the next two nights.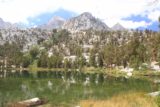 However, before I got into unpacking and pitching the tent, the bigger body of water, which I knew was Matlock Lake, was too visually pleasing to pass up photo ops. So I took the time to take photos of the lake backed by more tall jagged peaks rising up sharply towards the sky.
There were still some clouds conspiring to obscure the majestic peaks (one of which I believe was University Peak) looking down on us, but there was also plenty of sunshine.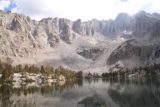 Eventually at 1:05pm, I'd come around to pitching my tent, which was next to Heather and Gabe's tent. With my body still being adjusted to the high altitude, I was easily short of breath with some minor headaches as I was doing the usual chores of getting the tent all set up.
Each time I bent over then went back up, I felt it in my lightheadedness and shortness of breath. It's times like these that I wondered why I keep putting myself through physical ordeals like this for vacation. My thought then turned to what Julie would say whenever Ed and Cindy try to convince her to go on one of these things…
"Dayhikers have more smiles per mile!" which came from Ann Marie Brown's California Waterfall book that we have used quite religiously for almost all of our local hikes.
Anyways, I was all set up by about 1:55pm. I didn't bother setting up the Therm-a-rest and sleeping bag or other interior stuff yet. I figured when it'd be cooler in the evening, I could go ahead and do that. Instead, I finally got around to having our packed lunch, which we had bought from Lone Pine just yesterday.
It was basically a mix of turkey cold cut with some lettuce and some cheese and salami mixed in there from Cindy's opened pack, which she left for me. Both Cindy and Ed already had their lunch by this time.
The lunch certainly hit the spot, and I made sure to stay hydrated knowing that that was one of the big keys to staving off altitude sickness.
However, not long after I ate, I had to find a place to go potty knowing that all that pent up gassiness and bloatedness in my bowels meant I was going to have diarrhea. So I eventually found a spot wedged between rocks where I could dig up a hole and use that as the toilet. And I knew I'd be using this spot quite a bit as I had to accept the reality that I was going to have diarrhea for the next two days.
Not long after I did my deed, I then walked back to camp and took my collapsable bucket to round up some water. I was a little concerned about the stillness of both the lake and the adjacent pond by our camp. However, I did see there was a cascade on the other side of Matlock Lake from our camp, so I decided I was going to pursue that running water to fill up the bucket.
As I was walking around the lake slowly (as I was still staving off altitude sickness), I couldn't help but notice a lot of splashing sounds each time I would take a step.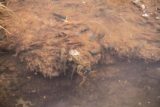 As I investigated the source of the sounds, I noticed there were frogs that were doing the jumping. Plus, there were thousands of large tadpoles among these frogs. It was definitely a sight that I hadn't seen before, and I thought it was quite cool.
It was a good thing I brought my camera along to photograph this bit of native wildlife that I wasn't expecting to see.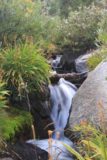 Meanwhile, I was also getting a few more cross-lake views towards University Peak and other jagged peaks adjacent to it. The lake was calm enough that some reflections of the peaks were showing in the water.
After a few more minutes, I finally made it to the cascade, and sure enough, I was able to fill up the collapsable bucket with the running water. I figured the steady flow of the water ought to reduce the likelihood of having stuff growing in otherwise stagnant water from the lake (possibly frog or tadpole droppings or other bacteria and stuff they feed off of). I was especially cognizant of poisoning considering Julie and I had to deal with a week of having the runs while in Italy early this year.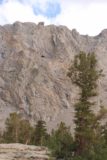 At 3:30pm, I was back at camp filling up everyone's water bottles while taking comfort in the fact that my MSR filter was still good after all these years (I think I had bought this back in 2005 or something).
While we were shooting the breeze with Gabe (who wasn't on an afternoon siesta), he pointed out that there was a cave high up on the cliffs near the side of University Peak. We speculated whether bighorn sheep used that cave or whether bears would be there, but it really seemed rather inaccessible given how steep it was. Maybe birds used it?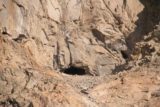 Once that was done, Karen and Dymph (who had already set up their tent roughly a couple of hours ago) just came back from a short walk around the pond opposite our camp from Matlock Lake. That gave Ed and I the idea to explore some of the lakes around our campsite according to our Topo map. I figured we were already here, so why not see what the rest of this place had to offer?
So at 4pm, Ed and I were on a dual mission to do a little reconnaissance of the immediate area about our camp while also looking to fill up our collapsable bucket again. I had it in the back of my mind to seek out the outflow of Matlock Lake draining into Slim Lake, where I suspected there ought to be some kind of cascade or flowing stream to fill up some more water (again, out of concern of picking up water from a stagnant body of water).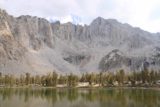 As we were passing by Karen and Dymph's camp, which was facing the pond we were about to go around, we saw this pond was even more reflective when looking over it towards University Peak. And as we continued further along the circumference of the pond, we could see that there were even more vistas looking up in the direction of the hidden Bench Lake and the peaks towering over it to the west.
I kept a mental note to come back here one of these mornings to get an alpenglow shot at sunrise.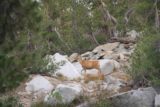 Then, as we continued past the pond and headed in the direction of Slim Lake, both Ed and I noticed there was a trio of deer. There was a full-sized adult and two smaller deer. We managed to see them prancing away from us, but I at least caught the big adult on camera before it made its disappearing act.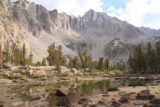 After the deer disappeared, we then passed by a pair of smaller ponds (appearing to be what's left of the body of water made bigger by precipitation in the Winter and Spring) not quite becoming meadows yet. Then, we found ourselves besides what seemed to be the long Slim Lake.
We apparently startled a waterbird that flew off flapping its wings with its neck sticking out forward. It seemed like another native wildlife though we weren't really wildlife experts here so for all we knew it could be a common bird.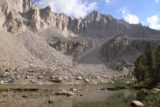 Eventually, we got to the head of Slim Lake, but we were on a granite bench and it seemed like getting to the shores of Slim Lake was a bit more trouble than it was worth. We did hear some gurgling waters meaning there was a stream, and as we got closer to the source of the sounds, we actually stumbled upon a mini cascade draining Matlock Lake.
Bingo! This was the place to fill up our bucket again.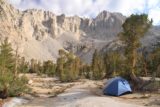 Not long after doing that and hauling the cargo back towards camp, we saw Dymph and Karen who were going in the opposite direction we were going as they were exploring Slim Lake. It turned out that they passed through some mosquito-infested area though Ed and I saw no such thing.
In any case, we were forewarned, but by 5:05pm, we were back at camp.
Now, all of us were gathered around the camp, and it was time to cook dinner. Heather and Gabe went over-the-top with the gourmet backpacking by bringing steak. I could imagine just how good that must have tasted, especially after the pain of hauling our stuff all the way out this way.
I learned early on that everything tastes better after a long hike or backpack. I mean, Cindy, Ed, and I were raving about the apple we ate during lunch, which was one of the sweetest tasting ever (at least given the distorted palette of physical exertion done earlier), but that steak must've been something else.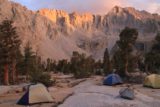 Our trio had Indian food using the water we just fetched heated with the trusty pocket rocket stove and a small isopro container. We had curried eggplant, paneer, and some gorgonzo beans along with some sick-tasting porridge rice as well as basmati rice.
Dymph and Karen had beef stew as well as something else nicely heated from their jet engine-sounding stove.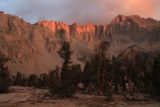 We were all eating at around 6:05pm just in time for the thunderstorm clouds that were a constant threat throughout the day to be breaking up.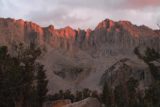 After the dinner was over, we tended to our oral hygiene while also savoring the last moments of the afternoon for alpenglow photos.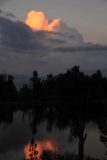 There were also what appeared to be bats flying around. They were probably of the fruit bat variety so we weren't too worried about rabies from bat bites trying to suck human blood (like vampire bats).
Gabe got a card game going at about 8:15pm or so, but it was getting dark. The flying bugs were also attracted to everyone's lights so it kind of cut their game short.
Meanwhile, I was busy having diarrhea again, and when I was finally done cleaning up to join the card game, it was over just as I was approaching them. Oh well, maybe I can join them tomorrow.
By now, darkness had taken over and stars were revealed. Heather, Gabe, Cindy, Ed, and I were talking about the Blair Witch Project because it was one of those movies that might make you think twice about camping. We got into some chatter about other horror movies like The Ring, Paranormal Activity, etc.
Then, we started to identify the stars in the night sky. There was no moon so the skies were dark and the stars were really shining bright and twinkling. We were even able to see some moving stars, which we suspected were satellites. They simply moved too slow to be shooting stars.
We even started to see the subtle cloud in a line that was supposed to be the Milky Way Galaxy. I thought it was kind of cool that we were able to identify it for I never really knew that that was it! I guess I had always assumed that seeing such clouds were in the realm of telescopes, but never did I imagine it might be visible to the naked eye!
Then, we started to see moving flashlights way in the distance as it appeared that someone was setting up camp very late. They were approaching the north end of the pond near our camp. And it seemed like they were engaged in quite a bit of activity (we thought they were going closer to our camp at first), but when we then saw they lit up a bonfire (clearly breaking the rules of having fires above 10,000 ft), we figured all that activity was for gathering firewood.
Now we were a bit concerned about what would happen if a wildfire were to break out up here, but we weren't sure if we were to approach them whether that might actually cause more trouble for us (especially since we'd be day hiking tomorrow and we weren't sure if these folks would raid our campsite while we were away).
Well, eventually, the big bonfire was out, which surprised us. We weren't sure how much more of their antics we'd have to put up with, but in any case, it was getting late in the day and we all retreated back into our tents for our first night's rest out in the bush.
It was 9:20pm when I got into my tent, and I hoped against hope that I might have a restful sleep knowing that my stomach would probably grumble most of the night…
Visitor Comments:
No users have replied to the content on this page