Day 3: FIRST PASS SUCCESS
I didn't have a very restful night as I had trouble falling asleep. It was one of those deja vu moments where my mind was fixated on too many thoughts that kept me from dozing off as quickly as I was used to.
In one instance, I was shivering a bit in my sleeping bag, and that was when I decided to put on my jacket and zip up my sleeping bag all the way up to my head (as usually I would be sweating in the sleeping bag, but not on this night).
I found myself waking up in the night twice due to my gassiness. Again, it was a familiar feeling from the last two trips to the Sierras that I've had with Ed. And so I got up at around midnight to go diarrhea, then I might've taken another 30 minutes to an hour before I finally dozed off.
Then, I woke up again at around 3:30am to once again go diarrhea. With all the darkness around, I was getting a little concerned about nocturnal night predators (e.g. mountain lions) possibly blindsiding me while I was doing my deed. So I kept moving my head around as much as I keep with my headlamp just to survey the darkness around me since I was quite a few paces away from my tent.
Once that was done, I probably fell back to sleep another half-hour to an hour later. Then, I woke up once again at around 5am or so and then I probably dozed off again before I was up for good at around 5:50am.
So clearly given all this blurb of activity overnight, I guess it was just indicative of the kind of restless night that I had. Once again, it was times like these that I would ask myself, "Why do I put myself through this?"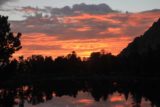 Well, since daybreak was commencing as I could see some light through my tent, I got dressed and went outside perhaps in the hopes of getting a nice alpenglow shot or something. But once I got out of the tent, I was a bit dismayed to see so many clouds around us, including some that were obscuring the peaks nearby us as well as some ominously dark clouds starting to obscure peaks on the opposite side of the valley.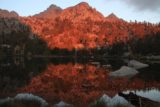 Of all the years I've been waterfalling in the Sierras, I don't think I had ever seen this many clouds already forming this early in the morning on a typical Summer's day. But then, I thought to myself that with Climate Change, maybe this was yet another instance of the removal of normalcy as what was once normal can no longer be counted upon as being normal.
Add it all up, and this wasn't a good sign since today we were planning on doing the day hike to Kearsarge Pass. This was the point of the whole trip, according to Ed. And to go through so much effort to not be able to see the main attraction, I knew that would be a royal bummer. I know Julie and I had gone through such moments on international trips where more money was involved. In this case, it was more about the time and energy invested.
So while everyone was sleeping, I brushed my teeth, then wondered what I would be doing for the next couple of hours. I knew everyone probably wouldn't be getting up for a while, and I didn't want to be idling during this time.
Eventually, I decided that I would try to find Bench Lake, which was the one lake in the immediate area that we haven't explored yet.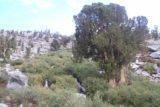 So at 7:10am, I went about on my hike. I left a note at camp letting everyone know where I went just in case someone woke up and wondered where I went. I had this sense of deja vu as the last time I did something like this where I went off on my own with Cindy and Ed trying to sleep in a bit, I had hit a deer and totaled our only means of transport.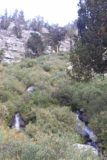 Immediately, I went around the north end of Matlock Lake going past a green tent camped there and going back to the cascade where I first collected running water for the camp. At this point, I had no idea where the trail next went to get up to Bench Lake. So I assumed that I had no choice but to go scrambling.
I knew how dangerous scrambles could get, but I was determined to see what was at Bench Lake. So I was south of the audible cascade that wasn't easy to photograph from a distance, and it was even harder to photograph so close to the cascade itself.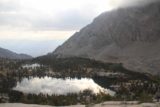 And as I was tentatively trying to flatten out the steep scramble as much as I could by making my own switchbacks where I could, I would eventually get to a point where I had to use my hands and my feet to continue climbing. I was starting to get nervous at this point, especially since I was wearing a camera bag across my torso while I was holding onto one Klean Kantene bottle with my free hand.
At around 7:45am, I was wondering whether I should declare defeat and head back down. However, the steep scramble that got me up to this point also seemed rather iffy to go back down the same way. Would I even remember the way I took? Or would I inadvertently take a tumble after biting off more than I could chew?
It seemed like I had to press forward, especially since I could see that I was very close to the top of the grante slope and bench that I was ascending.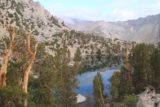 Finally at 7:55am, I summited the granite bench and I saw Bench Lake behind the trees down below. I'm sure this lake would've been even more scenic if it weren't for the clouds obscuring some of the sharp peaks rising over this lake in much the same way that Hungry Packer Lake would.
As I looked over towards Kearsarge Pass, I could see that I must have been almost at the same elevation as where I thought Big Pothole Lake must be (little did I know that I was only about as high as Heart Lake instead).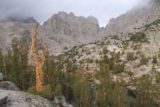 And since I had promised in my note that I left back at camp to be back there by 9am, I figured I had enough of Bench Lake, got my photos, checked out the views looking back down towards Matlock Lake and Onion Valley way in the distance, and find a way back down to camp.
But realizing the difficulty of the scramble to get up here, I knew that going back down the same way wasn't an attractive way to go. So I decided to scramble along the bench towards the cascade. Then, I crossed the top of the cascade where it was fairly straightforward to hop rocks before I found myself on the other side of the cascade where the terrain seemed to be a bit more conducive for a much less hairier downhill scramble than the way I came up.
I had entertained the notion of scrambling sideways towards what I thought was Big Pothole Lake then going up to the pass before returning to camp (thinking it wasn't that far away), but then I questioned whether I'd be back at camp before 9am. But fueling those desires was the sense I got that the pass would be clouded over and prone to lightning strikes if we left too late in the morning (which was certainly what was going to happen if I waited for everyone to get up, finish breakfast, etc.).
In the end, I decided on going down the other side of the cascade back towards our camp besides Matlock Lake.
Although the descent was less steeper than the route I took earlier, I still had to exercise caution due to the possibility of taking a really bad tumble.
After carefully surveying the safest route-finding paths to go, I'd eventually get back to the familiar cascade again. This time, there was a boy, a dad, and a dog. I must've startled the boy when I showed up because he jumped a bit upon me saying "hello".
Then, I continued around Matlock Lake along the froglined-path before I finally returned to camp at 8:30am. To my surprise, no one had gotten out of their tents yet and no one even looked at my note. So for all anyone could tell, I never went to Bench Lake if I didn't say anything.
I started conversing with Gabe through the tent as he wondered if I had been out and about already. But when I told him that he probably wouldn't like the quantity of clouds around us, he got up and out of the tent to see for himself. Ed heard that and did the same. And we all had this ominous feeling that there was a real likelihood that we might not be able to make it up to Kearsarge Pass if the weather wouldn't allow it.
Personally, I would've liked to have gotten started with the hike no later than 9am knowing that the conditions might likely deteriorate towards midday. But at the rate that everyone was getting up and having breakfast, there was no way that would be possible.
Eventually after having our breakfast, then filling up on more water, donning our daypacks and fanny packs, and wielding ours cameras and trekking poles, we finally left camp at around 10:30am. And by now, I could see that even though it was somewhat clear in the direction of the pass, clouds were dominating Onion Valley, including our camp.
But at least we wouldn't have to be hauling up heavy packs up to the pass.
After the initial climb to get out of the Matlock Lake basin (which easily took a bit out of us since we were still getting used to the high altitude), we then descended rapidly towards the Kearsarge Pass Trail. Just before we hit the junction with the main trail, we met a young and fit couple with a dog. They said they just came down from the pass, and that it was only a half-hour away.
This made us wonder if the hike really was that short. Some of us doubted it while others took it as an encouraging sign.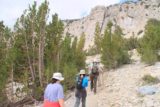 Then, we hung a left and followed the busy trail past Flower Lake.
As expected there was a lot of backpacking traffic in both directions. The hiking was brisque but deliberate as I made sure to set a somewhat manageable pace given that high altitude hiking typically meant that you had to take your time to minimize those breathless moments and the onset of altitude sickness.
However, the hiking was pretty much all uphill on long deliberate switchbacks. It seemed like quite a while before we had expected to make it to the next lake, which we thought was Big Pothole Lake.
We saw an elderly couple who had spent 9 days on the other side of the pass, and they said that they were on the pass an hour and a half ago. The man said it was probably the best Eastern Sierra panorama he had seen and the skies were sunny. Of course, we weren't so sure that would be the case with us.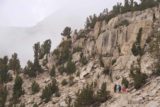 The partly cloudy skies quickly gave way to mostly overcast skies shortly after conversing with the elderly couple. In fact, it seemed that it started to get foggy as the clouds were sinking right onto us.
The trail somewhat hugged the north edge of the valley before veering towards the middle across and onto what appeared to be a rocky bench. It was when we were going up a few more switchbacks when we were passed very quickly by a young solo female hiker who was wearing a pack full of gear.
We were marveling at her speed considering we were all dayhiking without the gear, and yet she was confidently making strides with the extra weight and that she was solo. You definitely don't see that everyday.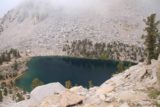 At about 11:40am, we only made it to Heart Lake, which was in the basin we had earlier assumed was Big Pothole Lake. And by this point, the clouds had already overtaken us and even started to fog up the skies we were amongst.
Although the aptly-named heart-shaped lake looked like a wringer for a heart, the clouds obscured the peaks above it making it not seem very photogenic. The darkened skies even made the lake seem darker and not colorful.
Well, at least the flip side of this unusually overcast and potentially stormy weather was that the hiking was quite comfortably cool. I couldn't imagine how much taxing it would be under the hot sun under all this uphill and sun-exposed trail.
While we were looking at Heart Lake, somehow we missed a switchback and I thought the trail went steeply around a rocky outcrop. But the ladies were quick to point out that the trail was behind us so we swallowed our pride and continued about on the trail climbing higher than this lake and going further up into the clouds that appeared to get thicker with each passing minute.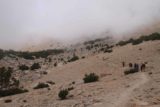 The climbing stretch of trail went for what seemed like forever. We thought Big Pothole Lake was pretty close to Heart Lake, but it turned out that we still had to do quite a bit of climbing on long switchbacks just to even get above the treeline.
When we finally made it up past the treeline we were passed by a large group of kids. They didn't seem to be carrying much, but we suspected that the adults in the group (just a husband and wife?) were carrying most of the gear and foodstuffs for the group of some 8 or 10.
Not long afterwards, it seemed like they then veered off the trail and headed towards a bench that appeared to contain the Big Pothole Lake, which was the last lake before the Kearsarge Pass on the east side. At first I entertained the thought that maybe their route might also be a shortcut to get closer to the pass, but I thought better of it and persisted on the switchbacking trail.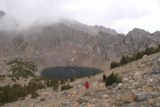 Then, as we were climbing the last few switchbacks, it started raining at 12:20pm. This was definitely not a good sign. When we encountered another pair of guy hikers who were coming back down, they too were echoing the earlier sentiments that it was definitely worth the view up at Kearsarge Pass. However, one of them expressed concern that it was going to be iffy about whether the weather would cooperate or not.
Still, we trudged on. The rain got bad enough that we had to bring out our rain gear. Of course, when the rain gear was on, it tended to get hot real fast.
I led the party and kept going since all I had to do was to put on my rain poncho that was packed in my fanny pack. The rest of the party, however, took their time to get the rain stuff out and then put them on. When I kept going, Ed asked where I was going, but I told him that it was only a couple of switchbacks more to the pass, and I was going to meet them up there.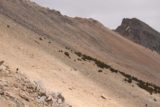 Fortunately, after just one long switchback, the rain kind of let up into mist and then disappeared altogether. So I took off my rain poncho and kept going. I could see the pass just up ahead though I was still uncertain whether the view would be nothing but clouds or some compromised panorama draped in clouds.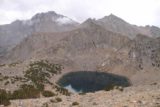 As I continued further up the last stretch, I could look down at the round Big Pothole Lake, which was backed by some attractively jagged peaks. And I was also starting to see some more jagged peaks starting to come into view just beyond the ridge of the Kearsarge Pass.
As I got closer to the end point, those peaks hiding behind the pass became more prominent. From looking at the Topo maps, I somehow thought that it was going to be flatter on the other side of Kearsarge Pass, but I was soon about to be pleasantly surprised from the jagged peaks behind the pass that was teasing me with its partial revealing of its tops.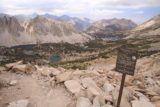 At 12:45pm, I finally made it up to the sign at Kearsarge Pass 11,760ft!
As soon as I looked past the sign, my jaw dropped as I was greeted with the famous panorama looking into Kings Canyon National Park. Now I can understand why the Onion Valley/Kearsarge Pass Trail was so popular.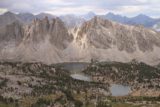 To the left of the scene, there were a series of lakes backed by the tall mountains that had teased me on my way up to the pass. Those tall mountains were actually called the Kearsarge Pinnacles. The lakes that fronted them were called the Kearsarge Lakes.
Further out on the panorama to the right was Bullfrog Lake, which was backed by a vegetated rounded mound that also seemed to have a little bit of red in it.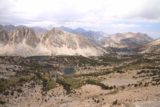 The vista was quite surreal, and it really felt like I was on top of the world.
When I turned around, I could see Big Pothole Lake below me with some more of those jagged peaks that we were more familiar with flanked to its side. Further down the valley was the rest of the lakes basin with Onion Valley way in the background.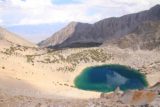 And just when I was at the top, the sun started to come out. It was unbelievable that such a bleak outlook on the way up could end up being such a sublime moment right now. And the more I thought of it, the more I realized that this was the first mountain pass I had ever done in the Sierras. The last pass that I had done was the Milford Track in New Zealand back in 2004 under some really crummy weather.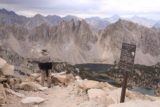 Anyways at about ten 'til 1pm, Ed, Cindy, Heather, and Gabe joined me at the pass. And I could just predict their reaction when they would first gaze upon it.
Indeed, we were all equally amazed at the scene before us, and all those doubts that we had melted away and now the predominant thought was how sublime the view was. And with all the work it took to get up here, we finally had ourselves a well-deserved picnic lunch.
We couldn't help but notice some other people who were up here even manage to make a phone call from here. How can that be?!? Well, it turned out that apparently, Kearsarge Pass was still in the line-of-sight from Independence. So even though the signal was weak, it was technically still possible to pull this off.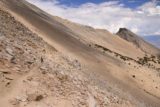 It wasn't until about 1:25pm when Dymph and Karen finally made it up to Kearsarge Pass. Now, the whole crew was here, and we were relishing in the achievement. I'm sure Ed was relieved that this trip he had planned months in advance to secure the Wilderness Permits (which wouldn't let us step foot into Kings Canyon by the way) all for the chance for this one moment of being on the pass finally came to fruition!
Well, we rebelled for a bit taking photos on both sides of the pass. And there was no way we'd go down into Kings Canyon only to hike back up to the pass again. We were already having sore legs because of the climb just to get up here once. Forget about doing it twice!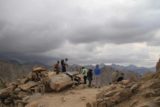 At about 1:45pm, the dark clouds that had apparently blown towards the Kearsarge Pinnacles had now hovered back towards the Kearsarge Pass. I was getting nervous about a lightning strike where we were pretty much lightning fodder as there was nowhere else to hide.
And when we saw one flash of lightning striking somewhere behind the peaks we were admiring earlier followed by a rolling thunder, I knew I wanted to get out of here real quick. So I was the first to leave and Heather and Gabe kept pace with me. Cindy and Ed then followed, and Dymph and Karen were the last to leave.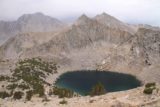 The nice thing about the hike back was that it was pretty much almost all downhill. The bad thing was that it was taking a toll on my knees. I knew the inflammation would eventually creep up on me and sure enough, it got to a point where I could feel some discomfort on the exterior of my left knee with each step that I took.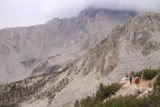 I knew I'd be stiff for the rest of this trip, but I also knew that it shouldn't be delibitating enough that I couldn't backpack out on my own.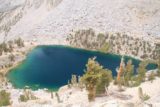 As we returned to Heart Lake, I took advantage of the fact that the clouds were much higher than they were this morning. So the photos I took of the lake were much more attractive than before. And it was because I paused for photos that I fell behind Heather, Gabe, Ed, and Cindy for a very long time.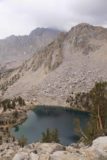 There was even one moment where it seemed like the sun briefly showed itself to illuminate Heart Lake with a bit of a deep blue color with green tinge around its edges.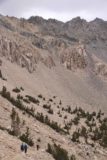 It wasn't until we were near the junction for Matlock Lake did I finally catch up to them. By that point, the clouds were definitely dark over us and it was starting to sprinkle.
Unfortunately, this stretch of trail was also a bit uphill as it was the only uphill stretch before we'd descend back into camp.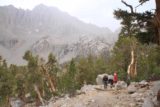 By the time we had crested over this climb and went on the final descent to Matlock Lake, that was when it was raining pretty hard. We didn't bother donning rain gear at this point because all we had to do was to get back into our tent to seek shelter from the rain.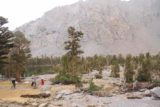 By 2:50pm, the five of us were back in our tents. Karen and Dymph were still out on the trail probably dealing with the rain.
Inside my tent, it was a little on the muggy side, and I could see between the rain fly and the tent itself, there were quite a few small mosquitoes. None of them seemed to be in a biting mood, but it did seem rather disturbing to see so many so close to me.
What's more, I also noticed some parts of the tent were dripping. I suspected that the seam seals probably needed to be re-done since my Sierra Designs Meteor Light CD tent was bought back in 2002 (i.e. it was about 11 years old)!
Fortunately, the drippage was bearable as I tried to keep the more critical stuff dry and put the more waterproof stuff under the drips.
And then we all pretty much waited out the rain, which seemed to be lasting for a good 20 minutes or more.
Some time around 3:30pm, we heard Karen's voice as she finally made it back safely. And her arrival seemed to have coincided with the end of the rain. So with the afternoon sun out, our tents really heated up, and that was when I left the tent to join Gabe and Ed in some conversation.
Meanwhile, the ladies gave themselves a well-earned siesta.
Our chatter was pretty much about random topics. Though I did recall that somehow the conversation turned towards some stuff on the news regarding Edward Snowden and the NSA snooping on everyone's personal emails or calls or whatever. Gabe brought up the point that with all this content that was out there for the government's perusal, they could easily use the content out of context to paint an incriminating portrait of someone who happened to be a political dissident, which was a pretty scary thought.
We were also talking about how easy it could be for personal data becoming public metadata such as GPS locations, personally identifiable information, etc. Whether it was for marketing purposes, or child predator purposes, or for identity theft, etc., our privacy was becoming increasingly open source, if you will.
I guess the takeaway from all this banter was that the world was definitely tending towards being a much more paranoid place where all notions of privacy were being blurred.
So on that note, the topic then switched towards that cave we noticed from our camp. I think we eventually made the link that perhaps that cave was really a bat cave since we knew that bats tended to fly around here in the late afternoon.
Once again at around 5pm, we all had ourselves a final dinner in the bush. And unlike last night, we immediately played a game of Sheepshead, which Gabe was real enthusiastic about getting us to play. So we passed the time playing several rounds of this game (as opposed to just one round last night, which I missed out on), and then when it got after 6pm, we started to notice that the clouds were turning purple in the distance while the skies were quite clear directly above us.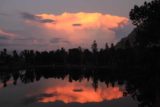 So we took our alpenglow shots of the colored thunderclouds in the distance before we resumed our game.
We'd play until it got too dark to see the cards and the bugs were out and about.
At around 8:20pm, we all pretty much retreated to our tents. Before that time, I had to go find my favorite toilet spot in the bush and go diarrhea once again. It kind of sucked that I had to put up with this, and that prompted Gabe to offer me some charcoal pills to try to head this off.
And so ended this eventful day. This time there would be no stargazing as there was a bit more high clouds and the thunderclouds in the distance started to come back towards us to obscure them stars.
I knew I was going to get up in the middle of the night at least twice to diarrhea, but with a stiff arthritic knee and a tired body, I was hoping that tonight was be a bit more restful than last night.
Visitor Comments:
No users have replied to the content on this page