Day 4: VICTORY SONG
It was 5:55am when I woke up with a stiff back. This was after waking up at 11pm and again at around 3pm to go diarrhea each time. And I recalled how freaky going potty during those dark hours were as I would see frequent distant flashes in the night sky as there must've been lightning strikes in another valley since I wasn't hearing the sonic boom of thunder accompanying the lightning.
Anyways, I used this early morning time to get changed, deflate the Therm-a-rest, stuff the sleeping bag, and stuff the dirty clothes and liners. I was pretty much half-way packed by the time I got out of the tent at 6:20am.
I then took the rain fly off and try to lay it out so it can start drying off.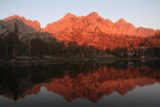 As I was about to remove stakes and other things to break down the tent, I couldn't help but notice that the east-facing cliffs were starting to glow pink and orange. So this time I was going to seize the moment and take some sunrise photos from the other side of the adjacent pond.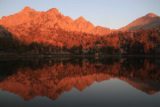 It only took me a few minutes to get there, but my stiff left knee made it hard to bend it past a certain angle. But in any case, I took as many shots as I could imagine of the orange cliffs and pinnacles reflected in the pond.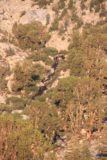 By about 6:45am, I had finished taking these sunrise photos, and then I was back at camp to try to take advantage of some of the sunnier spots to dry out the rain fly and part of the tent itself.
By this time, everyone else had just about woken up.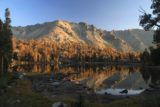 We were all pretty much packed up and ready to go by about 8:30am. But we took one last group photo then exchanged handshakes and hugs for yet another fun and pleasant outing. Indeed, good company definitely stays with you even though it was the scenery that brought us all here.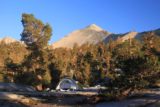 At 8:45am, all of us except Karen and Dymph had already started hiking with our packs. They would eventually get going but they had themselves one hot brekkie (das frustuck [I was practicing some German with Dymph, who was Dutch by knew German]).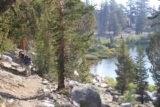 This time, Heather was leading the pace, and she was going at quite an appreciable speed. Even with our heavy packs, it wasn't easy keeping up this pace even with that initial climb before going downhill.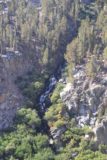 I started to lag behind as I had myself a water break once we returned to the main trail between Flower and Gilbert Lake. Then after conversing with some Koreans at the rock outcrop at Gilbert Lake, that was when the group really took off while I stayed behind to take some photos of this lake, and then later Little Pothole Lake with its cascades.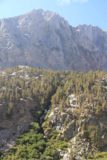 Throughout the hike back, I was quite intrigued by the fact that there were several Korean people on the trail. I couldn't tell if they were all one party or not as there were several groups of them spread throughout the trail.
I also noticed that on this day, it was definitely sunnier and less overcast than it had been on the way up on the first day. Since I had already taken some 700 photos, I didn't feel like duplicating shots in many cases. Would I regret this decision to skip some shots when I had them? I guess only time would tell.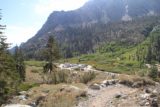 At about 10:30am, I finally made it back to the rental car. About 5 minutes earlier, Heather, Gabe, Ed, and Cindy were already at the car park. It was such a relief to finally get out of our hiking boots and our gear and back into the AC of the rental car.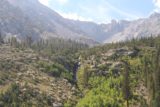 Cindy and Ed were really hungry and in the mood for Mexican so we decided on seeing if Los Tres Hermanos food truck would be open, but that meant we'd have to go to Lone Pine.
When we were at Lone Pine, we had trouble finding this food truck. So instead we went to this Mexican Restaurant called Bonanza at 11:20am. It turned out to be a pretty good call as we enjoyed the Chile Verde pork, Carne Asada taco, Carnitas taco, and Cindy's Huevos Rancheros.
After going two days of preserved food, we definitely savored the authentic Mexican fare.
Immediately after the lunch, Cindy and Ed went next door to a Native American Trading Post store to get some souvenirs for their kids. While I was browsing through the post cards, I couldn't help but notice an attractive arch with Mt Whitney through its span as well as a waterfall at the Whitney Portal. I was wondering if that might be a reasonable trip to do next time though I wouldn't be looking forward to the high altitude of Mt Whitney if we were to attempt to do that hike.
Anyways, it wasn't until about 12:20pm when we left Lone Pine and embarked on the long haul home. Before leaving, I tried to search for a song on my iPod called "Still Life" by The Horrors. I figured since we ate at the Still Life Cafe earlier in the trip, why couldn't this be the victory song.
Of course, my playlist was a bit too big and I couldn't find the song before I had to start driving so I just left it on shuffle. That song wouldn't come up until we got into LA Traffic on the I-5, but at least we got to hear it and associate it with the memory that was this successful backpacking trip.
By 4:30pm, all of us were finally home to see once again our kids (and in my case, my wife as well)…
Visitor Comments:
No users have replied to the content on this page