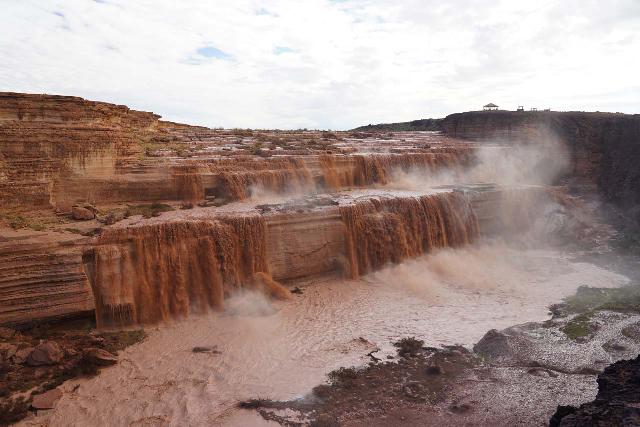 7-October 2022 to 9-October 2022:
However, while we were also eating our pizza, there was some young Navajo guy who crossed the street and went right to the patio area.
Then, he stopped and straight up said, "You all are white racists" or something like that (I guess he didn't pay attention to the fact that we're of a different ethnicity).
He then proceeded to say, "There's no Native Americans or Hispanics here. You're all f*cking racists!"
I was thinking to myself that in his mind, as long as I wasn't Hispanic or Native American, then I must be racist.
Anyways, the dude didn't look like he was homeless or anything, and the family sitting next to us tried to diffuse the situation by inviting him for a lunch and sharing pizza with them…
Day 1 (October 7, 2022 – Flagstaff, Arizona): "Light Show"
It was about 11:30am when Julie and I finally started to load the rental car.
It had been a bit of a hectic morning as I had to do some routine blood tests while Julie walked Tahia to school.
Julie and I also had to pick up the rental car after I got back from the blood test (though I had to drive home to do the urine sample because their restroom was out of order and the neighboring Walgreens and gas stations wouldn't let people use their restrooms).
Anyways, this anticipated road trip to Grand Falls was going to be our first waterfalling trip since my brother passed away over three months ago.
So there were strange vibes, but it was also time to try to move on and regain our ability to keep chasing waterfalls (for both healing and for our collective mental health).
We went ahead and loaded up the car while also loading Tahia's stuff trusting that she knew what to pack for this bit of a spontaneous weekend trip.
For on this upcoming road trip, we were targeting seeing Grand Falls flowing for the first time in about 13 years.
Mom and I last went to Grand Falls in Spring Break 2018, but it was dry on that visit.
However, with this visit, we carefully studied the Little Colorado River gauge indicator at the Winslow station, where we could see how many cubic feet per second the seasonal river's flow was in real-time.
Apparently, the rule of thumb was that if the flow was over 1000 cubic feet per second, you pretty much have about two days of no appreciable rain before the flow is gone or not good enough to warrant such a long drive and visit.
Well in our case, we saw that there was a major flash flooding event that happened earlier this week (with the flow getting up to over 10,000 cubic feet per second on October 4).
In addition, the forecast called for more monsoonal thunderstorms for the rest of the weekend.
So we ultimately decided to just do it, and we made our last-minute bookings yesterday though it wasn't exactly a cheap trip.
In fact, this was spontaneous trip to Grand Falls probably made this one of the more expensive waterfalls to pursue in recent memory (the weekend probably was going to cost us about $1000).
Regardless, we had our hopes set pretty high to finally see the Grand Falls flowing during the monsoon instead of during the snowmelt.
Heck, seeing its snowmelt state seems less and less likely these days with Global Warming inducing multi-year droughts gripping the entire Western United States (especially the Colorado River basin).
Anyways, after picking up a takeaway lunch so we could eat on the go, we then grabbed Tahia from school early by around 12:15pm.
There weren't any serious classes after lunch today so we didn't feel bad about taking her out of school early and trying to beat the rush hour traffic.
So we left for Flagstaff by around 12:20pm, and the drive out east wasn't too bad until we hit the 60 freeway, then the traffic got quite a bit sluggish.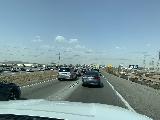 It felt like deja vu since a few weeks ago, we had also taken the 60 east towards Joshua Tree for the Night Sky Festival.
That was a brutally frustratingly congested drive, and today's drive was shaping up to be in a similar vain even though it was barely around 1pm or so.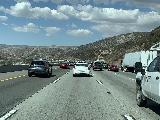 It didn't improve much when we got to the I-15 north, which has already been one of my least favorite drives mostly because you have to deal with Vegas traffic.
In fact, the traffic wasn't moving very much at around 2pm when we only got to around Victorville, but it would eventually clear up and start to flow a lot better as we got closer to Barstow and then finally leaving the I-15 for the I-40 east.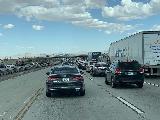 From that point, we had a pretty smooth drive though Julie and Tahia had to make a potty break somewhere around Ludlow (which was still in California).
Well, we knew gas was super expensive in California, but the Chevron station at Ludlow was like a whopping $7.49 per gallon for 87 octane gas!
I trusted that when we'd get to like Kingman, Arizona, the gas would be so much cheaper, and so I refrained from filling up in California.
We resumed our drive, and it wouldn't be until around 5:45pm when we finally made it to Kingman as the sunlight was rapidly fading.
And as suspected, we filled up gas at less than $5 per gallon, and this was for 91 octane gas!
After filling up the gas, we then had a quick In N Out break knowing that we probably wouldn't make it to Flagstaff until pretty late at night.
And so it wasn't until about 6:20pm when we resumed the drive going east on the I-40 in the twilight.
As we made our night drive, Tahia and I noticed that the night sky would sporadically light up with flashes of lightning, and there were quite a few strikes in the distance.
The light show definitely kept things interesting though I also had to be vigilant about some reckless big rig drivers passing slower trucks too soon or just clogging up the fast lane for unnecessarily long.
In some cases, they even cut off faster drivers and not bothering to wait just a couple seconds more before making their pass (a total dickhead move).
Regardless, the light show was nice, and it was also nice chatting to Tahia while Julie was asleep.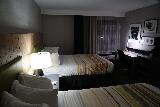 Eventually, we'd arrive at the Country Inn Suites in Flagstaff at around 8:20am, where I learned from Julie that this place was going for around $300 a night!
What a rip off, but I guess that was the going weekend rate.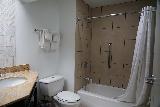 Again, this Grand Falls storm chase was expensive, and it had better pay off, especially since we're putting everything we want to do in one day tomorrow.
On top of that, we have to rush back home on Sunday because Tahia has a Girl Scouts meeting.
It was already a bit chilly in Flagstaff, which was quite a contrast from the hot weather we've been used to (which also persisted in the Mohave Desert as well).
Never a dull moment on our trips, and I guess this is no different…
Day 2 (October 8, 2022 – Flagstaff, Arizona): "Total Sweet Success… Almost"
It was 6am when I awoke though I had heard the sounds of multiple sirens seemingly an hour earlier or so, which probably made me get up to the first instance of the alarm since I was already half awake before then.
Upon going on the interwebs and looking at the Little Colorado River gauge indicator at Winslow, the flow was now down to 562 cubic feet per second, which was worrisome.
Then again, we were told that anything above 200 cubic feet per second should be fine.
Still, the flow of the river was rapidly diminishing since the 1200 cubic feet per second from early afternoon yesterday, and so the top priority of the day would be to get moving right after having the included breakfast at the Country Inn.
With breakfast starting at 7am, both Julie and Tahia also got up soon after around 6:15am, which allowed us to get down to the brekkie area around 6:45am.
Surprising both Tahia and I (while Julie was gonna catch up with us later), the brekkie area was already bustling and even the waffle machines were operational.
So technically, we could have gotten an even earlier start.
Now, the really interesting thing about brekkie was the amount of families that were here as we wondered how so many families could just show up to Flagstaff on a seemingly random weekend.
Julie even told me about the $300/night cost of this accommodation, which seemed like a really steep price to pay for some random weekend.
She also told me that the typical rate of the rooms were on the order of $125/night, but that was for weekdays!
Regardless, after having our simple breakfast of waffles with lots of carbs (with scrambled eggs being the only source of protein), we then got into the car at 7:25am.
From there, we then drove east on the I-40 in the direction of Winslow as traffic was already somewhat moderate, but it didn't take long before we got to the Exit 211 for Winona.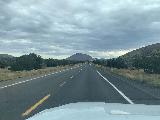 Then, we followed the GPS, towards the turnoff for Leupp Road, and from there, we then followed this road into the Navajo Nation, where just beyond the border was the turnoff for Grand Falls.
However, unlike on our prior visits, it looked like there was signage pointing the way to Grand Falls on our left, which was a welcome surprise.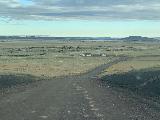 Then, we followed the wide and washboarded road through the familiar open desert past the odd homestead or homes as we continued making our way towards the Grand Falls.
At some point, we went towards a flooded part of the road, which was a reminder to us of why it might not be wise to try to come to the Grand Falls in the middle of a flash flood because then we might end up getting stuck in the mud.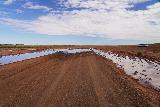 Regardless, we saw a vehicle in front of us go around the big puddle before going back on the BIA-70 road, and we pretty much caught up to them though we stayed back so as to not get blinded by the dust they were kicking up.
Eventually, we overshot an easy-to-miss (now signed) turnoff for Grand Falls on our left just before the road was about to go into the Little Colorado River.
The vehicle in front of us made that mistake, but I quickly made a U-turn and then took the road we were supposed to.
The GPS for some reason didn't route directly to the Grand Falls car park, and it wanted to take us on some wild goose chase actually crossing the Little Colorado River twice!
Regardless, by about 8:15am, we finally got to the Grand Falls car park, where there were already at least three other cars that were here (though the GPS and the car said it was actually 9:15am).
It turned out that the Navajo Nation was the only part of Arizona that was on Mountain Time, but apparently Flagstaff and other spots were still on the same time as we were in California (though Arizona doesn't observe Daylight Savings, and I wished that we'd do the same).
We noticed that most of the people here actually kept driving down a road leading to a more frontal view of the Grand Falls, which was definitely flowing pretty well (even better than when we first saw it back in 2009, I think).
I told Julie to just drop me off since she seemed adamant about driving down there to where the other cars were going, but having been here before, I wanted to experience all the lookout shelters on this visit as it was definitely worth it.
So she went ahead and took the big Ford Expedition down there while I took my time getting the familiar views of the Grand Falls like about 13 years ago.
The thing about the appearance of the falls this time around was that it really did have a muddy "chocolate" appearance, and I guess that's the effect of flash flooding from monsoonal thunderstorms funneling their moisture into the Little Colorado River drainage.
I didn't recall the water being this muddy brown on our previous visit, which was fed by melting snow that year.
Anyways, I continued to take my views one shelter at a time, and I'd eventually join Julie and Tahia, where Julie told me that her phone was caked in mud spots that wouldn't come off on her iPhone.
Apparently, the mist from Grand Falls left sticky mud residue, and so I took a closer look at my backpack, camera bag, camera itself, and my own iPhone, and they took got some mud spots on them as well (though not nearly as bad as Julie's phone).
So I kept that in mind to not get too close to the mist zone coming from Grand Falls lest I suffer the same fate.
I also noticed that there was a whirlpool or sorts at the foot of the Grand Falls, where there seemed to be some kind of flash flood debris gyre rotating around down there.
This was how I'd imagine the great ocean gyres of plastic would be rotating in the oceans of the earth.
As we were enjoying taking people shots and awkward selfies while also trying to document the experience from down here, I then went ahead and pursued going to the bottom of the falls.
This was just as even more people were showing up here, but in any case, Julie and Tahia would not join me to go to the bottom on this visit.
Thus, I went ahead and headed further downstream according to my memory, and I'd eventually get to a somewhat black-sanded plateau where there was an attractive angled view of the Grand Falls though I then spotted more trails of use into the ravine below.
The approach looked worse than it really was, and by about 10:15am (MST) or 9:15am PST, I made it to the bottom of the Grand Falls, where I noticed now that there was the presence of basalt rocks opposite the falls.
This seems like a pretty typical pattern when it came to waterfalls as the basalt was typically the hard rock layer.
I didn't go all the way to the absolute front of the falls due to the intense mist over there as well as the muddiness of the terrain.
So once I had my fill of documenting the base of the Grand Falls, I then went back up to rejoin Julie and Tahia, where we'd then head back to the Flagstaff area perhaps to check out the Picture Canyon before going for a pizza lunch in downtown Flagstaff.
So by about 10:35am (MST) or 9:35am PST, we were back in the car, and then we proceeded to drive back along the BIA-70 (instead of the BIA-6910) this time around.
The drive pretty much went without incident as we eventually got back onto the I-40 west, and then by about 10:30am (PST), we made it to the dead-end of a road by the Picture Canyon Trailhead.
There were actually a surprising amount of cars for a place as seemingly obscure as this, but we were kind of excited at the prospect of seeing an unexpected waterfall besides the Grand Falls while we were in Flagstaff.
So we went ahead and geared up and embarked on the Tom Moody Trail, which was pretty wide and straightforward with plenty of interpretive signs along the way.
We'd eventually get to a trail junction, where I knew that we had to keep to the right to go right to the waterfall.
I had fancied doing a longer loop walk to try to see petroglyphs in addition to the waterfall, but Julie and Tahia just wanted to see the falls and then go for the pizza lunch.
It didn't take long before we crossed past some kind of wetland where the water smelled like the urban runoff you'd typically see in the cities, and we surmised that the plant behind the wetlands might be feeding this place with treated reclaimed wastewater or something.
Anyways, not long after that, we headed along some the wetlands where I had thought that the water actually drained towards the wetlands by the waste treatment plant.
However, I was surprised to see that there was actually a little gorge where we were going, and the wetland was actually a source of the water cutting this gorge.
Aside from a logging interpretive sign and some relics, we saw that there was a nice little two-tiered waterfall deep in the mini-chasm here, and this was the surprise waterfall that we were after.
I didn't know if this waterfall had a name, but I just assumed it was called the Picture Canyon Waterfall.
So we went ahead and took our videos and shots from the precarious outcrops peering right into the gorge with the waterfall there, and we also saw another family on the other side of the gorge descending to the rim.
However, it didn't seem like there was a proper way to see the waterfall from that side so I'm sure they'll have to make their way around towards the way we went before getting to our spot to properly see the falls.
After having our fill of the falls, we then went back the way we came and didn't bother extending the hike towards the petroglyphs and other stuff here.
By about 11:30am, we made it back to the car, and then we proceeded to drive towards downtown Flagstaff to go for our pizza lunch there.
When we got to the somewhat charming Downtown Flagstaff, there were definitely a lot of cars and people walking about here, and it seemed like a fairly inviting place for a walk.
Nevertheless, we were trying to find a place to park as parking wasn't exactly very convenient here (plus we were driving a huge tank of a Ford Explorer).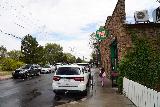 Yet still, we lucked out when we spotted a street parking spot right in front of some pizza joint called Fratelli's.
At first I thought we were going to eat there, but Julie said it was actually a different place called Pizzicletta.
Julie actually had a bit of trouble trying to pay for our parking spot via app, and so she'd eventually put in $1 for an hour in one of the machines nearby.
So she was hardly settled when we got seated by about 12pm at the Pizzicleta, where we opted to sit in the patio area so we could keep an eye on our vehicle for anyone trying to ticket our car whil we were trying to figure out the paid parking system.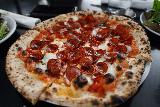 Anyways, at this pizza joint, we got a margherita pizza with pepperonis added on, and I got some kind of Amore di Mari or something like that, which was some kind of arugula pizza with cheese and prosciutto, and this was actually quite good.
We also got some mixed greens since we needed to have some greens for our lunch.
During our meal, the patio filled up pretty fast so we were quite glad that we had somewhat beat the rush.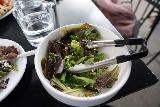 However, while we were also eating our pizza, there was some young Navajo guy who crossed the street and went right to the patio area.
Then, he stopped and straight up said, "You all are white racists" or something like that (I guess he didn't pay attention to the fact that we're of a different ethnicity).
He then proceeded to say, "There's no Native Americans or Hispanics here. You're all f*cking racists!"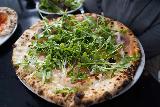 I was thinking to myself that in his mind, as long as I wasn't Hispanic or Native American, then I must be racist.
Anyways, the dude didn't look like he was homeless or anything, and the family sitting next to us tried to diffuse the situation by inviting him for a lunch and sharing pizza with them.
But the dude said he didn't want to spend time "with your kind" and I guess the irony wasn't lost on me that he's accusing us patio diners of being racist when he himself is pulling the race card.
That said, I got where he was coming from since Native Americans got the shaft in terms of not being able to participate economically, especially since they had been massacred, overtaken, and then cast off into remote reservations.
And I guess from their position, there really isn't a whole lot you can do about it without somehow trying to resort to violent guerilla tactics.
Because if you try to go through the system, well, there's just as many people (if not more) who tend to vote selfishly.
Therefore, the policy that we abide by never becomes inclusive and it pretty much compels everyone to act like a**holes in order to participate and survive given the way the economy is rigged.
Now while Tahia was sitting there taking all this in, the silver lining was that it was a teaching moment for sure.
Nevertheless, we also didn't engage with this guy because we knew that he wasn't going to change anyone's mind, and we weren't going to change his mind.
But this guy wasn't about to let go of the incident until suddenly a squall came down on the downtown Flagstaff area, and then he took off (but not before hurling a few more f-bombs and racist accusations on his exit).
The squall came and went, but at least we sat in a spot that was only partially affected by the rain, but some people seated behind us weren't as lucky.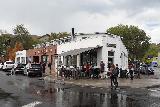 Regardless, by about 12:45pm, we were done eating the pretty decent pizza, and then we drove back to the Country Inn Suites, where I dropped off Julie and Tahia at 1pm.
The thinking now was for me to go solo towards the Sycamore Falls, which would be another new waterfall experience near Williams (which was directly south of the Grand Canyon South Rim).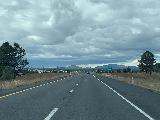 However, I was also well aware of how temporary this waterfall was, and I was just hoping that all these thunderstorm cells that were sprouting up on this day might help the waterfall enough for me to see it flowing on this visit.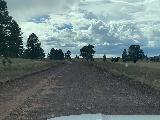 And so I went ahead with the drive, which was pretty straightforward for the most part though the GPS had me take the Parks Rd exit (exit 178), which I followed, and then turned left to go south.
The road eventually became the Garland Prairie Road, which I'd follow for quite a ways until I reached a rather confusing three-way junction with the Thomas Loop Road.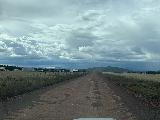 At first, I turned left, but that just took me on a fruitless loop back to Garland Prairie Road via the Boy Scout Camp Road.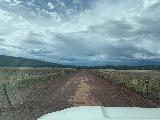 But eventually, I'd reach the White Horse Lake Road, where I finally saw my first Sycamore Falls sign so finally I had the confidence that I went the right way this time.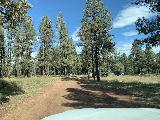 Eventually by about 2:05pm, I arrived at the Sycamore Falls Trailhead, which surprisingly had at least four or five cars or so, and this didn't count the handful of others I saw going the other way.
Someone said that Sycamore Falls was hidden, but I swore that nothing is truly "hidden" on the interwebs these days, and I guess now I'll see for myself just how busy this place was, and more importantly, whether this waterfall would flow or not.
Just as I geared up and headed down to the falls, there was another family that showed up and wondering if they were in the right spot.
I told them that they were in the right spot and the walk was only supposed to be about a quarter-mile to the waterfall.
I knew there was supposed to be two, however, and I basically sought to pursue both of them.
Anyways, I went ahead and descended the somewhat rocky path (there were no stairs here though I'd imagine there might have been until there was a fire that apparently swept through here in 2020 or 2021).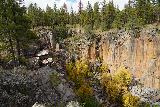 Then I reached an unsigned trail junction where I just kept to the right (I had a 50/50 chance of getting this right or wrong).
When I got to the rim of Sycamore Canyon, there was a family here that already told me that there was no water in the waterfall, and so that was a bummer.
I guess you can't win them all.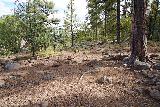 Nevertheless, I wasn't sure where the Sycamore Falls was, but Gaia GPS indicated that Sycamore Falls was actually further to the left, so I went ahead and followed the rim of the canyon towards a nice view of a confluence before getting towards another side canyon where the pre-determined waypoint was.
I noticed that there was a streak on the opposite wall, and I wondered if that was yet another waterfall.
But as I proceeded a few paces further, I saw that there was a dry waterfall with people chilling out at its top, and I guess this was the Sycamore Falls that was labeled on my Gaia GPS.
Now, I knew that there was supposed to be another waterfall, but apparently I couldn't see where it was supposed to be.
I asked some people that were already here, but they said that this was the Sycamore Falls and that there may be another one, but it wasn't around here.
Something seemed off in my mind, and I wondered if that second waterfall was on the streaky wall just downstream.
Anyways, I just took some time to document this dry waterfall, obviously disappointed in not experiencing it flowing here, but the fall colors within the Sycamore Canyon itself was kinda nice.
After having my fill of this waterfall, I then looped back and headed back to the car park, eventually getting there at 3pm.
As I was up there, I could hear rolling thunder not too far away, and it seemed like the thunderclouds nearby were budding and getting bigger.
However, I didn't have faith that there would be anything substantial enough to revive the waterfalls here, and so 10 minutes later, I left and headed back towards Flagstaff.
This time on the return drive, I followed the more simpler 11-mile route towards Williams and the I-40, and I wished that I just stuck to my guns and took this way earlier to save on time.
Regardless, there were some spots of isolated thundershowers, which was only enough to dirty the car, but it wasn't enough to make me change my mind about turning back to see Sycamore Falls flowing (or not).
By about 4:05pm, I finally made it back to the Country Inn in Flagstaff, and it was just in time for Julie and Tahia to make it back to the room from their heated indoor pool experience.
They took some time to take a shower, and eventually by about 4:50pm, we got back in the car for one last night on the town for dinner to celebrate what I thought was a pretty successful day.
By about 5:05pm, we made it Downtown Flagstaff, where we managed to park next to some kind of attractive town square or something, but it was just in time for another minor squall to hit the area though also yielding a nice afternoon rainbow.
We eventually got into some restaurant called Bandoleros, which was like a fusion taco place, and we got here early enough to snag one of the choice seats.
We ultimately had ourselves a couple of brisket tacos (very juicy and delicious) as well as trying out other tacos like an adobe chicken, a carnitas, and a brussel sprouts taco.
Tahia got a pork carnitas sandwich though they also mistakenly gave her a pork carnitas taco instead of the sandwich.
We also got some kind of prickly pear cactus margherita, but it was reminiscent of pink lemonade and it costed us $11 (about $13 with tip) for a rather small glass.
By the time we were done with dinner, it was just in time for a husband-wife duo doing some blues music, which was pretty entertaining though we didn't stick around for too long as Julie fancied walking around Flagstaff.
However, just as we left, it was still raining outside so that killed any of her aspirations of walking around, and aside from a candy shop stop, we just retreated back to the car at 6:20pm, and headed back to the Country Inn.
By about 6:35pm, we made it back to the Country Inn to call it a day, but as we were winding down, I took a look at my printout (which I had forgotten that I had with me during the Sycamore Falls hike), and I was disturbed to see that whatever I saw looked nothing like the falls pictured in there!
Did I somehow miss the actual Sycamore Falls?!?
There was this feeling of deja vu just like we had missed Blahmantung Waterfall in Bali before going back a few days later.
Well in this instance, it looked like we'd have to come back here on the way home, which might jeopardize Julie's desire to get Tahia to her Girl Scouts meeting at 2:30pm (it takes 8 hours to drive home from Flagstaff)!
Nevertheless, I had in my mind that we must make this detour (probably costing us a couple of hours) in order to properly experience the Sycamore Falls once and for all (even if it's not flowing), and I figured that we really shouldn't need to be rushed to get home anyways.
I mean, on the one hand, Julie told me that we really need to be there at 5pm, but then she later said there was a 2:30pm meeting.
I dunno what this flip flopping was all about, but no matter what, we gotta finish the Sycamore Falls experience before going home…
Day 3 (October 9, 2022 – Los Angeles, California): "Fitting In A Retry"
It was about 5am when we all awoke to our alarms as we were intent on leaving Flagstaff by 6am so we would give ourselves the maximum chance of attending Tahia's Girl Scout meeting in time.
Of course, there was a roughly 8-hour drive in front of us, and I also had to get back to Sycamore Falls to try to see the other waterfall that I had somehow missed.
Well, we made pretty good time packing up and loading up the car because by about 5:55am, we were already checked out and heading west on the I-40 out of Flagstaff.
It was still a little bit dark at this time, but it was clear that the sun was starting to breach the horizon so darkness shouldn't be a problem by the time I'd get back to Sycamore Falls.
However, driving west on the I-40 at high speeds when deer could dart out onto the highway was a whole other issue.
So I was content to stay behind a fast-moving truck and use it as a screen in case a deer does decide to make such a move, where the big rig could absorb the damage from the deer and keep going.
But our Ford Expedition rental car couldn't handle such an ordeal, so that was why I was content to just go behind a fast-moving big rig at around 75mph, which was the speed limit in these parts.
It didn't take long before I got off the Park Ave exit at the exit 187, and then proceeded to take the unpaved Garland Prairie Road towards the Sycamore Falls.
Julie thought this interlude took forever to get to, but having gone this way yesterday, I knew the way.
Eventually by about 6:45am, I made it back to the Sycamore Falls Trailhead, and not surprisingly, we were the only people here.
I didn't expect the waterfall to be flowing, but the main purpose for this re-visit was to properly witness (and document) the first main Sycamore Falls (also called Gold's Pool or something like that) that I somehow must have missed.
So I wasted no time in the crisp cool air to quickly put on the hiking boots (to ensure I have maximal grip on the terrain knowing there are cliffs and dropoffs), sling on the backpack (even though I still had stitches on over my left shoulder blade), and set off.
I told Julie that it should take no more than a half-hour and so the clock was ticking.
I had entertained the thought of redoing the entire half-mile loop walk but we'll have to see how quickly I can experience and document the Sycamore Falls segment that I had targeted today.
Well, indeed, it didn't take long for after making the familiar descent from the trailhead, and then keeping right at the unsigned fork, I then got back to the familiar canyon rim where I had met a family chilling out here earlier.
This time, however, I examined the canyon below me, and I continued to examine it further as I slowly made my way downstream along the canyon rim.
Then, I spotted what appeared to be a modest dropoff within the depths of the canyon below, and after spotting a ledge where you can get a pretty decent top down view of where the first Sycamore Falls was supposed to be, that was when I knew I hit my target.
Sure, the waterfall wasn't flowing very well, but even then, it was at least trickling, which was more than I can say about the other Sycamore Falls on the other branch of the canyon that I had witnessed yesterday.
So I took a bit of time trying to document the experience with videos as well as taking plenty of photos.
The morning sun hadn't quite penetrated the canyon, but it was lighting up a cliff to my right.
I was also getting the familiar butterflies-in-the-stomach feeling because the cliffs were sheer drops into the canyon way down below (I'm guess it was at least 100ft down though it was probably more, but the waterfall itself was probably 25-30ft only).
I was a little worried about any protrusions on the ledge suddenly giving way underneath my feet so I didn't linger there for long, and I always stayed leaning back.
I didn't want to take unnecessary risks, especially since my brother had already passed, and the family need not another family tragedy this year.
Once I had my fill of this segment of the Sycamore Falls, I then decided to just head right back to the trailhead so we can resume with the long drive back to Los Angeles.
I didn't want to spend another half-hour or more to complete the loop walk, especially since I had already seen it yesterday, and I knew it wouldn't be flowing.
By about 7:20am, I made it back to the car, and Julie was relieved that this didn't take as long as she had feared.
Now, we could take the long drive home, beginning with the familiar 141 drive back towards the I-40 just east of Williams at the 167 exit.
From there, it was a pretty straightforward drive back home as the traffic was somewhat moderate on the I-40, but it was moving pretty smoothly for the most part (except for where people didn't keep right except to pass thereby clogging the fast lane).
Perhaps the only other thing on my mind regarding this long drive back home was to try to maximize the fill-ups in Arizona to avoid the inflated California gas prices as much as possible.
We did that with a short brekkie and gas stop in Kingman at 9:10am though the Chevron next to the Mickie D's there was actually comparable to California prices (I think I paid about $6.19 per gallon for 91 octane).
Regardless, aside from that, we'd ultimately make it back home at around 2:15pm after getting through some pretty heavy traffic on the I-15 going south towards the Tejon Pass.
The traffic would remain heavy from there and all the way throughout the drives back into the LA basin (which isn't surprising), but we at least made it back home safely.
All that was left to do now was the fill up gas, return the rental car, and do this in parallel while Julie dropped Tahia off at her Girl Scouts meeting.
Of course, I also had to drop off and empty out the rental car while Julie was tending to all the Girl Scouts-related chores today.
When Julie and I dropped off the rental car, we saw that they had parked a couple of trucks blocking off the after hours dropoff, which left us no choice but to drop off the car in the driveway itself.
That's because there's no way I could take time off work to drop off the car.
I don't know why this Avis decided to do this, and I'm sure they won't be too happy with this move, but they left us no choice, and they left us no warning that the after hours dropoff lot was unavailable.
Anyways, with that, we still had to bring food to the Girl Scouts awards ceremony or something like that later this afternoon at 5pm, so it was still a busy Sunday.
And it wouldn't be until around 7pm when we finally could call it a day.
Indeed, this busy weekend was reminiscent of how Julie and I used to do long weekend trips pretty routinely, and I guess this was like a throwback to those times when we were younger and more energetic.
But with gas prices the way they are now, I don't know how much longer we can go places and chase waterfalls, but we'll just have to take it day by day and control what's in front of us with the limited time we do have…
Visitor Comments:
Got something you'd like to share or say to keep the conversation going? Feel free to leave a comment below...
No users have replied to the content on this page